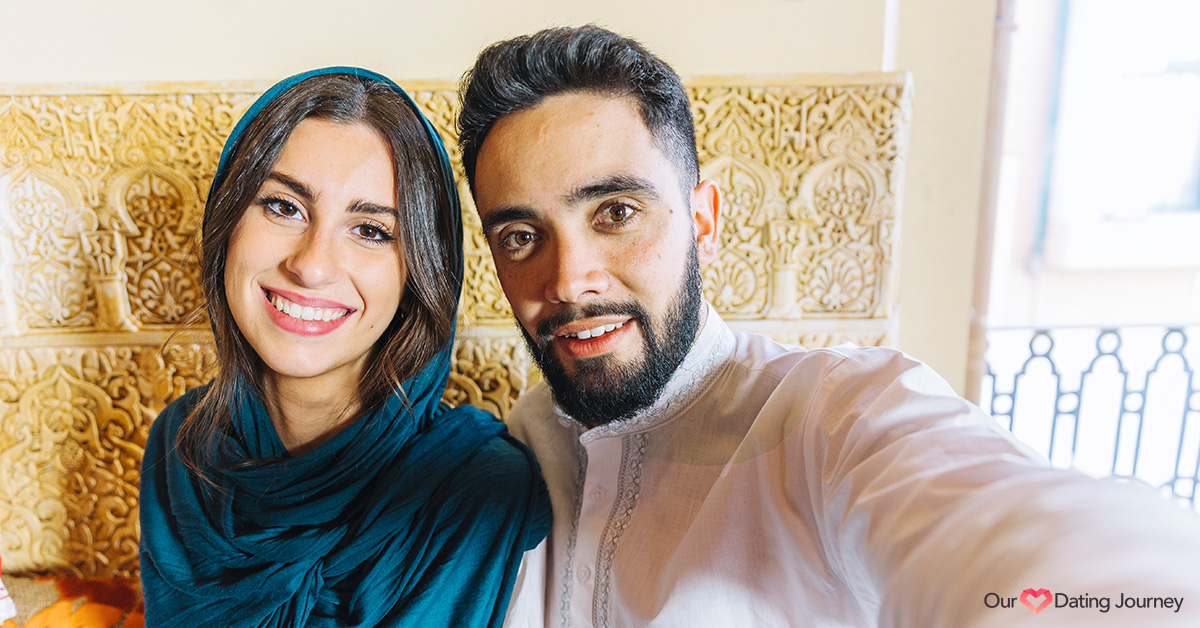 If you're looking to date a Muslim man or date a Muslim woman and you're a Muslim, then you can jump right into our list of the top 8 Muslim dating sites.
However, if you're considering Muslim dating and are from a different faith such as Christian, Jewish, Buddhist, or some other religion, I encourage you to read our Muslim dating guide.
Dating people of different faiths not only opens up our lives for different experiences but also makes us more open-minded and tolerant towards other cultures. It makes us realize that certain stereotypes are, in fact, true, while others are entirely bogus.
Although I personally have never dated a Muslim woman, I have no issue with someone from another faith dating a Muslim man or woman as long as they understand the intricacies of interracial dating.
If you can understand that every race, religion, and culture can have different sets of beliefs and you can accept the differences, then you're on your way to interracial dating success.
Each of the niche Muslmin dating sites listed below focus specifically on Muslim dating. Unlike eharmony and Match which are more generalized dating sites, these sites cater mainly to those looking to find Muslim matches. Several are more focused on Muslim matrimony rather than dating. Below is our list of the best Muslim dating sites in a top 8 list format.
If you have read any of my other posts on interracial dating sites, then you will know that I believe that eHarmony is absolutely the best site to find a match from any culture.
As you will see below there are several good Muslim dating sites that focus specifically on finding a Muslim match.
These sites are great because you know that people there are looking for a Muslim match.
Although eHarmony does not focus on Muslim dating, it's on this list of best Muslim dating sites because they simply have the best matching system.
It doesn't matter what you're looking for you can find a match from any race on eHarmony
Since eHarmony allows you to find members from many different countries and has the best success at matching, it makes sense to use them to find matches from anywhere in the world!
As I have said, I met my wife using eHarmony and she was from a different race and culture.
---
On the top of our best Muslim dating sites niche sites list is Muslima.com. You can read our in-depth review of Muslima here.
This is one of the largest niche Muslim dating sites with over 4.5 million members. This allows you to have a large pool of Muslim singles to choose from.
This site is run by Cupid Media, a company that runs many other dating sites. They have a decent track record so we feel very good at sharing this Muslim dating site with you.
The site is very easy to use but like most dating sites, it's free to join but to really make use of all of their features you will need to upgrade.
The registration process is simple, and you can log in using your Facebook account within minutes. You can also sign up using your email and fill in the other details like age, gender, etc. The website also has a very healthy ratio of men and women to ensure that its users find a match.
Following the registration, you will see your dashboard, where you need to fill in some details to complete your profile. Although there are no personality-based questionnaires, there are some basic questions that reveal a lot about your nature and preferences.
Contacting other users is a paid feature. However, you can receive messages from other premium members but can only see a preview.
The website offers good profile based matches as the users fill in their profiles correctly. The site also encourages users to upload their photos for better match suggestions.
Muslima.com also has a mobile app that comes with all the features you have on the website. Premium members get the ad-free version of the app.
It must also be said that Muslima.com also has a fair share of fake profiles. The site allows its users to report such profiles to improve user experience.
---
Here is one of the few Muslim dating sites that are truly free! No upgrades needed and no limitations for free members.
The Helahel.com site is focused on helping other Muslims (or those with similar values) find their match and marriage partner. In truth, they don't call themselves a dating site at all but rather use the term Muslim Matrimonial site.
It's clear their goal is to help people find a Muslim marriage partner while following traditional Islamic principles.
The good news about Helahel.com is that it's free to use but that comes with a downside. The Helahel.com website says that they have 25,827 grooms and 8,753 brides so it seems that their membership numbers are much lower than other dating sites.
The registration process is fairly simple. They ask for some of the most basic details like name, age, gender, etc. to create a profile. Following these basic questions, they also ask users a set of questions to use in an algorithm that will find suitable matches. Since the user base is serious, giving more accurate information will significantly increase the chances of finding a match.
As the website is free, users are able to contact other users just by visiting their profile and sending them an instant message. The site also offers a feature where you can see who visited your profile. This is a simple way to explore more profiles and increase your chances of finding the right person.
The website, however, does not come with a mobile app. This is a significant setback for users as it denies them of multiple modern features provided by similar services.
There are also quite a few fake profiles on this site. The users can still report or block other users in case of abuse or harassment.
---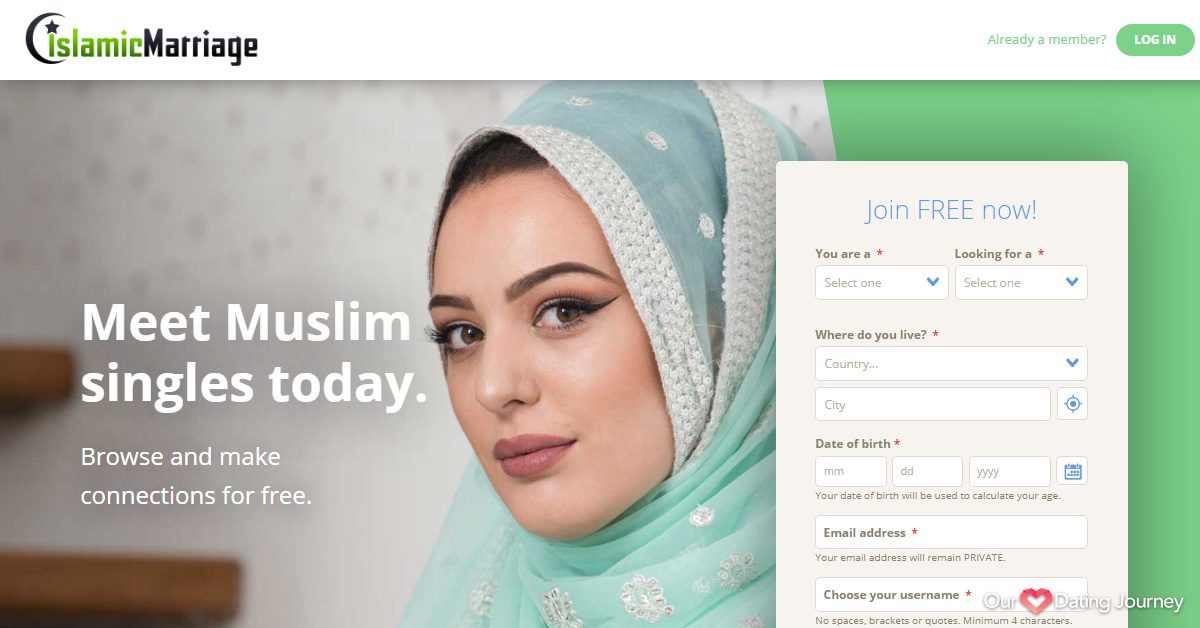 The IslamicMarriage.com site seems to have one main purpose, that's to help other Muslims find their Muslim match. It's a Muslim matrimonial site rather than a dating site.
Although you could join the site as a non-Muslim, it's not really set up for that purpose. It's met for Muslims to meet other Muslims. They welcome single Muslims whether Shia or Sunni.
The site makes no mention of their membership size. From what we can tell it's much smaller than sites like Muslima.com.
The website has a neat user interface that is more appealing than the others we have seen so far. The registration process is simple, with the same fundamental questions as any other site. Users have to create a unique username that is visible on their profile.
The users can choose to opt for the premium features or continue with a free account. Free members can view other profiles but cannot send messages. They can receive messages from other premium members but cannot reply. They can, however, at any point in time, upgrade their membership to continue to chat with other members.
As the users are more focused on finding a suitable life partner, the tone is more serious. But there is not much information available about the gender ratio of the user base. Thus users prefer to create a free profile at debut and browse through the site for some time to make up their mind.
---
We added LoveHabibi.com to our list of best Muslim dating sites because it seems to be open to those who are Arab, Muslim, and Arab Christians. They seem to be very inclusive to people from various backgrounds and religions. You can even find those who are not of Middle Eastern descent.
This Muslim dating site promotes not only dating but friendship as well as marriage.
There was no way to see the exact number of members that use the site but they do say that they have helped over 363,208 singles find their match. At the time of this writing, the LoveHabibi.com said that approximately 15,000 people join the site every month.
However, we do not know for sure the male-female ratio of their user base.
This site allows users to sign up using their Facebook account. Users also have the option to use their email to create a profile manually. The colorful user interface looks modern and has a pretty color scheme. The users can browse through pictures of other users by simply scrolling down the page.
The free members can send a wink to other members to express their interests. The receiver can send a wink back or choose to ignore it. At this point, a user can decide if he/she will benefit from a paid membership or not.
The service offers two premium plans, standard, and VIP. The VIP membership gives users access to some additional stats about their profile and sees other users who visited their profile.
Overall this is a very user-friendly and cost-effective platform to find love. The only downside would be the number of active users in your area.
---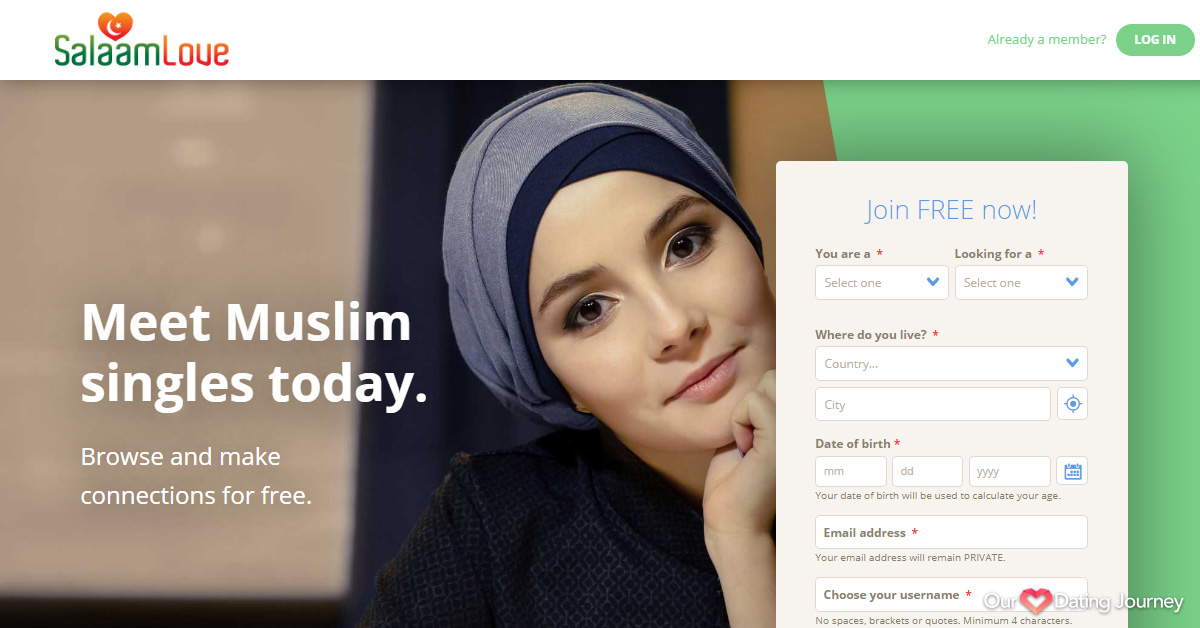 This site is run and owned by the same people that run IslamicMarriage.com which is World Singles Networks. It appears the site is exactly the same in terms of what they do and who they cater to.
So like IslamicMarriage.com, this Muslim dating site is geared to help other Muslims find their Muslim partners. It's a Muslim matrimonial site and welcomes both Shia or Sunni Muslims.
Since there is no mention about the number of singles that use the site, it appears they have a smaller membership base than dating sites like Muslima.com.
The registration process is also easy, and users can set up a profile and be up and running within minutes. It is crucial to correctly answer the profile questions in order to allow their algorithm to find ideal matches.
The website will enable users to send messages, email, and email and have video chats with other members.
The features are limited for the free members. Premium members get advanced search options and are also given priority in search results. They can also send messages to other free members.
There is no mobile app for this website. However, the mobile version of this website adapts really well to the browser.
This website also has some fake profiles, but users have the option to block or even report them. The customer support team is helpful and prompt with their responses.
---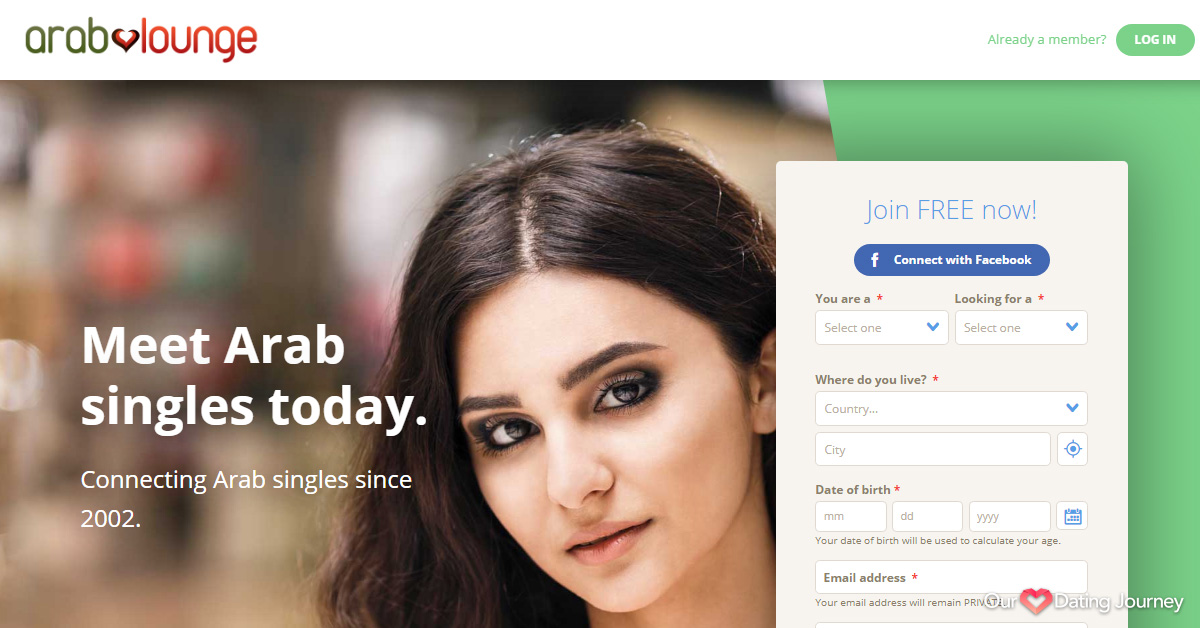 Rounding out this best Muslim dating sites list is ArabLounge.com. This Muslim dating site is also run by World Singles Networks.
You can join this site for free but they have a Platinum membership option which like most dating sites, allows you to access extra features.
There are several success stories shown on the ArabLounge.com website but they make no mention of the number of members that use the site.
The signup process is fast and straightforward, and new members need to create a username and password. Following this, users need to provide some additional information about themselves, like their physical appearance, their cultural background, and their partner preferences, etc.
Members can scroll through photos of other members and express their interests. If there is a mutual interest between two users, they get added to each other's connections.
The premium membership comes with some handy benefits like priority appearance in search results, advanced search options, and the ability to contact all members.
Despite the modern interface, there is no mobile app for the moment.
Overall, this is a great platform for Arab singles living in the United States. They can sign up for free and then decide if the premium plans are worth their money or not.
---
Like eHarmony, Match.com is a general dating site and not focused on Muslim dating. It's on this best Muslim dating sites list because it's the largest dating site in the world.
With over 50 million users (at the time of this writing), the sheer numbers help you find great matches. Plus, Match also has members from many different races and cultures.
---
Conclusion
It's safe to say that it cannot hurt to try any of these dating sites. If you use proper precautions and always adhere to online dating safety, you may be able to find your perfect Muslim match!