Matching System

Searching

Ease of Use

Popularity

Profile Quality

Customer Service

Cost
Comments Rating
( review)
As I wrote this eHarmony review, I wanted to be sure that you the reader knew, that I'm a bit biased about eHarmony. It was because of eHarmony that I found my soulmate, the love of my life.
As far as I'm concerned, eHarmony is far and above the best online dating website and dating service for anyone looking to finding love and a long-term serious relationship. Their system is truly the best at finding your perfect match if you're honest on their questionnaire and on your profile.
Now, I don't say that as someone who hasn't tried other dating sites because I have. In fact, I have tried many including Match.com, Plenty of Fish, Zoosk, and others.
So as you read this eHarmony review, understand that I love eHarmony. It changed my life.
Overview
What's eharmony?
Since its birth in 2000, eharmony is a online dating website and uses a unique method on how it matches people. While there are thousands of dating websites, none use the same criteria or algorithms as eharmony.
If you are ready to give this site a try, read through this complete eHarmony review. It's important to ensure that the features and overall goals of this site match your goals and preferences.
Who Uses EHarmony?
As I compiled this eHarmony review, I first looked at who is on the website to give you a better picture of what type of singles you have access to. There are more than 29 million members with over 16 million active members registered on the website. There are approximately 750,00 paid members. This means that the pool of available matches is very abundant, increasing your chances of finding a match that meets your needs and personal criteria.
The balance of genders on this website is very even. It is estimated that the split between males and females is about 50/50. So, no one gender significantly outnumbers the other. This further increases your chances of finding viable matches on this site.
There is a diverse range of ages registered on this website. The following is an approximate breakdown:
Approximately 25% of users are in the 18 to 24 age range
Approximately 22% of users are in the 25 to 34 age range
Approximately 26% of users are in the 35 to 44 age range
Approximately 24% of users are in the 45 to 54 age range
Approximately 22% of users are in the 55+ age range
The male to female ratio remains mostly even among the various age groups too. This allows those seeking out potential mates close to their age to have a good chance of getting multiple solid matches.
While eHarmony is global, the demographics in this eHarmony review are focused on the United States.
eharmony Statistics
Every 14 minutes, eharmony matches one couple, on average
They are the number one trusted dating site, according to a 2018 survey
There are about 10 million active users and 750,000 paid subscribers
The top user group is those ages 18 to 24, accounting for about 30 percent of the users
Approximately 45 percent of members have a bachelor's degree
About 15 percent of members have a graduate degree
It is available in 120 countries in addition to the United States
Caucasians make up about 77 percent of the members on the website
Approximately two to four percent of marriages in the US are among people who met through eHarmony
Registration
How's the Sign up Process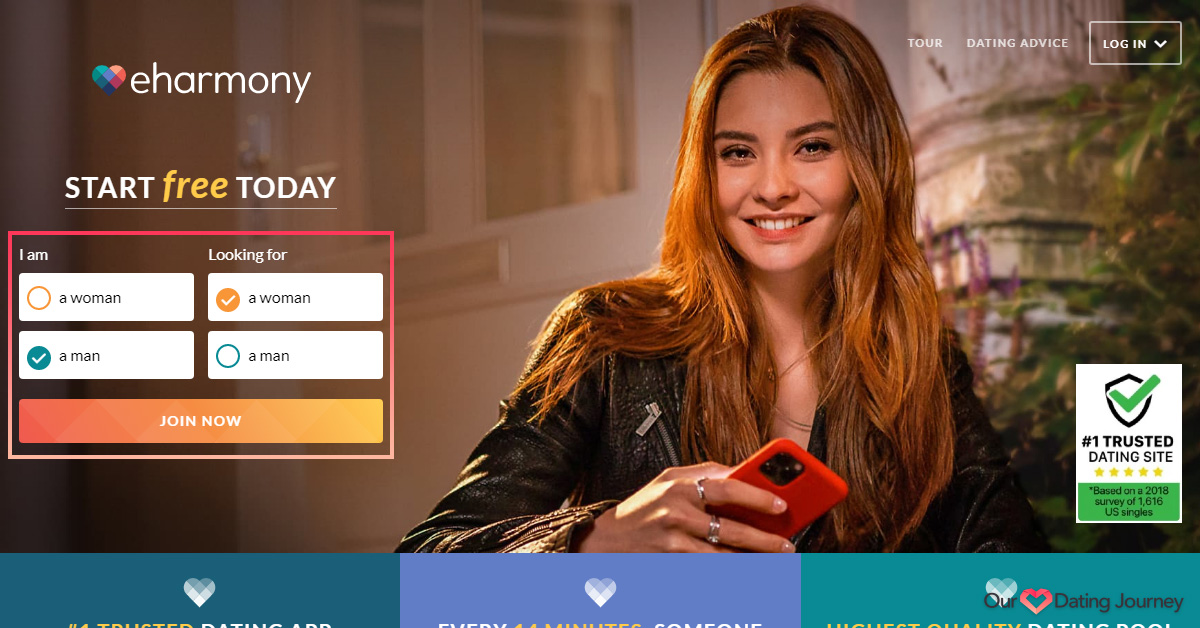 Getting started is easy and painless process. To get started, visit eharmony's website. Once there, there are a few information you'll need to start registration:
Whether you're seeking men or women
Your email address
And a password you'll create
You can save time and do less typing and clicking by signing up using Facebook that's below the sign up form. Once you are registered and verified, it is time for the questionnaire to help create a profile.
The following can be expected as you complete the questionnaire:
Confirm your location, age, and other basic information
Take your personality test which is conducted using a seven-point scale
There are progress bars throughout the process allowing you to see how much more of the questionnaire you need to complete
Some questions are open-ended, and some have specific answers you can select
Upload a minimum of one photo to your profile
The questionnaire will ask you several questions regarding the following:
Your beliefs about yourself
Your desires and needs
Your current state of mind
Your physical appearance
Your lifestyle
Your skills
What you put a value on in a relationship
General information, such as your income, occupation, and what you want in a partner
How far away from your home eHarmony should search for matches
In the compatibility section, you will answer a series of questions that describe you
On average, it takes about 10 minutes to finish the questionnaire. It used to take much longer, but they have refined the whole process to make it much easier! BE SURE YOU'RE 100% HONEST ON THE QUESTIONNAIRE. Take your time when doing the questionnaire because it matches based on your answers. As soon as you finish this, your matches appear for your view.
TIP: If you're looking to find your soulmate, on the section of the questionnaire that asks "How far should we search for your matches?", be sure to choose ANYWHERE IN THE WORLD. Remember, you cannot limit where you might find your perfect match, they may be found anywhere!
Before your matches are revealed, eHarmony asks if you would like to upgrade to one of their paid plans. By upgrading you will have many more options than the free plan.
In fact, there is very little you can do with the free plan other than set up your profile and review other profiles. You cannot communicate on the free plan. You can see more about pricing and plan options below.
You can choose "skip this step" to go to your eHarmony dashboard and start seeing matches and to create a profile.
Your Personality Profile
Once you have completed the questionnaire, you can view your personality profile when you log into your account. Once logged into the site, here you'll be able to see your characteristics and traits according to how you answered your questionnaire. These results will help eharmony find the right match for you and increase your chances for success.
Logging In
Let's discuss the login process. When you want to log in, simply enter your password and input the email address that you used to sign up. There are no usernames, so this makes it a bit easier to remember your login information.
This is the most exciting part of any dating site is when you're ready to start communicating with your matches. Your matches are provided to you based on your information on the questionnaire.
Every day, the website will give you approximately 10 matches. However, you have the chance to view 30 more profiles if you opt to play the "What If" game. This game involves simply clicking "What If" and only takes a second. These 30 matches are not as perfect as those provided to you, but you will have enough in common with them to possibly make a connection.
eharmony Dashboard
When you log in and get to your dashboard, which is your home screen, you will get a wealth of information, including:
Visitors
Photo updates
Profile updates
This dashboard typically starts off as mostly blank. As you use the site more and interact with more people, you will start to see more information on your dashboard. It essentially documents your activity on eharmony.
Matches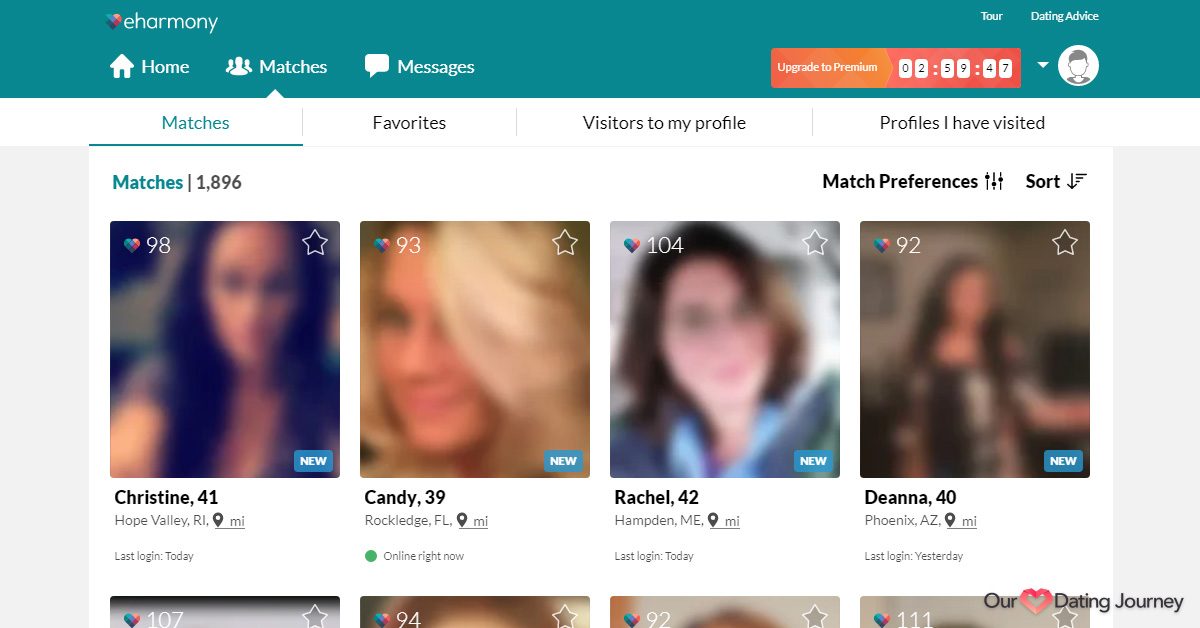 There are two other primary sections to know about including your messages and matches. Matches will show potenial matches and will be blurred out if you have the free version. You can see the member's name, age, profile photo, and location. If this interests you, click on it to see their full profile.
Your messages contains messages from other members. When you communicate on this website, you can choose for it to be as a handheld or independently driven as you prefer. Show interest in someone by sending a message or a smile. With messages, you have two options:
Guided communication goes much deeper compared to a regular massage. Both can be effective ways to get started with interaction. You can choose to stop guided communication at any time and switch it over to regular messaging.
Type a message just like you would an email and send it to the member
Use guided communication by sending questions to the member, receiving answers, sending deal-breakers, and getting some back from the members
The following are the most important elements of eharmony:
Compatibility Matching System to ensure your matches are most compatible with you
In-depth profiles
The What If feature to unlock new potential matches
Completely personalized dashboard
New matches every day
Independent and guided communication options
eharmony Apps
With technology being at the forefront of everyone's daily lives, it is not uncommon for mobile apps to be preferred for online dating. What apps does eHarmony offer? Key points regarding the apps include:
They are easy to use
They are available on Android and Apple iOS platforms
Not all of the desktop features are accessible on the apps
Both the Android and Apple apps may differ slightly in how they look. However, they have the same level of functionality, so no matter which device you are using, you can utilize the same features.
You are able to do most things on the apps that you can do on the desktop website, including signing up for eHarmony, getting your profile together, seeing your matches, contacting your matching, making adjustments to the settings regarding your matches, and managing your account.
While the apps are comprehensive, they do not make it possible to use the Book of You feature on your personality profile. As of now, this is a feature you need a desktop to be able to access.
The apps do not cost extra to use when you already have a paid subscription to the website. You are able to use both the app and the website. This allows you greater access to your eHarmony account no matter where you are.
To use the apps, you will have to download them. You can put them on your cellphone or your tablet, depending on your preferences.
Features
Does the Site Features Help Connect Members?
An online dating site's features are important because they can put a new spin and interactivity to make members hooked. We'll go over the few features this particular dating website has and see how fun and unique it is to use.
Matches
The main reason why eharmony stands out is because of its in-depth matching system. When you signed up and took the lenghty questionnaire, the website did its calculations to figure out who would be the best match for you and show it out to view in the Matches link. The matches displayed are matches based on your answers, so these are quality matches.
Favorites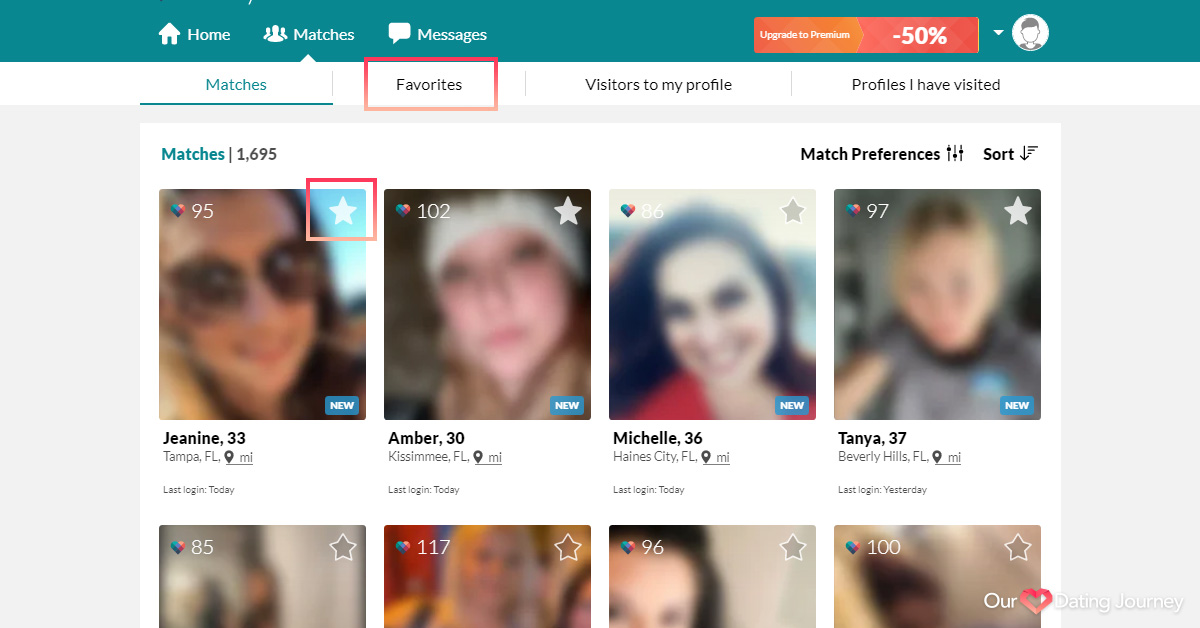 Surprisingly, not a lot of websites have a favorites feature that's free. eharmony gives it to you as a free member, and it's unlimited, so favorite to your heart's desire!
To start favoriting members, go to Matches, and then hit the star icon on top of their profile on the top right side. You can view all of your favorite people by going to the Favorites tab.
Video Chat
Video chat is a feature where you can have a live conversation with your matches. This feature will only work if you've connected with the member by messaging them a few times. After that, you can video chat and see if you two are a perfect match.
Remember, first impressions are key so make it count!
Security
How Safe Is Eharmony?
Are you safe and secure using the eharmony website? The answer is yes! This website has TRUSTe's Privacy Seal. This means that it meets or exceeds all of the compliance criteria regarding TRUSTe's privacy policies. This is imperative, and every dating should have this to ensure the greatest protection of its members.
RelyID
Another security feature this website has is RelyID. This is available for premium members and it works to verify the identity of those establishing accounts. This verification process works via the use of publicly available information to make sure members are who they say they are. It uses a two-step process:
You start with inputting your address, real legal name, and similar information
The second part involves a multiple-choice test that asks very specific questions with a single answer, such as asking where you have a bank account or where you might have financed a car in the past
Once you complete this process, the following is verified:
Your name
City of residence
Address
Age
On your profile, it will show that you have been verified. Once your ID is verified, your matches see a RelyID badge next to your name whenever they view your profile. This badge provides trustworthiness to your profile and lets the person viewing your profile that you're real.
However, the only verified piece of information your matches will see is your first name. This helps to protect your personal information.
Secure Socket Layer (SSL)
When you go to the eHarmony website, you will notice in the address bar that it says "secure" and it has "HTTPS" at the front of the website address. This means that you can input private information, such as your financial information to establish a paid membership and your demographics, securely.
During credit card transactions, the site takes it a step further with strong encryption (3DES) and/or Secure Socket Layer (SSL) technology. This means that only those with strict administrative access are able to see your financial information.
There are other proprietary security measures that are unspecified that this website also uses. These are focused on either protecting your information and/or your transactions on the website.
To sum up, what we have covered here, this is a highly secure website. You will not have to worry about your financial or personal information getting accessed by those who should never see it.
How many fake profiles and scammers are on eharmony?
According to a news report, eHarmony does not disclose information on possible fake or scammer profiles. However, a company that collects data from a variety of online dating sites estimates that for every 3.5 million profiles on a dating website, approximately 500,000 are not legitimate.
How does eharmony stop dating scammers?
eHarmony has a Trust and Safety team that works to review member accounts to look for suspicious behavior. Members can report other members who they find suspicious by clicking on the "Suspicious Profile" link. This takes you to a form where you can explain why you believe a member might not be legitimate.
The Trust and Safety team reviews all of the reports that they receive. They state that all of the reports that they receive will remain confidential so that another member will not know that it was you who reported them.
Cost of eharmony
What's The Cost of eharmony?
As we put together this comprehensive review, letting you know what eHarmony cost is imperative for this online dating service. There are different membership levels for you to choose from. They all have different features with the premium memberships offering you the most flexibility when seeking out dating partners. Learning more about what you can expect with each allows you to choose the membership plan that is most suitable to your needs.
Basic Plan (Free)
There is a free option, but it is very limited. You might consider a free account for a short period of time to get to know the website and evaluate the basic structure. The following includes what you can expect with a free account:
Unlimited matches
The ability to send and receive Smiles, Icebreakers, & Greetings
Respond to a first message
Browse anonymously
See recent visitors to your profile.
You can use a free account for an unlimited time
Premium Membership (Paid)
If you want to access more features, there is a premium plus plans to explore. This plan allows you to do the following:
You get all basic plan features
Your membership information is verified
You get an extended personality profile
Make secure voice calls to other members using your phone
Browse matches anonymously
Every month, your profile will be featured for 24 hours
All of your messages will come with receipts, so you will know if they were read
Get personalized phone support from an expert
Premium Plans (with 40% discount)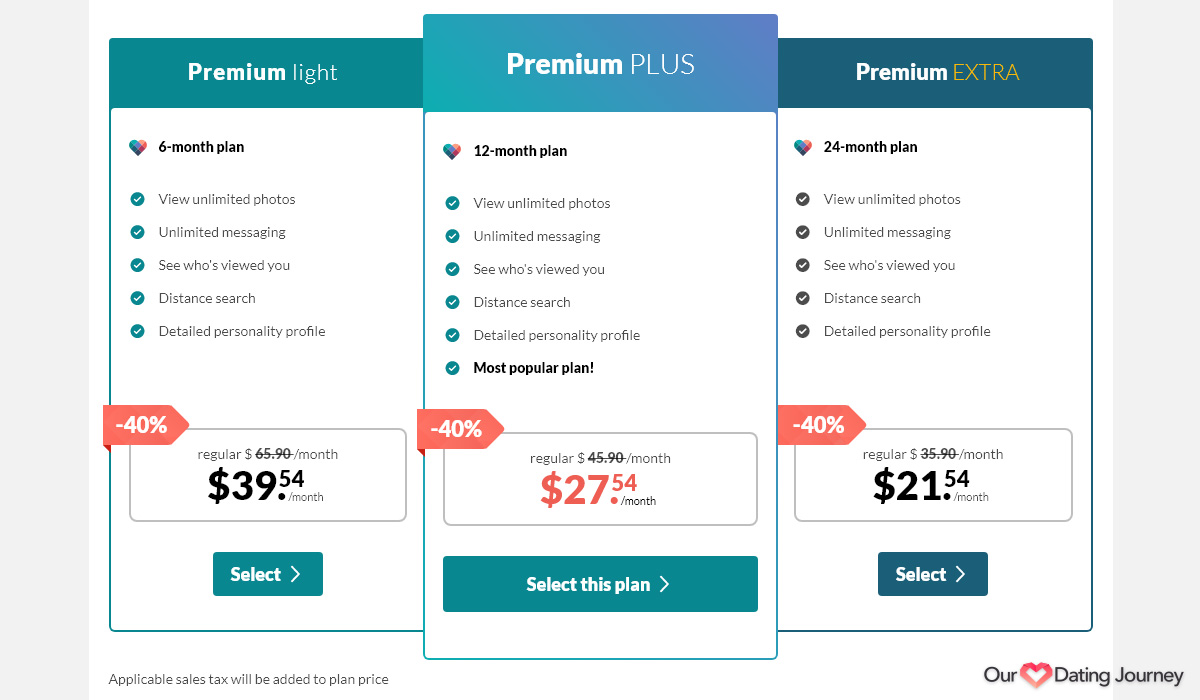 Premium light (6-month plan)
$39.54/month
Premium PLUS (12-month plan)
$27.54/month
Premium EXTRA
$21.54/month
It is important to keep an eye on how much time passes after you sign up since subscriptions may renew automatically. For example, if you choose a six-month basic plan, once you get to the fifth month, determine if you want to extend your subscription after your sixth month. If you do not, or you are unsure, call customer support to make sure that your subscription will not renew automatically.
It is possible for pricing to change. Once you are locked into a subscription, this is unlikely for the duration of your subscription, but make sure to read the fine print before signing on or renewing your subscription. Rates also may vary by country. These are the rates for people in the United States.
Customer Support
How Helpful Is the Support?
On every review, I always make sure to learn how well a dating site handles customer support. You never know when you might need a little help to get the most out of this dating website.
Since the website is relatively easy to navigate and use, issues are not common. However, if you have questions, the FAQ section is the first place to start. It is very comprehensive and offers answers to the questions that most members ask when signing up and using the website.
Should the FAQs not answer your question, customer support is available via email. On average, you can expect an answer to your question within 24 hours of sending an email.
There is also a customer service phone number if you prefer faster support or directly talking to a person to get your questions answered. Most dating websites do not have telephone support, so this is a desirable feature with eHarmony.
Live chat support is another choice if you have a premium plan membership. This option is done via instant messenger format.
The staff is friendly, and they have comprehensive knowledge regarding all elements of the website. All contact options are a viable choice, so the one you choose ultimately comes down to your personal preference and how quickly you need answers to your questions.
FAQ
Common Questions About eHarmony
Is there a free version of eharmony?
There is a free membership option, but the features are limited.
How much does it cost to join eharmony?
If you go for the Premium light plan, it's a 6-month plan at $39.54 a month for a total of $237.24. The next plan up is the Premium Plus at 12-months at $27.54 a month for a total of $330.48. Lastly, the 24-month plan is Premium Extra at $21.54 a month for a total of $516.96.
Is eharmony better than Match?
Both platforms have good reputations. eharmony offers a more extensive matching system while Match appears more laid back.
What is the success rate of eharmony?
Within a year of joining the website, an estimated 69 percent of men and 71 percent of women meet their spouse.
How long does eharmony take to work?
Once you complete the registration process, complete your profile, and do the matching questionnaire, you start getting matches right away.
Can you communicate on eharmony without a paid membership?
You will need a paid subscription to use the messaging feature on eHarmony.
Can you cancel eharmony after a month?
Yes, you can cancel as long as you cancel your membership before the renewal date. On the bottom of the main page, just click on "Cancel My Subscription" and follow the steps.
What is the Best Age Group for eHarmony?
The majority of members are aged 18 to 24. The second-largest age group is people ages 25 to 34.
Is eHarmony Religious?
The psychologist who founded eHarmony is a Christian. However, religion is not the primary focus of the site or its matching algorithm.
How Long Does It Take to Complete the Questionnaire on eHarmony?
The current questionnaire will take about 10 minutes to complete.
How Many Matches Does eHarmony Send Daily?
Most members receive at least a couple of new matches each day.
Does eHarmony Show How Often a Member Looks at Your Profile?
It will show you each day a person views your profile. For example, if they look at it on Tuesday and Wednesday, it will tell you they looked twice. However, if they view it four times on Tuesday, it only shows that they viewed it one time.
Does eHarmony Do Background Checks?
This site does not do background checks on its members.
Will eHarmony Issue a Refund?
They do offer a refund as long as you cancel your subscription in time. You can find the dates for cancellation listed on your account.
Can You Retake the eHarmony Questionnaire?
This questionnaire is designed for people to take it only once. However, the site can reset it for you if something in your life changes that could impact your previous answers.
What is the eHarmony Incognito Feature?
This feature allows you to remain anonymous when you are viewing other member profiles.
What is the eHarmony Green Dot?
This tells you that the user is currently logged into the website.
Will eHarmony Terminate an Account?
If you violate their Terms and Conditions, they may terminate your account.
What Is eHarmony's Contact Information?
10900 Wilshire Boulevard
17th Floor
Los Angeles, CA 90024
1-424-258-1199
Pros and Cons
What Are the Advantages Versus the Disadvantages?
Positive
Thorough personality testing
Thorough compatibility testing
A wealth of diverse users
The signup process is fully guided
190+ countries are covered
Completely personalized
Better for serious relationships
Matches delivered to you
Negatives
Limited search tools
Cant' see your Match's face clearly until you've upgraded to Premium
Testimonials
What are people saying about eharmony?
Review Conclusion
Is eharmony Worth A Try?
Eharmony is our NUMBER ONE PICK of all online dating sites. There simply is no better site to find great matches. I have used many other dating sites and eharmony is in a class of it's own. They have the best matching system along with a world-class dating platform so you can be sure that you're online dating experience is safe.
To get the best results using eHarmony, be sure to FULLY and HONESTLY complete their initial questionnaire. If you take the time to do this your matches will be better suited to what you're looking for!
---