In this cruel world filled with straight women and rejection, it is refreshing and relieving to retreat to the digital world of online dating. It takes the anxiety and pressure away from dating in the real world, which is why we have put together this top list of lesbian dating sites to help point you in the right direction.Dating as a lesbian is entirely different from dating as a straight woman. Why is that? Most people in the world are straight. This makes attracting a straight partner that much easier as opposed to a lesbian seducing a suitable partner.
Along with this, being a lesbian and dating becomes significantly more complicated when you are just emerging from the closet. You probably do not know anyone that is lesbian, and if you do, you probably are not interested in them. And let's face it, going to a lesbian bar by yourself can be pretty daunting. That is if you have the option of going to a lesbian bar. Nowadays, they are closing down so fast that soon all we are going to be left with are straight bars, and we all know how hard it is to find lesbians there.
That is why we have compiled a list of the best online dating sites for lesbians. We have done all the research on what makes these sites and apps great. We guarantee that you will find some incredible experiences when using these sites. The beauty of online dating is that each site or app is good for something. Whether you are looking for a real relationship, a hookup, or anything in-between, we have you covered with the best lesbian dating sites listed below.
PinkCupid was launched in 2006 as a niche online dating site for lesbians. It claims to have over 1 million members all over the world. This gives users many opportunities to meet other lesbians no matter where they are situated in the world. Along with this, the dating site has been proven to help countless single ladies find love and long-term partners.
The overall atmosphere amongst users is serious when it comes to finding a partner. Majority of the singles that sign-up with PinkCupid are considered to be relatively young. Most of the members fall into the age bracket of 25 to 34 years old. A unique feature of the app is that it allows you to interact with people from around the world, not just in your local area. This is different from what most online dating sites offer their users. Added to this, they also provide a built-in translator when upgrading your membership. This helps in combating the problem of any language barriers.
Something else that is genuinely great about PinkCupid is that they put procedures together to reduce the number of catfishes on their website. When verifying your account, you cannot do so just by adding an ordinary email. Instead, you will need to link a valid ID to access the site.
---
Read our full, in-depth review of eharmony here.
eharmony launched CompatiblePartners in 2009, which is dedicated to helping find partners that identify as lesbian or gay. The sign-up process is seen as ridiculously long, with 400 questions that need to be answered before you can start scrolling through the mass of potential lovers. That being said, it is all worth it in the end as the site uses this information to better align you with people that can be the most fitting for you. This is based on the answers you provide on the site, so make sure to be as honest as possible.
The site offers you five matches a day. Added to this, you can get in touch with these matches through inbox messaging or a secure phone line, allow you to be in contact without disclosing any personal information that you may not feel comfortable with sharing.
A great feature about eharmony is that this is not the type of dating site where you will be met with many catfishes. Of course, a dating site cannot assure that you will not be greeted by one. However, they essentially reduce this from happening as the sign-up process is too long for anyone interested in wasting other people's time.
---
EliteSingles is an online dating site that is aimed explicitly at educated professionals. Although this may not seem like such a big deal to some, whether or not a person has a degree can be a deal-breaker to many. For this reason, EliteSingles was created to accommodate these singles in finding love. Not only does this deal-breaker apply to straight people, but it also applies to the queer community. For that, lesbians can also have the opportunity to find a partner on EliteSingles.
Something unique about EliteSingles that sets them apart from every other online dating site is that they focus on helping people find a partner based on their educational values and career goals. This is something that is not offered or focused on by competitors.
However, be prepared for a lengthy sign-up process. Put aside about half an hour to give each question a well-thought-out answer, especially with the open-ended ones. This may be a frustrating activity but remember why you are doing it. The more the site knows about you, the better chance you have to be linked to matches that well-represent what you are looking for in a partner.
---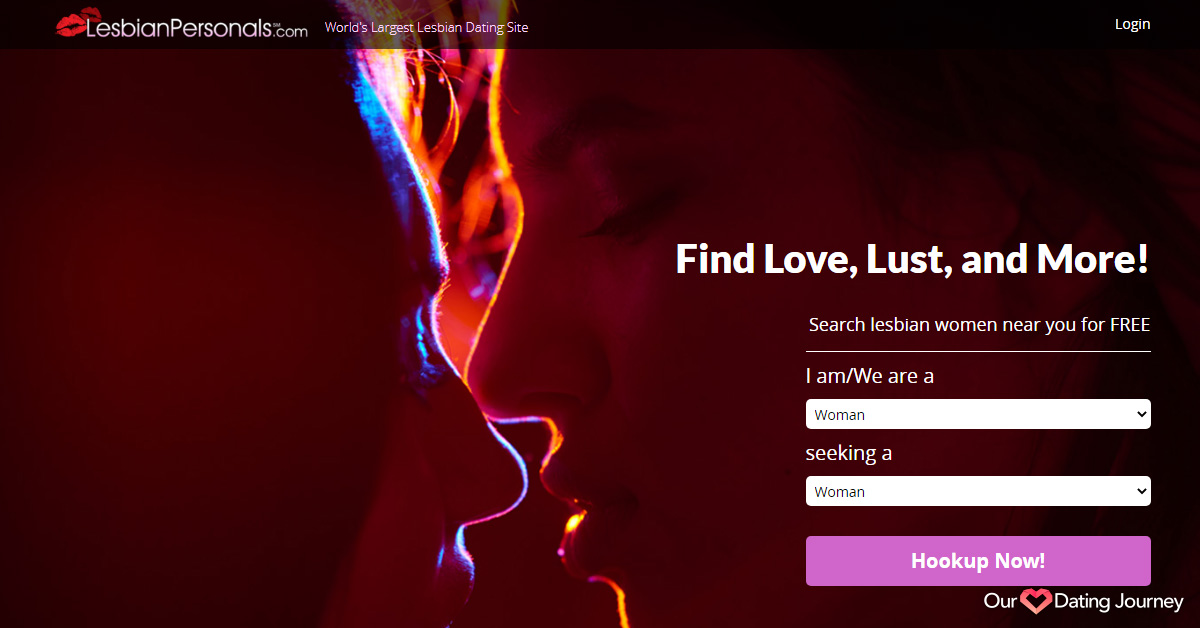 This platform has the reputation of offering its lesbian users casual dating opportunities. Not only does the online dating site offer this, but Lesbian Personals is seen as one of the highest response rates.
This is possibly the best site if you are looking to be a unicorn or looking for a unicorn. For those that are still new to the lesbian terminology, a unicorn is a single lesbian that participates as the third person to make up a threesome.
Along with this, the content on Lesbian Personals is relatively mature, and it is clear that the site is designed to attract those singles looking for a good time, and not necessarily a long time. If you are looking for love and a long-term partnership, then I am afraid that this would not be the site for you. However, various sites offer these opportunities, and frankly, not enough that promote hook-ups.
That is why Lesbian Personal is so popular, as it gives single lesbians looking to have some fun a platform to do so. Added to this, the security features of the app are pretty higher grade. Your safety is one of Lesbian Personal's priorities. Therefore, you can have the comfort of knowing that you can have fun and be safe at the same time.
---
The sheer fact that lesbians make the app for lesbians is exciting and a breath of fresh air. Added to this, knowing that men showing up is next to impossible is an added benefit. The app gives you the ability to find local matches that you would never have thought existed. If that is not great, you can also get involved in local LGBTQ events, read the news related to the LGBTQ community, and make friends through a social-media like feed, quite like Instagram.
The dating site is designed to find dates but what is so appealing is that there is a lack of pressure to hook up or find a girlfriend. That is one of the many features that make the dating site so inviting. H.E.R is an award-winning app that claims to introduce you to every lesbian you have ever wanted to meet.
The minimalist approach to their design encourages users to interact with one another rather than creep. While most online dating sites will have you fill out an extensive questionnaire, H.E.R asks for the bare minimum, requiring users to ask if they would like to know more about you. Instead of showing you a single profile at a time, H.E.R provides a collage of nearby women which you can go through and choose who you would like to connect with.
It is one of the only dating apps designed for queer women, but it also requires a FaceBook profile to be linked with the dating profile to be authenticated. This reduces the risk of being catfished by creepy men posing to be a woman. Another great feature about the dating site is that it is 100 percent free to download and enjoy no in-app purchases.
However, some reviews state that H.E.R has a reputation of being a "relationship app," with most of the feed being taken up with women complaining about being single. In saying this, we believe that the good outweighs the bad, and anyone interested in spicing up their dating life should have a look at H.E.R.
---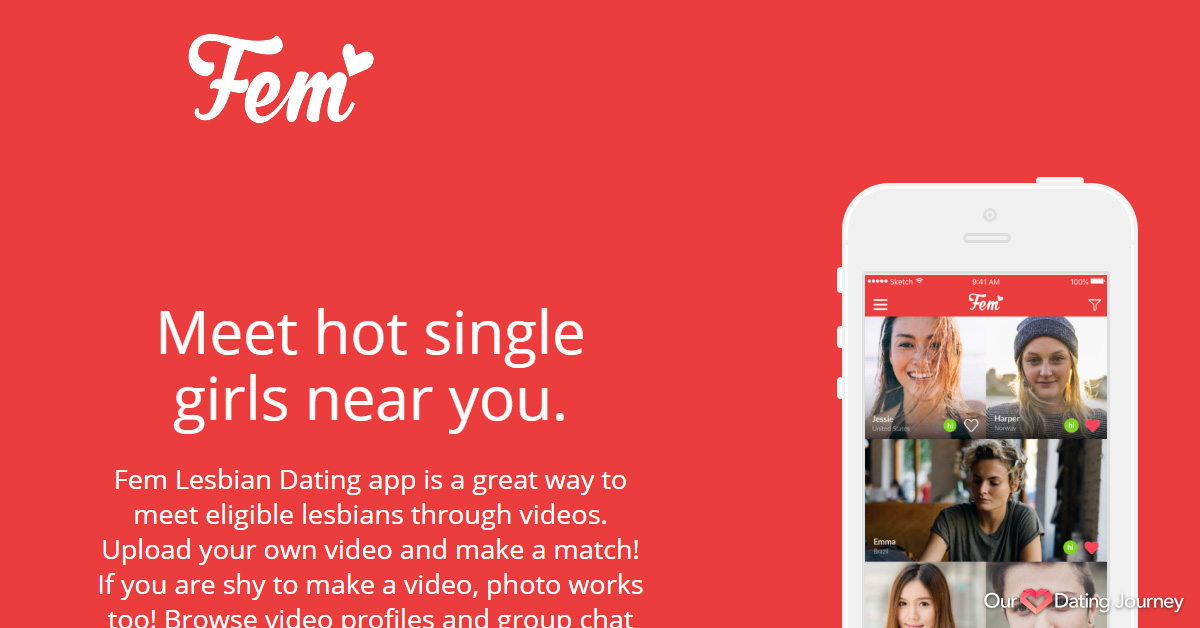 Fem stands out when offering a safe experience reducing catfishing risk as each user is encouraged to submit videos. This is a great relief to lesbians using this dating site as many queer women face a threat of catfishing when using online dating sites. This is because creepy men lurk on these sites and pretend to be a woman.
Fem encourages users to introduce themselves by the use of a video. A bonus to this is that you will get to hear the person's voice before you meet them in real life. However, if you are shy in front of a camera, you need not worry as Fem does not require a video, so you can stick to using your best selfies. Other than the video feature, Fem runs pretty much the same as any other online dating site, so you do not need to worry about any significant learning curve.
The videos do give Fem that extra edge. There is nothing more comforting than going on a date with someone you have already seen through video. You already know what to expect, from their physical appearance, their voice, and the way they conduct themselves. Added to this, you will have a better chance of spotting them from a crowd of people. Thereby, having you go up to the wrong person less likely. Fem also has a unique tool called "Rooms."
This is where users can talk in various settings, send pictures, and have some pretty intellectual conversations. The contemporary rooms they have available are "Meet Locals," "Makeup Talk," and "Naughty or Nice." Being a lesbian can be lonely at times, especially when you are just coming out.
In saying this, Fem allows you to meet women with similar interests and expand your circle, all through your phone. However, due to Fem being reasonably new and has experienced technical difficulties, the user database is still relatively small.
Included in this, people are not shown based on your location, so the woman you meet might not be from your area.
---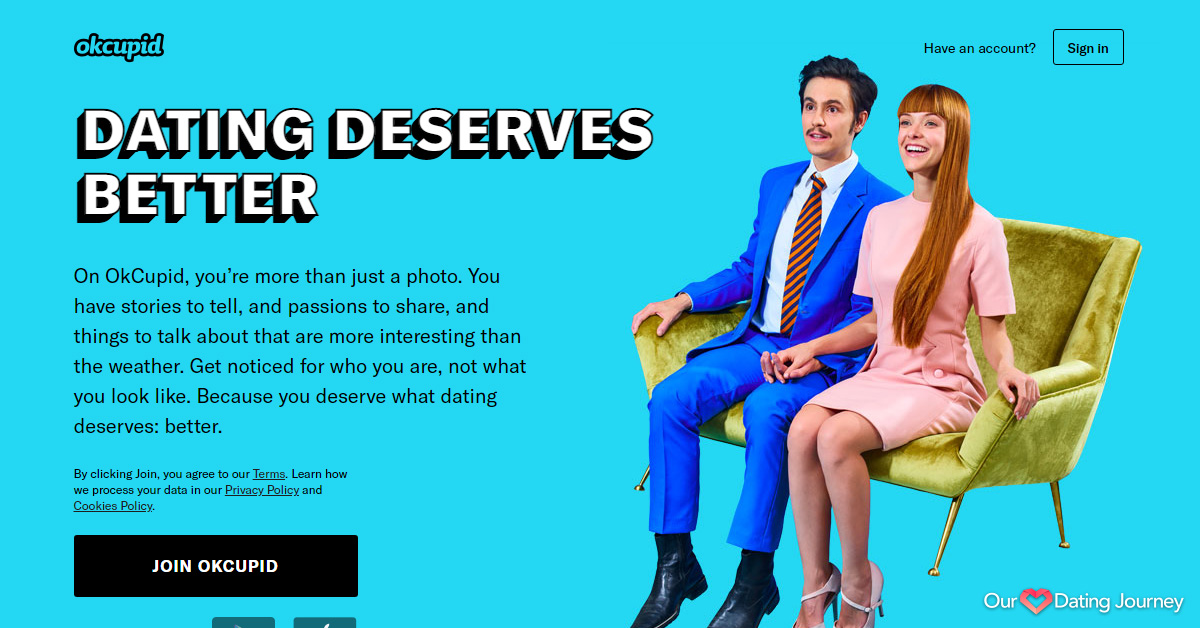 Read our in-depth review of OkCupid here.
This online dating site has genuinely upped its queer game in the past few years and has become highly competitive against other queer-friendly dating sites. The site launched a queer advertising campaign last year. This has helped make OKCupid one of the biggest dating apps in America. They offer a large dating pool of potential matches and offer you the opportunity to find a lasting connection.
Like most of its competitors, OKCupid has in-depth user bios and sets of questions. This makes the set-up process a lot slower than some counterparts. However, one can argue that it gives users the ability to get to know each other better, thus making the set-up process worthwhile. It uses swiping, which makes it easier to match with people.
The reputation of OKCupid is seen as being more severe and aimed towards attracting last connections. Another great feature is that matches are shown based on the percentage of things you had in common from the questions you answered.
OKCupid's slogan is "Dating deserves better," and that could not be more right. They have experienced an awesome remodel of their website, which has included an expansion of 12 sexual orientations and 20 gender identities. Those that have rejected the idea of online dating sites due to the lack of inclusion can now feel free to be themselves while finding a potential lover in a safe space without conforming to labels.
---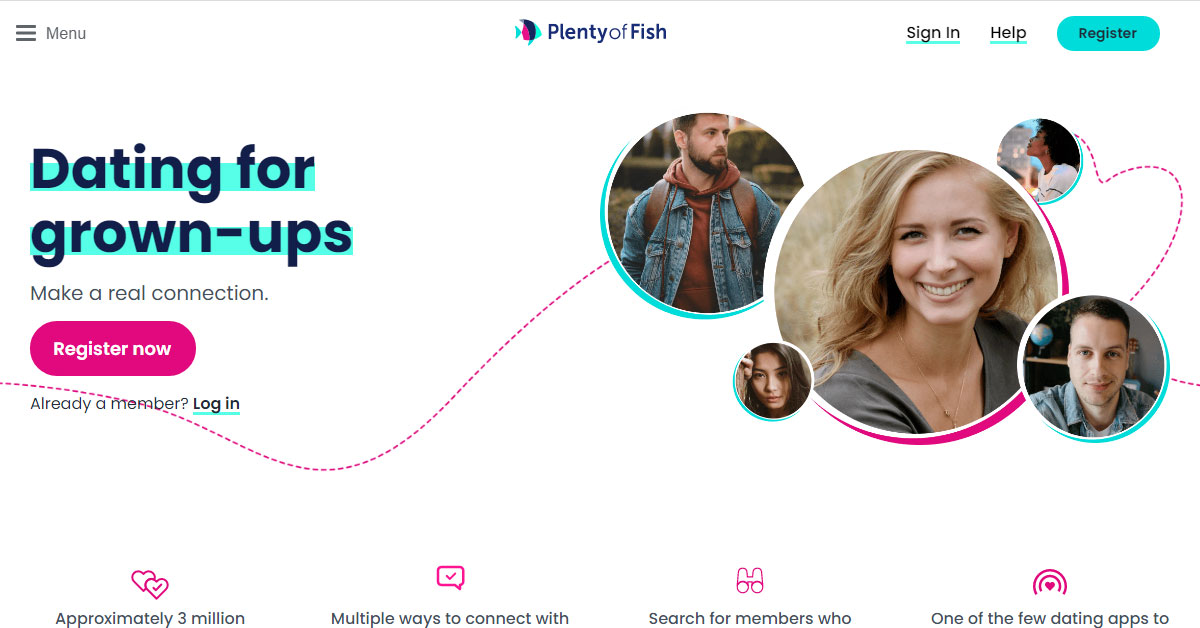 This free online dating site is one of the first sites to launch in this field. Some complain that the registration process requires lots of heavy-duty answering. However, this is only because Plenty Of Fish (POF) wants to ensure that you find actual chemistry with your matches. Their user database is pretty extensive, so you will be guaranteed to have many options to look through.
The majority is a more mature crowd, so that this dating site would work best for someone older or someone looking for a more older partner.
Not only is Plenty of Fish looking to match you with people you are interested in, but they are also interested in matching you with people that are looking for the same things as you.
However, it is not bisexual friendly which is a huge bummer. This should not be a problem if you do not choose to swing both ways. In saying this, we can understand how frustrating it can be for someone that is bisexual and interested in dating both male and female. Along with this, they only offer male or female options.
Again, this is frustrating if you do not choose to conform to these labels. However, you could mention your preferred gender identity in your bio to all potential love interests the opportunity to gain this information about you. This is only if you are comfortable sharing this. Otherwise, you can always keep a bit of mystery amongst your matches as this can be exciting too.
---
Hinge has been around for a while, but a recent update has made the app very appealing to people of all sexual orientations. Instead of basing matches solely off your location, Hinge links your FaceBook account to only match you with friends of friends.
Hinge wants to help you reduce the risk of going out with people who are not who they say they are and keep your dating experiences enjoyable. Along with this, Hinge gathers information off of your Facebook profiles, like your age and relationship status. This allows the dating site to filter out cheaters, liars, and couples who only seek someone to join in on a threesome.
Hinge has a reputation for attracting users that are looking for something real. If this is what you are interested in, you can take some comfort in knowing that you are interacting with people, are taking this just as seriously as you are. However, Hinge only has male and female options, which makes the exclusivity quite annoying.
This can turn off anyone that does not conform to these labels. In saying this, we urge you to keep in mind that Hinge's encouragement to talk with one another allows the other person to find this information about you. This is only if and when you wish to disclose this information.
---
A great feature of Bumble is that you only have 24 hours to start a conversation with your match. If you are tired of looking at matches from 6 months ago, this is the perfect dating site for you. This can also push shyer daters into making the first move as it is better to try your luck and fail, then wonder for months down the line if you made a mistake by not sending a message and reaching out.
The yellow color scheme makes the app look low pressure which is what you want to achieve when designing a dating app. You will have the freedom to interact with whoever you wish without the pressure of having to fulfill any commitments.
The beauty of Bumble is that they offer a separate BBF, which is aimed at platonic relationships. If you are not on this feature and speak to a bunch of cute girls, you do not need to worry about them blowing you off because they claim to be straight. However, even though you select that you are only interested in dating girls, men will show up in your selection. This can be annoying. Trust me, I know.
But in saying this, the large volume of girls present on the app that are interested in dating other girls makes this a minor inconvenience. All you need to do, if this ever comes up, is swipe left and quickly move on to your next potential match.
---
Why Are Woman-Only Apps Important?
There is still a lot of work that needs to be done when we look at inclusivity, but it is pretty great when we look at how far the online dating market has come in recent years. Queer-only apps are beginning to pop up more frequently nowadays as well as apps that were primarily targeted for straight-focused interactions are now adding countless new gender and sexual orientation options.
Although they are still flawed, it is a few steps in the right direction. Love is love, and we are glad that people are finally starting to understand and get on board with this concept. Because of this, we are excited to see where dating apps will be in the next few years when including gays, lesbians, transgender, and non-binary people into the apps.
What do you think? Let us know what your experiences are with online dating and relationships. We want to know.