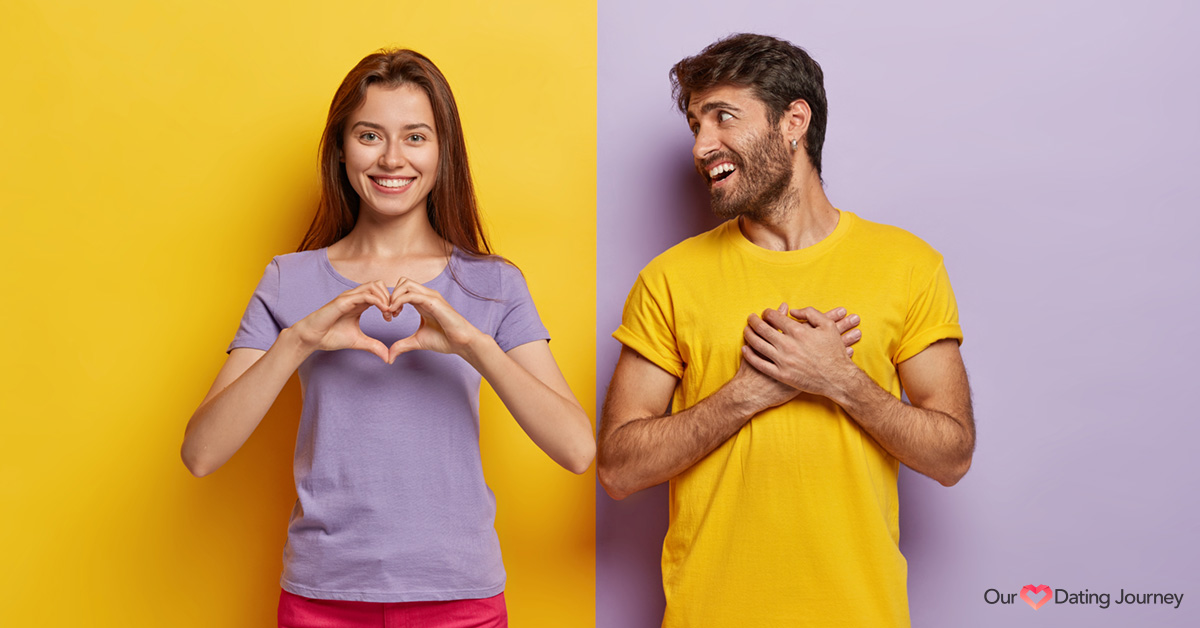 Finding your soulmate is something that everyone wants, but it can be a complicated process. Learning more about dating, the trends, and just some fun date ideas can help to improve your chances of success.
We have scoured the internet to bring you the 50 best relationship blogs. These are packed with valuable information to help you on your journey to find real love. Below are the websites in no specific order.
Evan Marc Katz is a dating coach that focuses on helping women to connect with men. After leaving the film industry, Katz took his skills and transformed them into an ability to help people to find love. He has written successful books and has made a name for himself as an expert in the field.
On this website, you will find success stories to give you some hope that the man you are seeking is actually out there. It also offers coaching, products to help you find love and a member's area. The blog is a place to get some advice. The advice may not be what you want to hear, but it is solid and proven.
Here is a great post that may help you to learn why your boyfriend decided to suddenly leave you.
Visit his official site at EvanMarcKatz.com
Bryan Reeves spent his early adult years in the United States Air Force moving up the ranks. After leaving the military, he decided to explore the world. He felt lost and had no idea who he was.
He ended up in a short marriage that ended terribly. This was the experience that brought him home, into the corporate world, and then onto a career change. Rather quickly he went onto life coaching.
His blog contains coaching, a blog packed with useful advice, and various relationship programs to help you to find your soulmate, and even what you want out of life.
Here is an article that helps you to see how true intimacy changes who you are.
James M. Sama is an author and speaker recognized all throughout the world. He is a relationship expert who has relationships with multiple major media outlets that use his services. He also does live events throughout the United States.
Since 2013, Sama has worked on helping people to create solid relationships with themselves so that they can build happy relationships with other people.
His website features his coaching and products to help you to build stronger relationships. There is also a blog where Sama shares his wisdom and experience regarding relationships.
Here is a great blog that tells you the opposite of what you are used to hearing.
Jacqueline Hellyer is a leading expert on love, sex, and intimacy throughout the world. On her blog, she shares her secrets and wealth of knowledge so that you can put it to work for you.
Hellyer hosts retreats and workshops that couples can attend. She also provides numerous podcasts, books, and other informational material to help you to develop much deeper and more meaningful relationships.
She is knowledgeable in numerous relationship-related fields, from being a Tantra teacher and a sex educator to an experienced relationship coach and sex therapist.
This blog post provides important information regarding what you can expect during therapy.
This institute has a website that provides information and resources for couples and individuals. Their goal is to reach people of all backgrounds to help them to find love, acceptance, and compassion.
On the relationship front, they work with happy couples and those in relationships that need help and repair. They have training materials, workshops, and other resources to help couples to find their way back to each other.
This institute also has information and resources for mental health professionals who want to aid couples and others with relationship troubles.
Here is a great blog post that talks about jealousy in relationships.
This website is a full-service wealth of information about love, romance, intimacy, and relationships. Go back to the basics and learn more about the building blocks of a healthy relationship.
From here, take the time to explore the information and resources regarding emotional health. This helps you to love yourself so that you can fully open yourself to others.
This website also offers courses and consultations to help you to get your love life where you want it to be. Check out the Toolbox Store to see the other resources that this website has to offer.
Here is a great blog post that can answer your common questions about premarital counseling.
Whether you are a woman looking for a male perspective or you are a guy looking for relationship advice from a voice you can relate to, this is the ideal blog for you.
Robert Manni's goal is to help women and men understand each other better. He navigates all of the challenges you would expect to encounter in the world of modern dating. He also puts some focus on other important aspects of life, such as wellness, friendships, and career.
This website features a relationship blog packed with important information, as well as videos, other media, event details, and further information about Guy's Guy Radio.
Long-distance dating is becoming more and more popular every year. This blog focuses on couples who have hundreds, or even thousands, of miles between them. Start with the quotes to remain hopeful about dating despite the distance.
There is a section that gives advice about how to maintain intimacy and your relationship when you are living apart. Other sections provide long-distance activities that the two of you can do together. Lastly, you can shop and get cool gift ideas for your significant other who is far away.
This is a great post about how to handle your first in-person meeting.
This website offers a comprehensive resource for everything about relationships. The majority of the website contributors have experienced relationships. This ensures that all of the information is provided by experts.
On this website, you can check out the latest relationship research, look at facts, and explore various infographics for detailed information. Take a look at pop culture relationships, take quizzes, and explore the polls.
This website also has a question and answer section, a place for gifts, and plenty of blog posts for you to read and enjoy.
This blog post is an excellent writeup about relationship betrayal.
Dr. Diana Kirschner operates this website. She is a psychologist, a love expert, and a best-selling author. She focuses on helping both couples and singles to discover and build their dream relationships.
Learn more about Dr. Kirschner's mentoring and coaching. Check out her books and get the details about her webinars.
On this website, you can look at success stories so that you stay motivated to find love. Explore the daily love affirmation to help bring love to you. Lastly, take advantage of the free relationship advice listed on this website.
Check out this excellent blog post to learn about what men are looking for.
This website is your ultimate resource for all things love and marriage. Get advice about everything from your engagement to filing for a divorce. If necessary, you can use the "find a therapist" resource to help work on your marriage.
Talk to others on the forum and take the quizzes to learn more about yourself, your partner and your relationship. Check out the videos for more comprehensive webinars and informational pieces.
Get legal advice about marriage and divorce. Read some quotes for inspiration and check out the blog to learn more.
Check out this blog to make you smile.
Since 1999, Otto and Susie Collins have been sharing their message of love and hope on a global scale. They have written an array of books and a four-step program to help you find the love of your life.
The certified transformative coaches offer various programs to singles and couples who are seeking true love. On their website, you can peruse the free information or choose to become a member. The relationship blog is packed with information that you can use to find true love.
Here is one of our favorite posts that tackles the common issue of loving each other's differences.
Adam LoDolce runs this website. He is a top women's dating expert with international recognition. He is endorsed by numerous big media outlets and he hosts talks and seminars throughout the world.
His goal is to help women to find the love of their life while also being confident in their search. His website provides products, and reviews of products, that women can use to start searching for their soulmate.
His blog has a wide variety of posts that tackle the most common dating topics.
This is an excellent post that will help you to determine if your relationship is based on true love:
Monika Hoyt is a relationship coach and therapist that specializes in long-term relationships and marriages that are headed for divorce or separation. She has more than 20 years of experience counseling couples to repair their relationships.
Her website provides information about her team and the methods people can use to work with her. It gives you a place to contact her to get more information about how she may be able to help repair your relationship.
Check out the results she has helped couples to achieve. Explore the website's blog to gain greater insight into love and improving your relationship.
This is a great post about holiday-induced relationships stresses.
Jess McCann is a coach, author, and friend to women. She believes that 99 percent of relationship troubles can be reversed if women are willing to change and have an open mind.
Her website provides information about her coaching and consulting services. While her focus is on women, she also works with men who are trying to find a deep connection.
On her site, you can check out the various media. Explore the books she has written and look at her blog to get advice on a multitude of common relationship topics.
This post helps you to better understand the role of a dating coach.
Whether you are seeking a sugar daddy, or you are a man looking for an attractive sugar baby, this website provides the information that you need. It gives you current information that will help you to create and foster a sugar relationship.
Sugar daddy dating continues to be a popular option for people throughout the world. This website provides a variety of posts that give you detailed information on the trends, and what you need to do to start this type of relationship.
Kyle Benson focuses on creating intentionally emotional relationships. When he started the website, he was incredibly lonely and in a vulnerable place. His work can be found in multiple major media publications.
He offers professional training for people wanting to establish nurturing relationships. He helps couples to establish a deep sense of intimacy in their relationship.
This website provides courses that both couples and singles can take. It also includes a multitude of related resources and articles.
This is a great article that can help you to better understand insecurity and how to harness it for good.
Alicia H. Clark PsyD runs this website. She is a relationship expert that provides coaching, psychotherapy, and speaking. Her practice works with people from all backgrounds.
Her practice and website focus on a lot of the common challenges people face when they are looking for love, from the first meeting to decide to take the next steps.
This website provides a wealth of resources for people to utilize. Get information about humor, anxiety, and even general motivation for all areas of your life. There are also books to explore.
This great blog post provides information about the ghosting trend.
Psychology Today is one of the most comprehensive websites for psychology and mental health topics. It covers everything from specific disorders to help you cope with a breakup.
The relationship content is provided by experts in the field. This includes everyone from psychiatrists to sex therapists.
In addition to articles and information, there are other resources that you can take advantage of to dig deeper into love and relationships. Examples of these resources include determining your romantic personality and exploring love diagnostics.
This post is an excellent option if you want to learn more about bad dating advice to avoid.
This relationship blog is operated by Amy Chan. She is a blogger and a newspaper columnist who specializes in love and relationships. She also works to end sex trafficking.
This website focuses on all stages of a relationship, from the honeymoon stage to ending a marriage and getting a divorce. All of the information is monitored by Amy to ensure that it is fitting for today's modern woman.
Read interviews, check out informational articles, and even get advice about your career. There is also a section for quotes to keep you motivated.
This article is a good choice for learning how to argue properly with your partner.
DoULike blog has tons of helpful tips, guides, and relationship advice to upgrade your dating habits. They also offer tons of listicle articles on a wide variety of dating topics.
If you like easy to read and consume content, we highly suggest you check this one out.
Esther Perel was determined to help people to build strong relationships. She did some cultural experiments and decided she wanted to focus on sexuality and conversation.
This website is a comprehensive resource for couples who need some insight and direction regarding their relationship. It also offers clinical training for those who want to help others with their love life.
Get information about speaking engagements and other events on this website. You can also get a glimpse into what the press has to say about Esther Perel.
This excellent post talks about the similarities in sexuality between men and women.
This website has a variety of authors that offer diverse perspectives on dating and relationships. They talk about everything from getting over the first date jitters to keeping your sex life alive.
This website has a simple layout. This makes it easy to find the information that you need. If you need something that is not readily available on this site, it is easy to contact them to request the information.
The blogs are straightforward and written in a way that emphasizes the real-life experience. This helps you to relate to what is being said.
This post is one of our favorites from this website: Fun Relationship Questions to Increase Connection with your Partner.
Hilary Silver is an accomplished love, relationship, and intimacy coach. She is known throughout the world for her mentoring of successful and single women. Her number one goal is to help all women find a happy and healthy relationship.
You can learn more about Hilary and her five-step strategy on this website. Check out her upcoming speaking engagements and media mentions of her. You can also contact her directly through the website.
Get inspiration by checking out the success stories on this website. Take advantage of Hilary's expertise and advice by checking out her relationship blog.
This website is run by a woman who has overcome incredible odds to find success, love, and happiness. She is using what she learned from her own life experiences to help women get everything they want out of life.
She puts focus on breaking bad habits, eliminate self-hate, and learning to be more easygoing about your stresses in life. Ultimately, her methods help you to become more emotionally available by releasing your emotional baggage.
This website offers a lot of resources from books to programs. All of these are ideal for helping you to break through the negative in your life so that you can reclaim your happiness and emotional wellness.
Here are an article and podcast from this website that we thoroughly enjoyed.
Katarina Phang focuses on helping women to find and nurture healthy relationships. Phang is a feminine magnetism expert. She works with women from all over the world to help them to find their happiness.
Phang offers coaching and other products to help you with your love life directly through her website. You can become a member to access even more of her resources.
Join the forum so that you can talk to other women who are also seeking to improve their relationship situation. The blog provides posts that cover all aspects of love from finding your soulmate to getting over a breakup.
This article helps you to determine if your mate is a potential narcissist.
This relationship blog from Camille and Jacob has hundreds of great date ideas to steer away from the norm.
These date ideas are filterable by price, location, and much more, so you won't ever have a dull date ever again!
They also share excellent relationship advice to take things to the next level and beyond.
Orly started out as a nurse-midwife in the 1970s. After coming to the USA, she eventually got her degree in counseling. She focused on couples and relationships.
She focuses on the current research to help guide her clients. This website is a compilation of her knowledge and experience. Get information about her services to see which might be ideal for you.
See what the media is saying and check out her blog for a variety of articles about relationships. Clinicians also have a section for resources geared toward them.
Check out these articles to learn more about love and relationships.
This website is focused on helping women to get the guy that they want. Matthew Hussey runs this website. He provides relationship information to women from a man's perspective.
You can explore the articles and check out the free guide to get more information about what Hussey has to offer. You can also read his book for deeper insight into this topic.
Hussey offers different retreats for women. You can choose the at-home retreat or the live retreat. The website provides detailed information about both options.
Check out this article to take the right action when you are getting mixed signals from your ex.
This website is a comprehensive database of information and resources to help people build and foster solid relationships. Both men and women can use the information presented here.
The team that runs the school is focused on helping you to find a healthy relationship. This includes coaching you through the emotional aspects too. You can hire a coach directly from the website.
In addition to the coaching, check out the blog, podcasts, programs, and courses to help you with your relationship goals.
Here is an article that we found great and relevant.
This website is dedicated to women who play the lead role in their relationships. It helps you to determine if being the leader is the best option for you and your partner.
By checking out the resources, you can gain the empowerment that you need to be confident as the lead in your relationship. Sign up for the newsletter and check out the matchmaking service to meet people who have the same values that you do.
Learn how to structure your relationship to help ensure success. You can also find books that focus on female-led relationships.
Gideon Hanekom runs this website. He has focused on helping people to find love for years. He puts emphasis on motivating people to acknowledge that they are worth happiness.
He offers a variety of services and coaching options that you can take advantage of right from his website. There is also a membership that you can use to gain greater access to his knowledge and resources.
Check out the products that he offers. Read his relationship blog to answer the questions about love that you have been wanting answers for. You can also contact Gideon right from the website.
Here is an article on motivation vs self-discipline we really liked from this website.
This website focuses on men and dating. It helps men to improve everything about their love life from their dating strategy to ensure that they have optimal sexual health.
The information is broken down into categories so that it is easy to find what you are looking for.
The dating coach that runs this website is a woman. This can help men to see dating and love from a woman's perspective.
This excellent blog post can help you to overcome first date anxiety.
This website provides information to help women become a feminine goddess that can attract the man that she wants. There are ebooks and other resources that provide essential tips and information.
There are programs that you can explore to help you on your journey. These are broken down for those who are single, in a relationship, or just casually dating. This makes it easy to find the courses and information that are best for your current situation.
There are articles on this website that help you to learn more about all stages of a relationship, from determining if your relationship is healthy to get started with a new partner.
Here is an interesting article, 5 Unusual Signs A Man Is Falling In Love With You, to help you determine if your man truly loves you.
Dating in urban areas is much different compared to rural areas. This is what this website focuses on. It provides information about relationships, dating, and sex for city dwellers.
You can ask the Urban Dater your most important questions to get some advice and direction for your love life. Check out the online dating section to improve your chances of success when it comes to meeting someone online.
Explore the dating and relationships section to get answers to the questions that have been running through your mind. The blog posts provide information about just about everything an urban dater could want.
This is a London-based website that features expert information from relationship and dating experts. To see how the information may help you, look at the Success Stories section to see what real people are saying about how Vida Consultancy helped them.
You can get information about the counseling and coaching services that are offered by the experts on this website.
See what the press has to say about Vida Consultancy and their team of experts. You can also explore the FAQ section to learn more about this website and the services that are offered. The blog is a comprehensive resource for dating and relationship information.
Explore different online dating websites that they recommend to get started with meeting someone special.
Instead of just your usual love and dating advice, this website also has categories for getting divorced and dating after 40. You can also read the latest news about this topic on this website.
Get data about love and relationships to help determine where you stand. This is valuable information that is available on very few websites.
Marni Battista is the creator of this website. She is a relationship coach. The website has other coaches too. They all put the focus on long-term results and state that great relationships are not instantaneous.
On this website, you can access the podcast and read stories from people who have found success with the relationship coaching offered by Marni and her team. Shop for books and similar materials to help you to further your relationship goals.
Check out the blog to read a wealth of articles on numerous topics that are related to good and bad relationship issues.
Donna Barnes has more than 30 years of experience providing relationship advice. Her goal is to ensure that her advice is practical and realistic so that it contributes to stronger relationships.
Learn more about Donna and her experience in the relationship niche. Get further information about her unique perspective.
This website talks about the coaching that Donna provides people. It also provides information about her presence in the media. It is easy to contact Donna to inquire more about her coaching and advice services.
This website focuses on multiple lifestyle topics and issues that are important to women today. Learn about wellness, read fun relationship blog articles, and get tips about how to choose the perfect outfit for your first date.
The information is broken down into labeled categories making it easy to find. Spend your morning exploring information on goals and learning about new featured bloggers. After work, check out some book reviews and read some posts about dating.
The website also offers giveaways for those who are loyal readers of the site.
This interesting post looks at how dating has evolved over the years.
The Brunette Diaries is a comprehensive website that talks about everything that women are interested in today. Get advice about your relationship, great recipes, and information about the latest fashion trends all on one website.
The relationship section has a variety of blog posts that discuss common issues that women face today. The advice in these posts is provided by real women who have had similar experiences.
After reading the posts, you can get more insight from others by interacting in the comments section.
This is an excellent post that helps you to navigate the often-complicated topic of intimacy.
Break the Cycle is an organization that focuses on helping people to develop safe and healthy relationships. They provide comprehensive information about dating abuse and how to get yourself out of a dangerous situation.
This organization works with people of all ages. They also help people who want to assist victims find ways to volunteer and get involved.
This website offers information about youth education and leadership, legal services and training, and capacity building. All of this contributes to helping people escape an abusive relationship.
This post talks about possessiveness and what it means in a relationship.
Relate is a UK-based relationship support provider. They focus on people from all backgrounds looking for all types of relationships.
They get involved in politics and want to make sure that the government is also promoting healthy relationships. For couples and individuals, they offer counseling. They also provide help for organizations and organize campaigns related to safe and healthy dating.
The website has a section for relationship help. They also have a blog that covers everything from infidelity to meeting someone special online.
This important blog post looks at how debt can impact relationships.
Qualified and experienced relationship coaches run this website. Relationship Hero certified them before allowing them to provide coaching and information on the website.
People can join the website to get full access to the information and website features. There are reviews from people to help you get an idea about how Relationship Hero helped them in their quest to find themselves and true love.
This website also has information about relationships and online dating. These blogs cover everything from the first date to navigating your first fight as a couple.
This blog post provides solid information about how to keep the conversation flowing on your first date.
Dr. Jenn Gunsaullus is a sociologist. She works as mindfulness and sexuality speaker, and an intimacy, relationship, and sex coach. She has been in the field for approximately 25 years.
Her website offers coaching opportunities and courses to help people to learn more about relationships and to gain some inspiration. She has a section on consent due to her involvement in helping women to date safely.
Dr. Jenn offers retreats and speaking opportunities for people to get more information about their methods and knowledge. The blog on her website talks about the issues that a lot of other websites do not tackle.
Here is an informative post about consent.
This is a more lighthearted website that explores flirting, dating, and relationships. It has dating guides for different cities with emphasis on areas throughout Spain, Italy and Norway.
You can become a member and interact with others on the website. This is an international community, so you can meet people from all over the world.
Check out the dating tips section to get information on the basics. You can also explore information on sex and relationships and related trends and news.
This is one of our favorite posts from this website.
This is the website of a ministry that focuses on young adults. It puts emphasis on biblical intention and wisdom to help people to navigate their lives.
The podcast talks about the issues that young adults often face in relationships and in other areas of their lives. It has a section about faith and a place to shop for books and similar items.
There is an entire section dedicated to talking about relationships. The blog discusses numerous topics that relate to young Christian adults.
This blog post talks about relationship lessons that all biblical youths can relate to.
This website puts focus on helping people to create online dating profile photos that catch the right attention. The website's creator, Saskia, also wants people to find dating fun again.
Browse the portfolio of dating photos and check out the accolades and praise that Saskia and her team have received for their photography work. Learn more about the team and their reasons for getting into this niche.
Check out the relationship blog to get information about taking excellent dating photos and other pertinent dating advice.
Check out this post about creating your own brand for the online dating market.
This is the website for a date night subscription box. While this is the basis of the company, the website is also a rich resource packed with tools and information about dating.
Check out the free ebook to take your relationship knowledge to the next level. Learn more about how spending quality time together is the best way to achieve a successful relationship.
The blog has numerous posts to help you plan date nights and develop a stronger bond with your partner.
Lisa Copeland runs this website. She is an esteemed dating coach with experience helping women to find men they can build meaningful relationships with. Her primary focus is women over age 50 looking for a second chance at love.
On this website, you can check out her online programs and coaching to help you with your pursuit of a relationship. Check out the media and the dating websites that Lisa recommends.
Become a member so that you have full access to her resources and tools. Check out her blog to gain knowledge on a wealth of topics.
Check out this post to bust some common dating myths.