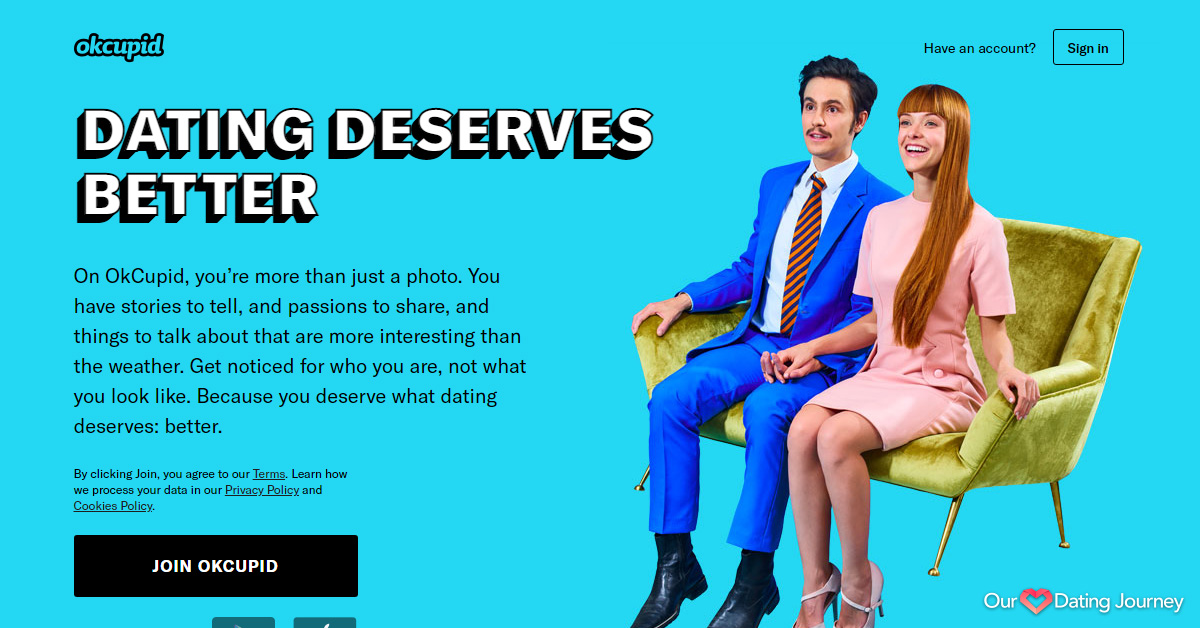 Matching System

Searching

Ease of Use

Popularity

Profile Quality

Customer Service

Cost
Comments Rating
( reviews)
Introduction
Why We Revied OkCupid
I wrote this OkCupid review from the standpoint of someone who has actually signed up and used the dating site.
This is not just a series of facts about OKCupid. This is a practical OKCupid review to help you to discover if this site is worth your time and effort to join.
If you have read any of my other dating site reviews, you would know that I'm a big fan of eHarmony and Match.com.
The reason I promote both of those dating sites over most others is that if done correctly, you should be able to find what you're looking for on either side.
I would encourage you to take a few moments and read my eHarmony review and Match review.
Now on to the OKCupid review.
Overview
What Is OkCupid?
OkCupid is an international online dating site but most of its members come from these countries:
The United States
Canada
The United Kingdom
Australia
What Kind Of Members Make Up OKCupid?
There have been over 10 million users sign up for OKCupid since their launch in 2004 and around 5 million active members. According to the OKCupid site:
Over 1 million app installations each week
7.3 million messages are sent every day on the OKCupid platform
Close to 100,000 people are online at any given point in time.
Main Claim To Fame
The thing that supposedly makes OKCupid better and different is that the dating site lives by three core principles:
Their love of math (they say they have a passion for their matching algorithms that help people connect)
That they will ALWAYS be free (their supposedly free forever but if you want extra perks, it costs money)
Everyone is welcome (you can have found your soulmate, have a one-night stand or even have a sham marriage as long as you're not a jerk)
Registration
How's The Signing Up Process?
When you first come to the homepage of the OKCupid website you will see a button to join the site.
Click that to start the signup process.
The next step will be to enter your email address and password. This is all you need to do to sign up. After that is done, you'll begin the OkCupid Questionnaire to setup your profile.
Profile Setup
Let's Create a Profile!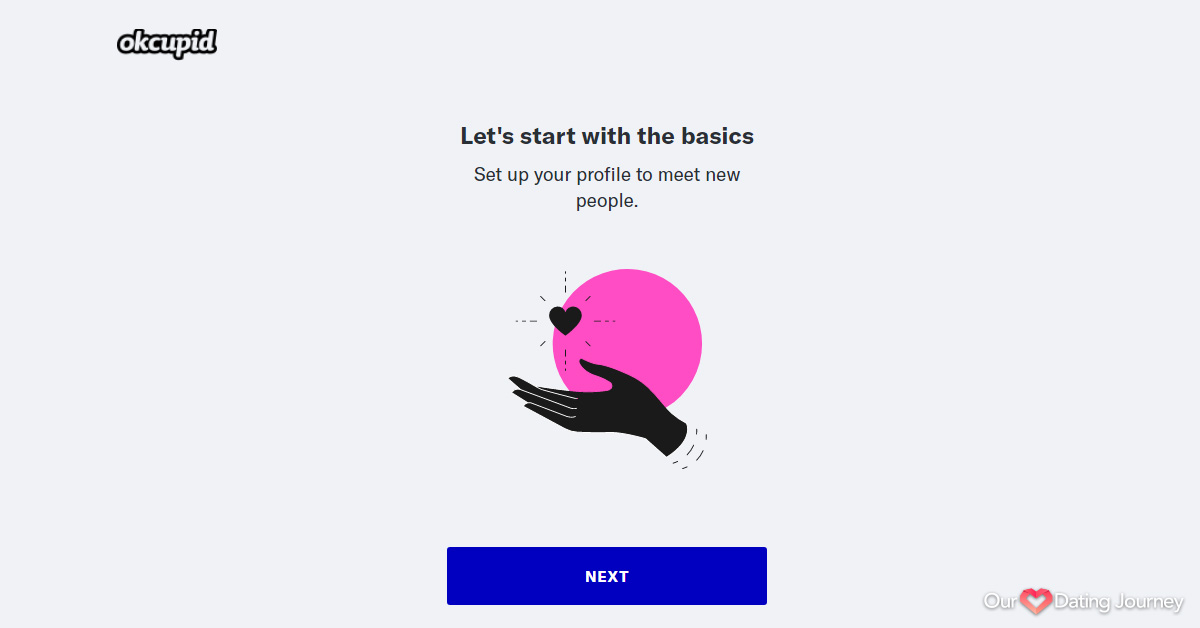 Setting up your profile will ask you three basic questions: your gender, age, and where you're from. Easy!
OkCupid Questionnaire
Getting to Know You and What You're Looking For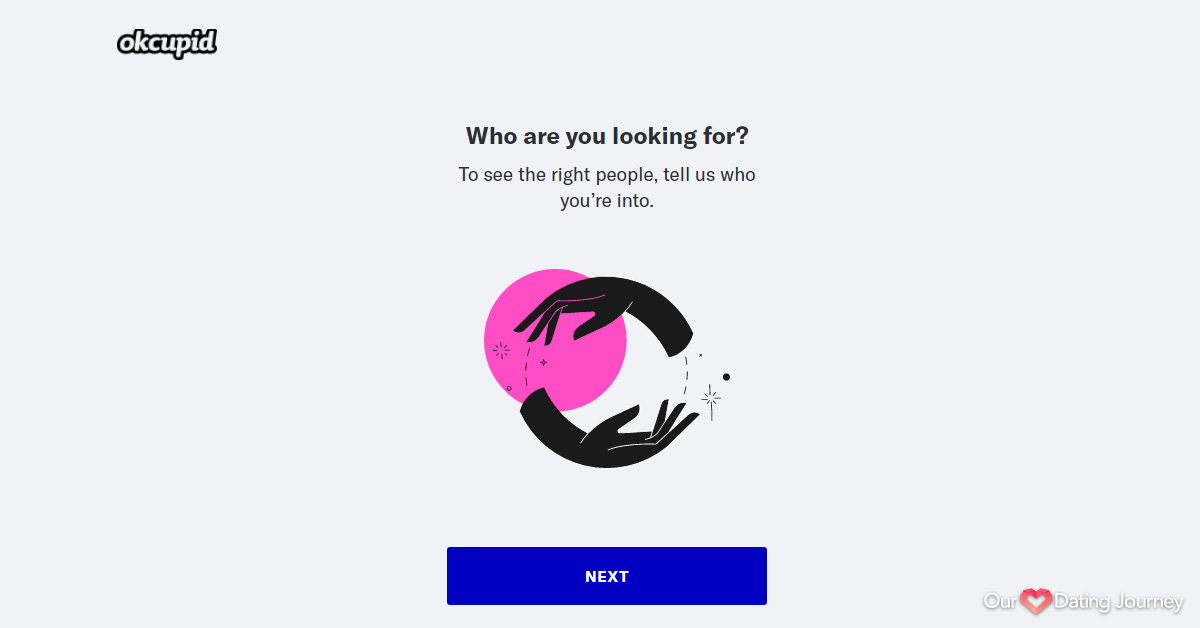 The questionnaire is quite lengthy and is made up of 30+ screens where you will answer questions about yourself and then multiple-choice questions to determine your best matches.
It will take from 10 to 20 minutes to complete the OKCupid questionnaire.
Here is what is included in the questionnaire:
Tell Us About You
The first section is called "Tell us about you". These are the things that will be asked in this section:
What's your name?
Which gender best describes you?
The date you were born
Where do you live?
What's your name?
---
Who Are You Looking For
This next section is all about who your ideal match would be. These are the question asked:
Q: What connections are you open to?
Here you will choose the type of connections that you're open to having. You will have choices of Hookup, New Friends, Short-term dating, or Long-term dating.
You can even choose "I'm open to non-monogamy"
Q: Who are you open to connecting with?
With this question, you will choose whether you're open to connecting with men, women, or more options. If you choose more options you will have a wide variety of gender options to choose from including:
Men
Women
Agenders
Androgynes
Bigenders
Cis Men
Cis Women
Genderfluids
Genderqueers
Genders Nonconforming
Hijras
Intersexes
Non-binaries
Others
Pangenders
Transfeminines
Transgenders
Transmasculines
Transexuals
Trans Men
Trans Women
Two Spirits
Q: How old should they be?
Choose a desired age range of who you're looking to connect with.
Add Some Great Photos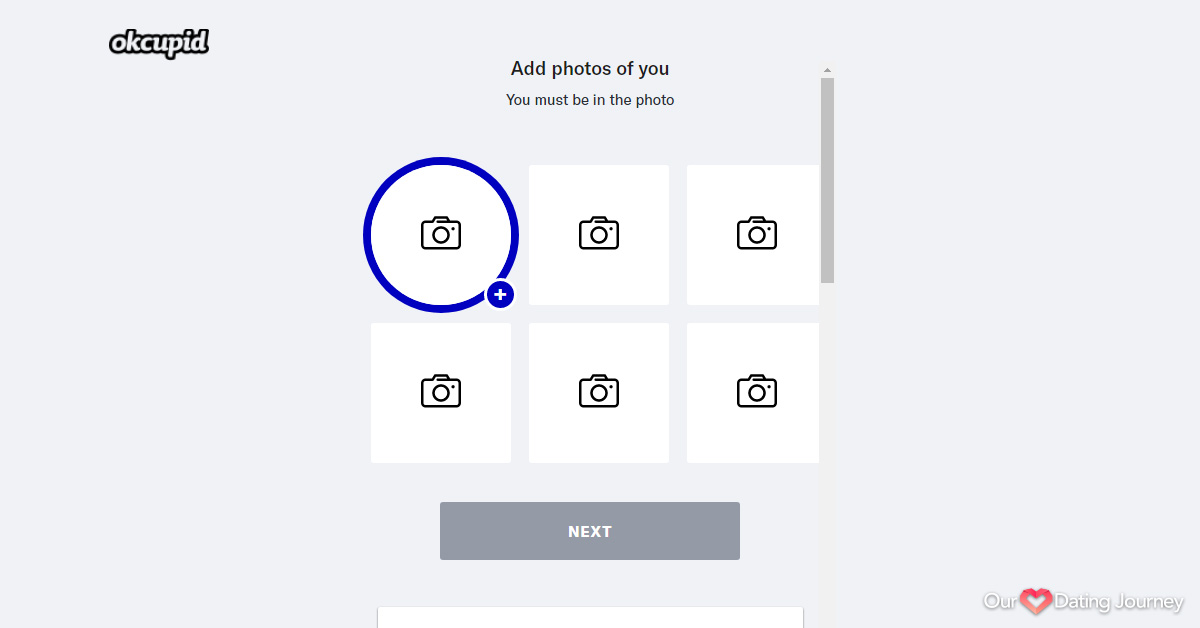 Be sure to add some high-quality photos of yourself. NO SELFIES! This is your first impression. Make certain your photos look good.
Photo Rules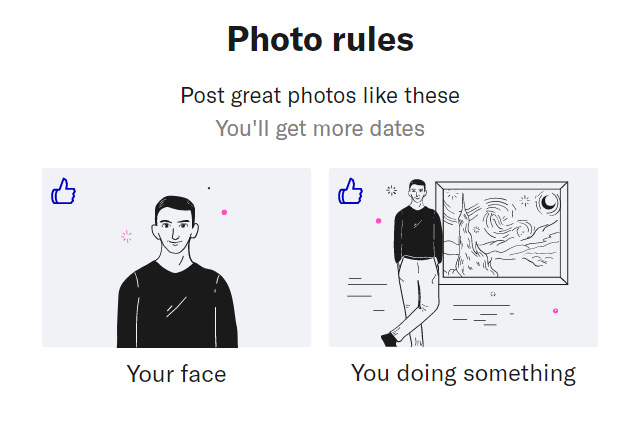 Introduce yourself
Write a short paragraph with an introductory statement about yourself. If you're a horrible writer get a friend or family member to do it for you. Or, hire a freelance writer to help you spice up everything you write about yourself.
Above all else, make sure that someone proofreads what you write just to make sure it sounds good and is free of spelling and grammatical errors.
You would be surprised but spelling and grammar errors are a big turn-off to many people.
Also, DON'T USE VULGAR language or curse!
Calculating Your Best Matches
This last section contains 30 screens and you will answer questions to calculate your best matches.
This is a set of 15 multiple choice questions where you choose your answers. Then after you choose your answer to a question you need to choose an answer that your ideal match should answer to the same question. And don't worry about making a mistake because you can always go back and re-answer. Sweet.
Questionnaire
Q: How long do you want your next relationship to last?
One night
A few months to a year
Several years
The rest of my life
After you make the choice for yourself you will then answer the same question that your ideal person needs to answer for this. For the above example, this question will appear:
Q: How long do you want your next relationship to last?
Your ideal person would say:
One night
A few months to a year
Several years
The rest of my life
The ideal person question will repeat for all other questions that follows.
Q: Which word describes you better?
Q: How important is God / Religion in your life?
Extremely important
Somewhat important
Not very important
Not important at all
Q: Are you ready to get married and settle down right now?
Yes Absolutely
No Way
I'm ready to get married yes, but settle down no
I'm ready to get married no, but settle down yes
Q: Do you enjoy discussing politics?
Q: Would you date someone who was in considerable debt?
Yes, it's not a problem for me
Yes, if I thought the debt was justified
No
Q: Is an astrological sign at all important in a match?
Q: Do you smoke?
Q: Which best describes your political beliefs?
Liberal/Left-Wing
Centrist
Conservative/Right-Wing
Other
Q: Which would you rather be?
Q: Could you date someone who was really messy?
Your choices are:
Q: Could you date someone who does drugs?
No
Yes, but only soft stuff like marijuana
Yes
Q: Are you currently employed?
Yes, I have a full-time job
No
I have a part-time job
I'm a student
Q: Choose a better romantic activity:
Kissing in Paris
Kissing in a tent, in the woods
Adding Photos of You
You should start to add photos of yourself to attract other members. Here are the rules for photo uploads below:
DO add photos of:
Your face
You doing something
DON'T add photos of:
Hidden Face
Porn / nudity
Extreme closeups
Pets, children alone
Celebrity / fake uploads
Text / meme / ads
Finding You Great People
Once you complete the detailed questionnaire and submit the answers the OKCupid site will tell you it's finding you, great people.
This will then bring you to your account where you can see your first matches.
Searching and Matching
What Do I Need to Do to Get Start Matching?
Before you really begin browsing matches and start to use the OKCupid site, first, take the time to set up your profile.
If you don't take the time to properly set up your profile, you will get very few good matches. This means it's critical to take the time to do this right.
The profile pages is made up of 10 separate sections:
About Me
Aspirations
Talent
My Traits
Media
Needs
Hobbies
Moments
Secrets
Dating
Each of these sections has 5 statements you should answer completely so potential matches get a good view of who you are.
Also, be sure to complete the 4 sections on the right of the page.
The goal here is to complete your profile as completely as possible. This will help you to find better matches.
Search (and lack there of!)
There is no actual search function as a free member of OkCupid. All you can do is browse the matches shown according to your questionnaire answers and matching preferences..
This is a weakness of the OkCupid free membership.
Communication
While you can like a member on OKCupid, they will not see the like unless they are a paying member.
You also cannot see who likes you unless you upgrade to one of their paying options.
The good news is after you like someone you can send them a message. This is about the only thing I like about the free membership.
Cost of OkCupid
What Are the Membership Options?
While OkCupid likes to talk about how they will be free forever, the truth is, like every dating site, you are limited with what you can do as a free member.
Unlike most dating sites, OKCupid shows ads. This is would ok if they gave you all features and then made all of their revenue from ads.
The reality is OKCupid shows ads on free accounts and also limits what you can do.
Free Membership
As a free member of OKCupid you can browse matches, like a match, get notified if a match likes you back, and message a match that you have liked.
However, you cannot see who likes you unless you're a paying member.
OkCupid Basic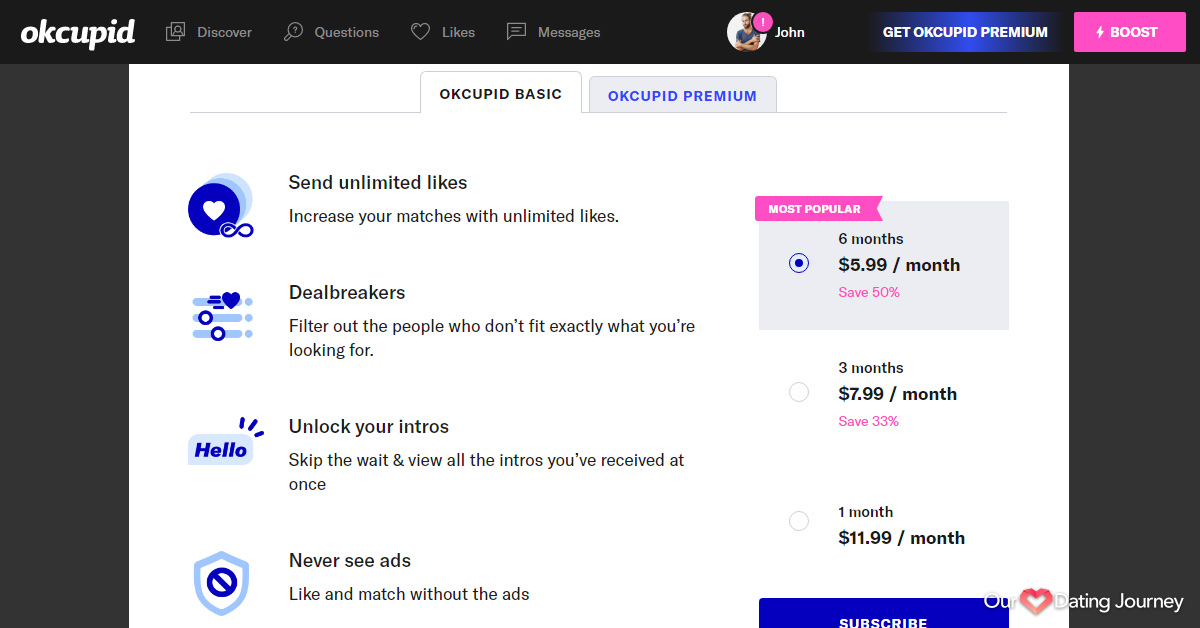 As I said above, OKCupid is free but with limited options. To get the most from OKCupid you really need to sign up for one of their two main upgrades. Here I will cover the "A-List Basic" upgrade.
With the Basic plan, you will be able to:
Send unlimited likes
Use dealbreakers and filter out unwanted members
Unlock intros
No ads
The cost of the A-List Basic plan at the time of this writing is:
Pay for 6 months comes to $5.99 per month (Saves 50%)
Pay for 3 months comes out to $7.99 per month (Saves 33%)
Pay for monthly at a time $11.99
OkCupid Premium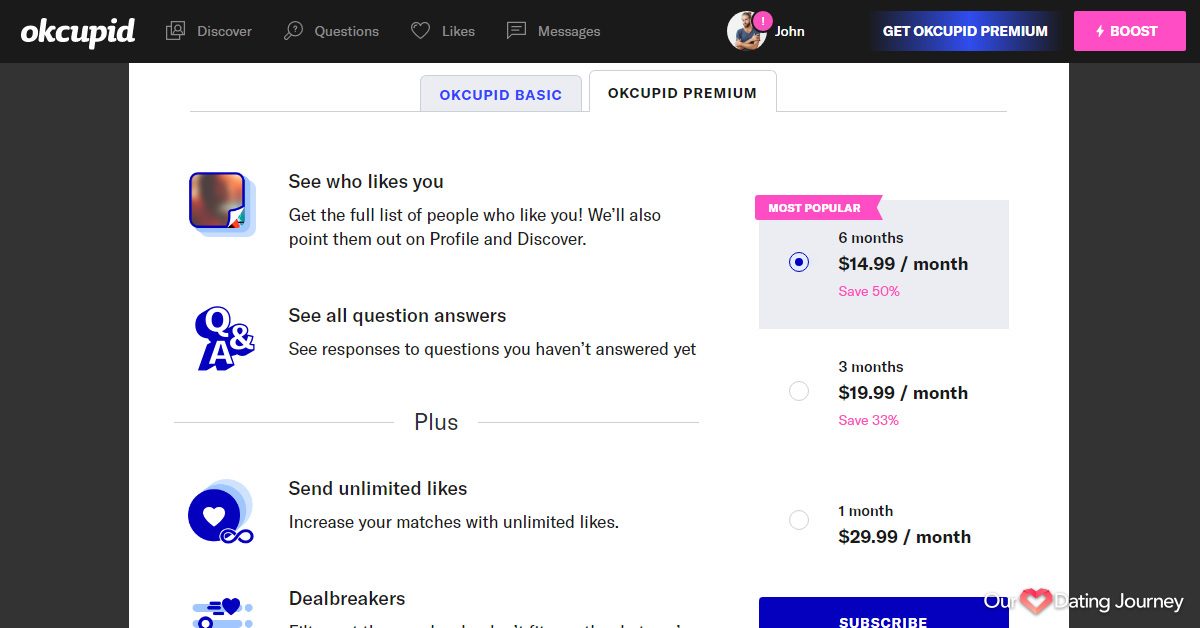 The Premium plan offers more than Basic plan.
With this upgrade plan you can:
See who likes you
See all question answers
Send unlimited likes
Use dealbreakers and filter out unwanted members
Unlock intros
No ads
Somehow you get increased attractiveness (not sure how this works)
You can see public answers to questions even before you answer
Your messages to matches will be sent as a priority so they're at the top of your match's conversation page
Be able to see who likes you
Better more advanced search features
See when someone reads your messages
The cost of the A-List Premium plan at the time of this writing is:
Pay for 6 months comes to $14.99 per month (Saves 50%)
Pay for 3 months comes out to $19.99 per month (Saves 33%)
Pay for monthly at a time $29.99
Is OKCupid Safe To Use?
When you're using the OKCupid site they do use SSL (Secure Socket Layer) encryption to make sure your data is safe.
However, I can see no other safety feature that verifies the identity of members. Many dating sites use some type of verification process but this is not available on OKCupid.
What this means is you need to be even more vigilant and be on the lookout for scammers and always practice safe dating practices.
Pros and Cons
How Does This Dating Site Do?
Positive
Easy to use and navigate the site
Extensive questionnaire
Profiles seem very extensive
You can message on the free membership
Lots of active members daily
Negatives
Ads are shown on the free membership
No search in free membership
Must upgrade to see who likes you
No identity verification for members
Review Conclusion
Is OKCupid Worth Your Time?
With their extensive questionnaire and profile, overall, OKCupid does a good job at providing some decent matches.
However, their lack of a good search feature for free members is a weakness.
Besides that, for a dating service that promotes itself as a site that will always be free, they do charge for a lot of features.
We recommend giving it a shot if you're willing to put in the time to create your profile.
---