Matching System

Searching

Ease of Use

Popularity

Profile Quality

Customer Service

Cost
Comments Rating
( reviews)
Introduction
Why We Did this Match.com Review
I wanted to write a very thorough Match.com review to be sure that all of our readers know that Match.com is a very good dating site.
Match.com is a site I used for a very long time. Although I did not find my soulmate here, I did find it to be one of the top dating sites in the world. (You can read how I met my soulmate here.)
What I found is that if you're looking to get many dates and meet a lot of people, then Match.com is by far one of the best dating sites. If however, you want to find your true love, then eHarmony is my choice. (Read my eHarmony review.)
Overview
What Is Match.com?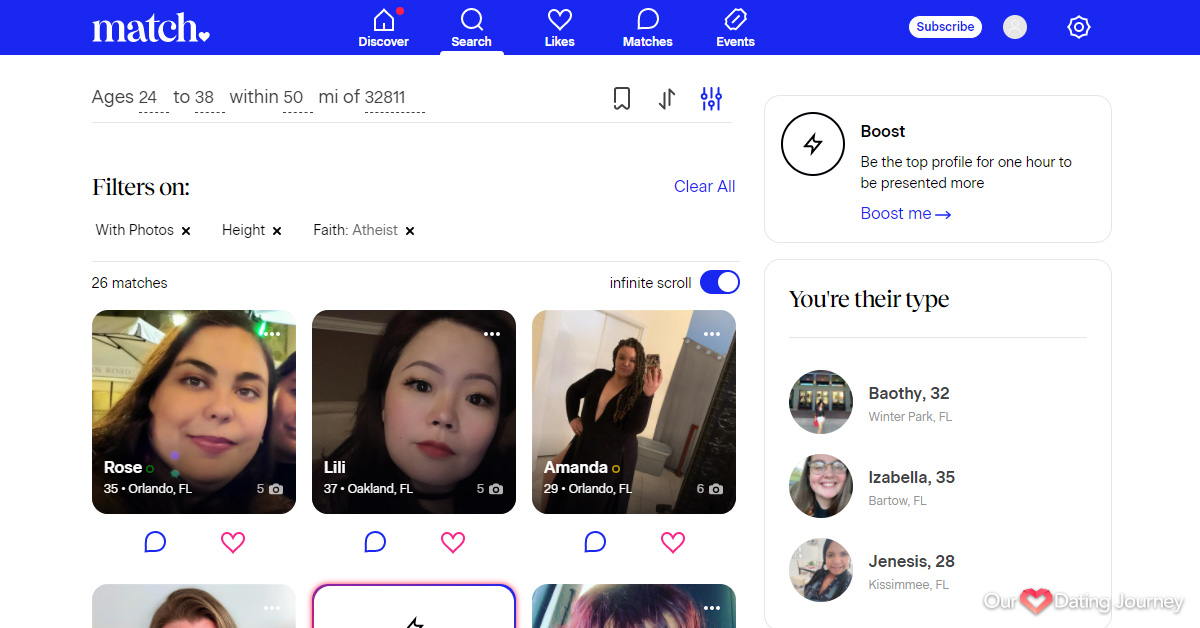 Match.com boasts that members get more second dates than they do on any other website. The matching methods are backed by more than two decades of experience, so they have to make strong interpersonal connections down to a science.
If you are ready to look for love, it is time to explore a Match.com review. Check out the features, security, and other elements of the website to determine if it is a good choice for your relationship goals.
Who Uses Match.com?
If you're going to have success in online dating, you need a website that has a good pool of members to choose from.
Match.com reports that they have more than 20 million users worldwide. About 8 million of these users have paid subscriptions to the dating website. It is estimated that about 15 million members are active. Every month, the website gets approximately 39.7 million visits. This makes Match.com one of the biggest and most active dating websites in the world.
Match.com in the United States is reportedly the most active. It also has the highest member count. However, this dating site is available in more than 25 countries and 38 languages.
Both women and men are almost equally represented on this dating site. It is estimated that about 49 percent of the members are men and about 51 percent are women.
Adults of all ages are using Match.com to search for their soulmate. The breakdown of users based on their ages is estimated to be the following:
About 32 percent of users are aged 18 to 34
About 45 percent of users are aged 35 to 49
About 23 percent of users are age 50 plus
While the biggest pool of users is ages 35 to 49, Match.com reports that the fastest-growing age group is actually those age 50 and older.
This website caters to men and women of all backgrounds, socioeconomic statuses, all education levels, ethnicities, races, and religions. The majority of members are looking for at least a long-term relationship, so this site caters to helping to facilitate meaningful connections.
Registration
How's The Sign-up Process?
Now let's talk about signing up and getting started. The registration process is completed in steps and it is very guided. Overall, expect about 15 minutes to thoroughly complete it.
As soon as you go to the website, there is a popup that asks you to choose your gender, if you are looking for women or men, your zip code, and the age ranges you want to match with.
The next step is getting a free account started. You will input a password, your birthday, and your email address. Next, choose whether you want to match with people based on region or your zip code. You will also input your name.
The next step is a series of five screens. It will ask for some basic information about what you look like and the aesthetic features you are seeking in a mate. You will be asked about the background characteristics you want your matches to have, such as their education, religious beliefs, ethnicity, and language. You can also choose to deal with breakers.
Fill Out The Questionnaire And Complete Registration
The final element of the registration process is a fifteen-page questionnaire. This is very easy to complete since you basically choose multiple choice answers. It takes about 10 to 15 minutes to complete.
The questionnaire focuses on things you find important, such as kids, smoking and drinking, relationship status, and income. This is the final step in the first part of the registration process.
There are fifteen screens that you will go through to complete this section. These screens include:
Type of relationship looking for
Height
Your body type
Relationship status
If you have children
Preference for having children
Education level
Your smoking habits
Your drinking habits
Your ethnicity
Your religion
Salary
Identifying your interests
Your requirements for your match
The last element in this part is open-ended. You can write out a short bio and talk about what you are looking for in a mate, and in a relationship. You will also add a profile photo to complete this step of registration.
After you have submitted a photo and completed all of the screens throughout registration, your profile goes to the moderators of the website. They check it over and make sure that you followed all of the guidelines and rules for creating a profile. This is important because it promotes safety on this website.
To login, there are a few options to choose from:
Your password and username
Sign in via Facebook
Features
What Kind of Site Features Does It Have?
Communication and Matches
This is where you learn about the website's features, allowing you to determine if it has all of the elements you need. The user experience on this website is versatile.
An algorithm is used to determine your matches based on criteria that help to ensure you have a connection with them. This is determined by your interactions on the site and the information that you provided when you were registering.
You will find four primary sections once you log in:
Matches
Search
Connections
Messages
Every 24 hours, the website will send you approximately nine to 12 matches. You can look through these and either check "no" or "yes" to indicate your interest. You are prompted to send a message to the matches you say "yes" to.
Past Interactions
You can also look at your connections which are a combination of those you have shown interest in and your past interactions. Past interactions include those you have liked, been viewed by, winked at, been favorited by, and those who have favorited you. You also have the ability to store voicemails and MatchPhone contacts in this area.
Missed Connections
There is also a Missed Connections option that has recently been added to the website. This uses geolocation to show you, other members, you might have shared a vicinity with in real life recently.
matchPhone
matchPhone is an awesome feature to protect both members by providing them their own private number where they can contact each other safetly. This helps you get to know the person without worrying about privacy issues you may have. In the online world these days, your information is vital for your protection so this feature is great. Not a lot of dating sites provide this service.
Discover
The discover section allows you to quickly browse profiles. Simply choose to connect or swipe to use this feature.
Search Feature
The search feature is very comprehensive. You can narrow down your search by general demographics, keywords, photo count, and a wealth of other criteria. This allows you to find the members that are most likely to have something in common with you. You can save searches too, making it easier to search with your preferred criteria in the future.
Messages
The majority of the communication you engage in on the website will take place in the messages section. This is broken up into filtered messages and conversations. The filtered area is comprised of members you have not shown interest in. The conversations area is comprised of members you have had a previous interaction with.
Mixer Events
Match.com hosts mixer events in various cities throughout the year. If you want to mingle with some of your matches in person, this is an option. You can search for upcoming events on Match.com to see if any are near you.
These events may have themes, such as game night, or they might just be a general get together. They are usually hosted at different bars, hotels, or restaurants. You can bring up to three guests with you, so this can function as a night out where you are guaranteed to meet people who are single and seeking connections.
To sum up this part of the review:
The matching algorithm is backed by data helping to ensure that both user behavior and user-provided information are used to make matches
Every 24 hours, users get hand-picked matches
Organize all of your interactions in the Thorough Connections section
When viewing other profiles, you can see what you have in common, ways you are a sold match, and other important information
Privately request to be someone's match using the MatchMe feature
Active users are rewarded with better website placement
The search function features extensive filtering options
Previous interactions are used to sort your inbox
There is a multitude of ways to show interest and communicate
Several profile verification options
Match.com Apps
Match.com has a very good dating app. You can use this app on any modern Android, Apple, or Google phone or tablet. The full system requirements will be listed with the app. Just make sure that your tablet or phone meets the specifications. Almost all modern mobile devices can accommodate this app.
Go to the respective app store that is associated with your phone to download it. It does not cost anything to download the app. Download speed ultimately depends on your phone and the internet connection you are using.
You use the app like you do on the desktop website. The same membership fees apply should you use your subscription account on the app. All you need is an internet connection or data package to fully access the app features from your tablet or phone. You can do the following from your mobile device:
See the profiles that are close to where you are at any specific moment
Browse photos from other members and upload more of your own to your account
See who has checked out your profile
Exchange emails with other members
Send winks to those who interest you
Check out the matches that the app sends you every day
Safety & Security
I'm I Protected?
Is Match.com secure? Yes. This website takes the appropriate procedural and electronic measures to keep the information the members put on the website safe and secure.
Secure Website
You can see this from the second you get started since the address for the website starts with "HTTPS." The "S" in "HTTPS" tells you that the site is secure.
All passwords, usernames, and other member data is encrypted. The same is true for all information that is stored in cookies, such as any passwords members might save to log in easier.
Screening Process
Before profiles are activated, they are screened by the website. This is what causes the delay between registering and going live on the website. This ensures that members are not inputting any information that could compromise their safety. It also prohibits members from using any languages or images that the website does not allow for a safer and more pleasant environment on the website.
If you make changes to your profile after it is activated and live on the website, these will be monitored. This further enhances the safety of the website.
Privacy Mode
Another security feature is privacy mode. This is a paid membership feature. It is a good idea for the times when you want to remain on the website but be invisible to everyone else. Just go to your profile to either activate or deactivate this feature.
To make sure that all of your security needs are met, always read the website's privacy policy first. This will also provide all of the important information concerning how your sensitive data is stored and protected.
Customer Service
How Dependable Is the Support?
Every complete Match.com review has to provide information on the website's customer service. The Customer Care Site is where users go to have their questions answered. This can be found via the Help tab. There are several ways to contact and communicate with customer service, including:
It is typically stated that emails are answered within about 24 hours during business days. The chat function is an instant message type of option. When calling on the phone, hold times do vary. You can contact customer service via phone or chat Monday through Friday. If you need help on a weekend, it is best to email.
The website also has an extensive resource center you can use to learn more about the website and get questions answered. There are dozens of common questions listed with detailed answers in the comprehensive FAQ section. It is typically recommended to check this area before reaching out since most common questions are answered here.
The customer service team is reportedly friendly and easy to work with. They can help with all elements of the website, from signing up, to technical assistance to help with subscription issues. Members can also contact them for assistance with the Match.com apps.
Cost of Match.com
What Are the Membership Options?
Let's take a look at Match's pricing. It is mostly straightforward. There is a free membership option that gives you a chance to get to explore the site a bit before committing to a paid membership.
The free membership does not have full functionality, however. You can see the basic layout of the site and get a feel for it for free. However, if you want to talk to members, you will have to upgrade to a paid membership.
Overall, Match.com is relatively inexpensive compared to other dating sites on the internet.
For 12 months, the cost is $15.99 per month with a one-time payment of $191.88
For 6 months, the cost is $19.99 per month with one payment of $119.94
For 3 months, the cost is $27.99 per month with one payment of $83.97
Match.com gives a guarantee no matter which of the payment options you choose. All paid members can get six months free if they do not meet a viable match in their first six months. No matter which payment option you choose, this is a service provided at no extra cost.
It's important that you understand that your subscription will auto-renew. To turn this off, you just go to your Account Settings. Click on the Change/Cancel Membership page and you can make sure that you are not charged once your term comes to an end.
You can add additional features to your account. If you add them after you initially subscribe, there is a prorated fee. These features include:
Email read notification
First impressions
Private mode
Match events
Highlighted profile
MatchPhone
Reply for free
Pros and Cons
Exploring the Advantages Versus the Disadvantages
Positive
Guided signup process
Fully functional mobile app
Matching criteria is continuously improved
Highly detailed matching criteria
Several new matches every day
Local events in different areas for people to also meet
Negatives
Very limited features with the free version
Might take time before someone initiates a conversation
Features might take a little effort to learn
Only paid subscribers can use the privacy mode
Review Conclusion
Is Match Worth Your Time?
Yes, Match.com is worth a shot. It's free, easy to use, and setting up your account doesn't take that long. Once you're in, you'll be able to connect with tons of members near your area. You'll have to do some work to filter and narrow your match, and the effort is worth it.
---
Please leave your review of Match.com and share your experiences below.