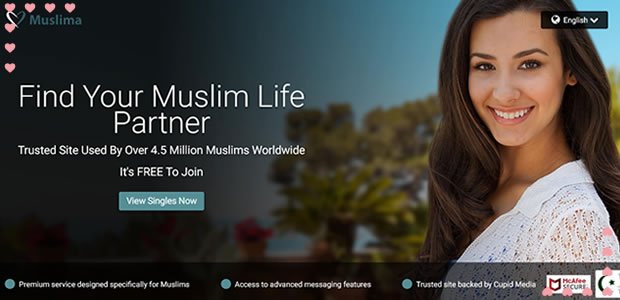 Matching System

Searching

Ease of Use

Popularity

Profile Quality

Customer Service

Cost
Comments Rating
( reviews)
This Muslima.com review explores all of the intricacies of this Muslim dating website. You will learn about the features and how to use them to your advantage to meet people with who you have chemistry.
Muslima.com is focused on helping Muslims meet each other. With millions of members throughout the world, you can search a variety of profiles to find those with who you are compatible. This website is focused on marriage, so most of the members are seeking serious relationships.
First Impression Of Muslima.com
As I created this Muslima.com review, I noticed that it is hyper-focused on those of the Muslim faith. Because of this, if you want to meet people who share your religious beliefs, this site is a viable option.
Overall, it is easy to use and there are plenty of features that allow you to initiate conversation and communicate. With different membership options, you have a lot of control over what you spend and how long you are a paid member of the website.
Design and Functionality
Muslima.com is relatively simple in its design and functionality. This makes it easy to learn how to navigate the website and use all of the features.
Signing Up
You can choose to use your email address to sign up or use your Facebook account to make it faster. On average, registration can be completed in under two minutes. Once you are registered, you can choose to maintain a free membership, or choose one of the gold or platinum packages. From here, you can upload a photo and start filling out your profile information.
You will be asked to upload your ID to verify your profile. This ensures that you are an actual person with good intentions for using the website. As you are filling out your profile, you can look at the progress meter. Use this to make sure that you complete all profile elements to make matching with like-minded singles easier.
Your Profile
There is a lot of information listed on the profiles, especially if the person has a platinum membership. Most of the fields are optional, but it is recommended that you fill them out for the purpose of the algorithm.
You can insert multiple photos. If you have a free membership, you get up to five pictures. You can swap out photos and update your profile information at a later time.
To prove you are a real person, they recommend going through the verification process. Once the website does verify you, they put a badge on your profile so that other members know that you are a real person.
Meeting People
You will need to have a paid subscription to use instant messenger to contact people. To ensure full access to the message system, you will need to have a paid subscription. When you get messages from other members, you can choose to be notified by the website.
Free members can send messages to each other. However, if you want to read more than a snippet of the message, you will need to upgrade to one of the paid membership options.
Searching for members is free. If you want to get matches based on the website's algorithm, you will need to have one of the platinum membership subscriptions.
You can send interests to all members even if you only have a free membership. However, if you wish to communicate beyond showing interest, the website will prompt you to choose a paid membership.
---
Features
This website has several features to explore. However, most of them are only available to people who choose a paid subscription.
Profile Highlighting
When you choose the platinum membership, you can opt to have your profile highlighted. This makes you visible to more people. Your profile is listed above those that are not highlighted so that more potential matches can see it.
Message Translation
Platinum members can look at any profile without having to worry about a language barrier. When you have this level of membership, the website will translate their profile and any communication between the two of you instantly. This allows the two of you to get to know each other without having to worry about using any outside translation software.
Overall, the translations are relatively accurate. Since it is a computer program, it is not perfect. However, the translation that is provided allows both of you to understand what each other is saying.
Instant Messenger
Sending messages back and forth is a good way to initiate communication. However, if you want to talk in real-time, you can take advantage of the instant messenger feature. You will need to be a paid member to take advantage of this feature. In fact, both of you need to be paid members to communicate this way.
There are no limits regarding how many people you can instant message. The site also does not set any time limits for instant messenger use.
Additional Profile Space
When you are a platinum member, the website gives you more fields to fill out on your profile. This not only helps the algorithm to match you, but it also allows people who find you via search to get to learn more about you to determine if you two are compatible.
---
Popularity
Throughout the world, at the time this Muslima.com review was written, Muslima.com has more than 4.5 million members. Most of the members are located in Saudi Arabia, Algeria, and France. Other countries with a large pool of members on this website include the United States, Australia, Italy, Canada, Morocco, and the United Kingdom. This website is for people who are seeking marriage, so most members are looking to meet people for a long-term relationship.
The majority of members are under age 40. The split between men and women is nearly equal, giving you a good chance at meeting someone no matter your gender.
Most people on this website are age 25 to 40. However, there are members above age 40 if you are looking for a mature partner. There are also members between ages 18 and 24 if you are younger and looking for a long-term relationship.
This website is available in five languages, including English, French, Italian, Dutch, and German. If you are a platinum member, the website will translate profiles outside of your native language into your native language so that you can communicate with people who speak a language that is different from your own.
---
Customer Service
As I was writing this Muslima.com review, I noticed that they are headquartered in Australia. When you call them for assistance, you will need to be aware of the time in Queensland, Australia. They take calls from 9 am until 4 pm Monday through Friday.
If you are in the US, they do offer a toll-free number so that you do not have to worry about long-distance charges. The number is the same for members in Canada. There are additional phone numbers for those in Australia, UK customers, and people in other countries.
When you call their customer service number, they say to have your email address ready since this will allow them to look up your account fast. Overall, they answer calls in a timely manner.
The biggest issue is the time difference. You will have to consider the difference and calculate it so that you know when to call during their business hours. Depending on where you are in the US, for example, the time difference can be as little as 11 hours. They would be ahead by 11 hours. So, if you are calling on a Friday, it could already be Saturday in Queensland, and therefore, there would be no one available to take your call.
This website offers its office and postal address on their website. If you need to mail something related to your account, they suggest that you use their postal address so that it can be addressed as fast as possible.
If you need to send in physical documentation for something, you can also use their fax number. Since this is an Australian phone number, you have to be mindful of long-distance rates if you are in the US or another country.
They do not offer any email address or live chat option. Because of this, your best option is via telephone if you can make the time difference work.
---
Cost Of Muslima.com
You can sign up and set up your profile for free. With a free membership, you can respond to messages that you receive from paid members. If you want to access all of the website's features, you need to have a paid subscription. There are two upgrade options, including gold and platinum.
The gold subscription options include:
One month for $34.99
Three months for a single payment of $69.98 (works out to $23.33 a month)
12 months for a single payment of $139.00 (works out to $11.67 a month)
The platinum subscription options include:
One month or $39.99 a month
Three months for a single payment of $79.98 (works out to $26.66 a month)
12 months for a single payment of $159.99 (works out to $13.33 a month)
These prices are accurate as of the time I wrote this Muslima.com review.
With the gold membership, you get access to the following features:
Basic matching
You can communicate with members who have paid subscriptions and free members
Receive and send messages
Browse anonymously
Keep your profile hidden
Send interest
Use instant messenger for live chatting
No ads
With the platinum membership, you can use all of the features that are available with the gold membership. There are also additional features, including:
Your profile will rank above members with gold or free memberships
VIP profile highlighting
If a member's profile is in a different language, it will be translated into your preferred language
Double your amount of profile space to add more details about yourself
You get access to the advanced matching algorithms offered by Muslima.com
Once your subscription expires, it will renew automatically using the payment method that you used to initiate your subscription. In your account, you can opt to cancel your subscription or turn off the automatic renewal so that you can control when you want to become a member again.
---
Site Pros And Cons
Exploring the pros and cons of Muslima.com gives you quick insight into the best parts of the website and those that could use some improvement. Use this information to ensure a proper evaluation of what the site has to offer.
Pros
Free accounts can receive messages from paid accounts
The website will translate all profiles to your preferred language
Control your email preferences
You can see who has a paid subscription
There are no ads on the website for paid members
Cons
Search criteria cannot be saved
The match system is not as comprehensive as other dating sites
---
Muslima.com Review Conclusion
After completing this Muslima.com review, it is clear that it is an ideal site if you want a Muslim partner and you are seeking a long-term relationship that eventually leads to marriage. Since this website has a strict focus, it helps to weed out people who do not share your faith so that you can find potential partners that already share this belief with you.
It has a strong member base, with millions of people throughout the world. Searching for partners is relatively easy, and there are ways to narrow down the search to find people you are likely to be compatible with.
Once you find people who interest you, communication is straightforward. There is a message system you can use to send emails to each other. You will receive matches, giving you some people to start with who you will likely have some chemistry.
Registering is easy and there are different membership packages. You can explore the site and the singles without a paid membership. However, if you choose a subscription, there are more features that you can use to search for people and communicate with those who you find interesting.
---
---