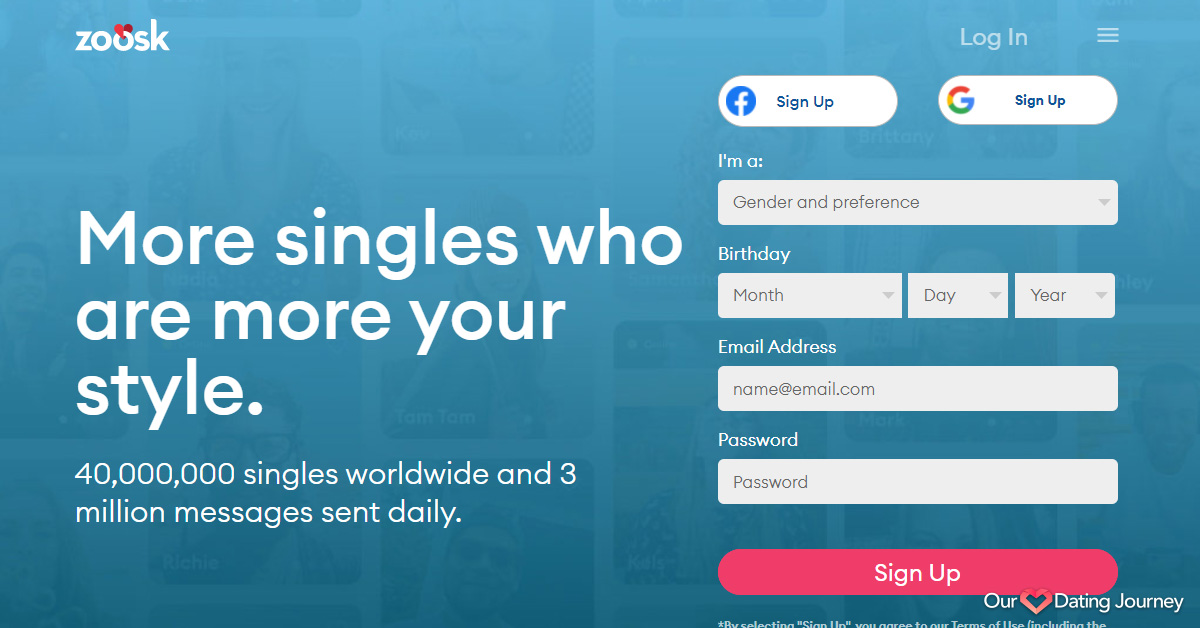 Matching System

Searching

Ease of Use

Popularity

Profile Quality

Customer Service

Cost
Comments Rating
( reviews)
When I first began my online dating journey to find my perfect match, Zoosk was one of the dating sites I tried.
Although I did not find my soulmate here, I did find Zoosk to be a great site for those looking for dating and friendships.
Zoosk has changed over the years. It has matured into one of the top dating sites but for me, it's still not quite as good as eHarmony (read eHarmony review) or Match.com (read Match review).
Zoosk offers an intuitive layout and it uses a Behavioral Matchmaking algorithm. It has both an app and a desktop website, making it a flexible option. The members on the website are looking for a variety of relationship types, making it ideal for just about everyone.
This Zoosk review gives you an in-depth look at all of the elements of the website. Get important information about the features and the demographics, helping you to see who you might meet and how you can connect with them. This ensures that you can make an informed choice about whether Zoosk is the best dating site for you.
---
Who Uses Zoosk?
First, let's look at what type of members makeup Zoosk. This allows you to see who you might meet once you join the website. It also allows you to determine if the members are those that meet your personal preferences.
The website boasts more than 50 million members throughout the world. Approximately 59 percent of these users are in the United States.
The average user on Zoosk is men approximately 27 years old and women approximately 24 years old. Overall, members can expect to find that the majority of members are approximately 25 to 35. There are people on the website that are older, but they are not the average user.
While reading this Zoosk review, you will find that the average member is looking to meet people for various reasons, ranging from casual dates to long-term relationships. The genders are almost equally represented. They are about 52 percent women and 48 percent men.
The website gets vast traffic with about 28.9 million visits every month. It is estimated that approximately three million messages are exchanged between members on a daily basis. This website is available to make matches in about 80 different countries. It can accommodate all of the languages in those countries.
People on the website come from all different backgrounds. It is easy to match with people from the same religion, socioeconomic status, education, and other social elements.
---
Getting Started
Let's discuss what you need to do to sign up and get started using the Zoosk service. You can get started using either your Facebook account, an email address, or your Google Plus account. Registration begins immediately if you opt to use the social connect options.
If you use an email address, there are a few extra bits of information the website will ask for, including the gender you are looking for, your gender, your email address, your birthday, and a password.
Once the initial steps are complete, it is time for the three-step registration process. Here you will input your zip code, body type, ethnicity, height, education level if you have kids, and your religion. This is also where you will upload a photo for your profile. Once this is done, you will need to check your email (if an email address is how you signed up) and confirm it.
The first time you enter the website, there is an instructional guide in a step-by-step format that is used to explain how the website works. You will send a practice message and the website will let you know that you are now free to fully utilize the website's features.
For the most part, the registration process fills out your profile, but you have the option to add more information and photos. Check out the open-ended questions to provide other users with more information about your interests and what you are looking for. You can provide more details about who you are in the My Story section.
There are some fields that are still blank you will want to fill out. The more information you provide on the website, the more compatible your matches are likely to be. You can also verify your account. You can do this with a photo, over the phone, or by connecting other social accounts.
To login to the website input your password and the email address, you used when you went through the signup process. You can also login using the social account you designated when you signed up.
Simply click either "login with Facebook" or "login with Google+" if you choose to use social login. The steps are the same for both. Social accounts prevent you from needing a separate password for the Zoosk site and your social media accounts. You simply input your social account details to gain access to Zoosk. This login process is the same on the app and on the desktop.
---
Communication and Matches
Here you will learn about everything you can do once you are registered and using the Zoosk platform.
This site uses behavioral matchmaking. The way you use the website and how you interact are all taken into consideration when Zoosk is choosing your matches. They say that this ensures that your matches are more compatible.
The website starts to track your activity as soon as you start using it. It explores the people you browse, the profiles you view, and similar behavior to determine the type of people you tend to prefer. This helps to tailor your future matching results.
The primary way to find the most possible matches is to browse the website. You can narrow down the possibilities by gender, location, and age range. However, there are some advanced filters too, allowing you to further narrow down the prospects by their religion, ethnicity, and body type. Once you complete your search, you can see the photos of the members that match your preferences.
Simply like or pass after checking out the profiles. You can show interest by adding the member, sending them a gift, sending a message, or sending a wink.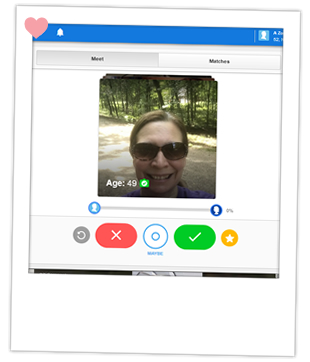 The carousel section is another way to view or reach out to your matches. This is very similar to the Hot or Not game. You can choose to like them, pass or you can click "maybe" if you are unsure and want to take a second look later on. The mobile app also allows you to send "crushes" to members who interest you.
Once you mutually match with members, you can check out their profiles in the meet section. You will get more matches as you interact more on the website. This section shows the members you are likely to be the most compatible with.
The smart picks section allows you to look at your connections, who is online now, insights into your activity on the website, and who has looked at your profile. This using the Behavioral Matching engine, so it helps to ensure that there is some compatibility with the members who are located here.
The messaging section is very organized. You can choose to respond with emojis or basic text. If you have Zoosk coins, you can send a virtual gift. If you ever get a message that you feel crosses a line, you can report it to ensure safety.
To conclude this section, the following sums up the different features and capabilities of the website:
Know who you are viewing is real with the profile verification options
While browsing your results, you can go back and forth
You can be better matched as the site learns your preferences via Smart Picks
Every 15 hours use the Mega Flirt feature so that you can reach multiple inboxes at the same time
Highlight your profile using the Boost feature
There is no information overload since you only see one profile at a time
There is a "maybe" option in the Hot or Not area
While browsing, you can opt to go invisible
Learn more about your dating style in the insights section
---
Zoosk App
Zoosk has a very good dating app. You can use the app instead of the desktop website. In terms of functionality, the desktop site and the app are not much different. Everything you can do is the same. However, the interface is a bit different to accommodate smaller mobile screens.
On the app, you will notice that some of the sections are in different places, allowing you to navigate a bit easier on a smaller screen. Look at the bottom of the screen to find the main menu. You will also see a "discover" section. This is where you can find your browse, carousel, and smart picks sections.
The browsing ability is the same on both the desktop and the app. Just click on the funnel icon that is in blue to start browsing. The funnel on the app functions like the advanced options on the desktop. The overall browsing features and abilities are the same on both platforms.
You can download the app on modern tablets and phones. There are options for Apple and Android users. These can be found in the app stores on tablets and phones. Internet speed determines how long it takes for the apps to download on your mobile device.
---
Security
Your security online is imperative, so it is important to learn about security. When you sign up, various elements of your personal information are collected. Information is also shared, but this is done using a wealth of safety measures.
This website works with various companies, including Sift Science, to collect, analyze, and process various information. This is done for a period of time that is indefinite. The purpose is to help members to identify and prevent fraud from happening. The Privacy Policy page outlines all of this information regarding user privacy, allowing you to see exactly how your information is used before you agree to an account.
In an effort to fight against romance scams, in 2018, Zoosk started Insignia. This is for United States military members. It gives them a chance to upload the right documentation to verify their credentials. This helps to combat those scams where people say they are soldiers to try and get money and gifts out of unsuspecting people. With Insignia, those who use it have proven that what they say about their service is the truth.
---
Pricing
Pricing is a crucial element of every comprehensive Zoosk review. You can opt to use a free membership to get to know the website and see what it has to offer. However, those using a free account are restricted in what they can do. It allows you to check profiles and see who you might match with, but you cannot message people. However, you can respond to messages.
To get the website's full functionality, you can purchase a paid membership. There is only one tier to a paid membership, so once you pay, you are able to enjoy the full features of the website. Those who pay several months at once get discounts on the monthly cost. The following are your options:
If you decide to pay for one month at a time, the cost is $29.95 a month.
If you decide to pay for three months at a time, the cost is $59.95 for all three months (a savings of 33 percent).
If you decide to pay for six months at a time, the cost is $74.95 for all six months (a savings of 58 percent).
If you decide to pay for a full 12 months at a time, the cost is $149.88 for all 12 months (a savings of 58 percent).
The membership prices are the same for the app and the desktop website. You can opt to use both simultaneously once you get signed up. You can sign up on either one first.
As part of a detailed Zoosk review, it is also important to note that members can also purchase Zoosk coins. You can use these coins to access additional features on the website. For example, see if the messages you send are being read by those you want to connect with. You can also highlight messages that you want to mark as "special" with the coins.
You can use the coins to purchase virtual gifts for members. These range from virtual exotic pets to basic flowers. The user will find them on their profile after you send them.
You might also choose to boost your profiles using this currency. This will place your profile either on the Zoosk homepage or at the top of search results.
You can pay for these in addition to your membership. You can also earn coins on the website for getting friends to join, participating in surveys, and liking the Zoosk Facebook page.
---
Customer Support
This part of this Zoosk review looks at customer service and how to get answers when you have questions about using the website. To talk directly to customer service, you have the option to email them. On the desktop, just go to the Contact Us area. On the app, the Contact Zoosk area allows you to send an email. Response times are typically one to two business days after you send an email.
The dating site also offers a comprehensive FAQ section. Here you can look up dozens of questions that are commonly asked by Zoosk users. They provide detailed answers to help you get the information you need about using the website.
Site Pros And Cons
PROS:
Both the desktop website and mobile app are very active
Several ways to increase your match compatibility and promote your profile
The layout makes the website very easy to navigate
The website asks you for a lot of information to ensure more compatible matches
The app is well-designed, and members typically feel that it is easy to navigate
All members can reply to messages, even those with a free membership
A decent base of users, making it easier to match up with several singles you are likely to be compatible with
CONS:
It can be time-consuming to browse and view profiles
The profile is extensive, so it can take a lot of time to fill it out
Expect a lot of data, some of which might seem unnecessary
Browsing profiles one at a time is the only way to discover more members
Only paid members are able to message others
The website does not integrate videos chats, uploads or webcams
Limited search options
Review Conclusion
Zoosk is worth a try being that it's free to use and easy to browse for matches. If you want to try a dating site that has a lot of features, then give this a shot.
---