Life does not stop after you get to a certain age. Senior dating lets you meet someone special once you are over age 50. It is vital to have companionship throughout all stages of your life for optimal well-being.
Mature dating lets you meet people in your age group so that there is a higher likelihood of having something in common with your matches. Before you start searching for senior singles, take a few minutes to explore some of the basics of senior dating. These basics will make it easier to put your best foot forward so that you can find suitable matches.
Eliminate the Stigma Of Senior Dating
Senior dating often comes with a stigma and stereotypes. Mature dating was once viewed as odd or desperate, but this is no longer true. Dozens of senior dating sites are focused on helping people over age 50 to meet their soulmates.
It is essential to stop looking at senior dating in a way that is negative. You deserve to be happy and to have someone to spend time with. Dating websites are one of the easiest ways to expose yourself to a diverse variety of senior singles in your area.
Having Fun With Senior Dating
There is nothing wrong with talking to several people at the same time during the first stage. Talking to several potential daters will help you to narrow down your choices so that it is easier to see who you have some chemistry with. However, do not get too overwhelmed by talking to more than a dozen people at one time.
Flirt with other senior singles and see which ones respond to you. Have a good time and know that it is okay to be more playful in the beginning. Once you click with someone, you can take things to a more serious level.
Do Not Take Long to Meet
Ideally, once you click with someone, you want to meet them in person within about two weeks of starting to talk. Talking to someone on the phone or via computer does help you get to know each other on a fundamental level. However, this will only get you so far.
You need to meet in person and spend some time together to see if that chemistry you built translates to the real world. If you are talking relatively often, you should be comfortable enough with each other where you can meet for some coffee.
Keep your first meeting simple. Ideally, plan for about an hour, but leave yourself some leeway. If the date is going well, there is nothing wrong with extending it. Agree to play it by ear so that if one of you does not feel the spark, you can part ways with no hard feelings.
Once you start meeting people in person, it is best to meet one person at a time. Then, if there is a connection, you can let the others that you are talking to know that you are not ready to go to the next level with them.
Let Your Family Know You Are Dating Again
Mature dating is a good thing, and your loved ones will be happy that you are out there and building relationships. Do not try to hide what you are doing from your family. Remember that if you do meet someone special, they are going to find out eventually.
It is imperative to be open with your children. If your spouse is gone, they may need some time to work through their parent's feelings moving on with a new person. Make sure that they have this time before introducing them to a person you have a connection with.
When it comes to the initial meeting with your family, could you keep it simple? Host a dinner at home so that everyone can relax and talk freely. Please do not put a time limit on it either. You want your family and your new partner to get to know each other.
It is best not to wait until a significant family celebration or a holiday. This puts too much pressure on everyone involved. Instead, a Sunday dinner on a regular Sunday is the best choice.
It is Okay to Meet a Lot of People
The saying that there is a lot of fish in the sea is actual no matter your age. There is nothing wrong with having several dates with people to see if you have any chemistry in person with senior dating.
When you are enjoying these real-life dates, go somewhere that allows you to talk to each other. A coffee shop or a public park is a good choice. Skip places like movie theaters since you will not get a lot of time to talk during the movie.
Know That Making a Connection Takes Time
While some people experience love at first sight, this is not the reality for most people. There is nothing wrong with taking the time to truly see if there is a connection between you and any of your matches. Go slow and know that there is no time limit on senior dating.
When you move a little slower, this helps you see any red flags that might be present. If you go quickly, you tend to only focus on the positives of your meeting. While seeing good things is great, it can cause you to make some false connections along the way.
Make it known to the dates that you want to let things unfold naturally. Let them know that you want to talk for a couple of weeks before your initial meeting. When you are both clear about the speed at which you want to move, this can prevent any pressure as you progress in your relationship.
Just make sure that you set your boundaries and respect the limits set by the people you are meeting. In this aspect, mature dating is not much different than dating at any age.
Keep Your Finances to Yourself
One issue with senior dating is people telling too much about themselves too fast. This often involves talking about finances. There is no reason to disclose your financial situation until you get to know someone better. Unfortunately, there are people out there who seek out dates based on their financial profile.
If a person starts asking about your finances early on, this is often a red flag. It would be best if you also were cautious of anyone who is constantly bragging about their wealth. Money is a tiny part of a relationship, so there is no reason to be a significant element of dating.
Be Honest About Your Age
You are engaging in senior dating, so the people you are meeting know that you fall into the senior age category. There is no need to shave a few years off of your age. This could cause issues in the future if you find someone that you truly connect with. Remember that your real age will be discovered eventually.
If you prefer to meet people within a particular age group, there is nothing wrong with being upfront about this. Some people prefer partners who are a little older or younger than themselves. In some cases, people want to meet those who are close to their age.
When you are upfront about your age and age preference, this helps narrow down the pool of potential matches. This can help you because it ensures that you connect with matches that work within your age criteria.
Make sure that the photos you use on any mature dating websites are current. Ideally, you want photos taken within the last year. If you meet someone in person and look older than your photo, this could be a deal-breaker for your partner.
Be Safe on the Dating Scene
Mature dating often comes with a sense of security, but you must be practicing the same safety measures that you would at any age. For your first few meetings, make sure that you go to a public place. Travel to the venue separately and leave alone no matter how good the date goes.
After several dates, you can reevaluate and determine if you feel safe being alone with the person. Just do not move too fast or allow yourself to fall into a false sense of security.
You also want to be safe when it comes to senior dating intimacy. Some senior singles like to play the field, while others do not. You should be open about your intimacy and what you expect. This will reduce the risk of issues as you continue to see people.
Remember to be safe once you do decide to become intimate with one of your dates. Use protection and discuss any sexual issues that you both may have. It is also essential to be open about how many partners you have had so that your current partner can take the proper precautions.
Be Honest About Your Expectations
One misconception about mature dating is that all seniors are looking for a life partner. However, just like people of all ages, some seniors want people to spend time with. If you are not looking to settle down, be honest about this from the beginning. There is nothing wrong with playing the field.
If making some new friends is your goal, you can use senior dating to achieve this. Again, make this clear from the start. If you are dating online, put this on your profile so that potential matches know what you are looking for.
Be Honest About Who You Are
When you engage in mature dating, you want to impress the people you have a connection with. However, do not allow this to let you be dishonest when talking about yourself. If you make a strong connection with someone, they will eventually find out about any falsehoods that you told.
Senior dating is built on honesty and being transparent. Most daters want to find a companion. They do not care about the size of your home or the career that you chose years ago.
Age is Not as Important as It Was When You Were in Your 20s
Senior dating causes you to make some adjustments to your thinking. When you were in your 20s, it was expected that you find someone close to your age to take as a partner. However, in today's world, age is truly just a number. Cast a wide net if you do not care about a person's age. This will expose you to a lot more potential matches.
If an age difference does not matter to you, be honest about this. You will be surprised about how many people are more interested in chemistry instead of age.
You Can Bond Over Your Families
When you engage in mature dating, most of the people you meet will have children and probably at least one former spouse. It is okay to talk about this. Talking about your families can often give you something to bond over.
For example, if you both lost a spouse, talking about this shows you that you are not alone. It is also okay to still be grieving your spouse, even if you lost them years ago. No one expects you to get over it when you meet someone new.
Your kids may have similar interests or life paths. This is another thing that you two can bond over. While you do not want your kids to focus on every conversation, it is essential to discuss them.
Also, if the two of you have a connection, you will eventually meet each other's children and meet each other. If you know about what your kids have in common, this can determine when and where to introduce everyone a lot easier.
Physical Attraction is Not the Most Important Factor
Physical attraction is an element of mature dating, but it is not what people focus on the most. In many cases of senior dating, people are more focused on making a potential connection with someone new. Of course, you want to be attracted to a potential partner, but their personality and values are usually more critical.
Because of this, you need to be clear about who you are and what you enjoy. Your mature dating partners will be looking for the activities and topics that you can create a bond over.
Priorities Change with Age
Senior dating comes with a change in priorities. For example, in your 20s, you are looking for someone to build a life with. At age 50 and older, you created a life already. At this point, you are looking for someone who has similar priorities to share your current life with.
Remember that you must discuss things that you are not willing to budge on. For example, if you plan to spend the rest of your life in your current home, any person you have chemistry with needs to know this. If this is not discussed, it could cause some tension later in your relationship.
It is Okay to Feel Young Again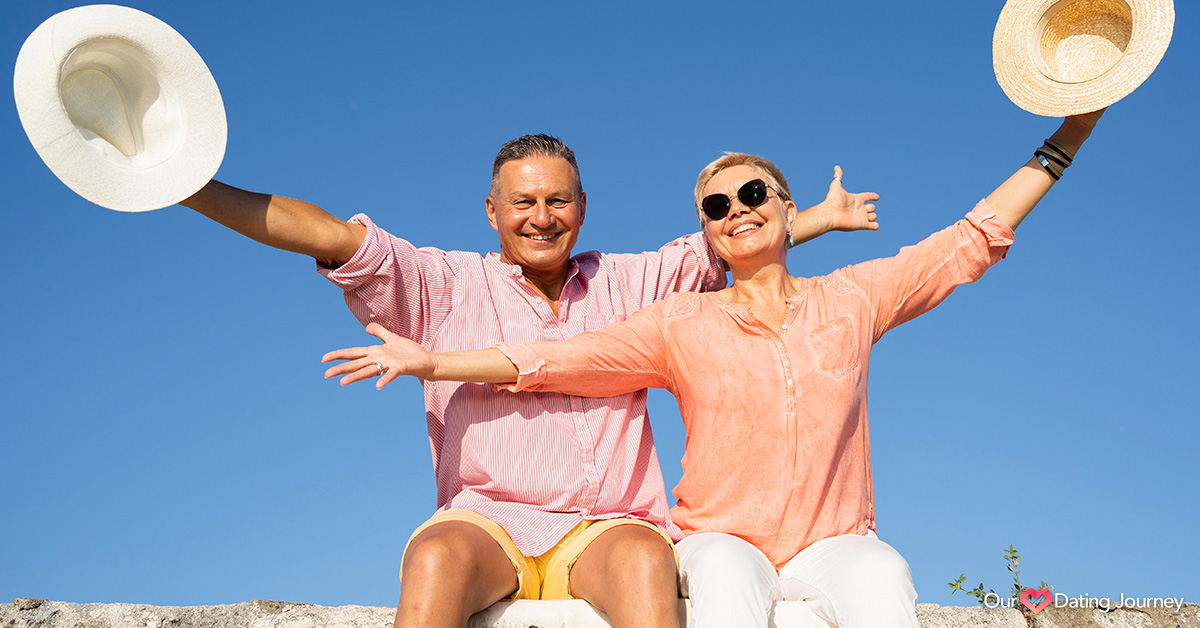 When you have chemistry with someone, your inner teenager can come out, and this is perfectly okay. With senior dating, you want to have fun with your partner. The activities that you do together do not have to be age-appropriate.
When you go into mature dating, think of what you enjoyed in your teens and early 20s. If these are still fun for you, use them as a basis for the dates that you go on. For example, find a drive-in movie theater in your area and see a movie you loved when you were younger.
Trust Your First Impression
Senior dating tends to come with considerably less impulsiveness. This means that people are less likely to put on a front when they meet someone new. To put it simply, what you see is what you get. Your dates are going to show you exactly who they are, and you should believe them.
Since first impressions can usually be trusted, remember that your date will size you up in the same way. Because of this, you must put your most authentic self forward when you go out on dates.
Dress as you usually do as long as it is appropriate for the venue. Do your hair and makeup as you usually do. You must be honest about who you are and the lifestyle that you enjoy.
A first impression can last a lifetime, and it is something that you cannot usually take back if it goes badly. If the initial impression is a poor one, this may cause problems with any connection that the two of you made before deciding to meet in the real world.