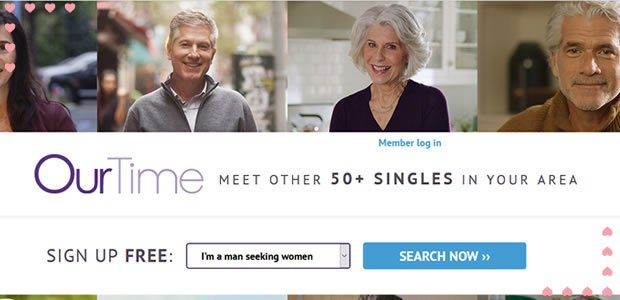 Matching System

Searching

Ease of Use

Popularity

Profile Quality

Customer Service

Cost
Comments Rating
( reviews)
I wrote this Ourtime review to help all of my senior readers' ages 50 and over. My goal is to help each of you make an informed decision about whether Ourtime is the best of the senior dating sites for you.
OurTime targets singles age 50 and older. They realize that mature daters may have different goals than people in their 40s and younger. You can search for a variety of relationships on this website, from marriage to just meeting new friends.
With a relatively large member pool, you can set your specifications so that you are meeting diverse people. This review will help you to make the decision about whether this website is the best option to meet your match.
First Impression Of Ourtime
The website is relatively easy to use and navigate, making it a good choice for people who might not be as tech-savvy. There is also a diverse pool of singles, allowing you to find people who share interests with you.
To use most features, you need a paid subscription, but the free membership does allow you to look around to see if you like the layout and functions of the website. Overall, it is easy to sign up and the profiles are comprehensive, allowing you to easily find people you want to talk to.
Design and Functionality
While working on this OurTime review, I started out by registering. It took about three minutes to complete the process. You do not have to be tech-savvy or well-versed in dating websites to register quickly and without issue.
You will input general information about yourself and upload at least one photo. The website does allow for up to 30 photos, but you do not have to put them up all at one time. Once you are registered, you can opt to use a free account, or you can upgrade to a paid subscription.
Search for and Contacting Members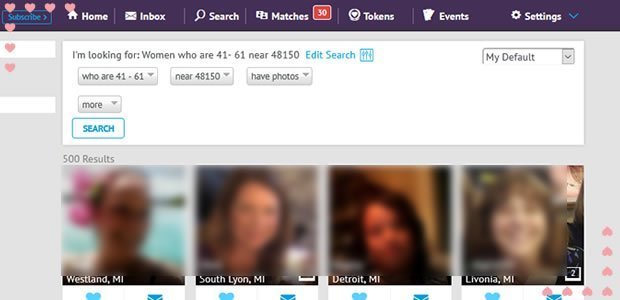 You can search the website for free and hit the "Flirt" button. However, if you want to send messages, you need to have a paid subscription.
There are numerous search fields that allow you to narrow down the results. You can use the following:
Whether the member has photos
If they have children
What the member is looking for
Their ethnicity
Whether they use tobacco products
Their body type
The member's status
You can narrow down the search by zip code
Their religion
The member's zodiac sign
Choose the age range that you are looking for
There is also an option to only find new members and people who are currently online. In addition to messages, you can network in the website's chatroom for a more casual conversation with multiple people.
Profiles
Even with a free membership, you can look at profile pictures so that you can get an idea about the members that are available. The profiles have multiple text boxes, allowing you to provide pertinent details about yourself. You have a lot of flexibility regarding the information that you put out for other people to see.
On occasion, OurTime employees will test the website's functionality by creating test profiles. This helps to ensure that any bugs that occur are handled quickly so that they do not interfere with your experience on the website.
Once you input your profile information, you can choose to make changes at any time. The editing features are easy to use.
App
If you want to use this website when you are on the go, you can download the app on your tablet or smartphone. The design of the app is linear and simple, making it easy for you to learn how to use it.
The menus are easily accessible, and the fonts are readable. There are no new features on the app, but everything on the website is available via the app so that you do not lose access to any features.
---
Features
There are a variety of OurTime features that you can take advantage of once you have a paid membership. All of these are focused on finding members who you may be compatible with. These are current features when I wrote this OurTime review but new features are added from time to time.
Daily Matches
Every day the website sends you 10 matches. They use an algorithm that considers the member's preferences, profile and website behavior to match them. If you are interested in any of the matches that are sent, you can choose to connect with them quickly.
PromoteMe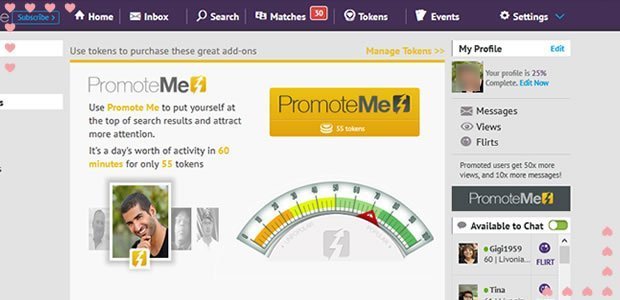 There are millions of users on this website, so if you want to get maximum exposure, this is a feature that can come in handy. With PromoteMe, your profile is more visible so that more members are able to see you.
In search results, your profile will appear at the top so that when someone's search uses elements that are within your profile, they are more likely to contact you since most people message those at the top of the results first.
ConnectMe
This feature helps to keep you safe when you are ready to take it to a higher level with someone with who you are communicating with. Initially, you will do text-based chats to get to know someone. If you have chemistry, you will likely want to talk to them on the phone eventually. You can use the ConnectMe feature to talk to them on the phone without giving out your personal phone number.
This feature provides you with a virtual phone number. With this, you can do voice calls and still keep your phone number private until you are both comfortable exchanging this information.
Virtual Gifts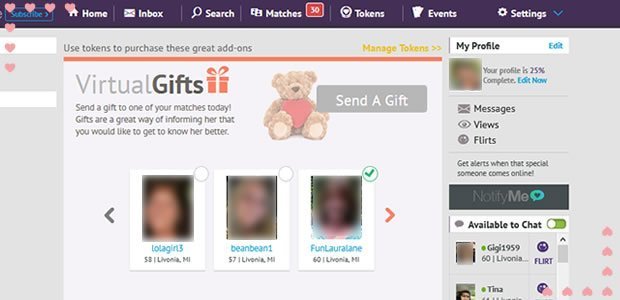 If you find someone on the website that you are particularly interested in, you can send them a virtual gift. This is a way to get their attention and show them that you really want to get to know them.
You will need to purchase tokens to use this service. It is not a part of any of the membership packages. The virtual gifts that are available cost varying amounts of tokens, so you can choose how much you want to spend.
ProfilePro
Filling out your profile completely is essential to get the most compatible matches on this website. However, if you are new to filling out dating site profiles and you are unsure of how to create one, you can use the ProfilePro feature.
This is a special service where professional writers will create your profile for you. They will gather all of your information and add it to your profile for you in a professional and expressive way. When you use this service, you can be sure that your profile will be interesting and contain all of the important information other members want to see.
---
Popularity Of Ourtime
When creating this OurTime review, I learned that this website has a large member pool. From the United States, there are approximately 1.5 million members. Every week, approximately 180,000 members are active.
In the US, about 7.7 million people visit the website each month. Worldwide, the website gets about eight million visits each month. You can choose to localize your searches or you can search throughout the world.
About 55 percent of the members are female and 45 percent male. Overall, this makes the breakdown close to even. Since the website targets people age 50 older, people in this age group have an easier time meeting each other.
---
Customer Service
OurTime offers several ways to get answers to your questions from customer care. They have a comprehensive FAQ section that provides you with information on common issues, such as questions about billing and memberships.
In this section, you can also find copies of all of their policies so that you can easily access them. For example, you can check out the membership and refund policies to see if they answer your questions before you reach out to contact customer service.
If your questions are not answered by this section, you have options regarding how you get into contact with them. You can call them during business hours, which is Monday through Friday from 7am until 7pm. Their customer care representatives work according to Central Time.
When you call, there is usually no hold, or the hold time is very short. They are good about answering quickly. It does seem to be the easiest to get someone right away when you call between 7am and 10am. The customer care representatives seem to be the busiest toward the end of the day.
If you prefer not to call or have a question outside of their business hours, you can use their Contact Us form. Once you submit the form, you can expect a response in about 48 hours.
The customer care representatives are knowledgeable and helpful. They provide detailed answers so that you end your contact with them not having any additional questions.
---
Cost Of Ourtime

OurTime offers free and paid membership options. With the free membership, you can register an account, perform a match search, and create your profile. This allows you to essentially test the website to see if you like the layout and have members with who you might want to communicate.
The paid memberships offer the following:
ConnectMe
MatchMe
ProfilePro
NotifyMe
PromoteMe
Profile Highlight (only available with the value subscription)
There are three main differences between the value and standard subscriptions.
When you choose the value subscription, you get the following features that are not available with the standard subscription:
Your profile stands out since the background color is different
When someone reads a message that you send, you are notified
There is a different background color for your messages, so they stand out
You can choose between a standard subscription and a value subscription. There are two standard subscription options:
You can register for one month for $29.96.
You can register for six months for a total of $90.00. This breaks down to $15.00 a month.
There is one value subscription. You sign up for six months for a total of $107.76. This breaks down to $17.96 a month.
Some of the OurTime services require you to use tokens. There are three packages for tokens:
25 tokens cost a total of $0.99.
110 tokens cost a total of $3.99.
280 tokens cost a total of $9.99.
With these tokens, you can use them for different extra services, including a visibility boost and virtual gifts. No matter how many tokens you buy at a time, they cost $0.04 each at the time I wrote this OurTime review.
The subscription that you choose is automatically renewed. You can go into your account settings to change this manually.
These prices are accurate at the time I wrote this OurTime review. However, they are subject to change.
---
Site Pros And Cons
As I worked on this OurTime review, I made a note of the pros and cons of this website. This breaks down the site and its features for you. This is also my rating of each of the most important features of the site.
Positive
You can browse the website's entire database
There are many ways to interact with members
OurTime uses a custom matching algorithm
The website's layout is simple, allowing you to navigate easily
There is a strong emphasis on safety
Negatives
Add-on purchases are necessary for several advanced features
You can't explore all of the features if you only have a free membership
---
Ourtime Review Conclusion
This concludes my OurTime review. The website has been around since 2011, so it has an established reputation. Since it has been around for a while, you do not run into many bugs or website issues when you are using it.
Searching for members is easy and you can narrow down your preferences. There is a large member base, allowing you to meet a diverse array of people. Since this website is focused on people age 50 and older, you are able to look for people in your peer group.
This website lets you look for a variety of relationship types, from pen pals to a partner in marriage. Since you can communicate with several people at once, you can expand your social circle while simultaneously seeking romance.
The OurTime profiles list a lot of pertinent information so that you can determine if someone is a good match before you make the first contact. It is an active website, so you will not have trouble sending communication and getting responses.
---
---