Matching System

Searching

Ease of Use

Popularity

Profile Quality

Customer Service

Cost
Comments Rating
( reviews)
This Millionaire Match review will help you to determine if this dating site will work for you or if you should try other dating sites.
Millionaire Match has been around since 2001, so it is a well-established dating website. It focuses on attractive singles and successful people who want to meet. The purpose is to establish long-term relationships and not sugar baby and sugar daddy arrangements.
As I worked on this Millionaire Match review, I learned that every two to three years, they provide new features for members. This ensures that you always have new ways to match with people with who you have some chemistry and communicate them.
---
First Impression Of Millionaire Match
Millionaire Match takes a lot of steps to verify the members. When you see a millionaire badge on a profile, it is because they were fully vetted and are truly a millionaire. This site puts a strong emphasis on authenticity and security for both free and paid accounts.
There are millions of members, so it is relatively easy to connect with people with who you have things in common. With the members being a little older, it is easier to find people who are looking to make a long-term connection.
---
Millionaire Match Design and Functionality
The signup process for Millionaire Match is relatively easy and straightforward. It takes about 10 minutes to signup on the website. For this process, you will first click JOIN NOW and immediately be required to enter your phone number for verification.
You then register and fill out some basic information, such as your body type, location, and annual income. From here, you will also write a quick paragraph to describe your ideal mate and who you are.
Once you get through this part of the process, you will upload a photo to show on your profile. The website verifies all photos to ensure authenticity, so your photo may take a few days before it is active on the website.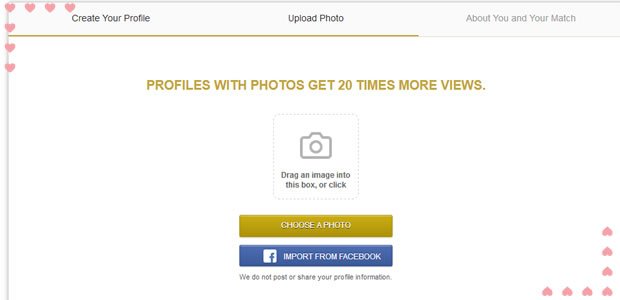 Before you can start using the website's features, you have to verify your email. If you want to make your millionaire status known, you will also go through the necessary steps to verify your income information.
The website undergoes changes as needed, so it is user-friendly and easy to navigate. When new changes do occur, these are announced, and you are alerted regarding how to use them to your advantage.
This site puts a lot of emphasis on keeping members updated on changes and things that are happening. Because of this, you never have to worry about running into functionality issues.
Once you log in, all of the features are easy to access. Your messages and other communication methods are front and center. This ensures that you never have to waste time responding to people or initiating contact.
If things in your life change, the site makes it easy to make changes to your profile. You can also opt to add new photos so that people can get a better picture of what you look like.
---
Features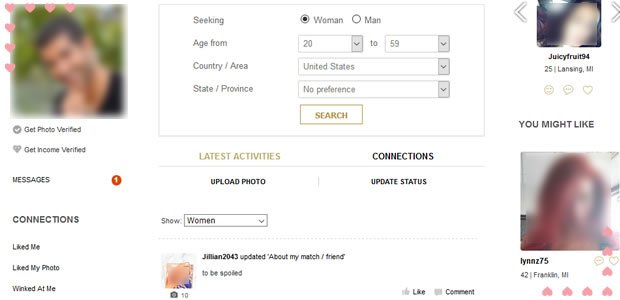 This site is rich in features for those who have a paid membership. Because of this, you have numerous options for connecting with people and communicating with them.
Finding Members
There are several features you can use to make contact with the members that you find interesting. These include:
Let's Meet (this is a matching feature that is similar to a roulette wheel)
Replying to and sending new messages
Sending up to 50 winks per day
Adding members to your favorites list
This site offers advanced searching options that allow you to narrow down your preferences. When you use this feature, it is easier to get a list of members with who you are likely to be attracted and have some chemistry with.
You can also spend time in the blog section or communicating in the forums. These areas are more casual so that you can talk to a diverse array of members.
Security and Safety
Verifying your identity and information is a major element of this website. You can be confident that people are who they claim to be. They also have a section on safety that is very thorough. Here you will get tips about things like communicating safely, which information you should never share and how to meet in person safely.
Profiles
Your profile can become extensive, depending on how much information you want to provide to other members on the website. You can add up to 26 photos in addition to your main profile photo. There is also a private album you can create if you have a paid membership.
The profile is a mixture of who you are and the person you are looking for. In addition to the basics, you can also add additional information, such as:
Pets
Languages you speak
Your political beliefs
Your travel history and places you want to visit
Favorite jokes
There is an option to create an essay where you describe your perfect match. This can help to increase the chances of the people you meet being a solid match for you.
Millionaire Match App
You can download the app for both iphone and andriod phones from either the Apple or Google store. Once you download and sign in with your account information, you can browse the app for the dating site's features.
For Apple devices, you can download the app from the Apple Store.
For Andriod devices, you can download the app from the Google Play Store.
---
Popularity
When I was writing this Millionaire Match review, there were about 4,192,500 registered on this website. The website states that more than two million conversations take place between members every month.
The website matches members mostly from the United States, United Kingdom, Canada, and Germany. You can use it in the following languages: German, English, and Japanese.
The majority of members are aged 35 to 54 years old. However, there are people ages 25 to 34 and there are also thousands of members who are age 55 and older. Due to the age diversity, it is relatively easy to find people in your preferred age range. This was the age diversity at the time I wrote this Millionaire Match review.
On this website, the overall male to female distribution is relatively even. Most of the certified millionaires on this website are men.
The men tend to post more on the Members Luxuries page, especially those who are certified, millionaires. Among the women on the website, most of them are active on the Blog and Forum on this website.
Among the members who have gold memberships on the website, the majority are men. This is likely because more men are certified millionaires and use the membership to make their status known to other members on the website.
---
Customer Service
As a part of creating this Millionaire Match review, I looked into the level of customer service you can receive. Members of all levels can utilize customer support. However, if you have a paid account, you can usually get in contact with customer service faster.
They offer several ways to contact them if you have issues with the website. There is an online form that you can fill out within a minute to ask questions. Customer service representatives will usually get back to you within one business day. Premium members usually get a faster response as this is one of the features of being a paid member.
The website also lists a phone number that you can use to contact them. You have to call them during business hours, which may change over time. They tend to get more calls in the evening, so you usually get a faster response during the morning hours.
If you have a membership, they recommend that you login before contacting customer service via the online form. By logging in, you are helping to expedite the process so that you can get into contact with someone faster.
When you have a gold membership, one of the features is an account manager. You can contact them to get help with your questions. This ensures personalized service for members who pay to be a part of the Millionaire Match website. The website will assign your account manager once you sign up for this level of membership.
You also get priority customer care when you are a gold member on this website. This ensures that you are not waiting for answers to your questions. Gold members are essentially given a pass to skip the line when they contact customer care.
---
Cost Of Millionaire Match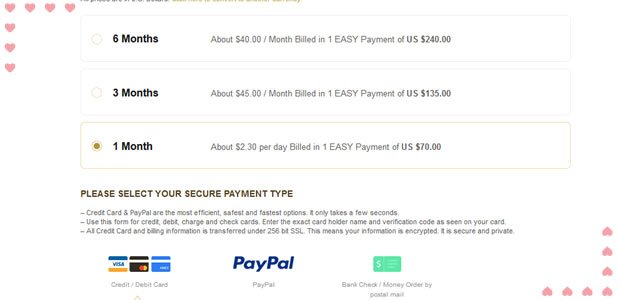 This dating site allows you to create a free account. With this level of membership, you can receive messages from other members and respond to them. However, you are not able to initiate messages with others.
There are three options for membership. The one you choose depends on the level of commitment that you want to give the website. At the time of this Millionaire Match review, the following pricing was what you can expect:
One month: If you choose to pay one month at a time, it will be $70.00 per month.
Three months: You can pay three months at a time for $135.00. This breaks down to $45.00 per month.
Six months: You can pay six months at a time for $240.00. This breaks down to $40.00 a month.
By default, the website will automatically renew your membership plan. However, you can turn this off so that you have control over when you renew your subscription. You can turn it off by contacting customer service or making a change to your auto-renewal settings on your subscription status page.
When you opt for a paid membership, it comes with a variety of features:
Access to a counselor via live chat and email
You will know if the messages you send are read
Send cards for birthdays
Advanced search features
In the search results, you get priority listing
You can see the comments left on other member profiles
Access safety tips and dating advice
Advanced privacy options
Highlight emails and your profile
When other members post first date statuses and ideas, you can respond to them
Full mobile app access
Initiate online chatting and messages
Your information will be verified so that other members know it is accurate
Access counselor Q&A
Priority customer care
Multiple options for making your membership payments
---
Site Pros And Cons
As I wrote this Millionaire Match review, I discovered various pros and cons to the website. Use these to help ensure that this is a good website for your specific dating needs and preferences.
Pros
There is a mobile app that syncs up with the website
You have control over which members view your profile
The website allows you to sign in via Facebook
Millionaires are certified and verified
Unpaid members can respond to messages
The website does not have ads
Cons
You cannot video chat on this website
The monthly costs are higher compared to other dating sites
---
Millionaire Match Review Conclusion
Millionaire Match is an ideal dating site for those who are looking for a serious relationship. If you want to be listed as a millionaire, there is additional verification to ensure that you are being honest. This helps to ensure authenticity for the members on the site.
The site often implements new features or improves on existing features. This ensures that it is easy to use and that you have options regarding matching with people and communicating with them. While the free membership is limited, it does allow you to explore the site to determine if it will work for you.
---
---