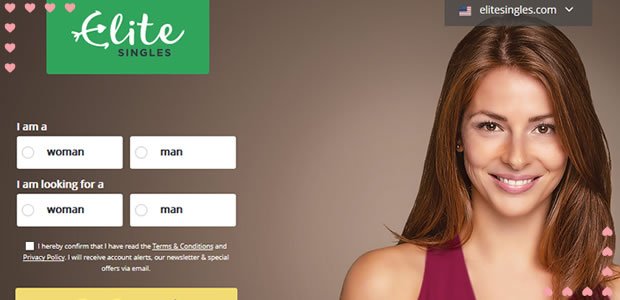 Matching System

Searching

Ease of Use

Popularity

Profile Quality

Customer Service

Cost
Elite Singles is a dating website that caters to professionals. The members are mostly in their 30s and 40s, however, they do have a specific section for senior dating for those age 50 and older. This Elite Singles review will help you see what a real person experienced by using this website. By the time you are done, it will be clear what the benefits are for professionals who are seeking equally ambitious partners.
First Impression Of Elite Singles
Elite Singles is focused on matchmaking for those seeking long-term relationships. This website offers multiple features to ensure that the people who you match with are those you have a lot in common with. They also make it easy to communicate with other members so that you have a chance to get to know someone before you decide to meet in person.
The website has a good design that makes it easy to navigate. This is true for both the website and the mobile app. You can use both of these at the same time to get the most out of your membership.
Design and Functionality Of Elite Singles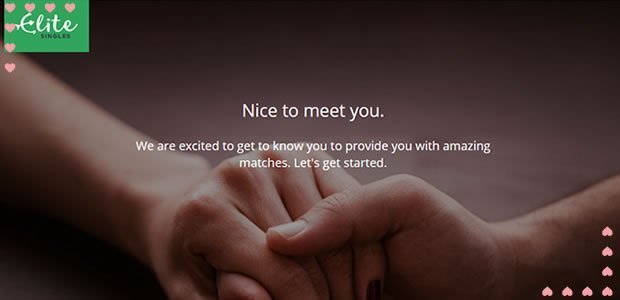 The first step is signing up and this will take you about 20 minutes. You input your basic information and then take the personality survey. This survey is detailed and will take most of 20 minutes.
Since you are analyzing yourself, it is not difficult to complete this part of the process. Once you are done, you just upload some photos and determine the level of membership that you want.
The website is relatively straightforward. You can easily see the different features and access your messages from the main screen. It is easy to see your matches and reach out to communicate with them.
This website offers several communication options from sending messages to sending winks to other members. Because of this, you can choose how you want to break the ice. They also offer five questions that you can use to initiate contact with other members when you have a paid account.
Searching is fast and easy. There are different factors you can choose to make it easier to find people you match with. The search happens fast so that you are not waiting to get back a list of people that you have things in common.
In addition to the website, you can use an app to access the features on the website. It works for both Android and Apple smartphones. All of the elements of the website are also available on the app so that you can use both platforms interchangeably.
The app will also work on most tablets that use the Android or Apple system. If you use the app and the website, they track information the same and there is no lag, ensuring that everything on both platforms is current.
---
Features
This website offers numerous features to help you match up with people with who you are compatible. Exploring some of the top features will allow you to determine if this site is the best for your relationship goals.
Match Recommendation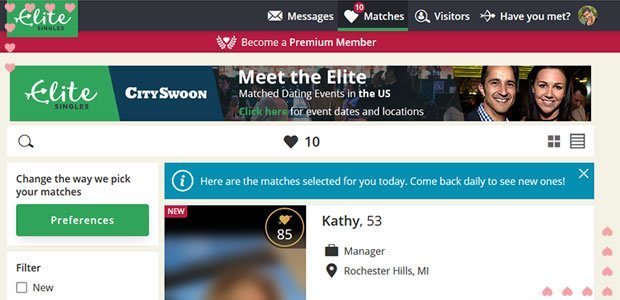 Every day this website will provide you with some members that are recommended to you. Who the website recommends is based on factors, such as location, relationship preferences, and the answers that you both provided on the questionnaire.
By looking at these matches, you can increase your chances of meeting someone. Since there are new matches daily, there is never a shortage of members you may have some chemistry with.
Have You Met?
This feature is another way to connect with other members on the website. It is a generated list that shows you matches that have some potential. You can scan the list and see if any of the members presented are viable matches. To use this feature, you have to have a paid membership.
Personality Analysis
This feature is one of the biggest draws on this website. It is part of creating your member profile. When you sign up, you will take a personality survey so that the website can match you with people who have similar personalities and interests. Think of this survey as a type of digital matchmaker.
There are five main categories as part of the personality analysis:
Agreeableness
Extraversion
Conscientiousness
Openness
Neuroticism
Your survey answers are then measured against the answers given by other members of the website. You cannot see the answers that another member provides. Instead, the website will use the answers provided by all of the members to see who is the most compatible.
This analysis is a primary element of the matching process. Because of this, it is imperative that you take your time and answer each question honestly so that your matches are compatible with you.
Advanced Search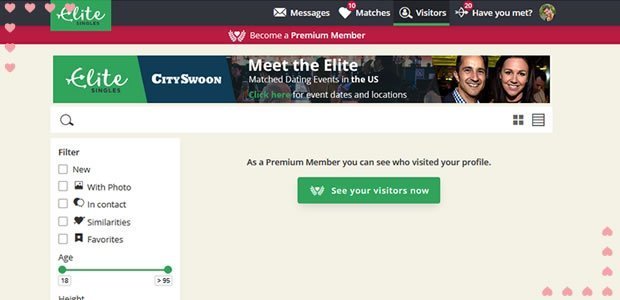 If you want to explore the members in addition to the matches that you get, you can use the advanced search when you have a paid membership.
There are numerous categories that you can choose to narrow down your search, such as:
Age
Whether they want children
Income
Height
Location
Education
Drinking habits
This makes it easier to look for more matches on your own using the criteria that is important to you. When you are a paid member, there is no limit to how many advanced searches you can perform.
Wildcard Matches
This feature allows you to get additional matches when you have a paid membership. Every day get up to 20 extra matches. Since these are wildcard matches, there is no guarantee that you will be very compatible with all of them. However, the algorithm that provides these does ensure that you at least have some things in common.
Favorites List
If you find a profile that really sparked some interest, you can put it on your favorite's list. This makes it easy to go back and revisit that profile again in the future. There is a star icon on member profiles that you click to add someone to the list. Should you no longer want the person on this list, just remove the star icon.
---
Popularity Of Elite Singles
As I did my research for this Elite Singles review, I spent a lot of time looking at statistics to see how popular this website is.
The website states that every month, it is responsible for more than 2,000 relationships. This is an active website. On average each week, about 900,000 members visit the website. In the United States, there are approximately five million members. In addition to the US, most of the other website traffic comes from the United Kingdom and Canada.
The member breakdown is almost 50/50 regarding men and women on the website. Most of the men are over age 30. The women are the mostly late 20s and older.
This website is focused on professionals who are pursuing careers. Approximately 82 percent of the members have a degree from a college or university.
---
Customer Service
This website offers an online help desk where you can get help with your questions. They also have a help forum where you can learn more about how to use the website, manage your subscription, and other common issues that occur as you use the website.
They do not provide a phone number to call customer service. You will have to use their help desk during its hours of operation which are subject to change.
Overall, the customer support representatives are helpful and able to answer questions quickly and thoroughly. They are friendly and ensure that you are fully satisfied with your experience before disconnecting with you. It does not take too long to get in contact with someone.
---
Cost Of Elite Singles
Elite Singles does have a free membership, but the functionality is limited. It is enough to allow you to explore the website and familiarize yourself with what it has to offer. However, if you wish to connect with and communicate with matches, you will need a paid membership.
The following are the costs of membership when I wrote this Elite Singles review:
Premium Classic: This membership lasts for three months. You pay a total of $173.85. It breaks down to $57.95 a month.
Premium Light: This membership lasts for six months. You pay a total of $209.70. It breaks down to $34.95 a month.
Premium Comfort: This membership lasts for 12 months. You pay a total of $383.40. It breaks down to $31.95 a month.
The prices shown above are with a current sale so the prices may change over time.

You will need to disable the auto-renew feature or else you will automatically be charged for the membership level that you chose. The auto-renewal cancellation must be done at least 24 hours before your membership is scheduled to renew.
As I was writing this Elite Singles review, I learned that the website does occasionally offer specials that provide discounts on their membership packages. The specials average about $10 to $20 off the monthly cost of membership, depending on which premium plan you choose.
When you opt for a free membership, you get the following features:
Partner suggestions
Receive messages
Personality profile
Upload pictures
With a paid subscription, you get all four of these features plus the following:
Unlimited messaging
Suggestions about other members you may be compatible met
You will know when other members read your messages
Access to the Have You Met feature
The ability to view all photos that a member uploads
Mobile app access
A personality profile with more detail
If you choose a six-month or a 12-month membership, you also can access the following:
You can see which members have visited your profile
Every day, you get up to 20 more matches
On other photos and profiles, you can leave comments
---
Site Pros And Cons
As I wrote this Elite Singles review, I took note of some pros and cons that help to show the strengths and weaknesses of this dating website. Knowing what these are will make it easier for you to evaluate whether Elite Singles is the best website to seek out your next romantic partner.
Pros
There are several subscription choices and a free option
This website uses advanced safety and privacy tools
The app is comprehensive, making it easy for busy professionals to meet people
They use an intelligent matchmaking system
You have several ways to contact customer service
here is a blog on the website written by experts that provides dating advice for singles
Cons
Unlimited communication is only available to paid members
It is not ideal for those looking for something casual
The Personality Test takes a long time to complete
---
Elite Singles Review Conclusion
If your goal is to meet ambitious people whose goal is marriage, Elite Singles is a good choice. This website caters to people who are busy trying to climb the career ladder while simultaneously looking for a partner to share their success with. Because of this, it is a good option when you do not want to waste time looking for a long-term relationship.
The matchmaking system is time-consuming, but it also helps to ensure that you are paired up with people that you have a lot in common. As I wrote this Elite Singles review, I learned that the Personality Test is unique and has a high level of success.
Use the website or the mobile app to meet new people, allowing for optimal convenience when you are busy. When you opt for a paid membership, there are several ways to communicate so that you can get to know your matches before making time to meet each other in the real world.
---
---