Matching System

Searching

Ease of Use

Popularity

Profile Quality

Customer Service

Cost
My SingleParentMeet review will show you all of the elements of this dating website. Get all of the details about the website, its features and everything else that it has to offer. With this information, you can consider your relationship goals and determine if this site will help you to achieve them.
Being a single parent can make it harder to meet people because you are more focused on your child. However, you can be a single parent and find love.
First Impression Of SingleParentMeet
SingleParentMeet is designed to help busy single parents to meet each other for everything from friendship to marriage. You have access to a search function and messaging system to find people and communicate with them. Both of these features are easy to find and use.
If you want to go beyond the general features, there are special features that allow you to expand the activities you can participate in on this website. One unique feature is that you can also find a babysitter if you have chemistry with another member and you want to go on a real-world date with them.
Design and Functionality
SingleParentMeet is relatively easy to navigate. The setup of the website is simple, allowing you to quickly find the features that you want to use. However, without a paid membership, the majority of the features are unavailable.
Signing Up
You can sign up for the website for free. To get started, you only need to input your desired username and password, and a valid email address. Your email address will be confirmed to make sure that it is actually yours.
The next step is adding some personal information about yourself. This is basic contact information and things like your race and location.
You will be asked to upload a profile photo. While you can choose to skip this step, it is recommended that you add a photo as you will get more attention from other members when they know what you look like.
The website allows you to provide some information about yourself during the next step. Here you can describe who you are and the type of people you are wanting to meet.
The last part of signing up is the personality questions. These serve as a way to help to see which other website members you are compatible with.
Finding and Talking to People
The search feature on the website is simple. You can narrow things down by looking for specific attributes so that the results you get are in line with who you are looking for. There is also a match's section that you can check every day to see who the website feels you have some chemistry with.
Once you find someone that interests you, you have several options to communicate, most of which will require that you have a paid membership. You can send a flirt or a message. The website lets you add people who are of particular interest to your Favorite's list so that you can remember who you want to get to know better.
There is a section that allows you to send virtual gifts to other members. To send these gifts, you will have to purchase a token's package. You can choose between a variety of gifts, depending on the person's preferences and the type of impression that you want to make on them.
If you want to be social without just chatting with one person via messages, you can use the chatroom. Here you can talk to a variety of members at once.
Your Profile
The profiles on this website are pretty straightforward. You can provide a variety of information types, such as what you are looking for and fun facts about yourself. Overall, the profiles are simple and do not go very in-depth. If you want to really get to know someone, you will need to talk to them via the messaging system.
Once you create your profile, you do have the option to make changes later. This allows you to update your profile as things in your life change.
The App
Since single parents are quite busy in today's world, you can also download the app for free on your smartphone. You can find the app in the Apple App Store and via Google Play.
The app has all of the features that the website has. However, it is actually a little more organized, making it easy to learn how to use it. To use the app, you will need to have your smartphone connected to the internet via mobile data or a Wi-Fi connection.
---
Features Of SingleParentMeet.com
There are different special features on this website that allow you to do things like make your profile stand out more and get extended notifications so that it is easier to keep up with your activities on this website.
Virtual Gifts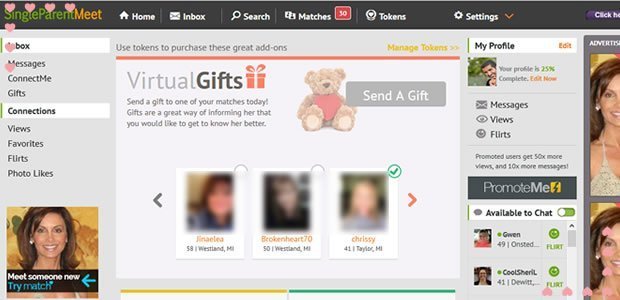 If you find someone that you really connect with, you can choose to send them a virtual gift to show your appreciation. To buy virtual gifts for members, you will need to have tokens. Each gift tells you how many tokens it will cost. You can then buy a token package that provides enough for the gift.
PromoteMe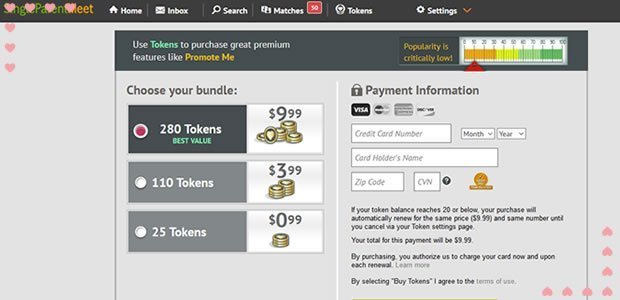 There are a lot of members on this website, making it easy to get lost in the shuffle. If you want to make sure that members are able to find you, you can use this feature. It will make your profile more noticeable in searches. You will need to use tokens to take advantage of this feature.
NotifyMe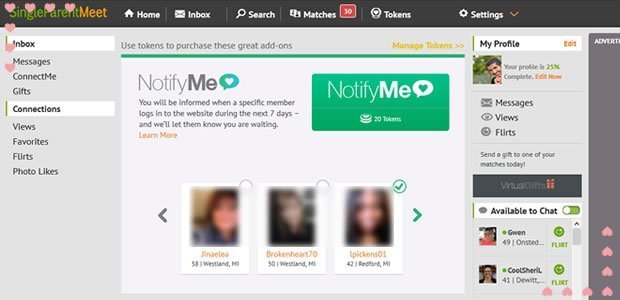 If you want to keep an eye on your matches and know when they are available to message with you, you can use the NotifyMe feature. This is only available to people who have a paid membership.
If you are online, the website tells you when your matches come online. This allows you to initiate a conversation with them.
---
Popularity
While researching for this SingleParentMeet.com review, I learned that in the United States, there are 77,000 members throughout all 50 states. About 55 percent of the members are men while 45 percent are women. Every month, about 400 new people sign up with the website, so there is some growth on a regular basis.
The website traffic is relatively steady, with about 250,000 people visiting the website monthly. The biggest age categories for members is people ages 18 to 24 and people ages 35 to 44. The smallest age demographic is people over age 55, but they make up about 12 percent of the website's members.
About 74 percent of the members state that they are Caucasian. The second-largest racial demographic is African Americans, who make up about 13 percent of the members.
The majority of members report that they have at least a high school diploma. However, approximately 39 percent say that they have a bachelor's degree.
Overall, the member pool is diverse, giving you people from a variety of backgrounds to connect with. Most people on the website are single parents, but there are some people without children who are happy to date someone who has a child.
---
Customer Service
While writing this SingleParentMeet review, I looked into the level of customer service available. The website has a frequently asked questions section and they recommend that you use this before trying to contact their customer service representatives.
The frequently asked questions section is broken down by category, so it is relatively easy to find answers to the questions that you have about everything from technical issues to settings and account information.
Once you go to a category, there are common questions that you can click on to get the answers. Should this section not provide you with the answers that you need, you can choose to contact their customer service team.
Unfortunately, they do not provide any phone number or live chat option to discuss issues with a real person in real-time. You will need to click on "Contact Us" and submit the short form that is provided on the website.
Once you submit a ticket, you will need to wait until they provide you with an answer. On average, you wait up to two business days. However, they do not provide a timeline regarding how long you might wait for a response.
One benefit of this system is that you can choose to contact the customer care team 24/7. You do not have to wait until normal business hours to contact them.
---
Cost Of SingleParentMeet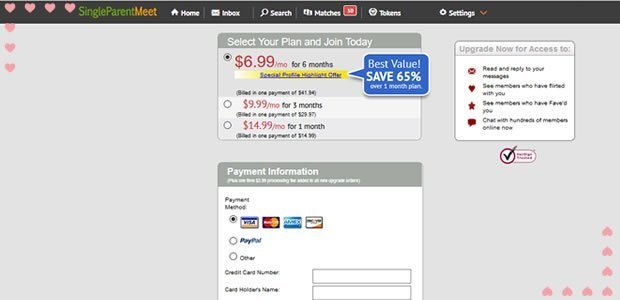 You can sign up for a free SingleParentMeet account and access some of the website features.
With a free account, you can:
Creating a profile
Viewing your matches
Sending flirts to other members
Adding photos to your profile
Searching for new matches
Liking the photos on other member's pages
With a paid account, you can do all of the above. There are other features you can also take advantage of, including:
Receiving and sending messages
Looking at other member's profiles to see who flirted with them
NotifyMe
PromoteMe
You can receive and send virtual gifts
Flirting
ConnectMe
MatchMe
You can purchase and use tokens for extended features on the website
The following are the paid membership options:
You can choose to pay monthly for $14.99 a month
Get three months of membership at a time for $9.99 a month (you will pay this with a one-time payment of $29.97)
You can get a six-month membership for $6.99 a month (you will pay this with a one-time payment of $41.88)
When you choose a paid membership, your subscription will renew itself automatically, according to the default settings on the website. However, you can turn this off and choose to control when you renew your subscription. To do this, you will need to go into your account settings.
For certain features, you will need to use tokens to take advantage of them.
There are three token packages available:
$0.99 for 25 tokens
$3.99 for 110 tokens
$9.99 for 280 tokens
The information about the membership and token costs are accurate as of when I wrote this SingleParentMeet review. However, they are subject to change. The website does sometime offer special promotions and limited-time discounts on their subscription costs. These prices are accurate when I wrote this SingleParentMeet review but are subject to change.
---
Site Pros And Cons
As I worked on this SingleParentMeet review, I compiled a list of pros and cons. You can use these to help make a decision about whether this website is a good choice to meet someone new.
Pros
You can expand the functionality of the website with tokens
There is a feature that allows you to communicate easier without giving out your personal details
The website provides new matches each day
You can use the favorite's list to remember those who you want to talk with more
Less expensive than most sites
Cons
The website is harder to navigate compared to other dating websites
You need a paid membership to access most features
---
SingleParentMeet Review Conclusion
As I end my SingleParentMeet review, I want to mention a few things.
The website is user-friendly and ideal for several relationship types. You can search for a partner for a long-term relationship or even some new friends. Because of this, it allows you to expand your social circle.
Overall, the cost is relatively low compared to other dating websites, making it easier to handle a paid membership. With a paid membership, you get a variety of features so that you can browse other members and communicate with them.
While the matching system is not as comprehensive as other websites, you can list your personality traits and other information about yourself to help to attract people with like minds. Using the search feature is the simplest way to see who is available on the website.
There are ways to assess compatibility before you start to communicate. Once you are ready to talk to someone, you can send messages so that you can have more extensive conversations.
---
---