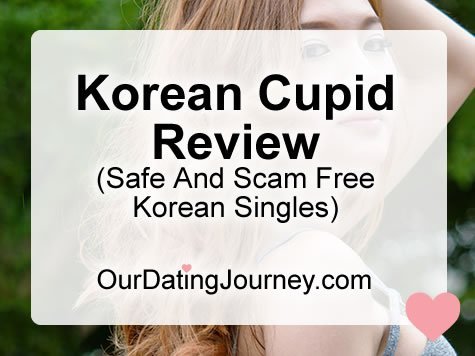 Matching System

Searching

Ease of Use

Popularity

Profile Quality

Customer Service

Cost
Korean Cupid has members looking for everything from friendship to marriage, giving you options regardless of the type of relationship that you are seeking. This site is focused on Korean singles, but people of all backgrounds are able to sign up and use the website.
KoreanCupid.com has a large member base, so there is always someone new for you to meet. Since males and females are almost equally distributed, you have a good chance of finding someone special no matter what gender you are seeking. With the array of interactive features, you can quickly engage with the site.
---
Korean Cupid Website First Impression
KoreanCupid.com has both a desktop version and a mobile version. Both of these are easy to use, allowing you to quickly get acquainted with both platforms. The features on each of them include those that are free to use and those that require a paid subscription.
Korean Cupid allows you to register for free in under a minute. At this point, you are able to look around the site to see if it has the features and singles that you are seeking. Since the layout is simple, you can start navigating right away to locate all of the different elements of Korean Cupid.
On the website is a testimonial page. You can read about couples who met on this site and got their happy ending.
You can easily engage with other Korean Cupid members due to the communication features. It is easy to send messages or even venture into the chatroom for a more relaxed atmosphere to meet new people.
There are different membership options on Korean Cupid. This gives you control over how many months you commit to. As I was writing this Korean Cupid review, I also discovered that their customer service agents are responsive.
---
Design and Functionality Of Korean Cupid
This dating site provides you with a simple layout that you can use very easily. Once you are on the site, all of the features are easy to find so that you can always quickly navigate to the exact page that you need.
The Korean Cupid site design ensures that all people are able to use the site. Whether you are new to dating sites or familiar with them, you will find it easy to explore the site and determine which of the features allow you to engage in the ways that you prefer.
Signing Up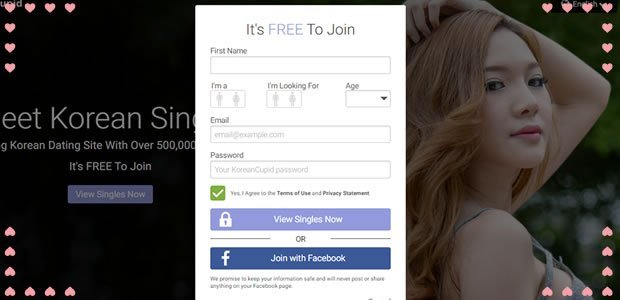 Korean Cupid lets you register in about a minute. You can choose to use Facebook for this process, allowing most of the registration information to be imported from your social media profile. If you choose to register this way, you can also import some of the pictures from your Facebook profile.
You can also use your email address to sign up for Korean Cupid. If you choose this option, you will need to input a little basic information, such as your birth date and first name.
No matter which Korean Cupid registration option you choose, you do not have to verify your email address. You get immediate access to the site to start looking around. There is no need to immediately add a photo or upgrade your membership. Because of this, you can take your time to make sure that Korean Cupid is the best site for your romantic pursuits.
Searching and Communication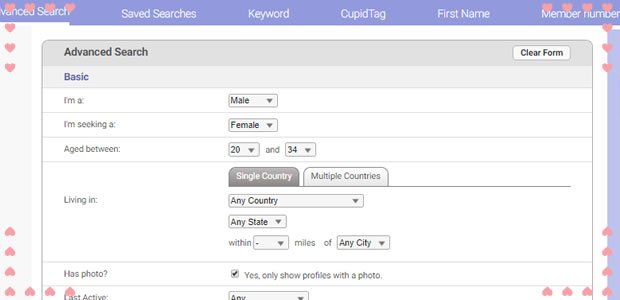 If you have a free Korean Cupid membership, you are able to do some basic searching. You can also send hearts to other members. However, this is the extent of the searching and communication features that are available. The one exception to this is if you are communicating with a paid Korean Cupid member. As long as one person has a paid subscription, the two can communicate. For a free member to talk to a paid member, the paid member has to send the first message.
With a paid membership, you are free to message any person on the Korean Cupid site. You can also send interest and participate in the site's chatroom. Overall, your ability to communicate with other members has no restrictions.
Paid Korean Cupid members get access to advanced search filters. These allow you to narrow down the search results even further to people who you are most likely to have things in common. No matter your level of membership, you can use topic searches and cupid tags to find other compatible members.
Korean Cupid has a favorite's list that you can take advantage of. When you are looking for other members, if anyone spikes your interest, add them to this list so that you can reach out to them at a later time.
Profiles
All members of Korean Cupid can look at profiles. They are very detailed, allowing you to really get to understand a person to see if they are someone you might want to talk to more. On member profiles, you can learn about things like lifestyle, hobbies, and even the person's cultural values.
Korean Cupid lets you upload a photo gallery so that you can show other members what you look like. All members, including those who have a free membership, are able to look at all of the pictures that you put on the website.
You can add photos to your Korean Cupid profile at any point. It is possible to remove and replace photos too so that you always have the most recent ones posted. Members can also make edits to their profile information at any point.
When you look at Korean Cupid profiles, you can see if you and the person are a good match. Look for the green symbol to indicate that the person is compatible with you. There will be a red symbol if you two are not compatible with each other.
---
Korean Cupid Features
This online dating site gives its members different features that allow them to get more from the site. When you use these, you can do things like expanding your searching abilities and communication options.
Korean Cupid App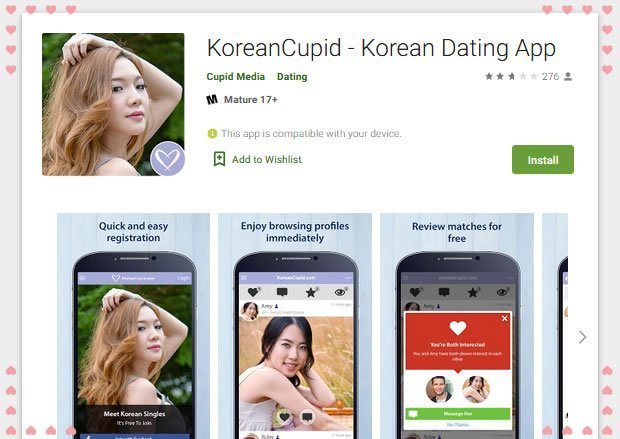 The app for this website provides you with all of the features that you also use on the desktop site. You will have to have an Android device to download it. However, downloading it does not cost anything.
The Korean Cupid app has a clean design so that you can figure out the navigation quickly. You can see your matches and search for other members that you might be compatible with. Use the heart to send interest to the profiles that you want to communicate with further.
Like the desktop site, all of the paid features still require you to have a subscription for them. To connect your account to the mobile app, you will just have to login once you have it downloaded. All of your information transfers over to the app so that you do not have to redo anything.
Cupid Tags
Korean Cupid offers a variety of ways to narrow down your searches to compatible members. These tags are one way for you to do this. The tags stand for things that are important to the person. When someone uses them in search, they will see your profile in the search results.
Translate Your Messages
If you have a paid Korean Cupid membership, you can make sure that the messages that you receive are readable in your language. Since this is an international dating website, this feature makes it easier for people who speak different languages to communicate with each other.
---
Popularity of Korean Cupid
This site has more than 500,000 members. The majority of the registered users on this site are from Korea. There are also a lot of people from the US.
About 60 percent of the people on the site are male while approximately 40 percent of them are women. Compared to male users, women tend to log in to the site more frequently.
Of all of the Korean Cupid members, the majority are ages 25 to 54. The smallest demographic on the website is people ages 55 and older followed by those between the ages of 18 and 24.
---
Customer Service
Korean Cupid lets you call them if you want to talk to a person on the phone to get help with your concerns and questions. When I was researching for this Korean Cupid review, I noticed that their offices are in Queensland, Australia. Because of this, you have to make sure that you are taking this time zone into consideration when you contact them.
When you call, they tend to answer the phone rather quickly. You will have to contact them Monday through Friday to speak to someone directly.
Use the help section to get some information before you call. In some cases, the knowledge that you get from this section is enough to allow you to avoid needing to call them.
Send them postal mail if you prefer this option to get documents to their offices. They also list a fax machine that you can use if you want to ensure that what you are sending gets to their office right away.
---
Safety and Security
Korean Cupid says that they quickly remove profiles that are not authentic. This helps to ensure that the majority of people are real people. Because of this, you are not wasting any time talking to someone with a fake profile.
If you notice a profile that does not look authentic you can use the report abuse feature. This requires a simple click of a button. It will alert the site so that they take the time to examine the profile to determine if it needs to be removed.
You also can block other people on the website. This helps you to keep yourself safe since it allows you to avoid any Korean Cupid members who have made you feel uncomfortable.
---
Cost of Korean Cupid
This website lets you remain a free member if you do not want to get a paid subscription. While you cannot use all of the features, there are still many basic features that you can take advantage of. With a free membership, you can use these features:
Let other members know you want to talk more by sending them interest
Use the basic matching to see who you are compatible with
If a paid member sends you a message, you can start messaging them back
If you opt for a paid Korean Cupid membership, there are a lot of things that you can do on the website. The following are premium features:
Talk to people in real-time when you use the instant messenger
Avoid advertisements on the site's pages
When people do searches, your profile is toward the top
VIP profile highlighting
The matching algorithms that you have access to are advanced
You can send messages to anyone and get a response, even to free members
Look at other member profiles anonymously
Get more space on your profile
Hide your profile to take a break from people finding you
The search filters that you have access to are extended
The Gold Membership Plan
The gold membership is one option for those who want a paid Korean Cupid subscription. If you choose this, you can pick between the following options:
$29.98 a month if you want to pay on a monthly basis
$20.00 per month if you buy three months at a time. You pay once every three months at $59.99
$10.00 per month if you buy 12 months at a time. You pay once every 12 months at $119.98
The Platinum Membership Plan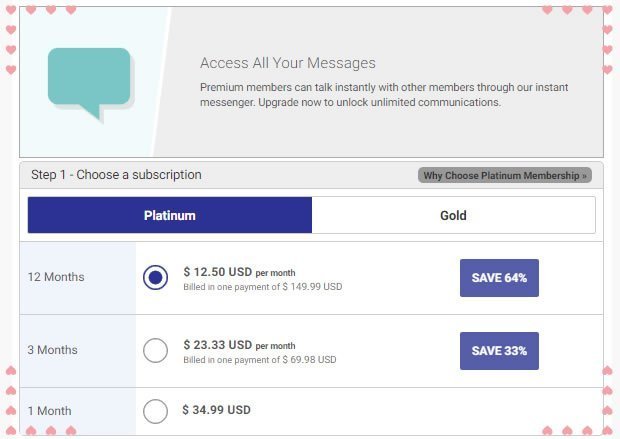 This site also offers a platinum membership. If you pick this, the following payment options are available:
$34.99 a month if you want to pay on a monthly basis
$23.33 per month if you buy three months at a time. You pay once every three months at $69.98
$12.50 per month if you buy 12 months at a time. You pay once every 12 months at $149.99
---
Site Pros And Cons
Pros
There is a large member base
This site offers multiple search filters
Translate messages into your preferred language
Cost is better than many sites
Cons
You cannot use the app if you have an Apple device
---
Korean Cupid Review Conclusion
This site is a good choice when you want to interact with Korean people. With more than half a million members, there are a lot of people that you can meet. The website takes great pride in removing fake profiles quickly so that you are interacting with authentic people.
KoreanCupid.com has different search options that allow you to seek out people with who you will have some things in common with. From here, use a variety of communication options to reach out and talk to them privately.
Korean Cupid makes it easy to sign up and get yourself established on this online dating site. Once you are a member, it only takes about an hour to learn where all of the elements are located. This allows you to quickly get started finding matches and interacting with members.
If you are into dating those with an Asian background, this is another great site to find Asian singles. I think it's good enough that it's made my list of the 14 best Asian dating websites. If you're looking for Korean singles, this site is one of the best!
---
---