Matching System

Searching

Ease of Use

Popularity

Profile Quality

Customer Service

Cost
Comments Rating
( reviews)
Overview
What Is International Cupid?
InternationalCupid is a large dating site that provides you with over a million members to explore. This online dating site started in 2004, so this is an established dating website. This niche site helps people to connect with other singles all over the world. Due to the large base of users, it is easy to meet at least one new person with who you are compatible whenever you log in to the site.
On this online dating site, you can choose to meet people who live five miles away or thousands of miles away. Since there is a translation feature, you can even talk to those who speak a different language than you do.
InternationalCupid has a large and diverse member base. Because of this, your options are virtually endless regarding the types of people you can meet. There are users of all backgrounds and numerous countries, making it easy to meet interesting people with whom you might be compatible.
Popularity
International Cupid boasts over a million members located all over the world. The website states that each day about 2,500 people are on the site, so it is relatively active. In the US alone, there are about 100,000 members.
Most of the people who join this site are from various countries throughout Europe and in the US. This ensures a diverse group of members for you to interact with.
The majority of this online dating site's members are between ages 35 and 54, making it better for those in this demographic. However, the other age demographics are also represented by thousands of members. On this site, the men and women are equal, with 50 percent female members and 50 percent male members.
First Impressions
When I was researching and conducting this online review, I found that the site's overall design is a major advantage. It is effortless and straightforward to use. Once you are on the homepage, you can quickly see the features, allowing you to locate exactly what you are looking for within seconds. Neat.
This dating site focuses on several relationship types. Still, most people seem to be looking for either a pen-pal type of relationship or something serious that could lead to marriage. People from various countries throughout the world are registered, giving you many cultures to choose from.
The profiles have plenty of important details so that you can truly evaluate a user and determine if you both have some things in common. Once you find some interesting people, International Cupid makes it easy to reach out by sending them interest or creating a message to more thoroughly introduce yourself.
Design and Functionality
When you sign up for this website, you can expect it to take about a minute of your time. Use Facebook for this or choose to input an email and a few basic pieces of information. They do not verify your email, making the process even faster.
As mentioned before, the site is sleek and easy to navigate, which is always great for its overall experience. Once you sign in and you are on the main page, you can quickly see links and buttons to this website's various features. Thus, you can figure out all of the different sections within the first few minutes of registering on the site.
Interacting with Members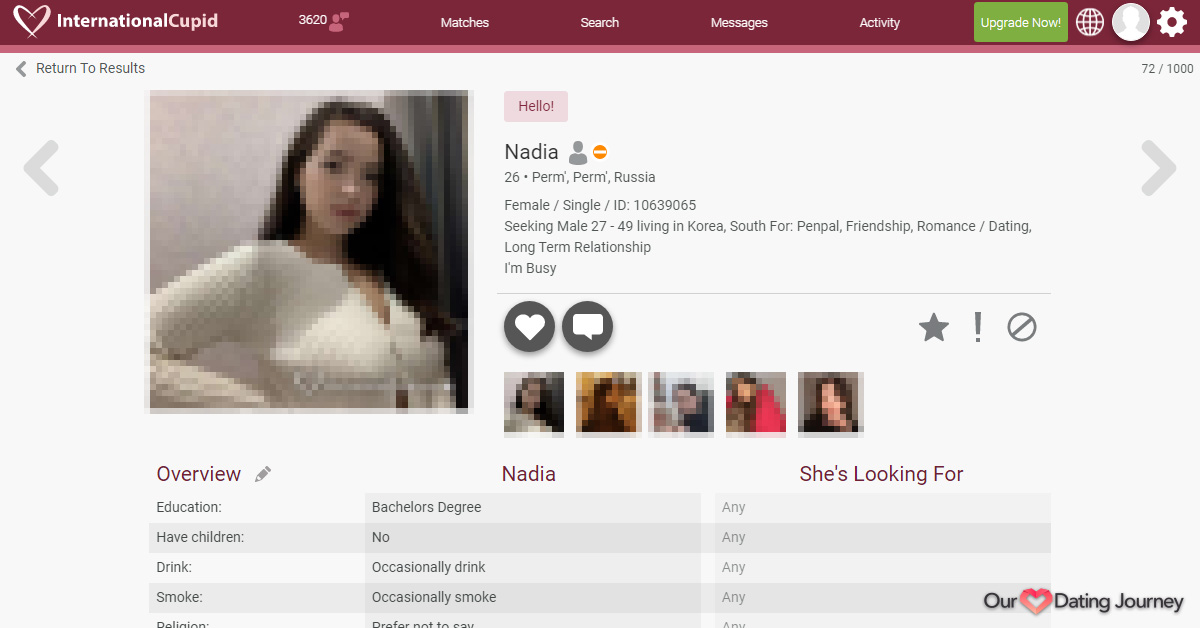 You will get matches from the website that you can use to jumpstart the interaction process. However, you can also choose to use the search function to find even more people with who you might have some things in common with.
If you are a paid member, you have a lot more options when it comes to searching. Use the advanced features to narrow your results further so that they are more compatible with you.
You can send messages to other members if you have a paid membership. Should you use the site as a free member, you can only message those who have a paid subscription.
All members can send interest on this site. This is in the form of sending hearts to let people know that you want to get to know them more.
Another way to communicate is the chatroom. Use this when you want to meet more than one person at the same time, or to make some new friends throughout the world.
Registration
How Fast and Painless Is Sign-Up?
Signing up for this online dating site took us less than 20 seconds in our trial run, and it's one of the fastest sign-ups you'll find in this type of industry. You can opt to create your free account using either your email or your Facebook account.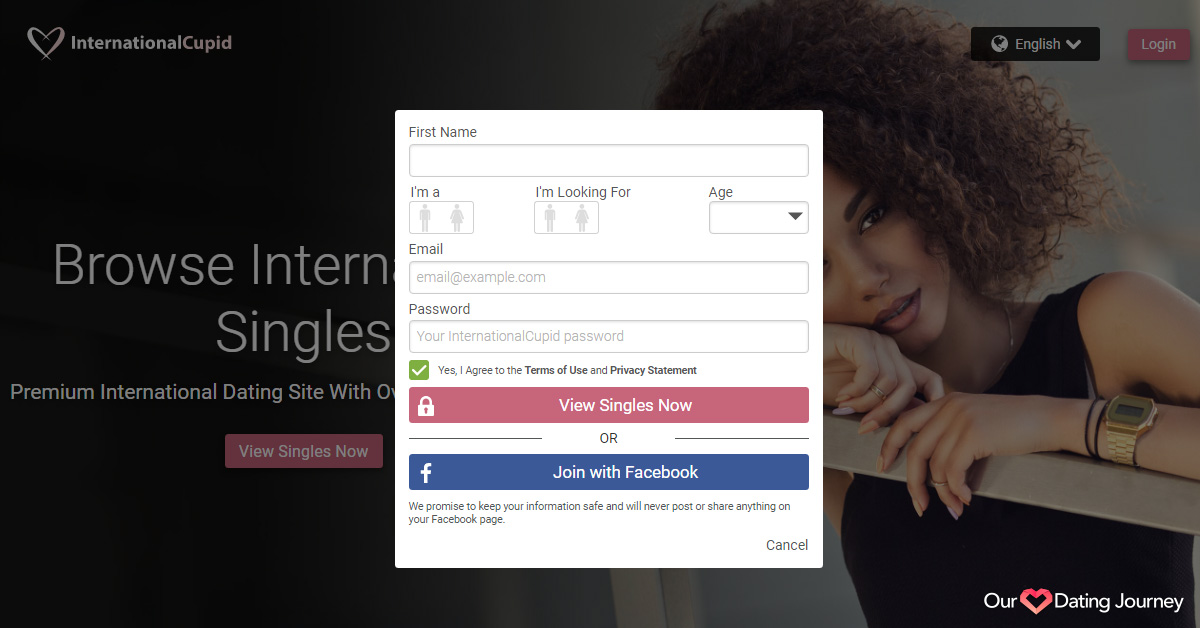 Option 1: Register by Email
The option for registering for this site by an email address takes less than 20 seconds to do, and if you use this option, you need to input your email, first name, and age. With this sign-up method, you'll have to verify your email account once the site sends you a verification email.
Option 2: Register by Facebook
If you go with the Facebook route, you have to click the button that lets you log in with Facebook, and this option is fast. However, the site won't use your photos or information unless you allow it.
Features
What Special Tools Are Available?
This dating site provides members with different features to make using this site easier and more fun. It is important to note that some of the website's features can only be used if you have a paid membership.
Very Detailed Profiles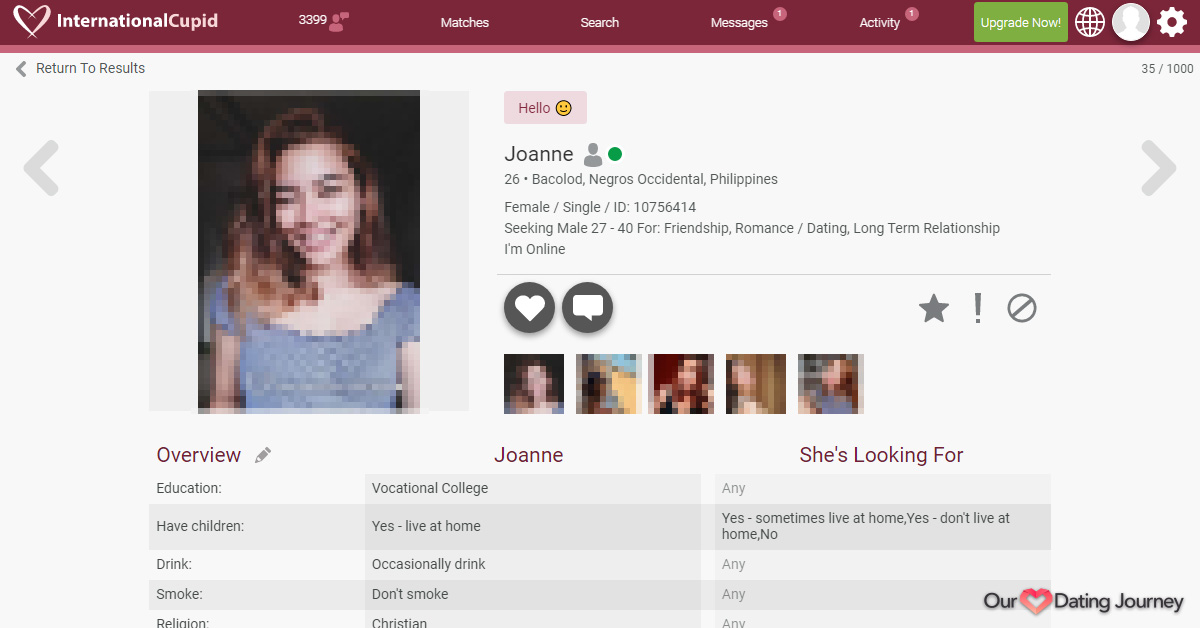 The profiles are detailed, giving you a good view of what you can expect from a member's profile. Check the indicators on profiles to see how compatible you are with the different members. There are several sections that members fill out, allowing you to really get to know who they are.
When you are looking at profiles, you will see several tabs. These make the profiles organized and easy to navigate. Members can upload several pictures so that you can really see what they look like. Overall, when members fill out their profiles, it is easy to determine if the two of you are compatible.
Hide Your Profile
If you want to take a break or limit new people from contacting you, there is the option to hide your profile. This makes it easier to concentrate on the people you are already talking to so that you can determine if they are a good match before allowing even more people to contact you.
Translation Abilities
International Cupid has people worldwide, so there will inevitably be members who have a different language than you do. When this happens, please take advantage of the premium features that will translate your messages to be easy to read.
Enhanced Searching
If you have a paid membership, you will be able to get more precise searches. You will find more options regarding the search criteria that you can use so that the results that you do get are more likely to have a higher level of compatibility with you.
When you use this feature, it can save you a lot of time. The more precise your search, the better the chances of the search results giving you people that you will truly enjoy interacting with.
InternationalCupid App
If you have an Android device, you can head over to the Google Play store and grab the app that goes with this website. It is free to download the International Cupid app.
Once you have the app installed, you can access the same features that you use on the desktop website. As soon as you log in, you are presented with your matches so that they are easy to find. From here, you can navigate the app to do things like sending messages or interest to other members.
The layout of the app is linear and simple. While it is slightly different than what you see on the desktop site, it is easy to learn how to find everything. Downloading this app does not take a lot of time. Once you have it installed on your device, you can immediately log in to your account and start using it.
Customer Service
Is The Support Good?
When you need to get some help about something related to the site's offerings, they make this very easy for you. There are several ways to get answers and to learn more about what the site has to offer.
If you need to get help right away, the company offers two options: you can call them or check out the help section to find information.
Sending Support Messages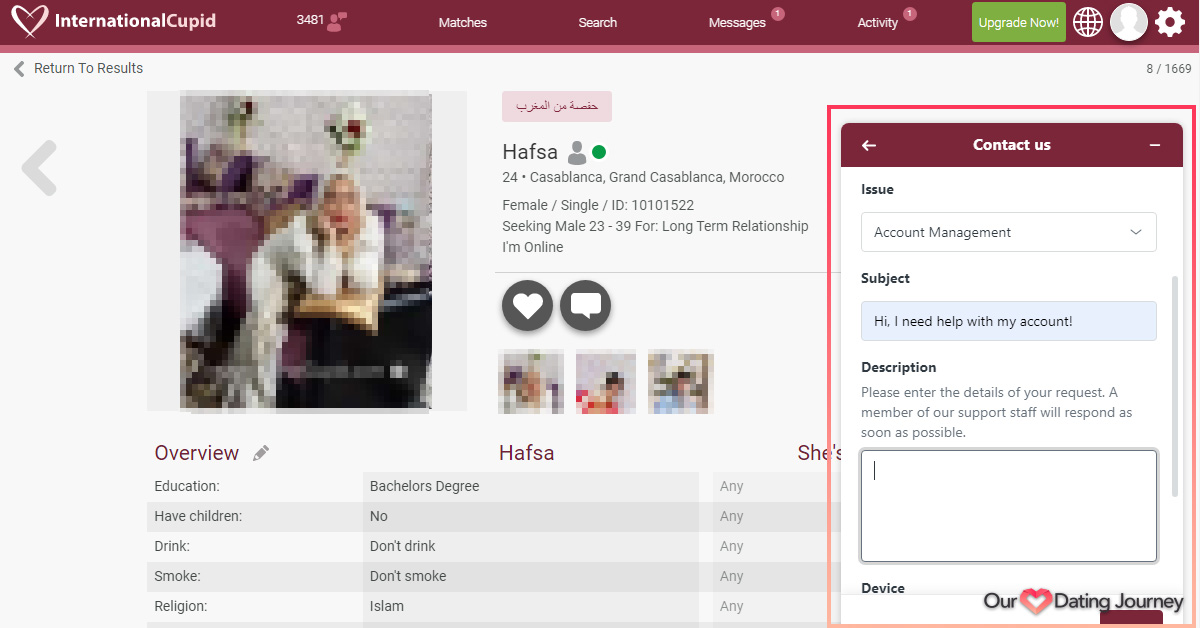 To send a message, click on the gear icon on the top right of your window. Click on Help and then Contact Us. It will bring up the chat message window where you can send a message to support.
Support Phone Call
When you call a customer care agent, you need to make sure that you are taking note of the time in Queensland, Australia, because this is where this department is located. They are around to take calls from people Monday through Friday. In most cases, they answer fast so that you can take care of the issue and continue to use the website.
Be sure to have your member ID when you contact them. Below are the phone numbers you can use to contact them:
Australia: (07) 3186 0281
Japan: 050-3116-2851
United Kingdom: 0808 281 2918
United States / Canada: 1-844-505-3027
International: +61 7 3186 0281
Fax: +61 7 3103 4000
The help section offers information about the site and its features. For example, you can learn about things like how subscriptions work and how to upgrade your membership.
If you want to verify your profile, you will need to send them documents. You can usually either use their fax number or their mailing address, both of which are also located in Queensland, Australia.
Safety and Security
What Kinds of Protection Do They Offer?
A major focus of InternationalCupid is to keep its members safe. They say that the site has few fake profiles because they are very diligent in looking at profiles to ensure that they are legitimate. This website also makes it easy to report any profiles that you find suspicious so that they can review them and determine if they need to be removed from the site.
Verify Profile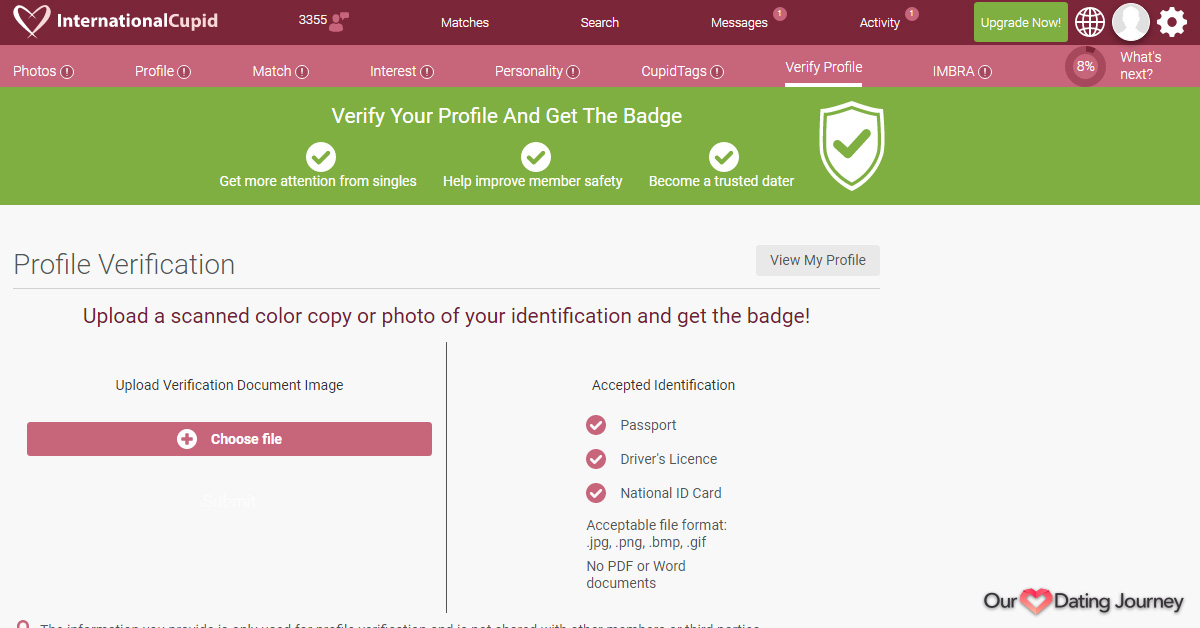 To reduce the risk of your profile being seen as suspicious, the website has two recommendations. The first is that you fill out all of the sections with as many details as possible. A second option is to send them a copy of your identification to prove that you are who you say.
Report or Block User
If any member is bothering you, you have an option to block them. As soon as you do this, you will never have to worry about them trying to interact with you again.
Cost Of International Cupid
What's The Price?
As a free member, you can send interest and use basic searching abilities. This is enough to explore the site and the members to see if it will meet your needs to find friends or a new romantic partner.
If you choose to get a paid membership on International Cupid, the features you can use increase significantly. The paid member features include:
Use the messaging system with all members
Avoid seeing ads
Rank higher in the search results
Get more profile space
Use exclusive search features
Take advantage of message translation
Use live chat
View the gallery of exotic foreign women
Browse profiles anonymously
VIP profile highlighting
Hide your profile
Gold Membership Option
There are two types of paid memberships on this dating website. With a gold membership, the following are your choices:
For 12 months, the cost is $10.00 USD per month with a one time payment of $119.98 USD
For 3 months, the cost is $20.00 USD per month with a one payment of $59.99 USD
For monthly, the cost is $29.98 USD
Platinum Membership Option
With a platinum membership, the following are your choices:
For 12 months, the cost is $12.50 USD per month with a one time payment of $149.99 USD.
For 3 months, the cost is $23.33 USD per month with a one payment of $69.98 USD
For monthly, the cost is $34.99 USD
These figures were accurate as if 3/3/2021 for this online dating review. However, it is possible for changes to be made at a later date.
Pros and Cons
What Are The Strengths?
A quick look at what this dating site offers allows you to make an informed decision about the website. A fast way to do this is to explore a variety of pros and cons.
Positive
All members are able to look at profiles and all uploaded pictures
You can find match indicators on member profiles
International Cupid provides a variety of safety features for members
All of the photos are reviewed before it goes live
Negatives
Messaging isn't free
You cannot use the app unless you have an Android mobile device
Review Conclusion
Is It Worth Giving a Try?
Yes, give InternationalCupid a try because it's easy to use, fast to sign-up, and most importantly, it's free.
This online dating site is for those who do not want borders to impact the people that they meet. This site focuses on various relationship types, making it easy to find people looking for the same things in life that you are. Multiple countries and cultures are represented on this website, ensuring that you can meet a vast array of interesting people every time you log in.
The design of this dating site keeps things easy to focus on meeting people and not learning how to use the website. Once you take a minute to register, you can immediately start using the site's free features.
Should you choose to upgrade your membership, numerous other features get unlocked. You can use these to further what you can do when you are on the website. This includes expanding your abilities to search for and communicate with other members.
---


International Cupid Review September 2021 (Meeting Singles Around The World Is Easy)