Matching System

Searching

Ease of Use

Popularity

Profile Quality

Customer Service

Cost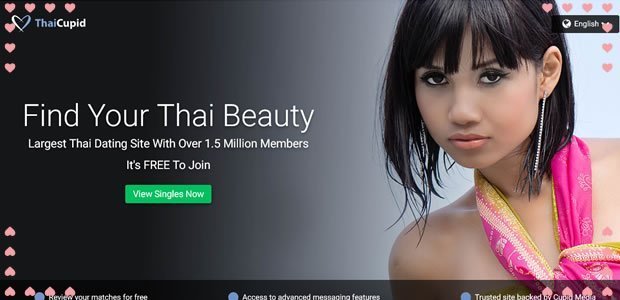 ThaiCupid brings together Thai people and non-Thai people who want to meet them. The site is simple, making it very easy to get started with meeting people. You can easily find all of the features so that you can focus your time engaging with other members on this site.
While writing this ThaiCupid review, I noticed that this dating site is very popular. With over 1.5 million members, there are plenty of people for you to meet. Take advantage of a variety of search filters and matches to start connecting with people. Use the various communication features to get to know others on this site to determine if the two of you are compatible.
---
ThaiCupid First Impression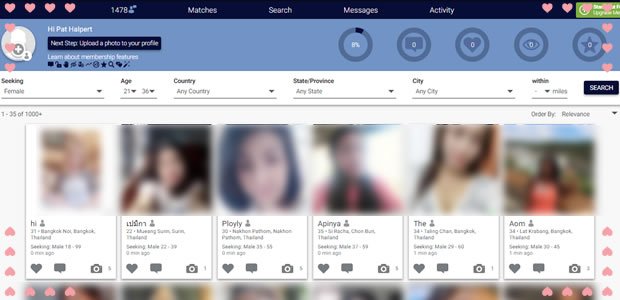 This is one of the niche dating websites and it has a big member base, so the opportunities to meet new people are excellent. The site makes it very easy to browse profiles so that you can find people that are interesting to you. Use multiple filters to narrow down the results to those you are compatible with.
Once you get to someone's profile, you will notice that they are very detailed. One of the biggest things that I observed while researching for this ThaiCupid review is that the profiles are very organized. If you are looking for specific bits of information, it is easy to find the section where it will be located.
While men heavily dominate ThaiCupid, there are women who are active so that you can meet them. Many of the women are from Thailand, allowing you to find those from the cultural background that you are looking for.
There are different subscription options on ThaiCupid. Because of this, you have a lot of control regarding how long you subscribe for and what you pay. This also lets you determine the features that you have access to on the site, almost allowing you to customize your ThaiCupid experience.
---
Design and Functionality of ThaiCupid
This website is simple and uncomplicated. Everything is easy to find, and the overall design allows you to navigate the site without any issues. From the minute that you register, it becomes apparent that while the site is modern, it does not have any flashy features which are beneficial for those who just want to focus on finding and communicating with their matches.
Signing Up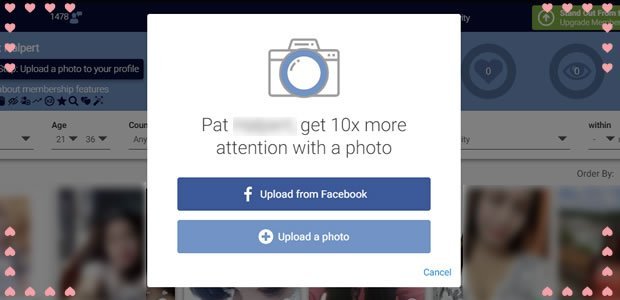 When you sign up for this site, it will only take you about a minute to complete the registration process. You just need to put in five pieces of basic information and you are able to access the main page on this website.
Once you are on the main page, you have the opportunity to start adding pictures and working on your profile. When you sign up, you are a free member of ThaiCupid. However, on the main page, you can click on the "upgrade now" button to look at the subscription options and choose one if you want to get access to premium features.
Searching and Communication
Start by checking out the matches that this website provides you. From here, you can find additional possible matches by using the search functions on this website. Use the different filters so that you can better narrow down who you find when you get to the search results page.
When you are ready to make a move and start talking to people, you can start by sending an interest. From here, you have a choice to talk to them further by using the site's instant messenger or the messaging system, depending on your preference.
Profiles
There is a wealth of information on member profiles on ThaiCupid. When you look at a profile, you can find a lot of fast facts, as well as more detailed answers that members write out themselves. This ensures that you can get to know a lot about a person to see if they are someone you want to talk to because you make a move to contact them.
There is also a chance to put several pictures on your profile. This allows other members to get to see you and really get a true sense of what you look like in person.
---
Overview Of ThaiCupid Features
This dating site has different features that you can use when you want to get more out of your time on this website. Knowing what some of these are can help you decide if this site offers what you need to meet people.
The App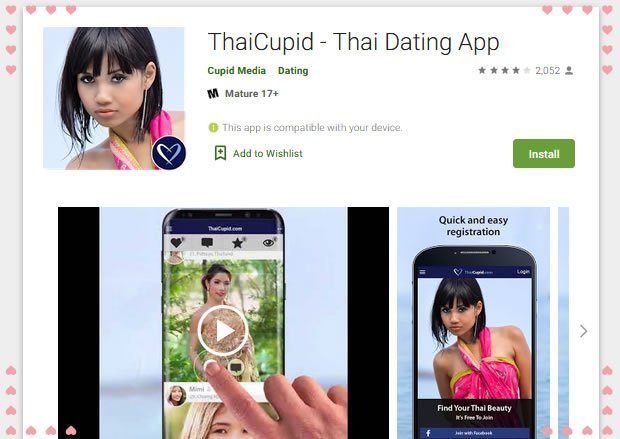 The ThaiCupid app keeps it simple in terms of its layout, allowing you to navigate without any issues. Everything is easy to find, and the same features you use on the desktop site are available on the app.
On the mobile app, you can do things like look at member profiles, add some more pictures of yourself and even check out any notifications that you have received. If you do not have access to a desktop computer, you can even go through the signup process via the app and just use it as your way to access ThaiCupid.
You can download the ThaiCupid app on iOS and Android mobile devices. No matter which platform your mobile device is on, the app is free in the respective app store. Overall, the download does not take long, allowing you to quickly access the app.
Increased Profile Space
As a premium member, you get more space on your profile to add more details about yourself. This could possibly help you to match with more people. With this feature, you also have the chance to expand upon your description of what you are looking for in a mate.
Better Rankings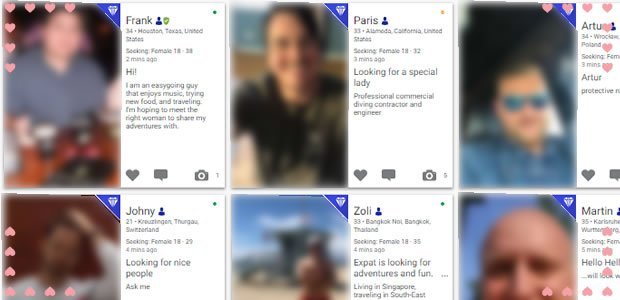 If you choose to get a paid membership, your profile is going to automatically be higher up in the search results when a person performs a search and your profile is part of it. This helps to ensure that you are more visible to the members on this site.
Anonymous Browsing
There might be times when you want to look at people's profiles without them knowing that you are looking. If you have a paid ThaiCupid membership, you have the option to browse anonymously. This lets you scope out possible matches without anyone knowing that you looked at their profile.
No Advertisements
As a premium ThaiCupid member, you can view the website without any ads cluttering up the different pages when you are a paid member. This can help to keep the website cleaner so that you can even more easily find the features that you are looking for.
Hidden Profile
Members of this site tend to be very active which means that you are likely to receive a lot of communication from members on this website. This is especially true for women since there are far more men looking for a female companion.
With the ability to hide your profile, you can reduce the amount of ThaiCupid members who are contacting you. You can opt to hide your profile at any time when you want to slow things down on this site. Once you are ready to put it back up, you can do this with a few clicks.
---
Popularity Of The ThaiCupid Website
ThaiCupid has over 1.5 million people registered on the website. Most of the visitors are from the US, Thailand, France, the UK, and Germany. In the US alone, there are about 600,000 members. Every day, about 3,000 people login to ThaiCupid.
Overall, it is quite active, so there are always people on the site to talk to. On this dating platform, the members tend to be responsive, so you should not have to wait to get responses to the messages that you send.
A lot of the men on the website have a premium membership, making it easier for men and women to communicate even when most women only have a free membership. Men are the primary members of this site. The members are about 85 percent of men and 15 percent of women.
The majority of the relationships that develop on ThaiCupid tend to be between men from Western countries and women who are from Thailand. (Read the guide to Asian dating to learn how to date Thai men and women) Most of the members appear to be looking for people who want to engage in a long-term relationship. However, when you look at people's profiles, there are some members who are more interested in a casual relationship.
---
ThaiCupid Safety
This site does not have a lot of fake profiles because they take the safety of their members seriously. When they do determine that a profile is not authentic, they immediately take the steps necessary to remove it.
If you come across a profile that you think is not legitimate on ThaiCupid, you have a chance to report it to the website. They tend to be quite efficient in reviewing the profile and removing it if it is indeed fake.
ThaiCupid also ensures that members feel safe when they are interacting with other users. If you are communicating with someone and they are making you feel uncomfortable, you have a chance to block them on this site. To do this, all you have to do is click a button. They will no longer be able to send you communications.
---
Customer Service
If you are verifying your identity on ThaiCupid, you will need to provide a picture of your ID. The easiest way to get this to the customer care team is via their fax number. However, if you do not have access to a fax machine, you can use the postal mailing address. This address is located in Australia.
As you are using the site, if you develop questions or problems, the fastest way to get an answer is by exploring the ThaiCupid help section. It is rather extensive, providing detailed information to aid you in solving a variety of problems.
From the help section on ThaiCupid, you can also access a simple contact form. To use this, just hit the tab for it and fill out the fields. This only takes a couple of minutes and they tend to respond within a couple of business days.
If you prefer a more direct approach to getting information about ThaiCupid, you can choose to give them a call Monday through Friday. When you make the call, the agents are in Queensland, Australia. It is important that you keep this in mind so that you are calling when they are open, according to their time zone.
---
ThaiCupid Pricing and Membership Options
When you sign up for this site, you start with a free account. You can choose to upgrade at any time. If you want to stick with a free account, you are able to do some things on the site. The following are ThaiCupid free account features:
Send interest to other members
Use the basic matching abilities
If a paying member sends you a message, you can respond to it
ThaiCupid lets you do a lot more on the website when you are a paid member. You can use all of the features that free members can, but there are also others that you can take advantage of. With a paid subscription to ThaiCupid, you can use the following:
You can view the site free from advertisements
Chat one-on-one live with other members using the instant messenger
There are more search filters and features available
Highlight your profile so that you stand out more in the search results
Check out other profiles anonymously
There is an option to hide your profile
Use matching algorithms that are more advanced to get more precise matches
On your profile, you get more space to describe your ideal mate and yourself
The Gold Member Option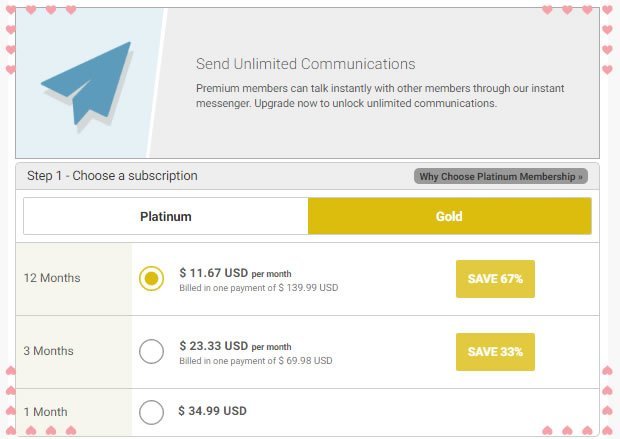 You have two paid subscription options on ThaiCupid. The first is a gold membership which lets you choose between three payment options:
It is $34.99 a month if you want to get a month-to-month paid membership
It is $23.33 a month if you want to pay for three months at a time, for a total one-time payment of $69.98
It is $11.67 a month if you want to pay for 12 months at a time, for a total one-time payment of $139.99
The Platinum Membership Option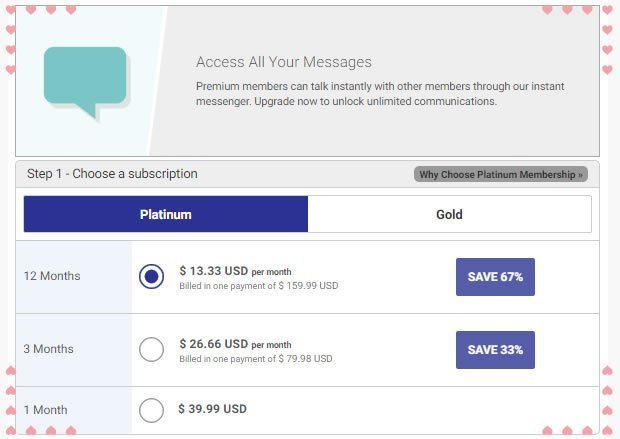 This dating site also has a platinum membership that has three different payment options:
It is $39.99 a month if you want to get a month-to-month paid membership
It is $26.66 a month if you want to pay for three months at a time, for a total one-time payment of $79.98
It is $13.33 a month if you want to pay for 12 months at a time, for a total one-time payment of $159.99
At the time of this ThaiCupid review, all prices were correct. However, the website might choose to alter them at any time.
---
Site Pros And Cons
Pros
There are features that free members can use
You can download the app on iOS and Android
It has a huge user base
Cons
A larger percentage of members are men
---
ThaiCupid Review Conclusion
ThaiCupid has a vast member base that allows you to interact with a lot of people from all over the world. Women do have the advantage on this site since the men outnumber them significantly, but according to testimonials, plenty of men have connected with women that had long-term potential.
Choose the level of membership that works for your preferences and budget so that you have some flexibility. Take advantage of a wealth of features that let you find more compatible people and communicate with them. This site has been around for a while, so it has some experience providing a good environment for those seeking a soulmate.
This is another site run by Cupid Media which means it has a solid reputation. It's also on my list of best Asian dating websites which means it's one of the best sites to find Asian singles.
---
---