Matching System

Searching

Ease of Use

Popularity

Profile Quality

Customer Service

Cost
For people age 50 and older, finding a dating website that caters to your peer group can make it easier to meet someone special. SilverSingles is a website that allows you to focus your efforts on the age 50 and older demographic.
This website has singles in various countries throughout the world. SilverSingles has been around since 2002, so it has longevity. When you are ready to sign up and start mingling with the singles on this website, it is very helpful to have some facts about the site. With this information, you can better ensure that it is the right place for you to seek potential romantic partners.
---
First Impression Of SilverSingles
While I compiled information for this SilverSingles review, I learned that it is a diverse senior dating website. It is focused on people age 50 and older, but there are members from a variety of countries and cultural backgrounds. Because of this, it is easy to find people that meet your dating preferences.
The features of SilverSingles are easy to learn and use. There is no need to have the advanced technical knowledge to familiarize yourself with everything that the website has to offer. Within a day of signing up, you can understand all of the communication and other features so that there is no delay in interacting with other members.
Since signing up is free, you have a chance to explore the features and look to see if there are any other members that interest you. Should you want to use the more advanced features on SilverSingles, they offer different membership options.
This website puts emphasis on your safety so that you can get to know people while still maintaining your privacy. SilverSingles also makes it easy to search for members using different criteria to narrow down your results to people who share your interests.
---
Design and Functionality Of SilverSingles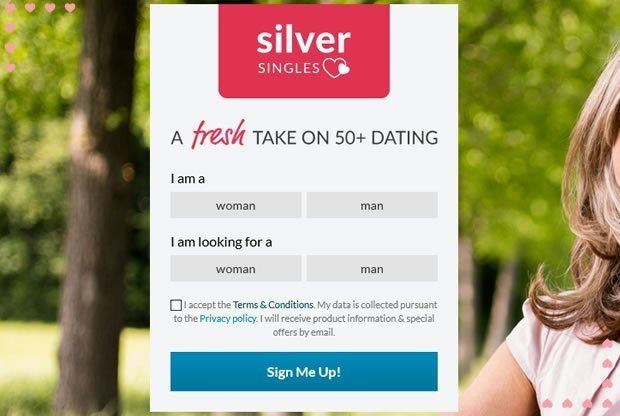 This senior dating site allows you to tackle the initial sign up relatively quickly. You will input your gender and the gender of the people who you are looking for. Here you will also create a password and add your email address.
The next step is the personality test. This will take you an average of 20 to 30 minutes to finish. It consists of a variety of questions and selects all that apply options where you can be detailed about the partner you desire and provide information about yourself.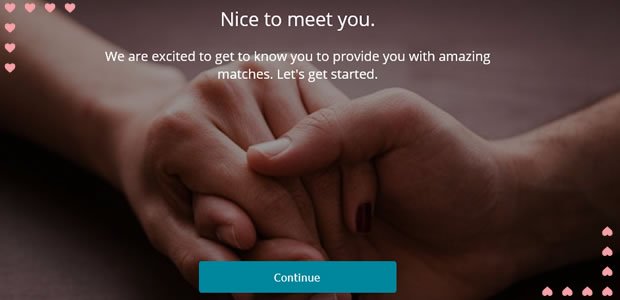 Once you finish this test, the website will prompt you to add some photos. It is recommended that you use a clear headshot has your primary profile photo. Adding a full-body picture should be your second photo.
After you add your photos, you are asked seven additional questions. These allow you to type in your answers so that you can be more detailed.
At the end of the registration process are the billing options. Here you can opt to keep a free account, or you can choose one of the paid memberships.
Matching and Communication
To access all of the features of the SilverSingles matching and communication systems, you will need a paid membership. Use your preferences to customize your searches so that the results are people you have things in common with.
As you find members that you like, you can put them on your Favorite's list. This makes it easy to go back and find them for further communication. You can also send some messages, respond to messages, or send smiles to people you want to chat with.
Paid members can also use the instant messaging system. This allows you to chat with other members in real-time. It is a text-based system, so you will be typing back and forth.
Profiles
When you look at the profiles on SilverSingles, you can get a lot of information. Here you will find the seven questions asked during registration and the answers that members provided.
The member preview gives you a quick glance at the member's basic information, including their occupation and location. From here, you can choose to look at their full profile and the photos that they have uploaded.
To view the pictures that a member uploads, you have to have a paid subscription. Using the different contact options on profiles that interest you also require a paid membership.
---
SilverSingles Features
SilverSingles offers different features to members that allow you to communicate with others and find more matches. To use the advanced features on SilverSingles, you will need to have a paid membership.
Personality Test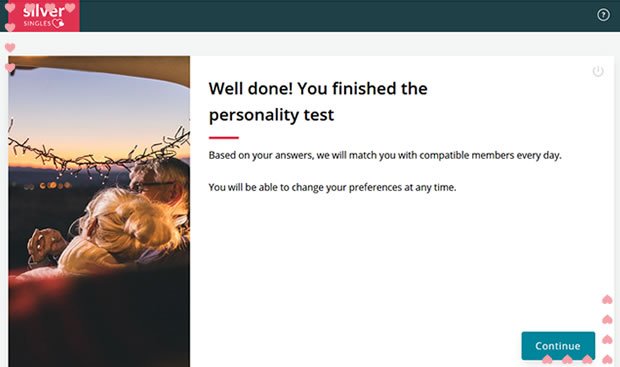 The Personality Test on SilverSingles optimizes the matchmaking process. You will answer a variety of questions about who you are and what you like. It also has you answer different questions regarding the type of partner that you are looking for.
Once you complete this test, you are provided with matches. These are based on the answers that you provided when you took this test.
Since this feature is dependent on how you answer the questions, it is imperative that you take your time with this test. Ensure that all of your answers are accurate so that the members that the website shows you are people you truly have some things in common with.
Have You Met
Have You Met is another feature on SilverSingles. This feature lets you meet some members who did not get added to your matches due to not meeting a minimum of one of your preferences. You can check out their profile to determine if despite not meeting all of your preferences, they are potentially someone you might want to meet. If you send them a smile or a message, they will get placed on your matches' list.
It is easy to find this feature on the website. On the main page, just click on "Have You Met" and you can explore the members who are present.
What If
SilverSingles has a What If feature. With this feature, you can search for all of the people who are registered on the website. To use What If, you will need to first download the app associated with SilverSingles.
If any of the members that you see the interest you, message them to initiate contact. There are filters that you can adjust to narrow down the member results that you get when you use this feature.
This feature is easy to use. On the SilverSingles main page, there is a magnifying glass that contains a heart. Just click on this to use the What If feature.
SilverSingles App
You can use Google Play or iTunes to download this app, depending on the brand of mobile device you are using. The app is free, and it connects to your account, allowing you to access all of the same features.
It is also possible to only use the app for this dating site. You can do all of the same things on the mobile device that you can do when your account is on a computer.
With the app, you can do things like check out your matches, read and respond to messages, adjust any of your profile settings, and see who has visited your profile. It is user-friendly, allowing you to use it easily.
---
Popularity Of SilverSingles
SilverSingles welcomes members from multiple countries. However, the majority are located in the US. In the US, there are approximately 100,000 members. Other countries that are popular on this website include the UK, Australia, France, Canada, and Germany.
The majority of the members on this site are at least age 50. This demographic accounts for about one-third of the website's members. Approximately 44 percent of members are men and about 55 percent of the members are female.
Every day, approximately 5,000 people log in to SilverSingles. Monthly, the website gets about 381,000 new members.
Most of the members on SilverSingles are seeking long-term relationships that may lead to marriage. They are typically either widowed or divorced. It is estimated that about 80 percent of the people on this website have a degree from a university.
---
Customer Service
SilverSingles makes it relatively easy to get help with your concerns and questions. The first place that you can look for help is their FAQ section. Here you will see questions and answers to the concerns that people often have about the website and using its various features.
If you want to talk to a member of the customer care team at SilverSingles, you have two options. The first is sending them mail. They list a mailing address that allows you to send them postal mail. Should you choose this option, it could take a few weeks to get a response since they will send it to you via postal mail.
There is also an option to call them. SilverSingles customer service representatives is available Monday through Friday. They offer a toll-free number that you can call.
When you contact SilverSingles via phone, the hold time is typically short if you even need to wait at all. It is often recommended that you do call because you can usually get any issues resolved within 30 minutes or less. Calling closer to when they open is advised because there tends to be a shorter wait time compared to calling later in the day.
The customer care representatives at SilverSingles are knowledgeable. They can easily answer your questions and strive to ensure that you get a complete answer. When you call, they are friendly and will work with you until all of your questions are answered.
All of the SilverSingles representatives are trained to not only answer questions about things like billing but also for tech issues. Because of this, you do not have to worry about being transferred to different departments to get your issues resolved. This helps to shorten how long it takes to get the assistance that you need when you call.
---
SilverSingles Cost
You can sign up for SilverSingles for free. With a free membership, you can upload some pictures, complete the personality profile and take a look at a few of the features. If you want to expand your ability to communicate and use the website's features, you will need a paid membership. There are three options for a paid membership.
Three-Month Membership
If you choose a three-month membership on SilverSingles, you will pay $113.85 every three months. This comes out to $37.95 a month. With this membership, you have access to the following SilverSingles features:
Unlimited communication
Look at all member pictures
Use the SilverSingles mobile app
Every day you get up to 20 wildcard matches
Look at your personality profile
See the SilverSingles profiles of all people who visit your profile
Get receipts for the messages that you send
Access to intelligent matchmaking
Six-Month Membership
If you pick the six-month membership on SilverSingles, you will pay $167.70 every six months. This comes out to $21.95 a month. The features you get are the same as the ones available with the three-month membership.
12-Month Membership
With the 12-month membership on SilverSingles, you will pay $239.40 every 12 months. This comes out to $19.95 a month. You get access to all of the features available with the three-month and six-month memberships.
All of the membership plans available on SilverSingles are set to renew automatically. For example, if you choose a three-month membership, after the three months is up, you will be charged for another three months of membership automatically.
You can stop the automatic renewal process. To do this, you will need to contact the customer care for SilverSingles. This must be done at least 24 hours prior to your subscription term expiring. Once you cancel the automatic renewal process, you can choose to either repurchase the membership that you had, go with the free membership, or switch to another subscription package.
SilverSingles gives you a few options regarding how you pay for your subscription. Use a debit card, PayPal, or a credit card to make your payments.
These prices and membership plans were accurate when I wrote this SilverSingles review. However, it is possible that the website will make changes in the future. They might also run specials or other promotions regarding the cost of their membership.
---
Site Pros And Cons
To get a more concise view of what SilverSingles has to offer, you can explore the pros and cons of the website. Here you can get a quick look at what you can expect as a member of this website.
Pros
This dating site is focused on people age 50 and older to narrow down matches to your preferred demographic
There are a variety of safety features to ensure that you can maintain your privacy
The interface is user-friendly and very easy to learn
SilverSingles customer service is responsive and knowledgeable so that you can easily get your questions answered
Searching for like-minded members is easy and there are different options to narrow down your results
Profiles are rather extensive, allowing you to give a full picture of who you are and who you are looking for
Cons
Free members are limited in the communication features that they can use
Compared to other senior dating platforms, this one has a smaller member pool
You have to get a paid membership to look at the pictures that other members upload on their profile
---
SilverSingles Review Conclusion
SilverSingles is a viable option for those who are wanting to engage in senior dating. The member pool is diverse, giving you a variety of people to communicate with. It is easy to initiate conversations and communicate with members, especially if you have a paid membership.
SilverSingles makes it easy to sign up and get started on the website. There are a variety of features that allow you to interact with the website and its members. Since the profiles are detailed, it is simple to be clear about who you are, and you can easily get to know other members.
Overall, this is one of my top picks for senior dating sites. It's easy to use, has a good selection of singles over 50, and it's all provided in a safe friendly environment.
I also love how they have their personality test right up front which makes it very easy to set up your profile. Just follow the prompts, click your choices, and at the end, your ready to get matches! Much easier than some other dating sites.

---
---