Matching System

Searching

Ease of Use

Popularity

Profile Quality

Customer Service

Cost
Comments Rating
( reviews)
Overview
What is Mexican Cupid?
Mexican Cupid is an online dating site that brings Mexican singles together and lets people from other countries meet singles in Mexico. The site says that about half of the users are Mexican, so there is a fairly large base of people from this country. Since the community is active, it is easy to meet people who interest you. (Read the guide to dating a Latin man or woman)
This online dating website emphasizes safety so that you can focus on enjoying your experience on this site. There are many features, especially for paid members, making it fairly easy to interact on the site and find new ways to match and communicate with other users.
Popularity Of Mexican Cupid
This dating website is a relatively big website with a worldwide user base of more than 700,000. The members are from a variety of countries.
The country with the most members in the US since 43 percent of members are in this country. Next is Mexico, which accounts for 42 percent of members.
This site's members are spread across a variety of age demographics. However, the age group that is the most represented is 25 to 45. On this site, 45 to 54 is the second-largest age group. Both 18 to 24 and 55 plus do have plenty of users, but less than the other two groups.
Women are favored on this site as the men to women ratio is six to one. About 30 percent of the members are women, and 70 percent of users are men.
Most of the people on this site are looking for someone to start a long-term relationship with. However, some are wanting something more casual or even just friendship. You can look at a person's profile to get more details about the kind of partnership they are looking for.
First Impressions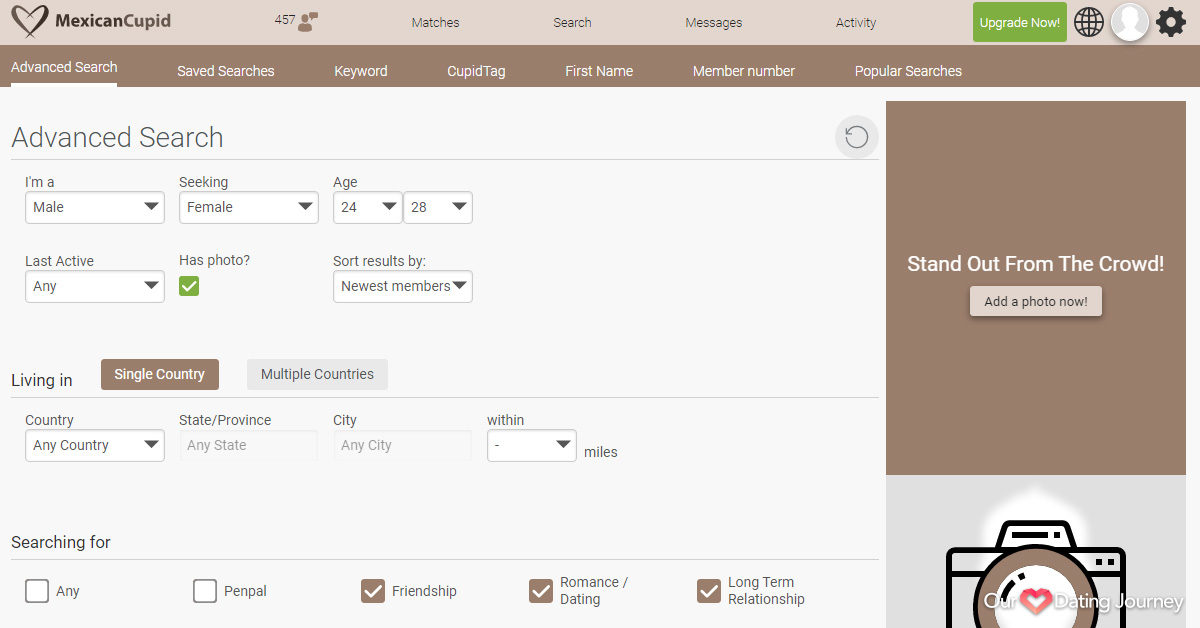 One of the first things I noticed while researching for this Mexican Cupid review was the search criteria. Free members can perform basic searches with more filters compared to similar dating sites. When you sign up for a paid membership, there are even more filters that you can take advantage of.
After you find some people you find interesting, you can message them or engage in a live chat if you are a paid member. Both free and paid members can let other members know that they want to communicate by sending them an interest.
Since you can do things like report and block people, you have a lot of control over your security when using this dating site. This is important because it means that you can quickly avoid any member who makes you feel uncomfortable on this website.
Another interesting element of this site is that you can translate messages and profiles. This is a premium feature that ensures that language barriers will not stop two compatible people from getting to know one another.
Functionality and Design
The website is straightforward. Its design is uncluttered, and everything that you need is in one convenient place. This allows you to locate any feature or information that you need quickly. You will find that you can figure out how to interact on the site within minutes once you are registered.
Registration
How's the Signup Process Like?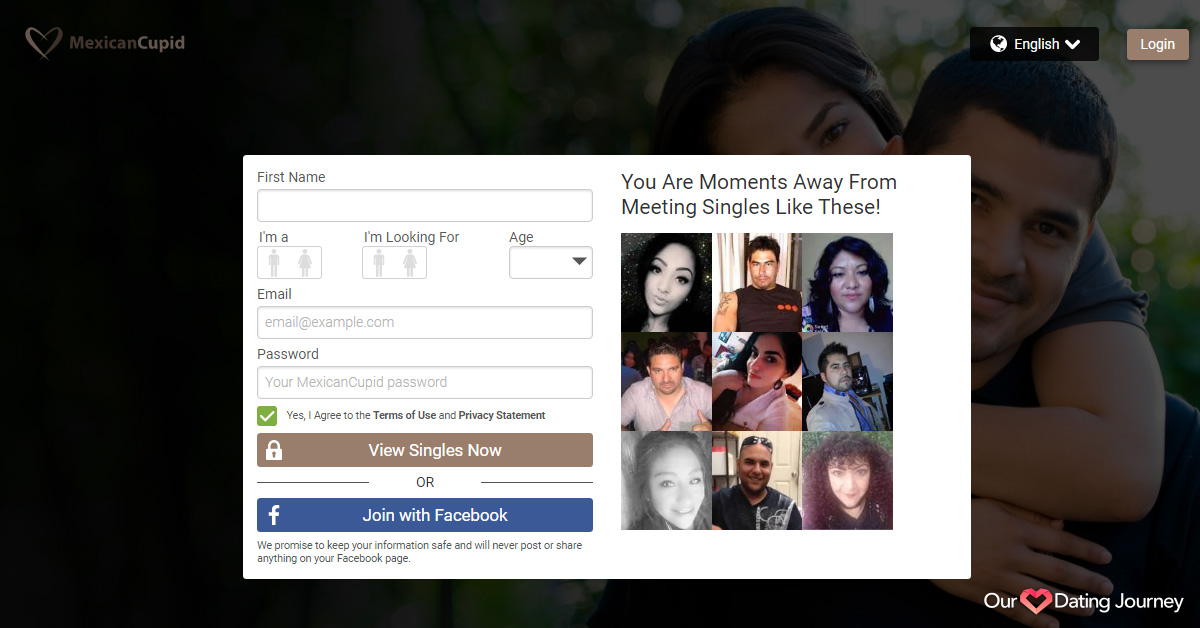 Whether you use an email or Facebook, signing up takes no more than a minute to complete. With an email, you input it, your age, and your first name. The site will also prompt you to add a password.
Signing up with Facebook allows you to transfer your Facebook information so that there is less to type in. With this option, you can also use your Facebook pictures and bring them over to your profile to save even more time.
After you complete the registration, they do not ask you to verify your email. However, you can choose to verify your profile later if you want to prove you are a real person.
Features
Can Mexican Cupid's Tools Stand Out?
There are several ways to use this website. With these features, you can do more in terms of communicating and using the search features. This all makes it easier to meet more people and evaluate how much you two have in common.
Searching
The dating site has several search filters that you can use. Even as a free user, some filters are available to you. When you perform a search, you can mark off the filters that correspond to the types of people you want to meet. This helps to better focus the search results on people that you have some things in common.
The site also provides some matches. Use your matches as another option for finding people to communicate with.
Messaging
Mexican Cupid provides various communication features. One of the easiest ways to contact other members is to send interest. Paid and free users can use this feature.
If you have a paid subscription, you can send unlimited messages to anyone on the site. Free members can respond to the messages that paid members to send, but they cannot send a message first.
Use th live chat for a chance to speak to someone in real-time. This is a type of instant messenger system that is easy to use. It is available to paid members.
Profiles Are Extensive
This dating website has detailed profiles with tons of information for each member. You can learn a lot about a member as long as they filled out all of the information on their profile. Since the profiles are very organized, you can quickly scan them to find the elements you are looking for.
If you have a free membership, you can place up to five pictures on this site. Paid members can create albums. All photos can be removed and replaced at any time as long as you are still a member of the site.
There are multiple sections on profiles. This includes the hashtags known as cupid tags. These help other members to determine if the two of you have things in common.
Free and paid members can look at the user profiles on this site. You can also see the pictures that people put up.
Due to the photo requirements, you can clearly see what people look like. They state that all photos should be recent, clear, and not contain anything vulgar. Because of this, you will notice that the photos that people post are generally high in quality.
The App
If your mobile device is on the Android platform, you can download and use the Mexican Cupid app. It is a free app, and it syncs up with the website. Because of this, the information on both platforms will be the same.
Overall, the app has simple to use. You can access all of the same features that you enjoy using on the desktop site.
Anonymous Browsing
If you want to check out other profiles without other users knowing about them, you can use the anonymous browsing feature. This allows you to look at other profiles without the members being alerted that you viewed their information.
Photo Comments
In addition to the communication features available, you can also comment on the pictures that people add to the website. This is another way to initiate a conversation with any member you want to know better.
Customer Service
How Reliable Is the Support?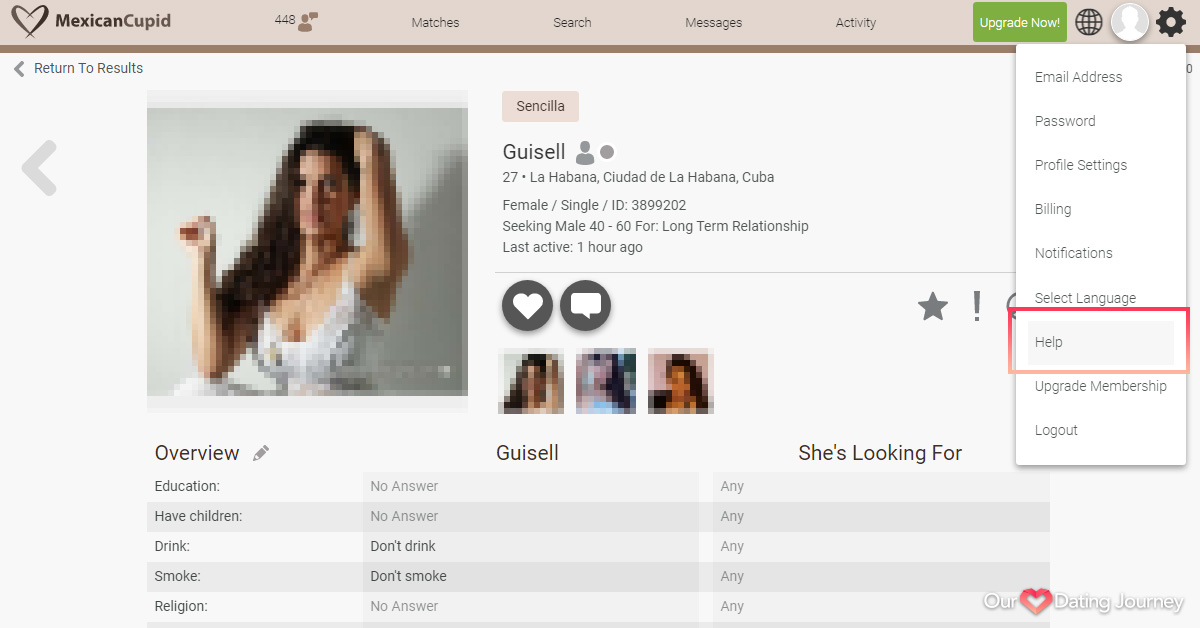 One of the easiest ways to get help is on their help page. They have a full library of questions that members often ask. The answers to the questions are detailed and provide all of the pertinent details to get a thorough answer.
You have the option of sending a message to the company if you need additional help. The form for this is on the help page. It only requires a little basic information about you and then an explanation of your request.
Send documents to the company when needed. You can do this in two ways, including using postal mail or sending in a fax machine.
The company also provides phone numbers for members to call. Make sure to use the one for your country to get the most accurate service.
All of the customer service functions associated with Mexican Cupid are located in Queensland, Australia. You will need to consider this to ensure that you are calling during their business hours.
Safety and Security
What Kind of Protection Does the Site Have?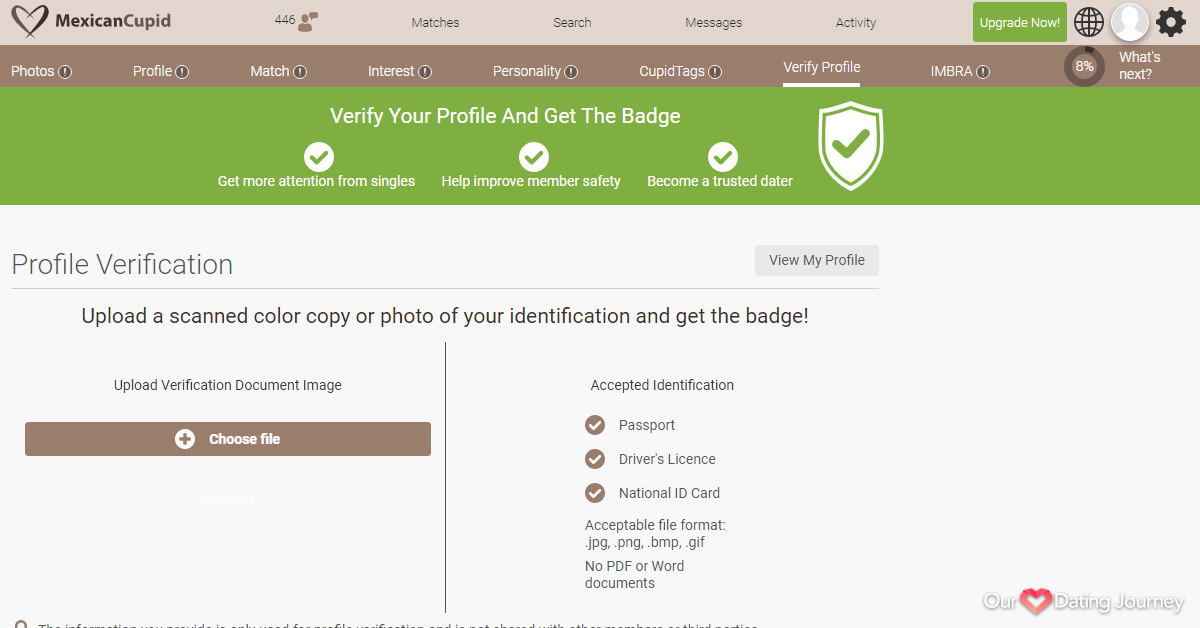 This dating website wants to ensure that all of the members are as safe as possible. One of the best ways to show other members that you are safe is by verifying your profile. Once you do this, there will be a verified badge showing that you completed the process.
You have the ability to report any users who you find suspicious. If they are not legitimate, the site will promptly remove their profile.
Another way to protect yourself is to stop all communication with any member you no longer want to engage with. You can do this by blocking them from being able to contact you.
Cost of Mexican Cupid
What Are the Membership Plans?
Option 1: Free Membership
Mexican Cupid allows you to use the site for free. When you choose this membership option, the features are limited, but you still can access the site and start familiarizing yourself with what it has to offer. As a free member, you can do the following:
Let other users know that you are interested in them
Respond to any messages that a paid member sends to you
Use the basic matching feature
Option 2: Gold Membership
There are two levels of paid membership options that you can choose from. If you want a gold membership, it will allow you to do the following things on the site in addition to what free members can do:
Talk to members of all levels, including those who use a free membership
Use the instant messenger to talk to other people live
The site does not show advertisements
Look at other people's profiles without them knowing
Keep your profile hidden
The cost of Gold membership is as follows:
For 12 months, the cost is $10.00 per month with a one time payment of $119.98
For 3 months, the cost is $20.00 per month with a one payment of $59.99
For monthly, the cost is $29.98
Option 3: Platinum Membership
The second type of membership is platinum. This level of membership includes everything that free and gold members can do. The platinum membership also allows you to do the following:
In the search results, you will rank above other members with lower membership levels
Your profile space is larger compared to other membership levels
Use the VIP profile highlighting feature
The matching algorithms that are available to you are advanced
You get more filters to help you search for compatible members
The profiles you explore and messages that you receive can be translated into your preferred language
You can control how long you have a paid subscription. If you want a gold membership, the following options are available:
For 12 months, the cost is $12.50 per month with a one time payment of $149.99
For 3 months, the cost is $23.33 per month with a one payment of $69.98
For monthly, the cost is $34.99
Since all memberships self-renew, you will have to manually cancel if you do not wish to keep your subscription. You can do this by calling them or through your account page.
All of these prices were accurate when I compiled the research for this Mexican Cupid review. The site may choose to may adjustments to these figures in the future.
Site Pros And Cons
Vital Things You Should Know
Positive
Easy to use and navigate
Large and diverse member base
Detailed profiles
Good price
Negatives
You cannot use the full search features as a free member
Support takes awhile to respond
Review Conclusion
Is Mexican Cupid Worth Your Time?
You can get started very quickly so that there is no delay in finding people to interact with. Within about two minutes of pulling up the Mexican Cupid site, you are registered and ready to start exploring. Numerous features will make it possible to seek fun people from Mexico and many other countries worldwide.
Of all the dating websites, this site is one of the best to find matches who have a Mexican background. It's also on my list of the best Latin dating websites.
This site has a strong base of people who are Mexican. If you want to meet people from this cultural background, this niche dating site will make this very easy for you. The overall member count is very high, so you can always find someone interesting to have a conversation with when using the site.
---


Mexican Cupid Review January 2022 (Is This Site A Scam Or Is It Real?)