Matching System

Searching

Ease of Use

Popularity

Profile Quality

Customer Service

Cost
Comments Rating
( reviews)
Overview
What Is MalaysianCupid?
MalaysianCupid is an online dating site that helps bring Malaysian singles together, as well as people from other countries with those residing in Malaysia. Due to its member variety, you can meet people of all dating preferences and backgrounds on this website. This helps to ensure that there is no shortage of singles that you might have things in common with.
This online dating website has a chatroom and other communication features that you can take advantage of to talk to other members. You will get matches that you can start communicating with. However, there are other ways to connect with people on this site, including using different search functions. Since safety is a priority on this website, you can be comfortable when meeting new people.
Popularity
This site boasts more than 600,000 members. The majority of them are from Malaysia and other Asian countries. However, there are a lot of members in Western countries too. For example, in Australia, there are about 27,000 users and another 69,000 in the United States.
When we logged in on a weekday afternoon (PST), there were not many active members. We saw around 100 which is not a lot by today's standards.
Men outnumber women on this site by a little bit. The genders breakdown in the following way: Approximately 57 percents are men and about 43 percent are women. For both genders, the ages 25 to 34 demographic is the most populated on MalaysianCupid.
First Impressions
While performing the research for this MalaysianCupid review, one of the first things that I noticed was that the site has over half a million members. While there are slightly more men, the overall member base is close to even. This helps to increase your chances of meeting someone special on this dating website.
The majority of members on this online dating website are in search of a soulmate. However, there are other relationships that you can seek on this site, such as a pen pal or someone to date casually. This makes it possible to meet people who have the same relationship goals in mind.
This dating site provides a platform that you can learn to use quickly. All of the features are front and center so that you will not have to spend a lot of time trying to find them. Find your matches, communication tools, and other website elements on the main page.
You can use the website for free, or upgrade to a paid membership. Even with a free membership, you can do quite a bit on the site, allowing you to get to see what it has to offer before you commit to using it to meet your next partner.
Design and Functionality
The layout of this website ensures that you can move around the site with ease. All of the elements have clear links and buttons on the main page. Once you register, you can access the site right away so that you can see what the features are and start getting a look at the available singles.
Registration
How Does Signing Up Work?
It only takes less than a minute to sign up which is faster than most dating websites. Use your Facebook account to register, or opt to input your email address, first name, and your age. As soon as you sign up, you can fully access the website to start exploring.
Once you are signed in, you can start working on your profile and adding some pictures. This is also the time to pick your cupid tags, which are a type of keyword that helps to bring up your profile in a search when someone is searching for a member that uses the tags that you choose.
The site recommends that you add a minimum of five photos to get the most attention on the site. They also say that you should consider verifying your profile. Verification is a simple process and once you complete it, other users will know that you went through and passed this process.
Features
What Kind of Value Does the Site Bring?
MalaysianCupid has different features that help to give you more options to interact with the site. Most of the features require that you have a paid subscription to use them.
Searching
The site gives you some matches to essentially jumpstart the people to who you can start talking on the site. However, you can easily do some searches to find even more people that might have some things in common with you.
If you have a free membership, you can do basic searches. While you do not have access to all of the filters, you can use some of them to narrow your results. With a paid membership, there are numerous additional search features to make finding someone special even simpler.
Profiles
All levels of membership let you create a profile. If you are a paid member, the amount of space you get is about double what free members have access to. Both free and paid members can also upload pictures to their profiles.
No matter your membership, you can easily browse profiles to see the available users. If you opt for a paid subscription, you have the choice to browse the profiles of other members anonymously.
Once you complete your profile, should something change, you can go back and edit it at any point in the future. The same is true for the pictures that you post on the website.
When it comes to profiles, you can add a lot of information like details about your lifestyle and exactly what you are looking for in a partner. The profiles are very well organized too, making it simple to find the exact information that you want to learn about a person.
Use the cupid tags to describe yourself, your traits, and your interests. These are like a hashtag that sum up the most important details about yourself. They are on your profile and they also play a role when someone is searching for compatible members.
Messaging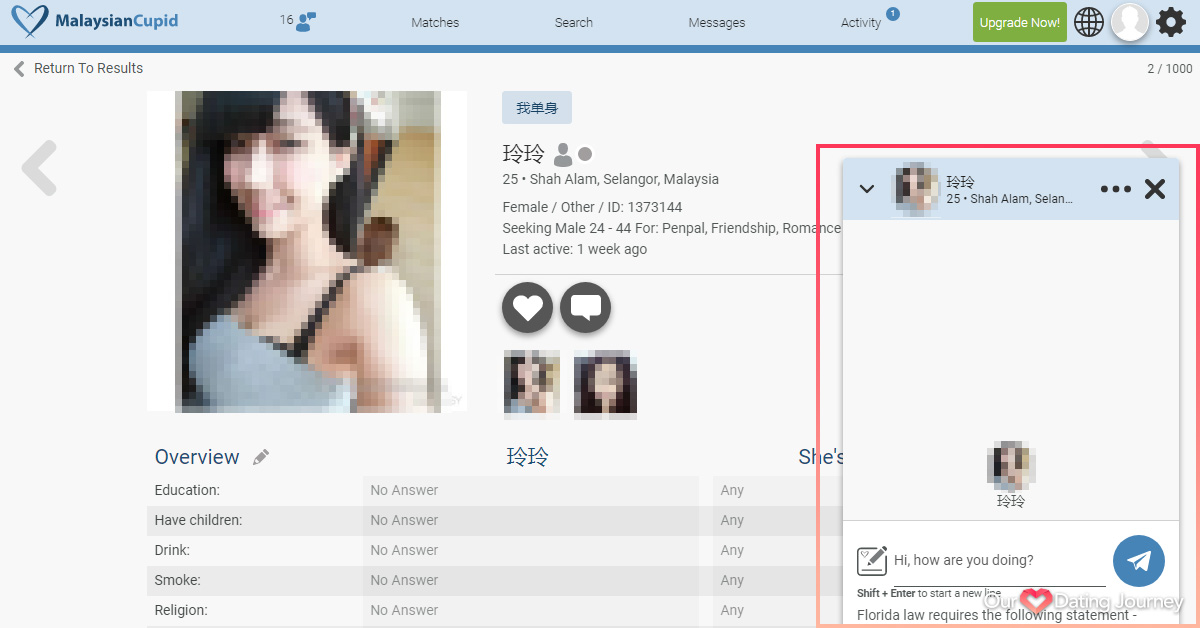 Paid members can send messages to all users on the site. If you have a free membership, you can respond to paid members' messages, but you cannot send an initial message to other members. All members can show interest in other users by sending an interesting heart.
MalaysianCupid makes it possible to talk to people in real-time when you use their instant messenger feature. This makes it possible to communicate faster. It operates like a standard internet instant messenger, allowing you to text chat back and forth in a separate chat window.
Video Chat
Once you are talking to someone on this dating site for a little while, sending text-based messages might become tedious, or you simply might outgrow this form of communication. When this happens, you can use the site's video chat feature.
This feature only requires that you have a camera so that the person you are talking to can see you. There are no special downloads or technology needed to take advantage of this site feature.
Cupid Tags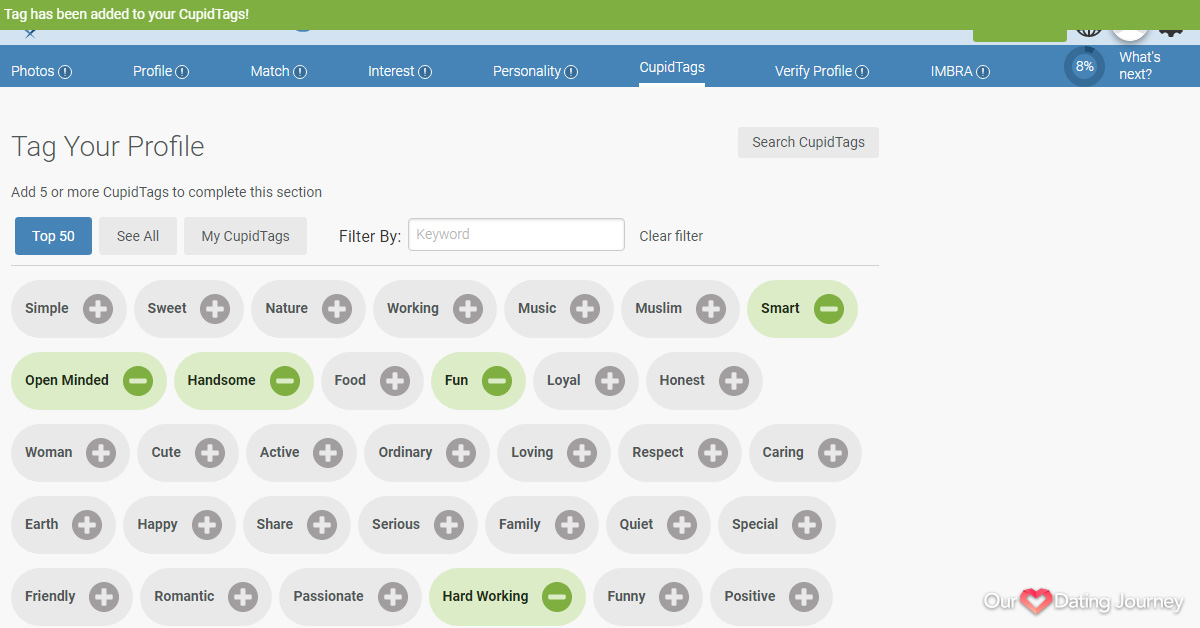 When you are working on your profile, you will notice the section for cupid tags. You can choose five of these to add to your profile. These are meant to describe you and the things that you like, so make sure to choose wisely.
Once you have your tags picked out, they also play a role in the search feature. Other members who use the same tags are shown as possibly compatible with you. This is another way to increase how many other users you can meet.
Translation Services
Since this dating site has members worldwide, there are going to be a lot of members who speak a language that is different than yours. Instead of a language barrier limiting the number of people you can talk to, this site has a translation feature for profiles and messages.
Only paid subscribers can use the translation feature. Overall, this feature provides relatively accurate translations. You will see profiles and messages in the language that you choose even if the person sending the message or creating the profile speaks a different language.
Safety & Security
How Good Is the Protection?
Profile Verification
MalaysianCupid offers some ways to protect yourself on the website. They have some information about these features in their help section so that you can familiarize yourself with how to use them.
You have the ability to verify your profile and get the badge. This adds a nice level of security for members.
Blocking Members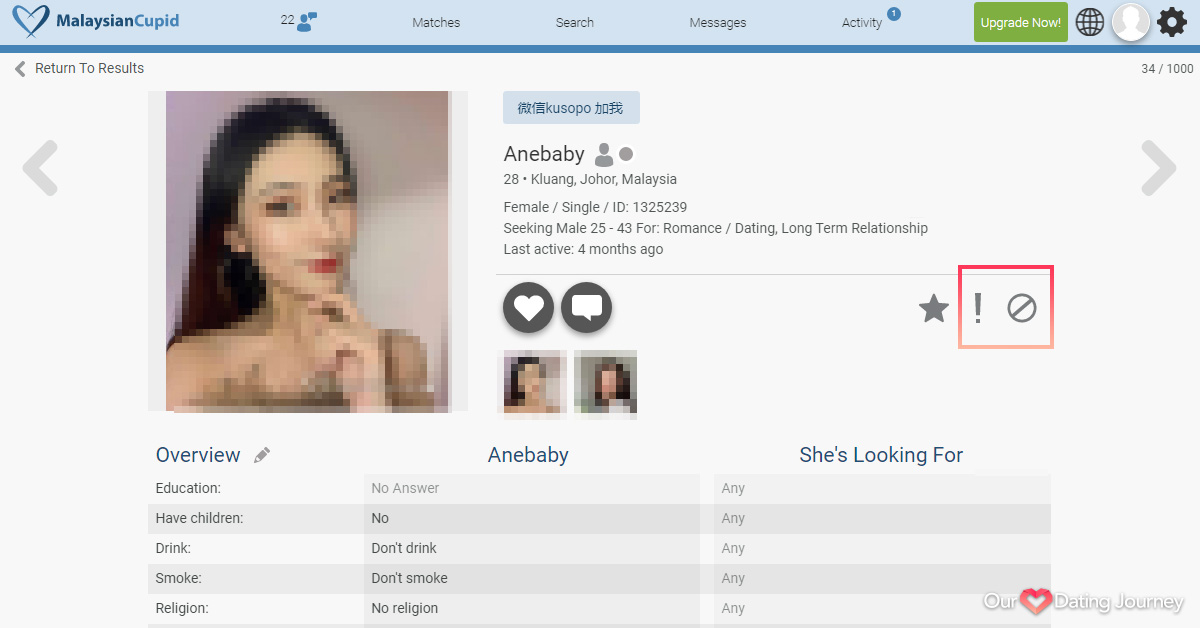 You can block any users with who you no longer wish to have any interaction. This involves just clicking a button. Once they are blocked, you no longer will receive any attention from them.
Reporting Members
Another option is your ability to report profiles. This is a large website with a big member base. While the dating site is good about getting rid of fake profiles, they also allow members to report those that they believe are suspicious. When this happens, they investigate them and ban any profiles that are indeed fake.
Customer Service
Is the Support Good or Bad?
MalaysianCupid's support is so-so. They offer up a fax number and a postal mailing address if you need to send something to them but that's the slow route. Both of these are located in Australia so if you're on the other side of the world, a quick response is out of the question.
You can also choose to send them a faster online message but response times are lacking. In the help section, there is a form that you can fill out to get assistance with the site via email.
Calling MalaysianCupid is the fastest way to get assistance with using the site. They take calls Monday through Friday. Like the fax number and mailing address, your calls are answered by people in Queensland, Australia. Because of this, you will need to be mindful of this time zone.
You can also get help with things in the help section. There are a lot of questions and answers on this part of the website. It serves as an option to get fast help with things before you decide if you need to contact them for any assistance.
Cost of MalaysianCupid
What Are the Subscription Plans?
Option 1: Free Membership
Once you register you have a free profile. With this level of membership, you can take advantage of the following:
Send interest to other members
Add your pictures to the website
Use the basic matching feature
Put people on your favorite's list
Look at the profiles of other members
If you choose to upgrade to a paid membership, you increase the features that you can access. With a paid membership, some fee-based features you get to enjoy include:
Video chatting with other members
More filters for when you are searching for compatible users
Advanced matching abilities
You can receive messages from paid members and send them to all users
Translation of profiles and messages into your native language
Option 2: Gold Membership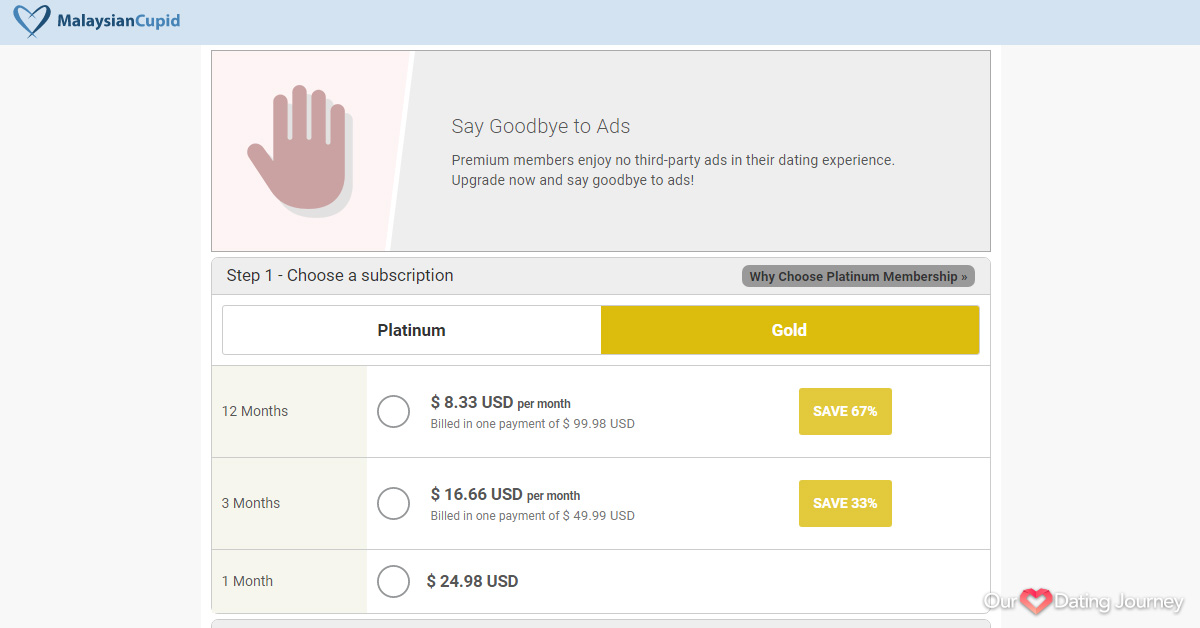 If you choose to have a gold membership on this site, there are three subscription options available to you. These include:
For 12 months, the cost is $8.33 per month with a one time payment of $99.98
For 3 months, the cost is $16.66 per month with a one payment of $49.99
For monthly, the cost is $24.98
Option 3: Platinum Membership
There is also a platinum membership that you can consider. It also has three subscription options available to you. These include:
For 12 months, the cost is $10.00 per month with a one time payment of $119.98
For 3 months, the cost is $20.00 per month with a one payment of $59.99
For monthly, the cost is $29.98
Once you become a paid member of this dating site, your chosen subscription will renew itself automatically. If you do not want this to happen, you will need to cancel at least two days before your subscription is set to renew itself.
When I completed this MalaysianCupid review, these subscription prices were accurate. However, the site might choose to make changes to these plans and costs at any time.
Pros and Cons
An Outline the Advantages and Disadvantages
This is the overall pros and cons taking into consideration each of the seven most vital features.
Positive
Easy to use and navigate
They take member safety seriously
Lots of free features
A good pricing structure
Negatives
Free members are unable to message other users
Low active members
No live support chat
Review Conclusion
Is MalaysianCupid Worth Your Time?
This is an Asian dating website that ensures ease of use. The layout is basic and uncluttered. Because of this, you will have no trouble finding your way around the site. There are numerous features, all of which are simple to access from the main page that you are brought to after signing into the site.
On MalaysianCupid, you have several ways to find people to interact with on the site. The simplest way is to check out the matches that you receive. You can quickly look at their profiles to determine if they are viable. On this site, you can also perform searches on your own to look for other people who might be compatible.
Use this dating site for different types of relationships. For example, you can use it to find a potential marriage partner or even new friends. The user base is large and diverse, allowing you to easily locate people who have a wide array of interests. This allows you to increase your chances of meeting compatible people.
Overall, this is a great site to find your Malaysian match but there aren't a lof of active members daily. You can find a wide variety singles with a Malaysian background. This site is good enough that it made it to my top 14 list of Asian dating sites.
---


MalaysianCupid Review October 2023 (Can You Find Your Malaysian Soumate?)