Matching System

Searching

Ease of Use

Popularity

Profile Quality

Customer Service

Cost
Comments Rating
( reviews)
Overview
What Is JapanCupid?
JapanCupid is a niche dating site focused on helping Japanese singles to meet each other and interact. However, since this is an international website, it is possible to meet people from numerous countries. You can find a variety of members from various Asian countries, European countries, and the US.
This online dating site says that it has hundreds of success stories from couples who met via this site and married. You can translate messages into your language, and with a paid membership, you do not have to deal with ads popping up or causing clutter on the site's different pages.
Popularity
It has about 700,000 members. In the US, there are approximately 90,000 members. Every day, an estimated 4,300 people log in to the site.
Men dominate this website, accounting for 88 percent of the members. About 12 percent of the members are women. The majority of the members are Japanese or from other Asian countries.
While this site is focused on Japanese daters, it is very diverse. Anyone can sign up for this site. Because of this, you can find people from multiple countries throughout the world.
The members on this online dating website join to find several relationships, from those heading towards marriage to casual friendships. In many cases, the members talk about what they are looking at or on their profiles to find the users looking or the same relationship type you are.
First Impressions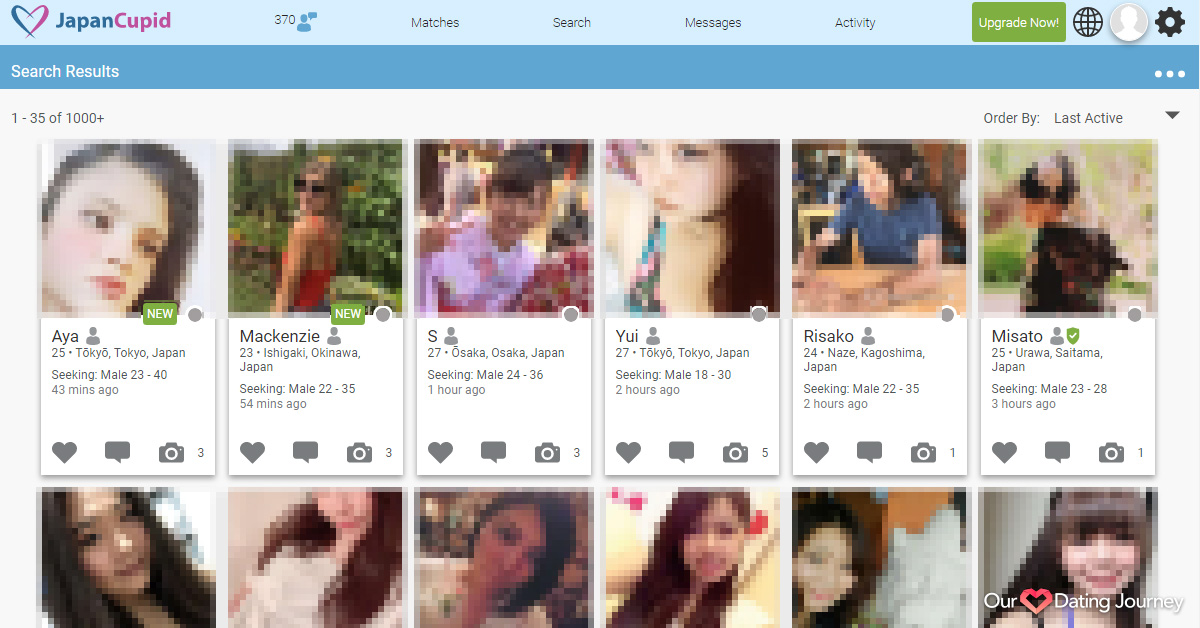 As we're working on this JapanCupid review, I found that while the focus is on Japanese singles meeting each other, there is a secondary focus. This is helping people in Western countries to meet singles from Japan. While most members are Japanese, there are thousands of people from other countries too.
This is a clean and active website, so there are always people to chat with. This also gives you a good chance of getting a response when you send messages to other users.
This dating website promotes a fun environment that makes it easy to interact with other users. You can choose to engage in one-on-one conversations or use the chatroom to talk to various users at the same time.
With a paid subscription, you can use various filters when you are searching for other members. In addition to the matches that you get, this ensures there is always someone to interact with.
Design and Functionality
This is a dating website that has a simple design. Use the buttons and links on the site's main page to access the different features. It uses a simple font and color scheme that are easy on the eyes when you are navigating the different pages.
Registration
How The Sign-Up Process?
This dating site has one of the most fastest sign-ups and it took us about 20 seconds! That's faster than the majority of other online dating sites.
When you sign up for this site, the page will prompt you to either sign up with Facebook or input your email. If you choose to use your email, you will be asked to provide your first name, a password, and age. You also need to state your desired gender and personal gender.
When you sign up with Facebook, the website takes the information from your page to register for your profile on this site. It will also take your primary Facebook picture and use it as your main picture on the site.
Once you finish this process, you have access to the site. Here you can choose to upgrade your free membership, fill out your profile, add pictures, and start interacting with members.
Features
Vital Tools for Success
There are various features on this site that you can take advantage of to increase your chances of making a connection online. When you use these, it can make the website more organized and convenient to use.
Member Interaction
There are several ways to look for compatible users and interact with them. The site provides you with some matches that you can start with to see if they are ideal for you. Should you want to find more people to talk to, there is a search feature.
Searches
Free members can use a basic search. If you have a paid membership, there are additional filters to narrow down the results you get when you perform a search. No matter your membership type, you can show interest to other members to let them know that you are interested in them.
Chatroom
This site also has a chatroom that paid members can use. If you meet someone you like in the site's chatroom, you can choose to send them a message or interest to let them know that you would like to start talking to them privately.
If you have a paid membership, you can message any user on the site. Should you opt to maintain a free membership on JapanCupid, you will only talk to paid members via the messaging system.
This site lets you comment on the photos that other members post. You can even do this if you have a free membership.
Profiles
The majority of profiles you will see on the site have plenty of details and are organized well. When you have a paid membership, you can translate profiles to read the information that members who speak a different language provide. On this site, you have the option between Japanese and English.
Members can upload a variety of photos and change them out at any time. It is also possible to make changes to any of the information that you add to your profile.
This online dating site allows for a diverse array of information to be added to profiles. In addition to the basics, you can also get information about things like what the person thinks their best feature is and anybody's art.
The App
This website has an app that you can use along with the desktop site. It is a free app that you can find in the Google Play store. Compared to the website, the app is just as interactive and feature-rich. You will need to have an Android device to use this app.
Cupid Tags
When people are searching for compatible members, these tags are one way to narrow down the results. You create tags based on your traits and likes that you find the most important. Then, when another member does a search that uses one of your tags, you will be in their search results. This helps to bring you more members that you might enjoy talking to.
Highlight Your Profile
There are many people on this dating site, so doing everything you can to stand out helps you find more compatible matches. With a paid membership, you can highlight your profile. When it comes up in the search results, it is highlighted to be easier to see.
Favorite Members
As you talk to people on this site, there may be some that you want to remember. You can use the favorite feature to set these members apart. Then, when you want to interact with them again, go to your favorite list, and they will be there.
Know Who Is Online
When you are browsing members, you can tell who is currently active on the site. If you prefer to talk to people quickly after noticing them, this is a feature you can take advantage of. You can use this feature as a free member.
Filter Your Messages
The site makes it easier to avoid messages that you do not want to receive. This feature is available if you have a paid subscription. When you use it, you can take any messages that you do not want to read to your filtered folder. Using this helps to keep your inbox less cluttered.
Customer Service
Is Support Helpful?
JapanCupid provides you with several options to get help when you need it. You can check out the help section when you have questions. There is information for many common issues that people have listed in this area.
Another way to get help is to contact the organization directly. They have an online support system that lets you send a message to them. You usually get a response within a couple of days when you take this route. Just be aware that if you message them on the weekend, it may take slightly longer before you hear back.
The dating site provides a customer service phone number that you can use. With this option, you can contact them Monday through Friday. All of their customer service representatives are in Queensland, Australia. You will need to ensure that you are calling during the business hours associated with this time zone.
If you need to verify your account or send other physical documents to this website, they offer two choices. The first is that you can use their fax number to send this information. Another way to do this is via postal mail. Faxing your information tends to take less time since postal mail can take a few weeks before you get a response.
Safety & Security
I'm I Protected?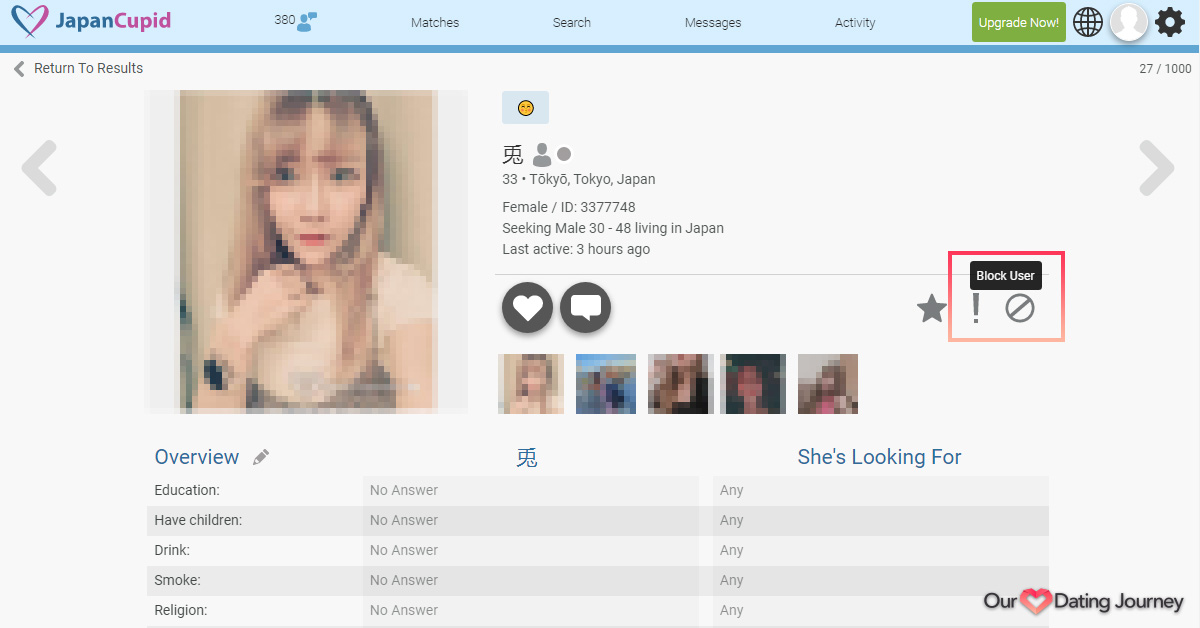 The organization strives to keep the members on the site secure. If someone on the site is bothering you or you do not want to communicate with them further, you have the option to block them. This ensures that you can eliminate communication with them on this site.
They take care of fake profiles quickly on their website. You can report member profiles if they are bothering you or if they do not appear legitimate.
You can use the security features on the JapanCupid app too. The buttons are the same, allowing you to find them easily.
Cost of JapanCupid
How Are the Subscription Models?
JapanCupid offers a variety of features for those who choose the free membership. With this option, you have access to the following:
Register on the site and work your profile
Basic matching
Talk to people who have a paid membership
Search members and look at their profiles
Upload pictures
Send interest
View the members who are currently online
Add other members to your favorites
There are also paid membership options that you can choose from, so you'll have options when considering a subscription. When you have one of these, you can do more on the site, including:
No ads clutter the site
View the profiles of other members anonymously
Get double the profile space
Use more filters when you search for members
Chat live with other users
Rank higher in the search results
Hide your profile
Only one member needs to have a paid subscription for two users to communicate with each other.
The Gold Membership
The Gold Membership lets you pick between three payment options. These include:
For 12 months, the cost is $10.00 USD per month with a one time payment of $119.98 USD.
For 3 months, the cost is $20.00 USD per month with a one payment of $59.99 USD
For monthly, the cost is $30.98 USD
The Platinum Membership
There is also a Platinum Membership. The three payment options are:
For 12 months, the cost is $12.50 USD per month with a one time payment of $149.99 USD.
For 3 months, the cost is $23.33 USD per month with a one payment of $69.98 USD
For monthly, the cost is $35.99 USD
The membership costs listed here were accurate when I wrote this JapanCupid review. However, the site could make changes to them at any time.
Pros and Cons
Decide if This Site Is for You
Positive
Fast and easy sign-up
Easy to navigate and use
Safe and secure to use
Chatrooms for casual conversations
Review Conclusion
Should I Try It?
Yes, we suggest you give it a try. JapanCupid is free and has been around since 2005 with features like message translation and live chatting; you can communicate easily. This online dating website makes it easy to find the features that you are looking for. It is also simple to sign up and fill out your profile.
This dating site specifically targets the Japanese, but the diverse user base ensures that you can meet various people. Due to the detailed profiles, it is easy to get acquainted with other members to discern compatibility before choosing to make contact with them. Because of this, it is easier to find people that you have things in common to increase your chances of making a meaningful connection.
This is a great site which is why it's listed on my list of the 14 best Asian dating sites on the web. You cannot go wrong by joining this Asian dating website.
---


JapanCupid Review September 2023 (Can You Meet Your Japanese Soulmate?)