Matching System

Searching

Ease of Use

Popularity

Profile Quality

Customer Service

Cost
Some people have very specific criteria when it comes to people they want to date. If you want to focus on people from a Filipino background, FilipinoCupid is an option. This is a niche website that helps you to meet those that you find the most interesting. (Read my detailed guide on dating on Asian to help when dating a Filipino)
On FilipinoCupid, you have a variety of search and communication options to look for more matches. This website has a simple design, allowing you to find the different elements easily. With a variety of payment options and features, this dating website makes it easy to find those you have things in common with.
---
FilipinoCupid First Impression
FilipinoCupid is a relatively large dating website with over 3.5 million users. It has a lot of active users, allowing you to interact with people regularly. Use the different communication features to ensure that you can easily make contact with the members on this website.
The FilipinoCupid profiles have a lot of information so that you can evaluate members fast to see if they have some compatibility with you. You have a lot of flexibility with how you fill out your own profile, letting you take care of it according to a timeline that best works for you.
With different labels and tabs on FilipinoCupid, you can quickly locate the features that you are looking for. This ensures that it never takes more than a couple of seconds to find exactly what you need on the website.
FilipinoCupid lets you focus on people from this background. However, there are no restrictions on who can join this dating site. Because of this, you will find a very diverse population of members.
---
Design and Functionality Of The FilipinoCupid Site
FilipinoCupid has a website design that is clean and has a sleek design. When you log in, you can quickly locate the different features right on the main page. The overall design is easy to navigate, and it is not overly cluttered.
Signing Up
You can tackle the initial registration on FilipinoCupid in under three minutes. At this point, you can continue on with a free membership or opt to upgrade to a paid one. They do not require any verification, so this makes everything go faster.
You can upload a picture right away, or you can choose to wait. Once you fill out your profile, you can make changes in the future at any time. The FilipinoCupid profiles are relatively extensive, allowing you to add a lot of important details about yourself.
Engaging with Other Members
Whether your FilipinoCupid membership is paid or free, you can search for members. However, with a paid subscription, there are additional search features that make it easier to locate other users that you have some things in common.
When you are on someone's FilipinoCupid profile, you have three different communication options to choose from, including sending a heart, instant chat, and sending them a message. Paid members can use all of these communication options.
FilipinoCupid takes member safety seriously. They offer two ways to deal with members with who you are having trouble with. The first is that you can report them to the website. After you do this, this site will remove them if they are violating any of the guidelines.
You also have the option to block different members. This involves clicking on a button, so it is easy to take care of. Once you block someone, they are no longer able to contact you.
Very Good Profiles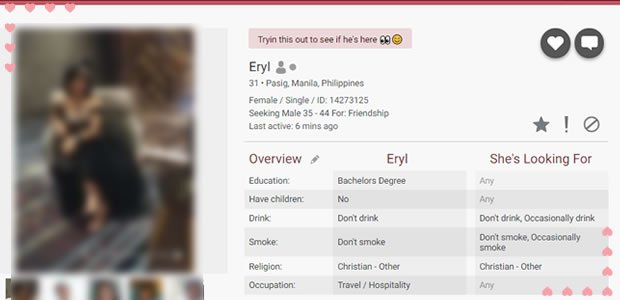 Despite the simple website design on FilipinoCupid, the profiles offer a lot of details. This is important because it gives you a chance to get to know members to see if they are someone you might want to contact.
If someone has a paid membership, this is notated on their profile so that you are aware. Once you are on someone's profile, you can learn more about the type of people they want to meet and get details about who they are and what they like.
This site also helps you to see right away if someone meets your preferences. Look or the green circle to determine which profiles meet your preferences.
---
Features Of The FilipinoCupid Website
FilipinoCupid offers different features that enhance your use of this website. Most of these features are available with paid memberships.
Verified Badges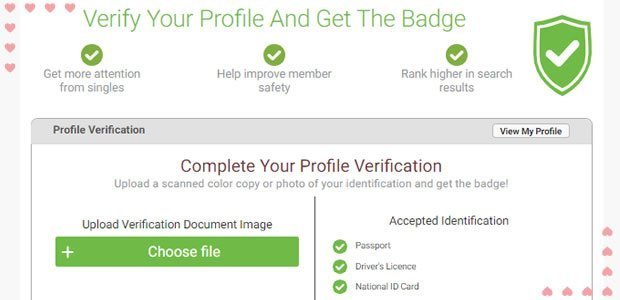 Due to the anonymity of online dating, some people prefer to know that they are talking to a real person. With this feature, you verify that you are who you say you are. When other members visit your profile, they will see a badge that shows that you went through the verification process.
This is a relatively simple process. You only have to go through it once and the badge will remain on your profile for as long as you are on FilipinoCupid.
Translate Your Messages
Since this website has people from all over the world, there could be a language barrier for some members. FilipinoCupid offers translation for paid members.
When you are communicating with another user who speaks a different language, use this feature to translate their messages into your native language. This will ensure that the two of you can speak to each other without your different languages making it difficult.
Due to this feature, more people are able to connect. The translation is relatively accurate, so you can be sure that everything that you are saying to each other is coming across accurately.
VIP Profile Highlighting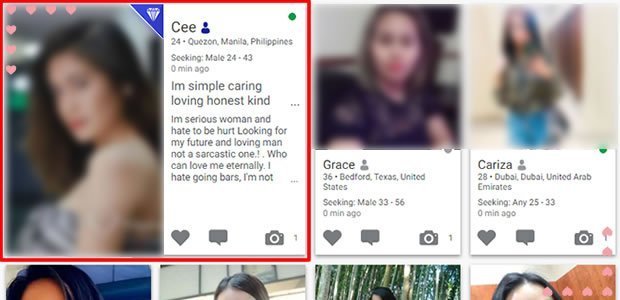 Since FilipinoCupid has millions of members, you want to make sure that you can stand out above others in the search results. This is what this feature provides. Your profile gets highlighted to ensure that you do not get lost in the search results.
When you use this feature, it may help you to get more messages and attention on this site. This FilipinoCupid feature is only available to people who have a paid subscription on this website. The tab to use is easy to find and access on the site's main page after you login.
---
Popularity Of FilipinoCupid
FilipinoCupid has over 3.5 million members located throughout the world. In the US alone, there are about 1,050,000 members. Every day, approximately 3,500 people log in to this website.
The majority of the members on FilipinoCupid are from the Philippines and the US. Most of the women are in the Philippines while the majority of the men come from Western countries.
FilipinoCupid is comprised of about 60 percent men and 40 percent women. The majority of members join the site to seek out long-term relationships. Many of the men have premium memberships, allowing for easy communication with the women who have free and paid memberships.
The women on FilipinoCupid tend to be younger than the men. For women, the average age is 25 to 44. However, the most common age range for men is 35 to 54.
The verified badges on FilipinoCupid are more common amongst the female members. This allows the male members to be confident that they are talking to a real person. Since this site is geared toward Western men meeting women from the Philippines, having a verification can help women to find a variety of men to talk to because they will know that they are communicating with a genuine person.
---
Customer Service
FilipinoCupid offers multiple options regarding how you can get help with the website. You just have to choose which of these is the most preferable for you.
The simplest way to get help on FilipinoCupid is to call them. On their contact, us page are several phones. You have to make sure that you call the proper phone number for your country. When you do call, the agent will ask which website you are calling about and for your phone number.
The FilipinoCupid agents tend to answer the phone quickly so that you do not spend a lot of time on hold. They are very familiar with the website, making it easy for them to answer all of your questions. Since this company is in Queensland, Australia, you have to call during business hours according to this time zone.
If there comes a time when you need to send something to FilipinoCupid, you can choose to send it via postal mail. They provide an address that lets you send mail from all over the world. Should you need to have a response or confirmation sent back to you, this can take several weeks, so it is important to be aware of this.
You can use the fax number if you need to send something, but you need to get it there faster than postal mail is capable of. The phone number for the fax is in Queensland, Australia.
FilipinoCupid also has a section on their website that is dedicated to providing you with basic information. This is something that you can access once you log into your account. It has a variety of answers to things that users often ask about in one convenient place so that you can get help quickly.
---
The Cost Of FilipinoCupid
FilipinoCupid allows you to sign up for free to purchase a subscription. If you opt to have a free membership, this will give you access to the following:
You can send interest to other site members
The site lets you create a profile
There is access to basic matching
If another member has a paid membership, you can communicate with them
There are several additional features that come with a paid membership on FilipinoCupid. These include:
With the site's instant messenger, you can engage in live chats
Browse other profiles on the website anonymously
Get about twice the profile space than users who only have a free membership
The matching algorithms that you have access to are advanced
You have total freedom to receive and send messages
FilipinoCupid will be free from advertisements
Hide your user profile
Use the feature that highlights your profile so that you stand out above other members in search results
Use additional search features to further narrow down your results
View the website in your language due to the translation feature
You can choose between a platinum and gold membership on FilipinoCupid. These both give you access to the additional features that make engaging on the website easier and more interactive.
Gold Membership
The FilipinoCupid gold membership has three payment options to choose from, including:
12 months of membership on this site is $139.99. You pay it all at once, but it breaks down to $11.67 a month.
Six months of membership on this site is $69.98. You pay it all at once, but it breaks down to $23.33 a month.
One month of membership on this site is $34.99. You pay this fee monthly.
Platinum Membership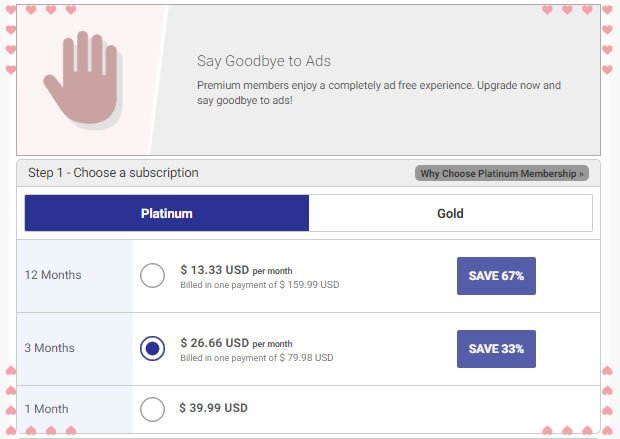 The FilipinoCupid platinum membership has three payment options you can pick from, including:
12 months of membership on this site is $159.99. You pay it all at once, but it breaks down to $13.33 a month.
Six months of membership on this site is $79.98. You pay it all at once, but it breaks down to $26.66 a month.
One month of membership on this site is $39.99. You pay this fee monthly.
When I wrote this FilipinoCupid review, these were the membership costs. However, the website may opt to change these at any time.
FilipinoCupid lets you pay for your membership in several ways. This includes credit and debit cards. They also allow PayPal and online bank transfers.
---
Site Pros And Cons
If you are considering joining FilipinoCupid, it is important to get all of the facts. I discovered several FilipinoCupid pros and cons to think about to see if this is the ideal dating website for you.
Pros
This website has millions of members
You have the option of verifying your account to prove you are a real person
FilipinoCupid allows you to talk with other members live via an instant messenger
There are several ways to narrow down your search results to ensure that you get relevant results
Cons
The app associated with FilipinoCupid is not available for iOS mobile devices
---
FilipinoCupid Review Conclusion
FilipinoCupid is an ideal website for meeting people from the Philippines. Most of the Filipinos on this site are women, making it ideal for men in search of a woman with this background. However, there are also many Filipino men available too. Overall, the members of this site are diverse, making it easy to meet interesting people.
FilipinoCupid makes it simple to move around the website. You can find the various website elements quickly so that you can take full advantage of all of the website's features. This also makes it easier to meet a lot of people.
I love this site so much it made it to my list of the top 14 Asian dating websites. This means I highly recommend it if you 're looking to find a Filipino match.
---
---