Matching System

Searching

Ease of Use

Popularity

Profile Quality

Customer Service

Cost
Comments Rating
( reviews)
Overview
What Is ChinaLoveCupid?
For those who want to date Chinese women and men, ChinaLoveCupid is an ideal online dating website. This is a smaller website, so it has a more intimate feel to it. You can better focus on those with who you are matched because of this too. The membership is international, so there are people from a variety of countries on this site. (See my guide to dating an Asian to learn how to navigate the Asian culture properly)
This dating site is easy to use, allowing you to familiarize yourself with the site quickly. Since they verify photos and ensure that they comply with the site's rules, it is easier to really see what the members look like.
Popularity
This dating site has over 1 million members. Every week, approximately 5,000 people are active on this website. The member base is small compared to some dating sites, but since this is a niche website, you can better focus on meeting people to get to know better.
On this site, the member base is international, so there are various members to connect with. While there are users from all over the world, the majority are located in China. Of all of the members on this website, the men make up 60 percent and 40 percent. However, the female members tend to be more active than those registered on this website.
First Impressions
ChinaLoveCupid is a small niche website focusing on Chinese dating and people from other cultural backgrounds seeking out Chinese partners. Since most of the members are from China, it is not difficult to find at least a few people with who you have some things in common.
On this dating site, it is easy to find potential partners. The search feature is easy to use to maximize the number of people you meet on this website. Even free members can use search, but you have to get a paid membership if you want to use all of the search features.
This website focuses a lot on the safety of the site's members. You can do things like block people who you want to stop communicating with quickly. It is also possible to report members to the website. They are good about removing those who are not following the website's rules.
On ChinaLoveCupid, there are several ways to communicate with other users. You can do things like sending a message when someone appears interesting. There is also an option to use instant messenger. With this feature, you get a chance to talk to someone in real-time.
Design and Functionality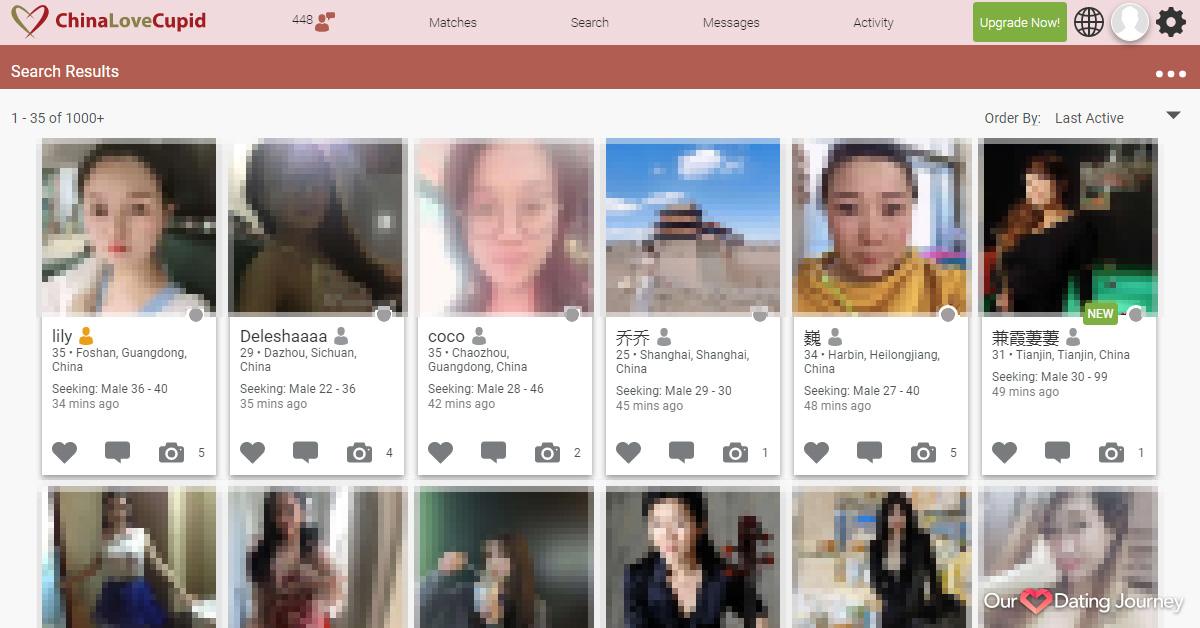 The site's design is modern and clean and is easy to use. The features are prominently displayed to quickly get to the part of the website that you need at any given time. Navigation is easy, and the links that you need to click on for the different features are easy to find and use.
Registration
How's The Sign-up Process?
One of the easiest things to do on ChinaLoveCupid is to get registered, and it's fast. This will take you under oe minutes to complete. Once you are finished with the registration process, you can start working on your profile. No matter which membership you choose, including a free one, you can upload photos and fill out the different profile elements.
When you upload your photos on this website, they will not immediately be live. This is because they evaluate the pictures to ensure that they meet all of the guidelines.
Searching & Matching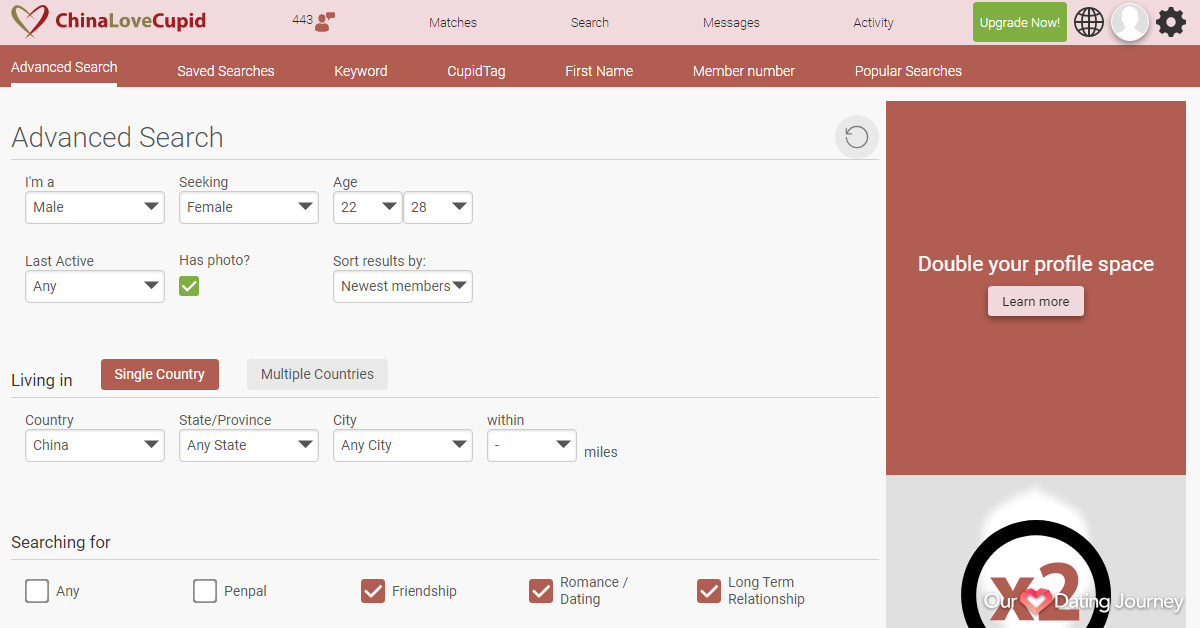 You can choose to stick to your matches on this dating site, or you can seek out additional members that you might have some chemistry with. All members can perform a basic search on this website. This includes using the different filters to narrow down the people who show up in your search results.
Once you find people who appear interesting to you, there are different ways to talk to them. The easiest option is to send them a message to introduce yourself. There is no limit on the number of messages that you can send on this website.
Use the instant messenger to speak to other members in real-time. This is a good way to have an active conversation with someone before deciding whether you want to meet them in person.
There is also a chatroom on this website. You can use this to have more casual conversations with several people at the same time.
Detailed Profiles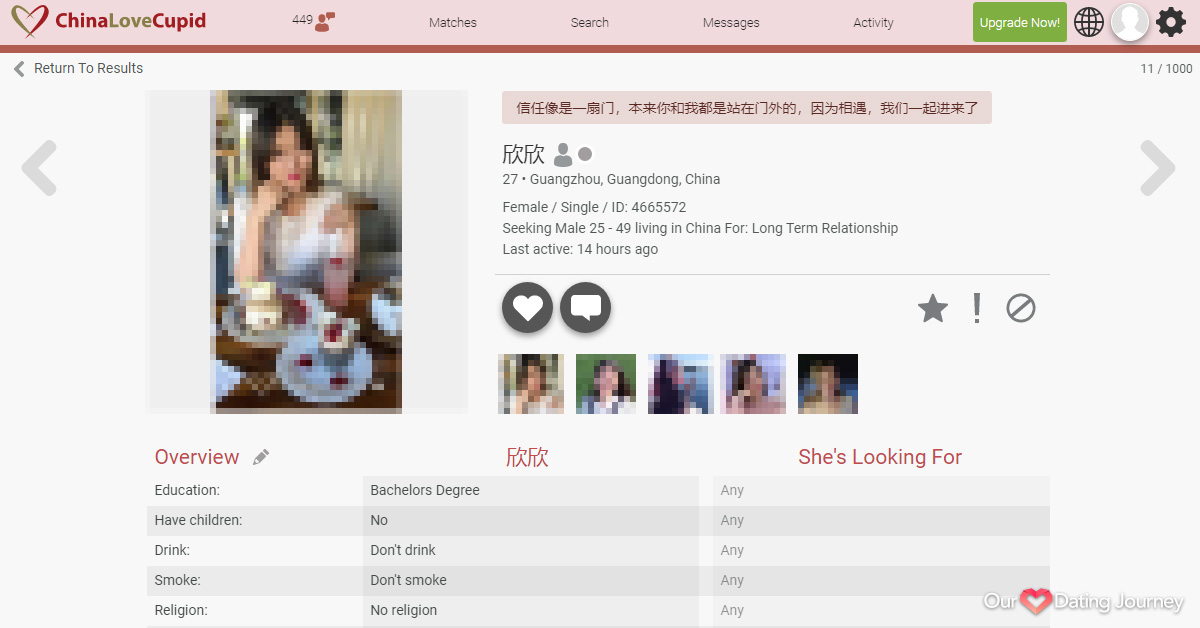 This dating site has relatively detailed profiles, so you can find someone with similar interests and features. When you take a look, you can learn enough to determine if someone might be a good match for you. At a glance, you can also see if you are compatible with the person.
All membership types can look at any pictures that a person has posted on their profile. This includes free memberships. You can opt to add photos over time, including adding a photo album.
You have the option to make changes to your profile at a later date. All photos get a watermark so that you know that the site verified them.
Features
What Kind of Tools Does the Site Offer?
As I wrote this ChinaLoveCupid review, I found several notable features. All of these features serve to make it easier to interact with other members on the site.
Cupid Tags
One of the most important parts of this website is the search feature. The cupid tags allow you to see which members have things in common with you. This feature helps people to narrow down their searches.
For example, if you love to travel, you might search for other members who also enjoy traveling. Using this feature, you would get results back for other members who used the word "travel" as one of their Cupid Tags.
You will need to have a paid membership to use this feature. Use this along with other search features to get the most narrow results.
Matching Box
On all of the profiles is a small Matching Box. You can look at this to see the compatibility measurement. This shows you how compatible you are with the member whose profile you are exploring.
With this feature, you can get through member profiles faster. This will save you some time and help ensure that you are focusing your time on people with whom you are likely to be compatible.
Translation Of Messages
Since most of the people on this dating site are from China, many will speak this language. However, if you speak a different language, this will not stop you from interacting with them. The website can translate messages and profiles so that you can read everything that another member writes.
To use this feature, you have to be a paid member. If you only have a free membership, you can only view the site in your native language.
Adding Matches To Favorites
There are times when you meet people, and you want to remember who they are. Instead of writing all of this down, you can use the favorite's list on the website. Just one simple click is all that it takes to add a member to your favorite's list.
Profile Highlighting
To stand out in the search results, you can use this feature that is only available to members with a paid membership. When someone performs a search, and your profile shows up in the results, and the profile will be highlighted due to this feature. This helps to ensure that you are being exposed to more people.
Customer Service
How's the Support?
ChinaLoveCupid allows you to get in touch with them in several ways. One option is to send snail mail via the post office. This might be a good choice if you need to send them physical documents or information.
On the contact us page, there is a mailing address for ChinaLoveCupid that you can use. Since this is the slowest contact option, you should expect up to a few weeks before getting a response back via the mail. It can take longer if you are outside of Australia.
ChinaLoveCupid also offers a fax number that can make it faster to send documents to this website. This is an Australian phone number, so you should be aware that long-distance fees might apply if you use it. They likely respond after getting your fax and verifying the information.
The fastest way to get into contact with ChinaLoveCupid is by calling them. Their customer service associates are available Monday through Friday. When you call them, you must use the phone number corresponding with your country to get the most efficient and accurate service.
ChinaLoveCupid customer care associates answer the phone relatively quickly. They are knowledgeable, allowing them to provide you with fast and thorough answers to your questions. All of the representatives are friendly and will make sure that you have no additional concerns before hanging up the phone.
When you call ChinaLoveCupid, you must consider their business hours in Queensland, Australia time. They do list the current time on their contact us page to know what the current time is in Queensland.
Most calls take under 15 minutes to complete, but it ultimately depends on the reason you are calling. In many cases, you can get answers to your questions in their help section so that you do not even need to make a call.
Cost of ChinaLoveCupid
What Are The Membership Options?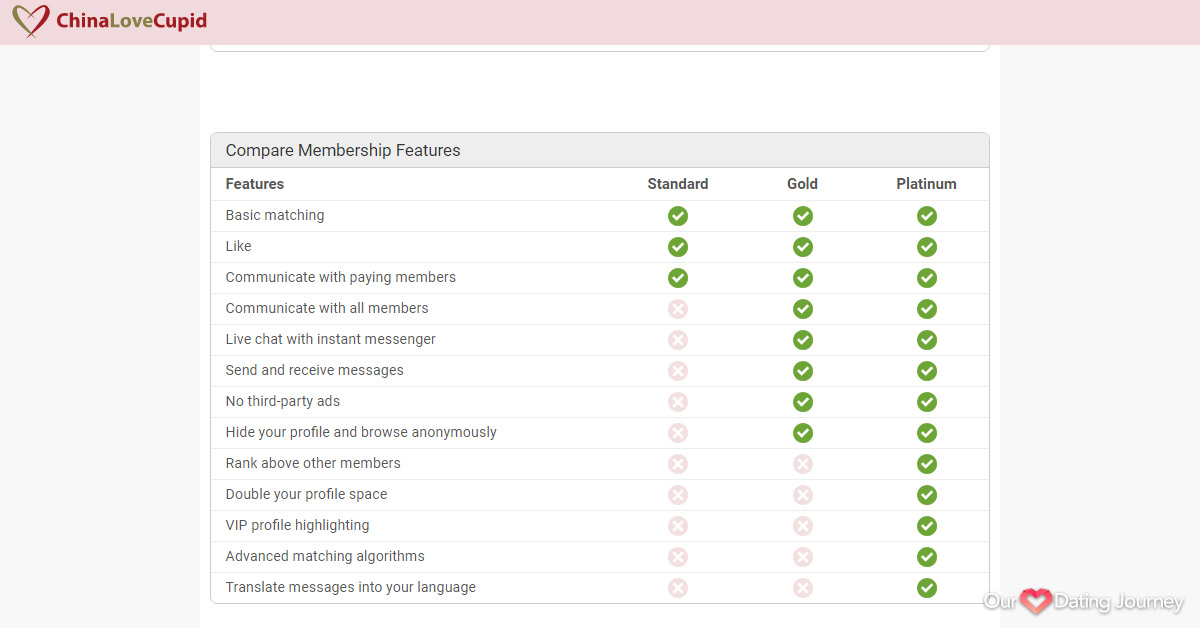 After you register, you can choose to keep a free membership. With this membership, you get access to the following features:
You can send messages to users who have a paid membership
Put people on your favorite's list
Use the search people to find others you have things in common with
Look at the pictures that other members upload
Like the profiles of other ChinaLoveCupid members
Be able to see which other members are interested in you
Receive matches
There are some other features that you have access to when you choose a paid membership. These include:
You can receive and send messages to those with paid and free memberships
Use the VIP highlighting feature to ensure that your profile is easily visible in search results
Utilize the instant messenger to talk live with other ChinaLoveCupid members.
Take advantage of the website's ability to translate profiles and messages into your preferred language
There are platinum and gold memberships on this dating site. You can choose which of these fits your needs, as well as which of their three payment plans works with your budget.
Gold Membership
For 12 months, the cost is $10.00 per month with a one time payment of $119.98
For 3 months, the cost is $20.00 per month with a one payment of $59.99
For monthly, the cost is $29.98
Platinum Membership
For 12 months, the cost is $12.50 per month with a one time payment of $149.99
For 3 months, the cost is $23.33 per month with a one payment of $69.98
For monthly, the cost is $34.99
When I worked on this site review, these prices were accurate. However, it is always possible that the website will choose to make changes to these prices and the features available with each plan in the future.
Pros and Cons
Are the Advantages Better Than the Bad?
When you are learning more about this site, there are pros and cons to consider. By thinking about these elements on this dating site, it helps to ensure that you make the right choice about joining.
Positive
Easy to use and navigate
Lots of active members daily
Several features as a free member
Good level security
Negatives
Could use better methods of member verification
Support takes a while to respond
Review Conclusion
Is ChinaLoveCupid Worth Your Time?
ChinaLoveCupid has a good matching system and tags to make it easy to find people via a search that you have things in common with. Even with a free membership, you can use the basic search to see who is on the website that might interest you.
While this dating site is focused on those of Chinese descent, the member base is very diverse. You can meet a wide variety of people that you might be compatible with. The profiles are detailed and high in quality, allowing you to evaluate people before deciding to start talking to them properly.
Since ChinaLoveCupid is easy to learn and navigate, you can start using the different features right away. Once you register, you can immediately start using the website. This includes either upgrading your membership or remaining a free member to explore some of the available features.
Overall, this site is great if you're looking to meet singles who have a Chinese background. It's not a dating scam site. In fact, it's on my list of the best Asian dating sites.
---

ChinaLoveCupid Review January 2022 (Is This Site A Dating Scam Or Does It Really Work?)