Matching System

Searching

Ease of Use

Popularity

Profile Quality

Customer Service

Cost
Comments Rating
( reviews)
Overview
What Is VietnamCupid?
Vietnam Cupid is one of the many niche dating websites where you can connect with Vietnamese singles. With close to one million members, it is a very populated dating website that has members from all over the world. The primary purpose is to connect Western men with Vietnamese women, but people with all dating preferences can search for compatible mates.
This dating site works to ensure optimal security for its members. You also have a variety of ways to communicate with members and find users who are compatible with you. Use the other features to better interact with the site and its members.
First Impressions of VietnamCupid
When I was working on this Vietnam Cupid review, I noticed that while this site is very diverse, most people are seeking serious relationships. This makes it ideal for people who are seeking a partner for marriage. Since members can choose to verify their profiles, you can choose to only interact with those whose profiles have a verification badge.
When you sign up, you are immediately able to start evaluating the entire website. This allows you to get a good feel for the site before you opt to pay for a membership. While you cannot use all of the features as a free member, you do have access to enough to explore what the site has to offer.
Vietnam Cupid makes it quick and easy to upgrade. They give you two options so that you can choose the level that works best for you. You also have different payment plans to pick from.
When you need help with an issue, they make it quick and simple to get assistance. This helps to ensure that you are never left with questions. There are several helpful methods that you can choose from so that you can pick the one that best fits your needs.
Function and Design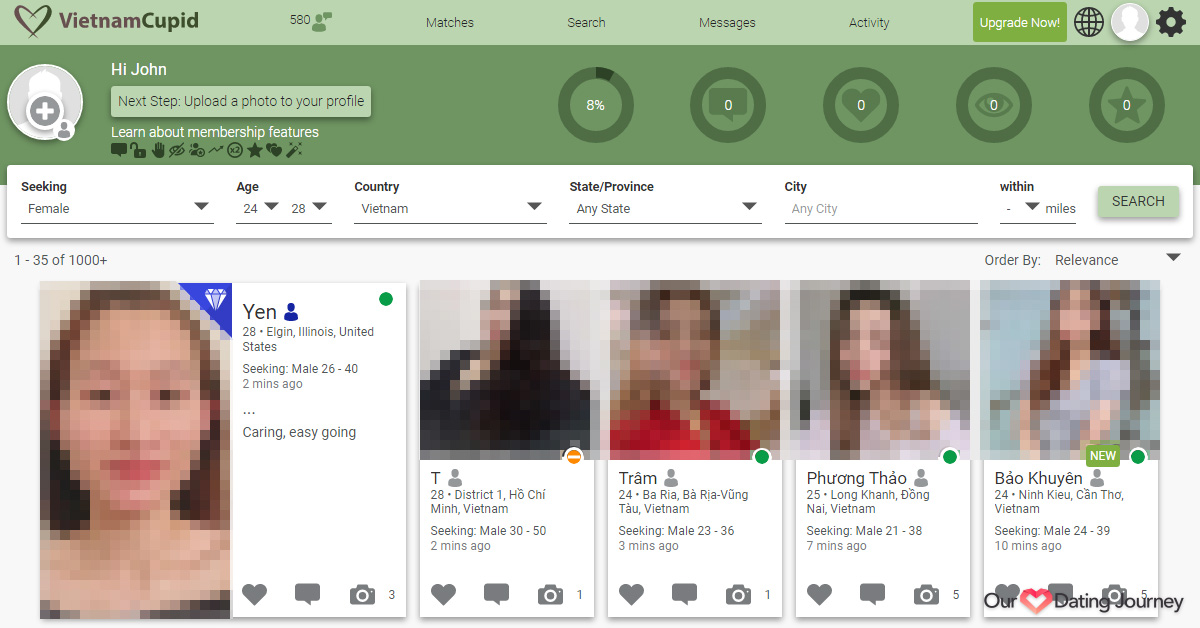 Vietnam Cupid is a website that keeps it simple. It is not fancy or flashy. This makes it easy to find all of the different elements with ease. You can easily locate the links and buttons to different features.
Almost everything that you need is on the main page that you get once you sign in on their website. Here you can do things like see your matches, check your messages, and access most of the premium features that enhance your experience on this website.
How Popular Is Vietnam Cupid?
There are more than 800,000 members on Vietnam Cupid. About 65 percent of them are men and the other 35 percent are women. Many of the female members are from Vietnam or other countries throughout Asia. A lot of the men are from the US or other Western countries. From the US alone, there are about 190,000 members.
Every day, over 1,000 people are active on this website, giving you a lot of people to interact with. Men seem to be slightly more active, but there are still a lot of women who log in on a regular basis.
On this site, the most popular age range is 25 to 44. There are members of other age groups, but this range is where the majority of the members are.
Most of the members are searching for a partner for a serious relationship. However, you do have options if your goal is to date casually or just make new friends from different countries throughout the world.
Registration
How Fast and Easy Is Sign-Up?
Signing Up for this dating site takes about a minute. You can opt to create your account using your Facebook account or an email address.
If you use Facebook, you just have to click the button that lets you log in with Facebook. This option lets you register fast. However, the site will not take any of your photos or information unless you allow it. This helps to ensure that your information remains secure.
Your next option for registering for this site is via an email address. If you use this option, you need to input your email, first name, and your age. It takes only a few seconds longer to sign up using your email address.
When you use your email to sign up with Vietnam Cupid, you do not have to verify it. This saves a step in the signing up process.
No matter which option you choose to sign up with Vietnam Cupid, you need to be at least 18 years old. The website does not verify age automatically, but you can choose to go through the verification process at a later time. It is free to sign up, but you can choose to get a paid subscription once you are registered on Vietnam Cupid.
Member Profiles
The profiles on Vietnam Cupid lets you view them in either Vietnamese or English, depending on your preference. However, you must have a premium membership to use the translation feature.
No matter your level of membership, you can look at all of the information on someone's profile, including their photos. These profiles are comprehensive, giving you information about everything from the person's home type to what they do for a living.
Due to the details on the member profiles, you can easily get to know someone before you even take a step to talk to them. If someone goes through the verification process, this will also be shown on their profiles.
On Vietnam Cupid, you can see when a member was last active when you look at their profile. Use this information to find active members so that you are more likely to get a response to your messages.
When you fill out all of your Vietnam Cupid profile information, you can change it later on. Because of this, it is easy to ensure that your profile is providing other members with the most recent and accurate information about yourself.
Connecting with Other Members
Vietnam Cupid gives you a variety of options to connect with other members. Your first way to do this is by looking at the matches that the website provides you. Even with a free membership, you have access to basic matching. The matching abilities on this site are more advanced for those with a paid subscription.
You can also perform a search for other Vietnam Cupid members. With a free membership, you have access to some basic filters to better narrow down your search results. If you choose to get a paid subscription on this website, you can use even more filters to make sure that the results are fully compatible with you.
Communication With Others
When you are ready to start talking to other users on Vietnam Cupid, you have a few options. No matter your membership level, you can choose to send interest to other members. This essentially lets someone know that you want to talk to them more.
The next option is sending them a message. Vietnam Cupid makes this a fairly easy process. You just need to fill out the message form and send it. This website only lets you send messages if you are a paid member. However, all members are able to respond to any messages that they receive.
There is also an instant messenger on Vietnam Cupid. If you prefer to talk to people in real-time, this is a good choice. To use this feature, you need to have one of the paid subscription options.
Features
Can the Site Help You Find a Connection?
Vietnam Cupid has different features that you can use to take advantage of this website. Many of the features are only available if you choose to get a paid subscription. However, there are others that are free to use.
Vietnam Cupid App
There is an app for Vietnam Cupid that you can use if you have an Android mobile device. It is possible to download this app for free, so there is no extra expense involved with using it. According to Vietnam Cupid, more than 50,000 people have downloaded this app on their mobile device.
When you are using the Vietnam Cupid app, you can use the same features that you use on the desktop site. If you are a paid member, you will have all of the paid member access on the app that you have on the desktop website.
Favorite's List
When you are using Vietnam Cupid, there are members that you will find that you know that you want to talk to more. When this happens, you can add them to your favorite list. This ensures that you can easily find the member again in the future for communication.
Anonymous Viewing
Vietnam Cupid lets you look at other member profile anonymously when you have a paid subscription on this website. With this feature, it is easier to control the members that you have some contact with since no one will know when you viewed their profile.
Live Chatting
It can be much easier to get to know other Vietnam Cupid members when you can use the instant messenger feature on this site for a live chat. When you take advantage of this premium feature, you are able to talk in real-time so that it is more like a real conversation.
Hide Your Profile
On Vietnam Cupid, there are a lot of active members. In many cases, especially for female members, this can result in getting a lot of interest and messages from other members. If you want to slow things down, you have an option to hide your profile if you have a paid membership.
Matching System
The matching system has two Mutual Match and Reversal Matches and both require a subscription to use it. Most dating websites have this feature for free or give you a few free tries before it runs out of matching credits or tokens.
Safety
Are There Protection From Scammers?
You can choose to block any member on this website that you no longer want to have any contact with. All you have to do to use this feature is click a button and they will not be able to send you messages or any other forms of communication.
Another way to help to keep yourself safe is to report any profiles that appear fake or are violating the rules on this website. This is simple and only requires that you click a button.
These two safety features are easy to use. They are available to you no matter which level of membership you have.
Customer Service
How Good Is VietnamCupid's Staff?
Vietnam Cupid gives you a variety of options when it comes to getting into contact with them. They recommend that you first check the help section to see if you can find any answers to your questions in this area. If you still need some assistance, you can click on the tab for the help form and send them a quick message. In most cases, you are able to get a response within about two days if you use this method which is horrible.
You can also choose to call them and talk to a customer service agent directly. They are available to take help calls Monday through Friday, according to the time zone in Queensland, Australia. Other help options include sending them a fax or mailing them something via postal mail.
Cost of VietnamCupid
What's Are the Subscription Plans?
Vietnam Cupid allows you to essentially test the waters on this website for free. There are ways to communicate and browse other members without upgrading to a paid membership. The other things that you can do with a free membership include:
Add members to your favorite's list
See who is currently online
Send interest to other members
Add pictures to your profile
Make your profile
Look at other member's profiles and photos
You can choose between platinum and a gold membership on Vietnam Cupid. With a paid subscription, you are able to use more features, including:
Message translation
Additional search filters
More profile space
Better search rankings
No advertisements
Live chat
Send messages
Advanced matching algorithms
VIP profile highlighting
The Gold Members Option
If you choose a gold membership on Vietnam Cupid, the following payment options are available:
For 12 months, the cost is $10.67 USD per month with a one time payment of $127.98 USD.
For 3 months, the cost is $21.33 USD per month with a one payment of $63.99 USD
For monthly, the cost is $31.98 USD
The Platinum Members Option
If you choose a platinum membership on Vietnam Cupid, the following payment options are available:
For 12 months, the cost is $12.50 USD per month with a one time payment of $149.99 USD.
For 3 months, the cost is $24.66 USD per month with a one payment of $73.99 USD
For monthly, the cost is $36.99 USD
When I compiled this Vietnam Cupid review, all of these numbers were accurate. However, the site could opt to change them at any time.
All paid Vietnam Cupid members need to pay close attention to the expiration date on their subscription. This is because all subscriptions renew automatically, so if you do not want to continue your subscription, you will need to cancel it manually.
Pros and Cons
How Does This Dating Site Do?
Positive
A lot of active online members
The site is very easy to use
Easy to filter and search members
Pricing is better than many sites
Negatives
Messaging isn't free
Search results show non-Vietnamese profiles
Review Conclusion
Is It Worth Your Time?
VietnamCupid has a lot of members, making it relatively easy to connect with several people with who you have things in common with. While this dating website is geared toward connecting Vietnamese women and Western men, it is possible to meet people from various countries throughout the world on this site.
This website is simple to use, but there are still plenty of nice features that allow you to better engage with other members on the site. Since it is simple, you can quickly find the features and functions that you are looking for. This will save you a lot of time when you are new to the site and learning where everything is.
Once you sign up for VietnamCupid, you can opt to maintain a free membership if this is what you prefer. If you want to expand the features that you have access to, there are different paid membership options that you can use.
This is one of the niche Asian dating websites that I really like. It's definitely not a waste of time or money. Besides the fact that the site is so easy to use, they do a great job providing a nice friendly environment for members to meet others. This is why the site is listed on my best Asian dating sites list.
---


Vietnam Cupid Review January 2022 (Is This Site A Waste Of Time And Money?)