Matching System

Searching

Ease of Use

Popularity

Profile Quality

Customer Service

Cost
SugarDaddie.com has a primary focus on connecting attractive women to wealthy men. However, there are plenty of members who are also looking for more than just a Sugar Daddy arrangement, making it easy to seek out a variety of relationship types on this dating website.
SugarDaddie.com is very user-friendly. Once you are on the main page, all of the features and functions are clearly visible so that you can learn how to navigate the site within minutes. With a lot of active members to choose from, it is not hard to start connecting with interesting people quickly.
---
SugarDaddie.com First Impressions
SugarDaddie.com is an active website. When you look at the main page, you can see who is online and a lot of people appear to be online during most times of the day. It is easy to move around the site, giving you the chance to find the function that you are looking for with ease.
This online dating site gives you matches so that you have some compatible members to start with. You can choose the type of agreement that you want to have, whether you are a Sugar Daddy or a Sugar Baby. This gives you some flexibility regarding the people you are meeting.
On this dating site, you can meet people throughout the Western world. There are millions of members, so no matter what your preferences are, there are plenty of people that you can interact with. Since this site has been around since 2002, it is established, so you can be confident that it will work as intended.
When I was writing this SugarDaddie.com review, I noticed that it is very easy to get started on the site. You only need about three minutes to fill out the initial information. They only ask for some basic information, and once you are on the site, you can opt to upgrade your membership.
---
SugarDaddie.com Design and Functionality
As soon as you are registered on this site, you have access to a sizable list of members. You can also see the different functions that are available on the site. This lets you start immediately perusing potential matches and the features on the site.
SugarDaddie.com keeps the layout simple and the color scheme is pleasant. This allows you to browse for hours without eye strain or getting lost when you are looking to do things on the site.
Signing Up
It takes less than five minutes to get started on this site. You can go through the registration process for free so that you can start looking at the website before you decide to upgrade to a paid subscription.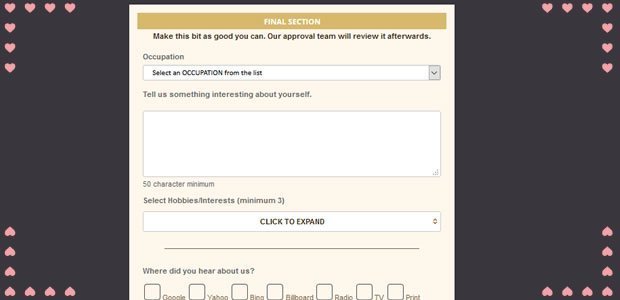 When you are going through the registration process, you are asked to provide the site with some basic information about yourself. It is important that all questions are answered thoroughly. If you do not fully answer all questions, the site might flag you as a fake profile and remove you.
When you upload your first photo on the site, you will need to wait for it to be reviewed. This generally does not take too long. This SugarDaddie.com feature is a good thing because it will ensure that people's primary profile follows all of the site guidelines.
After inputting your email when you register for SugarDaddie.com, you are asked to verify it. This allows them to weed out people who might not be legitimate trying to join the website.
You are not immediately asked to upgrade your profile. However, once you start moving around SugarDaddie.com, there are some pop ups that occur that ask you if you want to make the upgrade.
Searching and Communication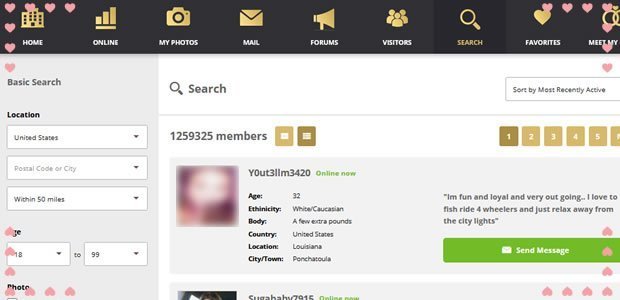 The fastest way to find new members to talk to on SugarDaddie.com is to use the matches that they provide you with. These are provided to you based on the information on your profile and what you say when you are registering for the site. Because of this, it is very important that you are honest when supplying this site with information about yourself.
You can search SugarDaddie.com profiles for free, allowing you to get to see if there are any members that are interesting to you before you opt to upgrade your membership. There is also the potential to look at profile lists to find matching members.
When you are searching for photos, you can use different filters to narrow down the search results that you get. This helps to ensure that you are able to get profiles in the results that are likely the type of person that you want to interact with.
To talk to other people on SugarDaddie.com, you can send them a message. They also have an instant messenger feature that you can use. If you want to really connect with people and be able to communicate without any obstacles, you need to have a paid membership on this site.
SugarDaddie.com is geared toward people who are okay with paying for a dating site membership. However, if people are willing to pay for a membership, there is a good chance that they are a real person who is on the site because they really want to find a meaningful agreement, so this can be a good thing.
---
SugarDaddie.com Features Overview
SugarDaddie.com is a relatively simple site, but there are some features that you can take advantage of when you have a paid membership. These can help you to interact more on the site and meet new people easier.
Member Forums
This sugar daddy website promotes more intimate conversations with members on this site. However, you can also talk in a more casual sense if you want to head over to the site's forums. This is where you can talk about a wide array of topics with other users on this site.
You will find a wide range of topics, from those associated with dating to those about things that happen in everyday life, such as work or even cars and vacations. When you are a premium SugarDaddie.com member, you can use this feature to answer pre-existing forum posts or you have the opportunity to start your own conversations.
Instant Messenger
Live chatting is an easy way to really get to know someone on SugarDaddie.com. Someone's answers when you are chatting actively can often tell you more about them compared to when they answer your questions in an email.
This SugarDaddie.com feature is very easy to use. Just use text-based chatting methods to communicate like a type of instant messenger. You might consider using this method of communication after sending a few messages to a member and getting to know them first.
Profile Score
A high-quality profile is important for making sure that you are getting the most out of this website. You want to ensure that you fill out your profile as thoroughly as possible. SugarDaddie.com has a quality score that will help you to determine how good your profile is. Use this as a gauge to see if you need to add or upgrade your information to make it stronger.
There are eight categories that make up your profile score on SugarDaddie.com. To get the highest score, you need to be a premium member since this will give you access to all of the functions that let you improve your score. Your profile score gets higher with everything that you do when you are on this site.
Matches
SugarDaddie.com provides you with matches so that you can quickly evaluate the members on the site to see how many people are a viable option for you. When you look at your matches, you can quickly narrow down the choices by clicking "yes" or "no" to them.
---
How Popular Is SugarDaddie.com?
SugarDaddie.com has more than five million members from countries throughout the world. The majority of users are from the US, UK, Canada, and Australia. Every day, approximately 2,500 people log in to the site, so it is relatively active. In most cases, once you send a message, you get a response within a day or two.
There are a lot more women on this site than men, giving men a chance to pick Sugar Babies that they have the most in common with. On this dating website, about 30 percent of the members are men while the other approximately 70 percent of them are women.
The women on SugarDaddie.com are mostly in their early 20s, but there are some who are in their 30s too, so the Sugar Daddies can choose the age group that they are most wanting to meet. When it comes to men, the biggest age group is 35 to 55. All of the men have to input their income information, so you can see that the men on this site generally make at least six figures a year, but many of them are millionaires, so Sugar Babies have options regarding the income level that they prefer.
---
Safety
SugarDaddie.com takes the safety of its users seriously. They have an anti-scam system that helps to ensure that the majority of profiles on this site are legitimate. For example, if you do not fill out your profile thoroughly, they have the right to remove you from the site. The site tells you that you should be answering the questions thoroughly to prevent issues with your profile being removed for being suspected fake.
This website also monitors profiles and user activity on the site. If someone is acting suspiciously, they have the right to ban them from the website. They also ensure that your main photo is a real photo since it has to go through a verification process before it is live for other members to see. This means that you can be confident that the pictures that you are looking at are real pictures.
---
Customer Service
To find the help section and other SugarDaddie.com customer service features, you can look at the blog or head to the help section once you are logged into the website. You can check out the forums and blogs for some information about how to get help on this site.
However, the easiest way to get help from support is to call them on the phone. They list phone numbers for members in the US, Canada, UK and Australia. All you have to do is pick the number of your home country and call them during their business hours.
The customer service agents appear to be quite knowledgeable about the site and the various elements. They usually answer fast, allowing you to spend as little time on hold as possible. You get thorough answers and the calls tend to take only a few minutes in most cases.
---
How Much Does SugarDaddie.com Cost?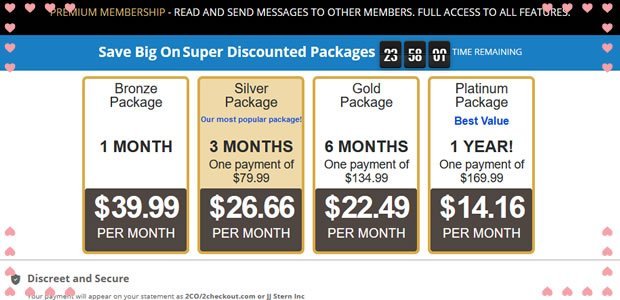 This site does not require that you pay for a subscription immediately when you sign up on the website. Because of this, you are able to start exploring some of the features and functions for free. It is possible to stay a free member if this is what you prefer. As a free member, you can do the following:
Read the messages that you receive
Add photos
Add favorites
Search members
Look at member pictures
If you want to interact with members, you will have to have a paid subscription on this site. With an upgrade, you can use all of the communication and interaction features, including the instant messenger, messaging system, and the website's forum. You can also do things like use the quality score feature to ensure that your profile is adequate.
When you have a paid subscription, you can use all of the site's features. This site offers four options, depending on how long of a membership you want to commit to. The payment options include:
Sign up for 12 months at a time for a one-time fee that you pay in full of $169.99. This costs you $14.16 a month.
Sign up for six months at a time for a one-time fee that you pay in full of $134.99. This costs you $22.49 a month.
Sign up for three months at a time for a one-time fee that you pay in full of $79.99. This costs you $26.66 a month.
This site also gives you the opportunity to sign up as a paid member one month at a time for $39.99 a month.
When I completed this SugarDaddie.com review, all of the prices that are discussed here were accurate. However, this website may opt to change these in the future.
---
Site Pros And Cons
Pros
There is a large member base
Safety is a major priority
The website is easy to use
Cons
Free members are very limited in what they can do on the site
---
SugarDaddie.com Review Conclusion
SugarDaddie.com is a good place to meet Sugar Daddies or Sugar Babies. Since there are millions of members, there are compatible people for just about everyone looking for this type of arrangement. The site is active, so you are able to get responses from the members that you reach out to.
While communication options are limited, they are easy to use. You can seek out other members or check out your matches to get started with meeting people. This makes it easy to start connecting with and evaluating the members on SugarDaddie.com.
The SugarDaddie.com website is easy to use and provides enough features to connect with people. They also have different safety features to help keep you secure when you are using this site. Because of this, you can be confident that the people who you are meeting are legitimate and have the same intentions that you do.
Best of all, this site is number one on my list of best sugar daddy websites.
---
---