Matching System

Searching

Ease of Use

Popularity

Profile Quality

Customer Service

Cost
Comments Rating
( reviews)
Introduction
Is RussianCupid for You?
If you're deciding whether online dating is for you, we want to help you make that decision with our in-depth RussianCupid review. This article will cover the site's features, registration, profile setup, how to search, members' profiles, pros and cons, and our final review conclusion.
By the end of this review, you'll get a clearer understanding of this site will work for you and your efforts. We hope this content will give you the answers you're looking for.
Overview
What Is RussianCupid?
RussianCupid is an online dating website with over a million members, giving you a wide variety of people with whom you can connect. The main purpose of this site is to bring all Russian singles and non-Russian singles together.
Popularity
This Russian dating site has over 1.5 million members, making it quite large, especially since it's a niche dating website. Every week, there are about 50,000 active members. This ensures that it is easy to get responses from most members that you contact.
The US brings about 172,000 members, but most of the members are from Russia. Also, the genders make a difference regarding the country that members come from. Most of the men are from the US, where most of the women are from Russia. However, a large demographic of non-Russians want to pair up with a Russian person.
The website provides various search filters to look for more people that you have some things in common. Once you do connect, there are multiple ways to talk, such as live chat or via message. With detailed profiles, it is not difficult to assess whether someone is a good match for you.
First Impressions
When I was compiling this RussianCupid review, the fact that the site has over 1.5 million members stood out to me. You can find people from all over the world, giving you many opportunities to meet interesting people on this dating website.
This site offers a simple website that takes little time to learn how to navigate. After taking about one minute to register, you can get to the main page, where all of the elements and features are easy to find. This ensures that you do not waste any time looking for the features that you want to use.
This online dating site takes member privacy and security seriously. You only need to input your first name to use this website. They also have a variety of security features that you can take advantage of to ensure a secure experience on this website.
You can choose to use this dating website for free. You can do enough to get a good idea about what this site offers with a free membership. If you want to expand what you can do and access more features, you choose between two options.
Design and Functionality
The website utilizes simplicity in terms of its layout. It is straightforward to find the different elements you are looking for as they are on the main page. Once you are logged in, the primary member page lets you find all of the features you want to use.
Most things that you do on this dating site only require one or two clicks. Because of this, you can access each element within seconds. This allows you to interact with other members quickly and easily when you are on the site.
Registration
How Easy and Fast Is Sign-Up?
Getting Started
To open an account, you need to provide five types of basic information, including your email, age, and first name. Once you provide this, you get access to the website. If you want to make this even easier, you can use your Facebook account to log in.
As soon as you get to the main page, a popup asks you to add a picture of yourself. You do not have to add a photo right away, but the site encourages it. This is because members with a picture get a lot more attention on the site.
If you used Facebook to become a member, you can use the photos from your account and add them to this website. This can save you some time since you will not have to go through your files to find good pictures of yourself.
This dating site uses Thawte and McAfee Secure to ensure that all of the information you input during registration remains safe. These ensure that personal information is properly encrypted and stored.
Searching & Matching
Let's Make a Connection
The online dating website has different filters that you can use when searching for members on the site. If you have a paid membership, you can access several more of these filters compared to those with a free membership on this site. Use these to narrow down your matches to those you are most likely to have some things in common with.
The website will also give you some matches. This is a good way to get started with learning about the different features on the site. You can also use the matches as a type of jumping-off point to meet people and get acquainted with the different communication forms you can use.
Messaging other members is an easy way to start getting to know each other. Using this feature is very easy. Just choose a subject and then type out your message. You will need to pick from one of the subjects that the site has created as this field is unable to be edited.
If you want to see if someone is interested in you before you send them a longer message, you can send them an interest. This feature is available to members of all levels on this site. It basically tells someone that you want to talk to them and know if they feel the same way.
Member Profiles
Real or Fake?
Overview
RussianCupid lets you develop a very comprehensive profile on the website. This ensures that people can see what you want and who you are before contacting you and vice versa. On profiles, you can also see the type of relationship a person is looking for.
When you look at a profile of a member that interests you, check the sidebar. Here you will find other members that you might be a potential match. You can use the table on each profile to get some basic information about education, drinking, and other match criteria.
You can put multiple photos on the website, and the more photos you have, the better. Even with a free profile, you have the ability to upload up to five of them. The site allows you to create an album of your pictures when you have a paid subscription.
Once you fill out your profile, you can make changes to it when changes happen. It is also possible to swap out your photos to ensure that the site's ones are always current. All membership types can do these activities.
Fake Profiles?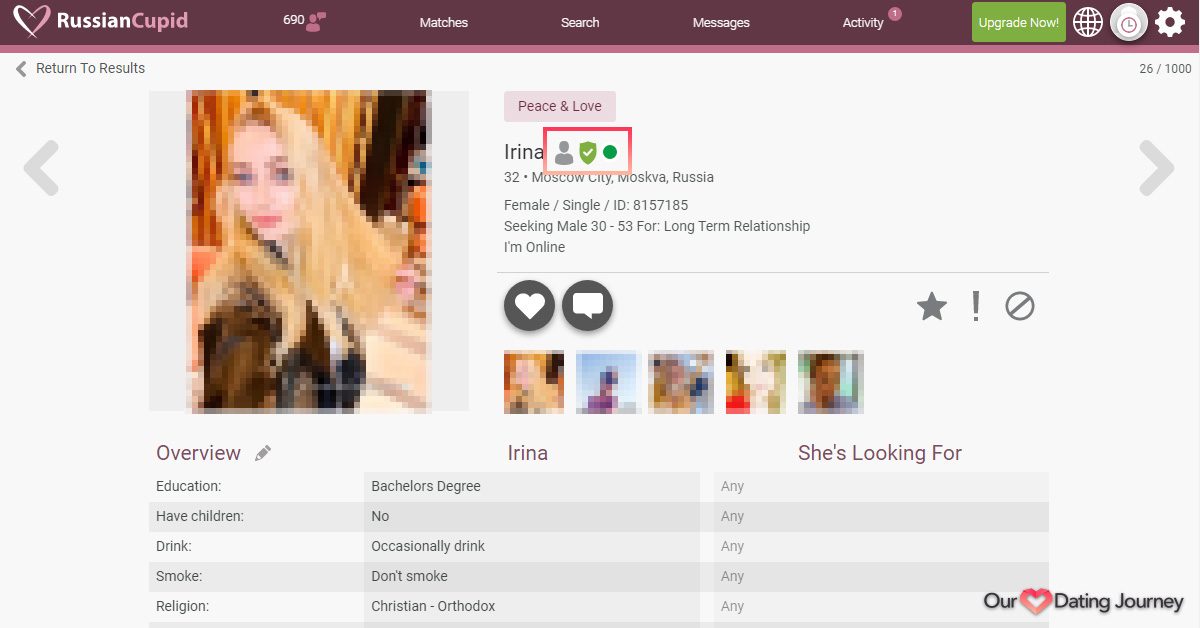 That's a tough call. About one out of every five members are verified, and that's the only reasonable way to verify if a member is real or not. Plus, if they fill out most of their profile information, which many do not, and if they have several photos, that can be another factor to determine if they are real. Also, if the member has viewed your profile as well.
We've messaged several members on the site and cannot receive a message back because they have a standard account.
Features
What Kind of Tools Does The Site Offer?
Different features on this site can help you get more out of the site. You will need to upgrade your membership to either a gold or platinum subscription to use some of these.
Better Profile Visibility
In the search results, those with a premium membership will rank better. You automatically get a better ranking simply by having a paid subscription on this website.
There is also a VIP highlighting feature that you can use when you have a platinum membership. When you utilize this feature, it highlights your profile in the search results to be more visible to those looking at the results.
The App
The RussianCupid app has been installed on more than 50,000 mobile devices. You can download it if you have an Android device. It is free to download onto your mobile device.
The design of the app is solid. Its features are not pushed onto a single page so that everything looks neat and organized. Use the features that you enjoy on the website via the app. Do things like sending and responding to messages, checking out your matches, and even performing searches to find new people to talk to on this site.
Instant Messenger
RussianCupid has a free instant messenger system that you can use, but the recipient cannot read the message unless they upgrade their account. This is a good choice if you have a premium account and can send unlimited messages actively in a conversation with another member on the website. You still maintain your privacy when you use this feature, so it can act as a replacement for talking to each other on the phone.
Message Translation
Since it has members worldwide, there will be members that you are unable to communicate with due to differences in your native languages. However, if you have a paid subscription, you can read profiles and messages after translating them into your language.
Customer Service
How Good Is RussianCupid's Staff?
If you need to get some help, you have multiple options. You can read up on common questions and concerns that people have on this website's help page. In some cases, this will be all that you need to answer your questions.
After this, if you still need some help from the support staff, you can give them a call Monday through Friday. The agents are knowledgeable and able to help with any issue you might have, whether you are a paid or a free member. According to the Queensland, Australia time zone, make sure to choose the proper number for your country and call during their business hours.
Another help option is via a help ticket. You can access this via a tab on the help page. Just fill out the small sections, and you usually get a response within a couple of days.
RussianCupid allows you to send them to fax if needed. This is an option when you want to verify your account because it lets you send your ID photocopy over fast. The last option is sending them postal mail. Their mailing address is on their contact us page.
Safety and Security
How Do They Protect Its Members?
Block or Report Users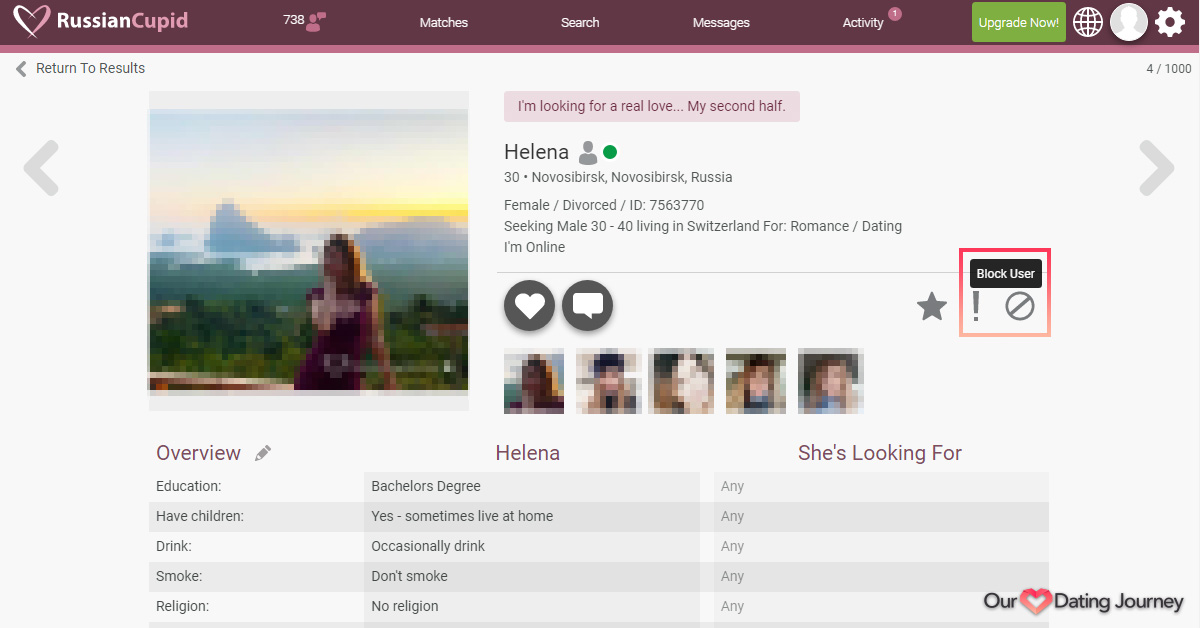 RussianCupid offers some options to help to keep yourself safe when you are using this website. The first is the ability to report profiles. This site will quickly take a look and remove those that violate the guidelines. Another option is to block members so that they can no longer contact you on the site.
Verify Profile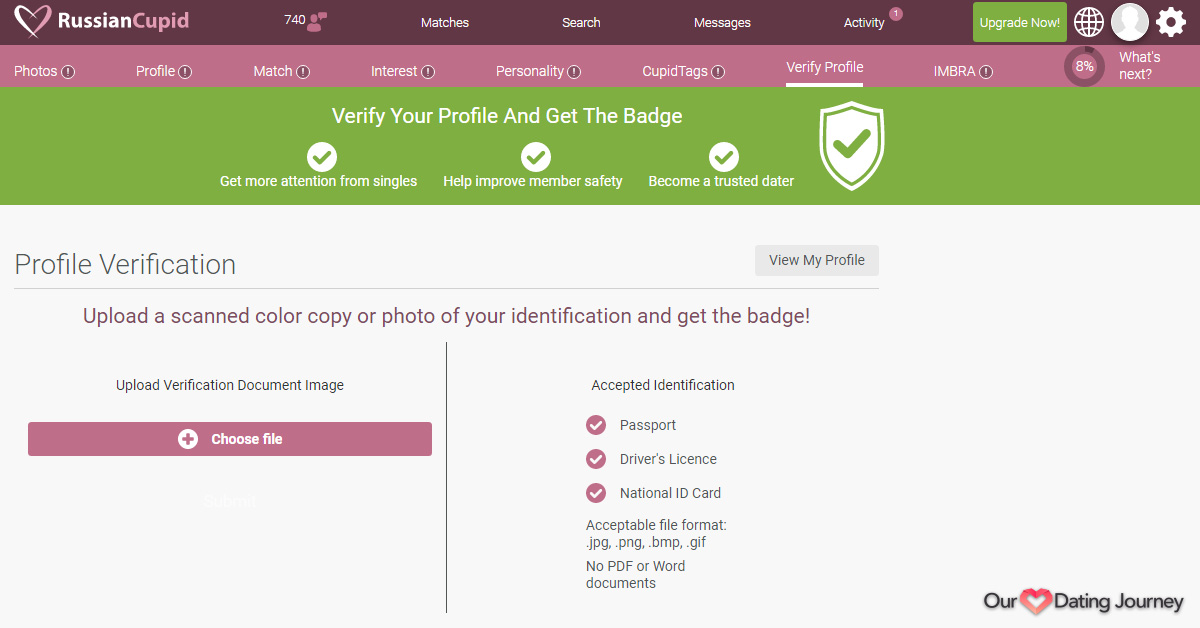 You can also help other people feel safe on RussianCupid by getting your profile verified. After verification, you get a badge on your profile to show that you went through the process. When other members look at your profile, they will know that you are a legitimate person.
Cost of RussianCupid
What's the Cost?
This Russian dating site lets you use the website for free. While you cannot take advantage of all of the features, there are still quite a few things that you can do. When you have a free membership on this website, you can access the following:
You are allowed to get your profile created
Look at the basic matching features and use them
Talk to people who have a paid membership
Check out the photos that other members put on their profile
Send interest to other users
The site gives people a lot more features to take advantage of when they get a paid subscription. The following are popular premium features:
Talk to all of the site's members
Hide your profile
Avoid advertisements on the site
Get better ranking in search results
Use the VIP profile highlighting feature
Engage in active chats using the instant messenger
Check out other profiles anonymously
Enjoy more space on your profile
Get more filters to search for compatible matches
Read your messages and other member profiles in your native language
The Gold Plan
The gold membership provides the following cost options:
For 12 months, the cost is $11.67 USD per month with a one time payment of $139.99 USD.
For 3 months, the cost is $23.33 USD per month with a one payment of $69.98 USD
For monthly, the cost is $34.99 USD
The Platinum Plan
The platinum membership provides the following cost options:
For 12 months, the cost is $13.33 USD per month with a one time payment of $159.99 USD.
For 3 months, the cost is $26.66 USD per month with a one payment of $79.98 USD
For monthly, the cost is $39.99 USD
All subscriptions are set to renew automatically on this site. When I completed this RussianCupid review, all of this cost information was accurate, but there is a possibility that it will change in the future.
Pros and Cons
Is This Site Favorable or Not?
Positive
You can translate messages
Easy to use and navigate website
The site has multiple safety features
A big pool of members
Negatives
Messaging isn't free for non-members
Most members are not verified
Review Conclusion
Is It Worth a Try?
There is a lot of diversity with the large user base on RussianCupid. No matter what type of partner you are looking for, there is a solid chance that you can find them on this website.
The only gripe we have with this online dating site is that you must subscribe to message its members. Most dating websites have this kind of wall, but it's nice to create a profile and browse potential matches.
The site has several ways to meet and match with members. Check out your matches or perform a search on your own to meet as many people as possible. As you find interesting people, you can reach out to them in a multitude of ways. This helps to ensure that you have options regarding how you get to know someone on RussianCupid.
Yes, it's worth a try since it's free. This site is definitely not a dating scam. They are owned by Cupid Media which has a good reputation for providing great dating platforms. I like this site so much it made it to my list of best Russian dating sites.
---


RussianCupid Review January 2022 (Is This A Russian Dating Scam?)