Is Jdate A Good Place To Find A Jewish Match?
Matching System

Searching

Ease of Use

Popularity

Profile Quality

Customer Service

Cost
Comments Rating
( reviews)
The Jewish faith is one that can be strong. Because of this, it is common for Jewish people to want to date others who share their faith. Jdate is a Jewish dating website that is focused on dating in the Jewish community. This Jdate review will help you explore the website to determine if it meets all of your needs.
Learning more about the JDate website will give you some insight into whether it will help you to meet people who you match with. See what real people have experienced on the JDate website to make your decision.
Popularity
JDate has been around since 1997 with claims of having over 250,000 members. It has the biggest network of Jewish singles in the world. Not all members are of the Jewish faith, but the majority are.
Several big names throughout the United States have used JDate at some point to find possible matches that share the Jewish faith. Examples include US politicians Brad Sherman and Steve Rothman and musician Jesse McCartney.
JDate members span throughout the world, with the majority in Israel and the United States.
This website offers access in multiple different languages. These include:
English
Spanish
Hebrew
German
French
JDate says that they get an average of 15,000 new members every month. You can use the website for everything from meeting new friends to looking for a life partner.
Approximately 180,000 people visit JDate every month. Most active members are ages 35 to 49 and female. Overall, about one million people registered on this website.
First Impression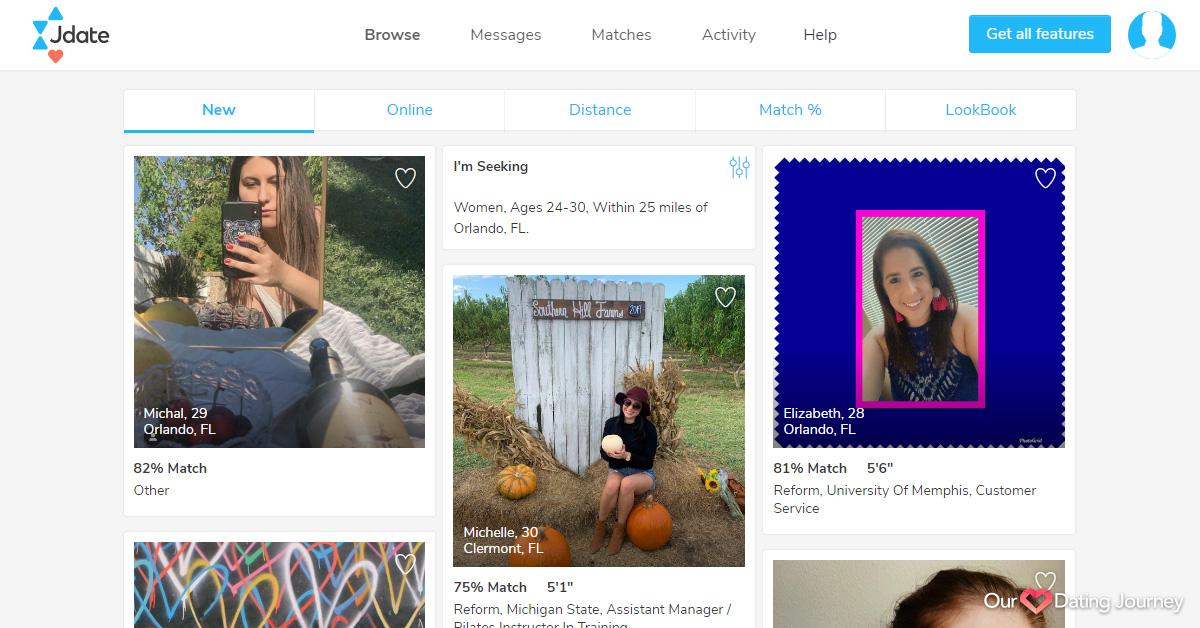 JDate is one of the oldest websites on the internet for matchmaking. Getting started and setting up your profile is easy and only takes a few minutes. This Jewish dating site has thousands of members distributed throughout the country, so several people are always close by who you could match with.
Various functions make finding potential matches easy. You can choose the Secret Admirer function if you are short on time and want to explore possible matches quickly. These functions are also a reprieve from exploring My Matches when you want to try something new.
The males and females on the site have relatively equal distribution. This helps to increase your odds of meeting a possible match on JDate.
Design & Functionality
This website is relatively easy to navigate. It has a variety of functions that help you along the way. The design is up-to-date and the menu navigation is clear where the links will go to.
Registration
How's The Sign-up Process?
The JDate website is relatively easy to use and doesn't require a lot of time to create an account. It only takes a few minutes to get started on the website. You can sign up using your Facebook account or an email address. The second step asks for some general information, including your name, address, birth date, gender, and the gender you are seeking. After account creation, you'll be able to access your free account and start browsing profiles quickly.
Success Rates
JDate states that of Jewish internet users who found love and marriage online they are responsible for about 52 percent of those marriages. The President of Match.com says that he used JDate to meet someone.
Your JDate Profile
You have to upload a minimum of one picture to have an active profile on JDate. Your primary image has to be a headshot that measures at least 375 by 375 pixels. The headshot cannot contain any offensive, copyrighted, or suggestive content. Once you upload your photo, you have to wait for the administrator to approve it before your profile becomes active.
They recommend uploading multiple photos to increase your interaction with other members on the website. You should also fill out your profile. Profiles contain a variety of information, such as:
If you have children or want them in the future
Your education level
Your career
Listing your favorite pastimes
Sharing your favorite sports, entertainment, music, activities, travel, and food
You are free to fill out this part of your profile as thoroughly as you want. However, JDate requires that you set your match preferences. This information helps them to send you people with who you may have some chemistry and common interests.
The match preferences section includes information regarding distance, relationship type, age, and religion. By filling this out honestly, it allows your matches to meet your preferences better.
Once you finish your profile, you have to wait for its profile review before it is live on the website. The customer care team does this to reduce the risk of unsavory people getting onto the website.
Features
What Kind of Site Features Does It Have?
This website is rich in features, giving you a lot of versatility when it comes to meeting viable matches. You can use the website online, via your smartphone or you can attend in-person events to expand the pool of people who you can meet.
Matches
This website provides new matches on a regular basis. Because of this, if your current crop of matches is not ideal, you will have new ones coming that you can further explore.
You can also look outside of your matches to find someone new. The website has a good search feature that allows you to narrow down your choices.
In this area, the website has a match percentage. The higher the percentage, the greater the match between the two of you.
Messages
With a paid membership, you can send and receive messages from other members. You can also choose to send a Flirt to someone that you want to initiate a conversation.
Activity
In this section, you can see a variety of things that have happened since you last checked the website. For example, check out your likes so that you can keep track of the people you want to interact with. This section also shows you how many people you have viewed and who they are.
The Activity area shows who has viewed your profile so that you can see who may be interested in talking with you. This section also shows you Mutual Likes to expand on the people you may want to meet.
Profile Tracking
You can see who has viewed your profile with this feature. The information provided includes if they are currently online and the last time they looked at your profile.
Events
If you want to take your attempt to meet someone special offline, this website offers in-person events in different places throughout the year. You can get the information about each event on the website.
These meetups are generally casual and in a group setting. They take place at a variety of venues, such as bars and restaurants. There are people there that are associated with the website to help ensure the safety of all people who attend.
JLife
This part of the website is an online magazine. Here you can read articles and information related to Jewish dating and marriages.
They often list success stories so that you can see how two people used this website to start making a long-term collection. You can use the information in these stories to make changes to how you approach using this website.
Here you will also find dating tips and advice. For example, some of the information centers around how to be safe when you engage in online dating. There is other information about choosing a site for your first date and what to do if there is chemistry after you meet someone in person.
Some of the articles are written by bloggers and others by experts. They clearly display where the information is coming from so that you can vet its reliability.
The App
The JDate app does not have all of the same features as the website, but the interface is easy to use. You can browse profiles, make tweaks to your own profile and check your matches.
The app is available on Android and iOS. You do not have to do a lot of swiping or tapping to navigate the apps on either platform.
Safety & Security
I'm I Protected?
The website puts a lot of emphasis on the safety of its members. This begins with screening photos and profiles to make sure that every person signing up has good intentions for joining the website.
You have the option to block people if you feel uncomfortable after interacting with them. There is also the option to flag a profile that appears suspicious.
All contact and financial information are encrypted on the website to reduce the risk of anyone getting access to your sensitive data. You cannot post any email addresses, phone numbers, or outside links on your profile to further protect you.
You will pick a display name for an additional layer of privacy. No one will know your name unless you feel comfortable sharing it with them. JDate also has a section on the website that includes a variety of safety tips so that you can protect yourself when you are ready to start meeting people from the website in person.
Customer Service
How Dependable Is the Support?
You can contact this website via email or by calling them. Many other JDate reviews are mixed regarding how effective the customer service personnel for this website are.
When I compiled this JDate review, most people feel that they were at least adequate in answering their questions and providing help with their concerns. However, some people state that they were not satisfied with the support they received from this website's customer service team.
Contacting them via telephone seems to be the easiest way to respond to questions and other inquiries. They appear responsive to emails, but it can sometimes take a few days to respond, especially if you contact their support team on holiday or the weekend.
The customer service team is especially responsive when it comes to matters of safety. They appear to put these concerns and questions above all else. This is a good thing because it means that the website takes the safety of its members seriously.
Cost of JDate
What Are the Membership Options?
The website offers a free account with limited functionality. With a JDate free account, you can feel how the website works and start exploring people you match with. If you want to increase your communication capabilities, there are three different payment plans to consider:
For 6 months, the cost is $29.99 per month with a one time payment of $179.94
For 3 months, the cost is $44.99 per month with a one payment of $134.97
For monthly, the cost is $59.99
These prices were accurate when I wrote this JDate review but they can change at any time.
Pros and Cons
Exploring the Advantages Versus the Disadvantages
Positive
Focused on Jewish singles
Largest network of Jewish singles
Large percentage of Jewish singles met and married from using this site
Easy to use and navigate
Long track record
Negatives
Can't message members with free membership
Review Conclusion
Is JDate Worth Your Time?
There is a lot of information here but take your time going through it. This will help you to determine if this website meets your needs. When you choose the right website, your chances of meeting possible matches will increase.
JDate is a website that has been around for more than 20 years. It has a good reputation for helping Jewish singles to meet their match throughout the world. Overall, it has a multitude of functions, and the profiles are extensive.
If you are trying to find someone to spend your life with or simply seek some new friends, you can use JDate for these purposes. There are several payment options, too, allowing you to control how much you spend to access the website.
I give JDate my full recommendation as one of the best Jewish dating sites.
---

Jdate Review – Can You Find Your Jewish Match Using Jdate?