Matching System

Searching

Ease of Use

Popularity

Profile Quality

Customer Service

Cost
Indonesian Cupid was created to bring Indonesian people and those from other areas of the world together. If you want to meet people of Indonesian descent, this site has a large member base that makes this easy. Even with a free profile, you can browse other profiles and photos to get an idea about the member base on this site.
IndonesianCupid.com allows for easy searching and communication. This ensures that you can easily explore the other users to find those that you might want to talk to. There are also safety features on this site to ensure that you have a positive experience.
---
Indonesian Cupid First Impression
IndonesianCupid.com has a very large member base. While the focus is on creating an environment for Western people and Asian people to meet, the member pool is incredibly diverse. Because of this, you can meet compatible people from a wide array of backgrounds. (Read the guide to long-distance dating)
Most of the focus on this site is long-term relationships that could possibly result in marriage. However, since there are so many members, there are those who are seeking friendship and more casual dating arrangements too.
The overall design of Indonesian Cupid is very simple. Everything is front and center, allowing you to quickly locate any feature that you want to start using. With a paid subscription, you get full access to all of the site's features. You can also access some of the basic features when you choose a free membership.
There are several search criteria options on Indonesian Cupid so that it is faster and easier to get the results narrowed down to those who you have some compatibility with. Once you do find someone who interests you, use the various communication features to reach out and strike up a conversation. This site makes it easy to interact with a variety of people so that you have a greater chance of meeting someone special.
---
Design and Functionality Of Indonesian Cupid
Indonesian Cupid uses simplicity regarding the overall layout of this website. Because of this, navigation is easy. It will only take you about an hour to explore the site and see the features that it has to offer.
Signing Up
When you sign up on this site, you have a choice between email and Facebook. If you choose to use your email address, you will input a few extra bits of information, including your first name and your gender.
Should you use Facebook to sign up for Indonesian Cupid, a lot of the information is imported so that you do not have to input it yourself. This includes taking the picture that you use as your profile photo on Facebook and putting it on this website. You can choose to switch it out for another photo if there is another one that you would rather use.
Once registration is complete, it is time to start filling out your profile. You can do this no matter your subscription status. However, if you have a paid membership on Indonesian Cupid, you will get additional space so that you can provide more information about yourself and the type of mate that you are seeking.
Contact and Communication
Indonesian Cupid offers a variety of options regarding how you find members that you want to talk to. One of the simplest ways is to perform a search. You have access to the basic search features when you are a free member. If you choose to buy a subscription, you expand upon what you can do to narrow down the search results.
If you are a free member, you can only initiate contact with people who have a paid subscription to Indonesian Cupid. Paid members are free to contact any person on this website.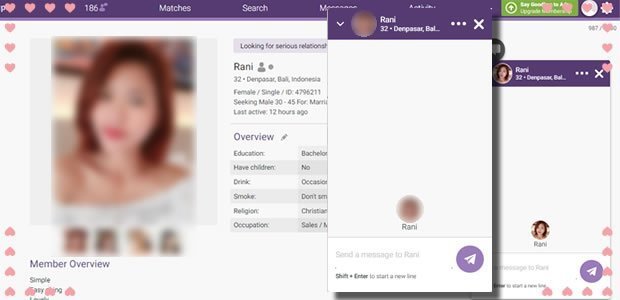 The messaging system allows you to send text-based messages to other members. This system does not allow for video or audio. It is easy to send a message on this site. When you find someone who you are interested in, you just click on the message button and fill out the necessary fields.
There is also an option to show interest to other members on Indonesian Cupid. While I wrote this Indonesian Cupid review, I learned that this is a communication feature that you can use with both a paid and a free membership.
Profiles
All people on this dating site can check out the pictures and profiles of other members. They have a lot of details, making it easy to see if someone is a good fit for you after you read the information that they provide. This can make it easier to determine if this is a good site for you before you opt for a paid membership.
All of the pictures that you upload on Indonesian Cupid need to be reviewed by the site. Because of this, all of the ones that you see are guaranteed to meet all of the picture guidelines.
When you fill out your profile, Indonesian Cupid encourages you to be as thorough as possible. Since they allow you to edit it at any time, you can always ensure that you are providing the most updated information about your ideal mate and who you are.
You also have the option to change your photos on this website. This ensures that all of your pictures on Indonesian Cupid are current so that people can be aware of what you look like every time they explore your profile on the site.
---
Indonesian Cupid List Of Features
This dating site provides different features that allow you to interact with other members in a variety of ways. Some features make using this site more convenient.
Indonesian Cupid App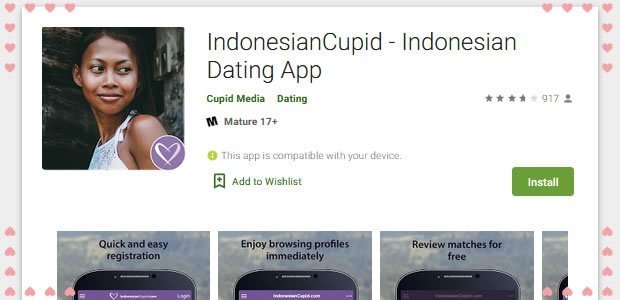 If you have an Android phone, you can head to the Google Play store and download the app for free. It is not available if you have a Windows or iOS mobile device.
This app has a basic interface where the layout is similar to what you see on the website. It is easy to use and allows you to use all of your favorite features from the desktop site.
The homepage on the Indonesian Cupid app is your match suggestions, so these are front and center. When you open the app, you can immediately start looking at profiles so that you can decide if you want to message any of the people on your match list.
The same communication features that you use on the desktop site are available on the mobile app. This allows you to keep communicating with the people you normally talk to even when you do not have access to your computer.
Translate Your Messages
This website is international, and the members are located all over the world. Since this means that not all members will speak the same language, Indonesian Cupid offers translation for your message. If you want to use this feature, you will need to invest in a paid subscription.
Stay Anonymous
When you are browsing Indonesian Cupid profiles, you can opt to do this anonymously. This feature is helpful if you do not want to attract attention to yourself. You will have more control because other members will only know if you are interested in them if you choose to reach out and send them a message or interest.
---
The Popularity Of Indonesian Cupid
Indonesian Cupid is a big website with more than one million members located in a wide variety of countries throughout the world. In the US alone, there are about 170,000 members. On a weekly basis, you can expect approximately 40,000 members to be active, ensuring that this site always has someone for you to talk to.
This site is made up of about 70 percent men and 30 percent women. Most of the members on this site are age 20 to 45, so it is geared toward a younger crowd. However, there are older members on this website too.
Most Indonesian Cupid members join this website to find a partner for a serious relationship. The profiles often provide information about who is looking for a long-term relationship so that it is easy to find members looking for the same type of partnership.
There are more women from Indonesia than men. This makes Indonesian Cupid an ideal website for men who are looking for Indonesian women to talk to.
---
Customer Service
Indonesian Cupid provides you with a variety of ways to get into contact with them when you need some help. The simplest way is to look at their questions and answers in the help section. These were written to provide assistance with the issues that people most commonly have when they are using this site.
The next option is to contact Indonesian Cupid via phone. Overall, the calls are answered fast so that you are not waiting for hours just to connect with a customer service representative. According to Queensland, Australia time, you can get assistance via phone Monday through Friday.
There is a postal mail address and a fax number that you can use to send in documents. This is an option for things like sending in what is needed to verify your profile. They work to answer queries sent in these ways as quickly as possible, but postal mail could take a few weeks.
---
Safety and Security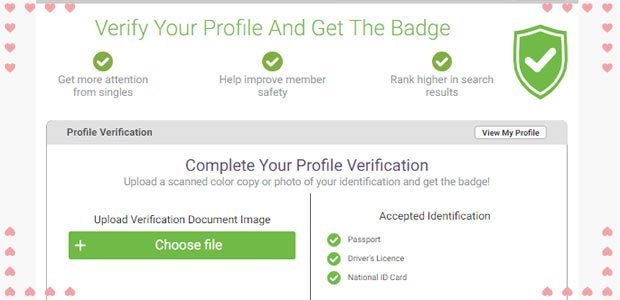 Indonesian Cupid takes the safety of its members very seriously. You can choose to get your profile verified by the site. To do this, you have to prove your identity by sending them a copy of your valid government ID, such as your driver's license.
Once you are a verified member on Indonesian Cupid, this will show on your profile. As other members find your profile in the search results, they will be aware that you are who you claim to be.
Indonesian Cupid will perform checks on accounts on occasion. This helps them to remove those that are fake. All profiles can also be reported if you think that one is not authentic. If the website agrees with you, they will promptly remove the profile. Because of this, this site is known for keeping fake profiles to a minimum.
You can also block members on this website. This stops them from contacting you any further.
---
Indonesian Cupid Cost
You can stick with a free profile on this site and still take advantage of some of the site's basic features. This is a good choice if you want to test the website before committing to it. When you have a free membership, you have access to basic matching. It also allows you to talk to members who have paid and send interests to other people.
If you want to expand on what you can do as a member, you will need to purchase a platinum or gold membership. When you do this, you can use a variety of other features, such as browsing other profiles anonymously, talking to all members, highlighting your profile and hiding your profile.
Gold Option
The first option is a gold membership which has the following payment options:
Pay $99.98 upfront to have 12 months of access to the site.
Pay $49.99 upfront for three months of access to the site.
Pay one month at a time for $24.98 monthly.
Platinum Option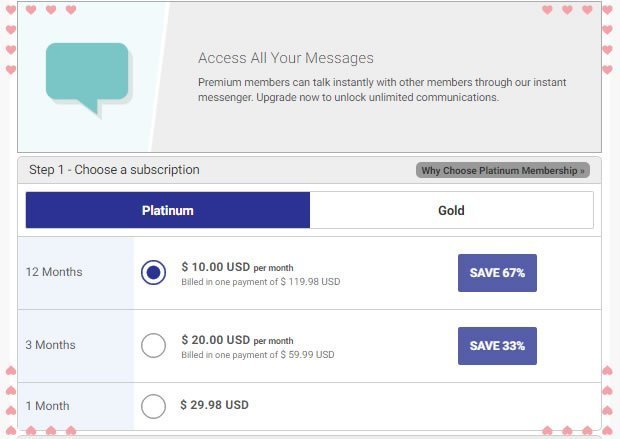 The second option is a platinum membership which has the following payment options:
Pay $119.98 upfront to have 12 months of access to the site.
Pay $59.99 upfront for three months of access to the site.
Pay one month at a time for $29.98 monthly.
While I was writing this Indonesian Cupid review, all of these prices were accurate, but they could change in the future.
---
Site Pros And Cons
IndonesianCupid.com has some pros and cons that can help you get to know the site better. Looking at this type of information about Indonesian Cupid will make it easier to discern if it is the proper dating site for you.
Pros
This website has a lot of members
Its layout is simple so that you can quickly navigate and find the features that you are looking for
This is not a new website, so it has had time to develop a good reputation
The website has a diverse member profile
Searching for those with who you have things in common is easy
Every week, more than 40,000 people are active, allowing you to easily find people to talk to when you log in to the website
Cons
There could be more communication features to further enhance how you talk to people
---
Indonesian Cupid Review Conclusion
Indonesian Cupid is relatively active on a daily basis. You can choose from a few ways to communicate with other members. Use the search features to find other users that you have some things in common.
This is a diverse website and there are over a million members. Because of this, it is easy to find people that you want to talk to and learn more about. This helps to expand your chances of finding a long-term partner.
IndonesianCupid.com is easy to use. The design of this website keeps things simple so that you can easily find the different elements that you are looking for. There are several features, especially for paid members, that help you to engage with people in the best ways possible.
Overall, I love this site. It has great features, a good pool of over 1 million members, is easy to use, and the price is good. This is one of the reasons I added this site to my list of top Asian dating sites you can see here.
---
---