Matching System

Searching

Ease of Use

Popularity

Profile Quality

Customer Service

Cost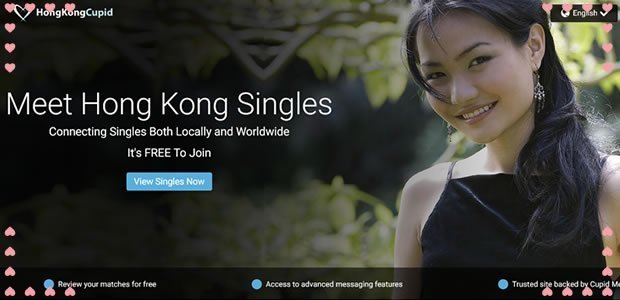 Hong Kong Cupid is focused on helping Asian women and Western men come together. This dating site focuses on a niche, making it easier to connect people with specific preferences. Due to features like translation, it is simple to talk to people of different languages without anything you want to say getting lost in translation.
HongKongCupid.com keeps it simple regarding the layout and navigation. Because of this, you can quickly locate the features that you want to use on the website. With a paid membership you get full access, but it is possible to evaluate this site as a free member.
---
First Impression Of The Hong Kong Cupid Site
While researching for this Hong Kong Cupid review, I noticed that getting started is very easy. You can get registered and onto the website in under a minute. From here, you are free to explore a variety of features and the layout. The layout on HongKongCupid.com is minimalistic and simple, so you can learn how to find everything within a couple of minutes.
HongKongCupid.com gives you several options for communicating, making it easy to make contact with the members you find interesting. You can do everything from sending a simple interest to chat with people live.
Despite the simplicity of this site, the profiles tell you a lot about the members on the website. You can learn everything from the personality traits of people who interest you to what they are seeking in potential romantic partners.
This dating site puts a lot of focus on promoting long-term relationships. It appears that most members do join to seek out people who could be potential partners for marriage. With an international presence, you can search for partners all over the world from this site.
---
Hong Kong Cupid Design and Functionality
HongKongCupid.com provides a simple interface. It will not take more than a few minutes to locate all of the site's features and other elements. All you have to do is register for a free account to see the features that this site has to offer.
Signing Up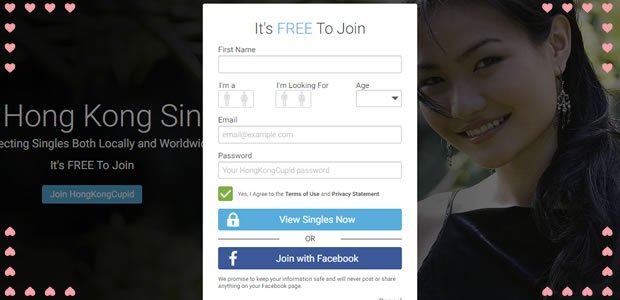 You can get started on this site in about one minute. They give you the option to register using your Facebook account, or you can input an email address. You only need to input some basic information to register.
Once you are registered and on the site, you can start filling out your profile. Even with a free account, you can do all of this. When you upload pictures, you can expect it to take about 12 hours for them to be live. This is because HongKongCupid.com has to review all photos to ensure that they adhere to all related guidelines.
Once you fill out your profile information, you can make edits to it at any point. This is important because it allows you to alter the information as things in your life change. You also have a chance to upload and change pictures in the future if you choose.
Engaging with Other Users
To access all of the search and communication features on HongKongCupid.com, you will need a paid membership. However, free members can talk to paid members. They can also perform some searches to check out the members on this website.
Messaging other members via live chat is the primary way to communicate. This makes it possible to have a live conversation with someone without either of you need to exchange your private phone numbers. The instant messenger feature allows for video and text so that you have some flexibility with how you carry out a conversation.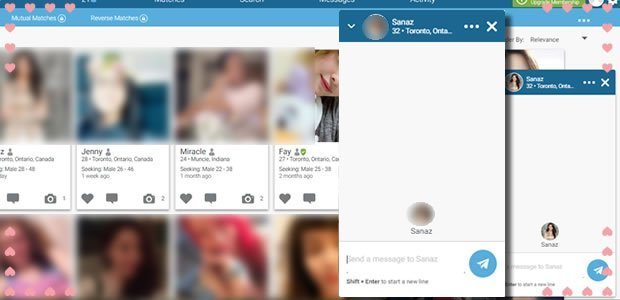 While writing this Hong Kong Cupid review, I learn that you can also use the chatroom on this website. This is a good way to talk to multiple people at the same time. The atmosphere is casual, letting you simply get to engage in conversation without a clear goal. Use this as a way to further explore other members that you might want to have more intimate conversations in the future.
This site has different search criteria that you can use to get results that show people who might be interesting in you. With a free profile, your search options are limited, but you can still access possible matches this way. When you have a premium membership, there are several ways to narrow down the results, such as by appearance, lifestyle, and background.
In-depth Profiles
The profiles on HongKongCupid.com have a lot of information. No matter which type of membership you have, you can look at people's profiles to see if there are people who are compatible with you.
On your profile, there are several bits of information that you can include, such as interests and hobbies. You also get a chance to answer the personality questions so that you can better let people know who you are.
When another member looks at your profile, you can see this. Using this feature lets you see which members might find you interesting so that you can decide if you want to reach out to them. You can also see which members expressed an interest in you and which ones put you on their favorite's list.
At any point, you can choose to make changes to the information on your profile to ensure that it is always accurate and updated. All of the photos that you put up will be verified by the website so that you can be sure that the pictures you are looking at are quality.
---
Overview Of Hong Kong Cupid Features
HongKongCupid.com has some features that will give you additional ways to use this website. You can take advantage of these to enhance your experience using this site.
The App
There is a HongKongCupid.com app that you can use along with the website. You can use this with Android and iPhone. It does not cost anything to download the app on either of these device brands.
When you are on the app, you can do most of what you can on the website. Use it for things like browsing profiles and ensuring that you can keep up with your communication when you are away from your computer.
Cupid Tags
This is one of the ways that the website lets you find others with who you have some things in common with. Think of them as a type of keyword that allows people to better narrow down who is compatible with them.
You should select tags that best represent who you are and what you enjoy in life. Then, when someone who has the same tag as you is doing a search, you will show up in their results. This allows for easier matching of compatible members.
Message Translation
Since this website is focused on bringing different cultures together, there is a translation feature so that you can communicate with people who do not speak the same language as you. When you send a message to someone, they can translate it into their preferred language and vice versa. This is a feature that you have to have a premium membership to use.
No Advertisements
When you have a premium membership, one of the features that you can take advantage of is not having to look at ads when you are using the site. This helps to keep the site cleaner and you will not have to deal with distractions when you are using the different website features.
Stand Out in Search Results
To meet the most people possible, you want to make sure that you stand out above other people in search results. When you have a paid membership, you will automatically rank above those who only have a free membership.
However, you have a second option to make sure that you stand out. It is referred to as VIP profile highlighting. When someone is searching and you meet their criteria, your profile will stand out so that you are more likely to get people messaging you.
---
Popularity Of The Hong Kong Cupid Website
This website has about 25,000 members from the US. During each month, it gets about 7,500 visitors. Each day, about 250 people visit the website. It is a smaller website, but this is not uncommon since it has such a narrow focus regarding its niche.
Of the people who visit the website, it is estimated that about 36 percent are from the US. Another approximately 45 percent of the traffic is reported to come from Hong Kong. Other countries that provide some noticeable traffic to this website include the Czech Republic, Australia, and France.
Approximately 60 percent of the members are women. Women tend to use free memberships on this site. Men account for the other 40 percent of members. Statistics show that men are more likely to have a paid membership, especially men who come from Western countries.
---
Customer Service
You can get help in several ways from this website. The first thing that you can do is visit the help section to see if any questions that you have are answered there. They cover a lot of the most common questions and concerns that members have.
If you cannot find your answer in this section, you can call their customer service representatives. Just choose the phone number that corresponds to your country and call during business hours. They accept calls according to the time zone in Queensland, Australia.
They also allow you to contact them via fax and postal mail. If you call them, they answer quickly and provide accurate and thorough answers to your questions. Should you choose to contact them via mail or fax, it may take a few weeks to get a response from the website.
---
Safety and Security
This dating site offers several ways to ensure safety on this dating site. You can voluntarily submit to having your profile verified. This results in a badge on your profile. When other members look at your profile, they will know that you took this step.
There is also an option to report abuse. If you notice any member violating the site's guidelines, you can use this feature. Lastly, it is easy to block other members. Once you block them, you do not have to worry about them trying to contact you again in the future.
---
Cost Of Hong Kong Cupid
Once you register on this website, you have a choice to maintain your free membership or you can upgrade to one of the paid options. With a free membership, there are some things that you can do on this site. You can look around and see the features are that are offered. Free members can also send interest to others, take advantage of the basic matching features, and talk to those who have a paid membership.
If you want to do more on the site and engage more fully with other members, you will need to upgrade to a paid membership. When you choose a paid subscription, you can utilize the following features:
Read messages in your preferred language due to the translation feature
Communicate with everyone regardless of their subscription status
Use the advanced matching algorithms
Utilize the instant messenger for live chatting
Search using the exclusive search features
Never worry about ads cluttering the website
Make your profile easier to find in the search results due to VIP profile highlighting
Get about twice the profile space as users who only have a free account
In search results, ensure that your profile is shown above those who only have a free membership
Gold Plan
There are a gold plan and a platinum plan for those who want to use a paid membership. For a gold membership, the following options are available:
Pay for 12 months at a time for $99.98. This is $8.33 a month.
Pay for six months at a time for $49.99. this is $16.66 a month.
Pay for one month at a time for a cost of $24.98.
Platinum Plan
If you choose a platinum plan, the following options are available:
Pay for 12 months at a time for $119.98. this is $10.00 a month.
Pay for six months at a time for $59.99. This is $20.00 a month.
Pay for one month at a time for a cost of $29.98.
---
Site Pros And Cons
It is important to get a snapshot of what this dating website has to offer. Exploring the pros and cons of HongKongCupid.com allows for this.
Pros
You can engage with other members in a chatroom
Searches can be performed with a free account
Only one member needs a paid account for two people to communicate
The profiles offer a lot of information
There is an app for mobile use of the site
Cons
The website has a low number of members
---
Hong Kong Cupid Review Conclusion
HongKongCupid.com is a viable choice for those who want to meet Asian people. While the focus is on bringing together Asian women and Western men, there are opportunities to meet other people on this site. This site appears to be mostly used for helping people to find partners for long-term relationships and marriage.
HongKongCupid.com gives you several ways to interact with other members. It also has nice search features that are very easy to use. Due to these features, it is not difficult to find people who might be good partners for you over the long-term.
This site is also on my list for the best Asian dating sites so I highly recommend it if you're looking to meet Asian singles.
---
---