Matching System

Searching

Ease of Use

Popularity

Profile Quality

Customer Service

Cost
Comments Rating
( reviews)
Overview
What Is Christian Mingle?
Christian Mingle is an online dating website focusing on helping Christian singles to meet. When it comes to dating, it is common to seek out a partner who shares your beliefs, and this is where this particular dating site kicks in. Christianity is the largest religious group in the United States, and there are as many as 2.4 billion Christians worldwide. You can bet your chances of meeting another Christian with this site to be near 100 percent.
Before you sign up, it is ideal for getting a feel for the website. This Christian Mingle review explores the various elements of the site so that you can determine if it offers what you need. Having this information will also help you to get the most out of the Christian Mingle website once you become a member.
Christian Mingle started in 2001, so it has been around a long time and has developed a strong reputation. This faith-based dating website includes all Christian denominations, making it easier to find people who share your belief system.
Popularity
Christian Mingle is one of the more popular dating websites that match people of the Christian faith. At least one million people visit this website monthly. However, some estimates say that up to four million people visit monthly.
There are several estimates regarding how many people are signed up on Christian Mingle. The average is approximately 16 million members. Women slightly outnumber men on this website. It has about 56 percent of female members and 44 percent male members.
Most of the members are in the 25 to 54 age range. This accounts for about 75 percent of the members. Approximately 15 percent are 18 to 24 and about 13 percent are over age 55.
The majority of members identify as Caucasian (about 76 percent).
The remainder of the members breaks down in the following way:
African American: 13 percent
Hispanic: 8 percent
Asian: 2 percent
Other: 1 percent
The website states that of the Christian marriages among people who met online, approximately 29 percent of them were due to the couple meeting on this website since it started.
First Impressions
The website is easy to navigate, so you can learn where all of the features are quick. Everything is where you expect it to be and the site loads fast so you don't have to worry about down time or it being slow.
They offer different pricing options so that you can choose the one that best meets your budget and preferences. However, as a free member, you have enough access to the website to determine if it is a good fit for you.
Christian Mingle is one of the most popular Christian dating websites. With a million visitors every month, there is a strong chance that you will match with people with who you have some chemistry with.
There are numerous functions and features that make being a member of this website fun. This website also implements different elements to help you stay safe when using Christian Mingle.
Design and Functionality
This website has a clean design so that you can navigate it easily. The different links are clearly labeled, and you can move around quickly. You can use this website via mobile or computer. Overall, both of these platforms are mostly the same so that you do not have to learn how to use both separately.
It is rare for glitches to occur, so you do not have to worry about frequent outages or features not functioning properly. When the website does maintenance, they announce this in advance so that it does not come as a surprise.
While this dating website is rich in features, it is not cluttered or overwhelming. You can learn how to get around and use the different features within a day or two.
Registration
How's The Sign-up Process?
Overall, you can get started quickly because the signup process only takes a few minutes. Once you are a member, you can add to your profile to ensure that you are getting matches that are viable.
Features
What Kind of Site Features Does It Have?
Christian Mingle has multiple features that you can take advantage of. They are all relatively easy to use and give you various opportunities to find more people who you may have some chemistry with.
Profiles
The profiles on this website are comprehensive. People can see your location, match preferences, such as age range and faith and other pertinent information. Other elements of your profile include:
You can upload several photos (you can keep all but your main photo private)
Open-ended introduction to give people more information about you
Essay questions that are unique to tell potential matches more about you
Your level of church attendance and the Christian denomination that you belong to
Your username
Your relationship history and whether you have children
If you drink or smoke
Your basics, including age, hair color, body type, height, eye color, and ethnicity
One thing you'll notice if you click on a member's primary photo is that you won't be able to see the other photos. You have to get a subscription to see the rest which is a bummer especially if you want to just check them out and see if they're legit.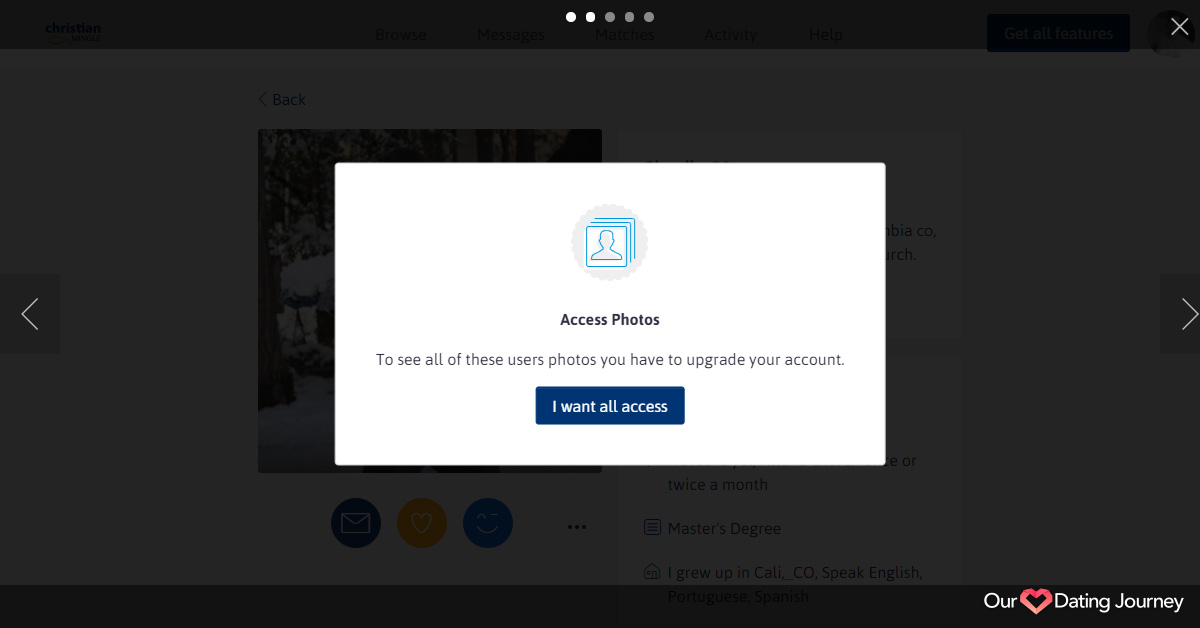 Match System
The match system helps to ensure that you are seeing new people on a regular basis.
The major elements of the match system include:
Use Discover Preferences so that your matches are narrowed down by gender, religion, relationship type, age, and location
See who is online
They show you the distance between you and your matches
See the match percentage to determine who you may have the most chemistry with
Explore who has liked or viewed your profile
Get daily match suggestions via a curated list
Communication
This website gives you several options for communication. If you have a free membership, you can send an icebreaker to those you are interested in and see who viewed your profile. Those with a paid subscription can exchange messages, send an e-card, spark or smile or use the secret admirer function. You can also communicate via email or instant messenger.
If you have a premium subscription, you can use the Messaging+ feature. This includes the following:
Send unlimited messages
For every message, you send you get a read receipt
Communicate with all members
People can see that you have access to this feature via a badge on your profile
Use personalized conversations
Searching
You can search with both free and premium memberships. This website lets you filter your preferences to narrow down the people you find using this feature.
Commonly used search filters include:
Gender
Appearance
Photos
If the person is online
Age
Personality traits
Location
This website also has advanced searches that let you further narrow down the people you find, including:
Body type
Ethnicity
Christian denomination
Once you start a search, you get your results within seconds. The results are easy to browse and if someone sparks your interest, there are several ways to let them know so that the two of you can start communicating.
Likes & Smiles System
Simple and sweet, if you like a member, just hit the like or smile button and they'll be able to see that you "like" them. Likes and Smiles are free so like to your heart's desire.
Other Features
In addition to the features discussed above, there are some others that you can take advantage of on this website:
Tips and blogs about Christian dating
Chat rooms, message boards, and other community features to help you meet more people
Worship center where you can talk about your faith experiences and read ones that other people post
To show interest in a member you can send an e-card
They sometimes offer local events that allow you to meet Christian singles from your area in person
Safety & Security
I'm I Protected?
The website makes it clear about which bits of personal information you should avoid sharing on the website, such as your address and financial information. Your profile allows you to create a username so that you can remain relatively anonymous until you choose to meet a match in person. This site also lets you keep your private photos under your control, and you can block users.
Customer Service
How Good Is the Support?
Christian Mingle makes it easy to get answers to your questions since they have representatives available 24/7. This includes having people available to assist you on holidays and weekends.
Overall, the representatives are knowledgeable and friendly. They answer questions quickly and provide the pertinent details so that you can usually get all of the information that you need in one or two contacts. This ensures that it does not take long to gets answers.
When you contact customer service via email, you usually get an answer within about a day. If you have a more pressing matter that you need help with right away, the website offers a live chat feature. You can use this 24/7 to get assistance quickly. It works like an instant messenger where you are communicating with a customer service representative via text in a chat window. In most cases, you are connected relatively quickly.
While Christian Mingle recommends using email or live chat to contact customer service, they do have a phone number that you can use. This is not a 24/7 service, but phone representatives are available during normal business hours for billing questions or other assistance that you need to obtain quickly.
Cost of Christian Mingle
What Are the Membership Options?
Christian Mingle offers three different plans that you can choose from to become a premium member of this website.
These include:
For 6 months, the cost is $24.99 per month with a one-time payment of $149.94
For 3 months, the cost is $34.99 per month with one payment of $104.97
For monthly, the cost is $49.99
The plans renew automatically, including the monthly plan. If you do not wish to continue your Christian Mingle subscription, you have to cancel your membership before the term ends. You can do this by emailing the website. Those who do not cancel in time will have the card they put on the website charged. The terms used for billing are typically on the 25th of every month.
You can use the Christian Mingle website for free but the features that you have access to are limited.
With a free account, you can do the following:
Search the website to see which singles are available in your area
Buy the Spotlight Feature
Post a photo on your profile (you can put up to six pictures on your profile for free)
Get emails that contain your matches
The premium subscription comes with everything that you can do on the website for free.
You also get access to additional Christian Mingle features and access, including:
Reply to and read all of the messages that you receive from other members
Take advantage of Advanced Privacy Control to get additional protection for your identity
No matter another member's subscription status, you can communicate with them
Know when your messages are read by using the Receipts feature
No matter which premium option you choose, you get the same level of access. The only difference between the three different subscription options is the cost. Pricing reduces as your subscription length increases. Many people choose to do one month at first to get a feel for the website. From here, you can determine if a longer Christian Mingle subscription is a good choice.
Pros and Cons
Exploring the Advantages Versus the Disadvantages
Positive
Million plus members
Fast sign-up
Fair pricing
Easy to use and navigate
Negatives
Free members have limited communication
Few verification tools
Some people on the website are not Christians
Review Conclusion
Is Christian Mingle Worth Your Time?
Christian Mingle remains the most popular dating website for Christians who are looking to meet new potential partners. As you can see from this Christian Mingle review, there are numerous features and it puts a lot of emphasis on keeping the members safe.
Upon signing up, make sure to take full advantage of the features and other elements of this website so that you can maximize the number of viable matches that you get. This will ensure that you have the greatest chance of meeting someone you want to be with for the rest of your life.
---

Christian Mingle Review January 2022 (Does This Christian Dating Site Still Work?)