Matching System

Searching

Ease of Use

Popularity

Profile Quality

Customer Service

Cost
Comments Rating
( reviews)
CatholicMatch is a great dating website for people who want to date those of the Catholic faith. It allows people who share the same religious views to come together. This helps to ensure that you both already have at least one thing in common. (Here is my list of best Christian dating sites)
While working on this CatholicMatch review, I learned that this is the largest dating site for those of the Catholic faith. It is a good choice whether you are from a small town or a major metropolitan area. This site is easy to navigate, helping to ensure that you can find all of the features and sections.
Popularity Of CatholicMatch
CatholicMatch is a fairly large website for being so focused on a single community. They have approximately 1.5 million members, most of whom are from the US. It is estimated that in the US, there are 1.2 million members. The website reports that they get about 16,500 people logging in on a daily basis.
This dating site has more women than men. On average, about 60 percent of the members are women and approximately 40 percent of members are men. In most cases, the active members logged in at any given time are females.
First Impressions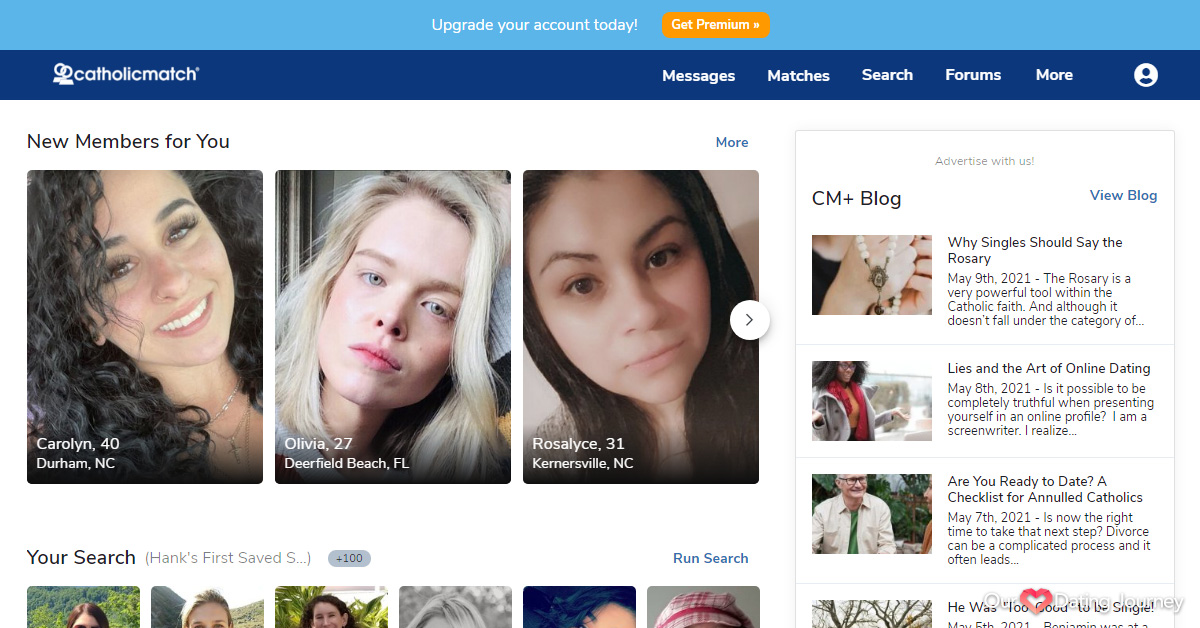 CatholicMatch boasts having the most prominent member base of all of the available Catholic dating websites. With a comprehensive registration process, this site helps ensure that you are compatible with those you match.
While writing this CatholicMatch review, I learned that this website is very active. This helps ensure that you get responses when you let other members know that you are interested in them. You also have a diverse member base to choose from, ensuring that you find various exciting people to talk to using the different communication features on this website.
One thing about this dating site is that makes it stand out from many other dating websites is that it guarantees members. Once you are on the website for six months with a paid membership, you will get six more months on the site for free if you do not find a great match.
This website is focused on not only helping you to find matches but helping to ensure that the matches are high in quality. When you start looking at your matches, you will notice that you have many things in common so that you have a strong starting point for conversation.
Design and Functionality
CatholicMatch has a modern look and easy navigation. It will not take you longer than a day to learn how to use the various elements of the website. This website often updates, helping to ensure that you experience little to no glitches when you are using it.
Registration
How's the Signup Process?
Signing Up
Getting signed up takes some time but this is important because the steps that you go through help to ensure that you are getting compatible matches. You can choose to use Facebook to sign up with the website or start fresh by manually creating your profile.
This website gives you a username automatically. During the process, you will create a 150-character personal introduction that essentially serves as your first impression for other members on this website.
The website does not allow you to skip any fields when you are signing up. It is important that you will be thorough and honest when you are going through this process. Always fill out all fields using the word or character counts that are specified.
As you go through the process you will also add some photos. Ensure that your primary picture is a headshot and that it is in accordance with the site's photo guidelines.
Contacting Members
CatholicMatch does not allow people who only have a free membership to contact other members. This is a feature that is only available for people with a paid membership. However, 10 days after the messages are sent, free members can read them though they are still unable to respond.
If you want to talk to more than a single person at a time, you can opt to use the chatroom. This is a good place to get to know other members and engage in a variety of different conversations.
Another way to interact with people is via emojis. These are a good option for an icebreaker.
Profiles
This website ensures that the profiles are very detailed so that you can really get to know someone before you decide to send them a message. Both free and paid members are able to look at the photos that you post.
Profiles on this website include everything from personality types, to various blocks of text that answer questions and further information about what you are looking for. Since you can add as many as 50 pictures to your profile, it is easy to show off who you are.
Features
What Does the Site Have to Stand Out?
CatholicMatch has a variety of features that you can take advantage of when you are using the website. These features are typically only available to those who have a paid membership on this website.
Interview Questions
Once you find people who you are interested in, you can use this feature to start getting to know someone. These questions will be placed on your profile.
When other members visit your profile, they can choose to answer these questions. If someone does answer the questions, the website will send you a message containing the answers. This is essentially an interview so that you can learn more about the people who are interested in you on this website.
You have the option to create up to 20 questions. These are in a multiple-choice format, so it is easy for people to answer them quickly. This helps to encourage people to go through and provide their answers. Use the answers that you receive as a starting point for communicating with possible matches on your website.
Match Protrait
This is another feature is the Match Portrait. It involves people taking a quiz to capture self-interests and attributes important to a relationship and compare those to other members. There are four personality types that people can fall into. In some cases, people are a combination of one or more of the four types of personality.
Match Protrait Example Questions
Once you take this quiz, the results that you get will also be placed on your profile. This allows people to learn more about who they are. You can also explore the results of other members who decide to take the quiz. Use the information from the quiz as a way to initiate a conversation with other members.
Message Emojis
If you are interested in someone but you have no idea how to start a conversation with them, you can opt to use an Emotigram. These are basically like the emojis that you find on social media or in your email.
There is a variety of emojis that you can use on CatholicMatch. Some of them are related to the Catholic faith, such as rosaries, while others are more general and include things like a cup of coffee or some flowers. You can use these as a type of icebreaker when you want to talk to someone, but you do not know how to say that first "hello."
Customer Service
How Good Is the Help?
CatholicMatch offers various ways to learn more about the website and get answers to your questions. The first place you can check for help is the website's FAQ section. It is extensive, providing dozens of questions and answers that can help you.
All of the questions and answers are categorized so that you can quickly find questions that pertain to the CatholicMatch issue that you are dealing with. Just click on the question to get the answer.
Another way to get help is by opening a help ticket. This feature lets you explain the issue that you have so that someone from the customer care team can respond with an answer. You will receive the answer via email.
When you open a support ticket, it can take a couple of days before you get a response. The responses tend to be detailed so that you get a full answer to your question. The customer care team might also direct you to the FAQs to get the answer to your question.
CatholicMatch has a Community Help Forum available. You can head to the forum and look for threads that pertain to your issue. If there is not a thread on the problem that you are having, you can start one.
The CatholicMatch forum is a place for members of the website to help each other. Here most of the answers that you receive will be from the members of this dating site.
There is also a way to email CatholicMatch to ask for help. They do not give an average response time but say that they will respond to your inquiry as soon as they can. This is similar to a help ticket, but it may take longer to get the answers to your questions.
Cost of CatholicMatch
What's the Value?
CatholicMatch lets you sign up for free. While your access to the website is limited with a free membership, you are able to do the following:
View and search for other member profiles
Add up to 50 pictures to your profile
Know which members looked at your profile
Send Emotigrams
Take part in the CatholicMatch website's matching process
There are three additional CatholicMatch packages. You can choose how long you want to be a paid member with these packages.
The one-month CatholicMatch membership is $29.99 and allows you to do the following:
You can send unlimited messages to other members
Engage in private chats with other CatholicMatch members
Get access to the community chatroom
Send Emotigrams that are personalized
Go to the forums and post
Take advantage of priority support
You can choose to sign up with CatholicMatch for six months at a time. This requires that you pay six months in advance. With this option, each month will cost $14.99. The following features are part of this package:
All of the features with the one-month plan
A discount when you renew your membership
CatholicMatch also lets you sign up for twelve months at a time. This requires that you pay twelve months in advance. With this option, each month will cost $9.99. The following features are part of this package:
All of the features with the three-month plan
An indicator that lets you know when other members read the messages that you send
CatholicMatch accepts debit and credit cards to pay for your membership. Once your membership expires, it will renew automatically. Because of this, you must make sure that you cancel before the expiration date if you do not wish to renew your subscription to the website. They do offer a refund for those who have not used any of the features.
All of these prices are accurate when I wrote this CatholicMatch.com review. It is possible that they could change at a later date.
Pros and Cons
Weighing the Advantages and Disadvantages
Evaluating the CatholicMatch pros and cons gives you a glimpse into what the website has to offer. Here you get to see some of the advantages that come with the website and where some changes may be helpful.
Positive
Easy to use and navigate
Focuses on members with Catholic faith
Substantial user base
Great search feature to find comptible members
Good cost compared to other dating sites
Review Conclusion
Is Catholic Match Worth Your Time?
As I wrote this CatholicMatch.com review, I learned that it has been around since 1999. Initially, it was called SaintRaphael.net. The concept of the website remains the same today as when it originated. Catholic singles can meet those who share their religious beliefs to build faith relationships.
CatholicMatch is a popular website that has over a million members, giving you a rich pool of potential matches to choose from. This makes it easy to connect with people with who you may have some things in common.
The dating site website is easy to use and easy to navigate. While signing up takes a little time, the process is easy to follow. This ensures that you do not miss inputting any important information.
These CatholicMatch profiles contain all of the pertinent information. As you look at them, you are able to evaluate the members so that you can determine if they are a good match for you.
A variety of Catholic leaders recommend CatholicMatch as a website to help you find a long-term, faith-based relationship.
---

CatholicMatch Review January 2022 (A Place To Find Your Catholic Match)