Matching System

Searching

Ease of Use

Popularity

Profile Quality

Customer Service

Cost
Comments Rating
( reviews)
Overview
What Is CaribbeanCupid?
CaribbeanCupid is a niche online dating website for people who want to meet those from the Caribbean. There is a good number of members on this website who are from the Caribbean. However, they allow people from all over the world to become a member and you can connect with members with various backgrounds.
You can use CaribbeanCupid on both a computer and an app that is downloadable on Android devices. It is a smaller dating site that caters to a specific demographic, making it easy to find people who meet your preferences. There are several communication and search abilities that allow you to look for members you are compatible with.
Popularity
This is a smaller dating website that focuses on a specific niche. However, there are still over 200,000 registered users on this website. It is estimated that each month about 55,000 people are active on the website. This provides a solid base of people for you to meet and communicate with.
The genders on this dating site are equal, with 50 percent men and 50 percent women. This gives both genders an equal chance at meeting someone that they have things in common. The majority of the members speak English, reducing issues with language barriers when you are communicating with other members.
Most of the people registered on the website are between ages 35 and 44. People in their 30s are the demographic that is the most active on this dating site. However, there are people from all adult age groups, so if you are seeking a specific age group, there are members that you can talk to.
Finding a long-term relationship is the goal that most people have on this dating site. The website does allow people from all over the world to join. Most members are from the US and the Caribbean, such as the Bahamas, Barbados, and the British Virgin Islands.
First Impressions
This dating site lets you focus on meeting people from the Caribbean. It is a smaller website that makes it easy to find people who meet your cultural preferences. Since this website is also diverse, there is no shortage of interesting people to meet.
You can explore this site with a free membership, allowing you to see if it is a good option for you. However, if you want to use all of the features, you have to choose between platinum and gold membership, both of which have various payment plans that you can choose from.
Registering for this website is easy and will take you less than a minute. Once you finish this part, you can add more to your profile and choose to upload a photo.
Once you are registered, you can immediately start exploring the website. Check out the search and see which members you might be compatible with so that you can determine if this is a good place to meet your match.
Design and Functionality
CaribbeanCupid is a website that is easy to use. Once you log in and get to the main page, you can see all of the different available features. This ensures that you can navigate the website quickly, saving you time when you are searching for and engaging with the site's members.
Registration
How's The Sign-up Process?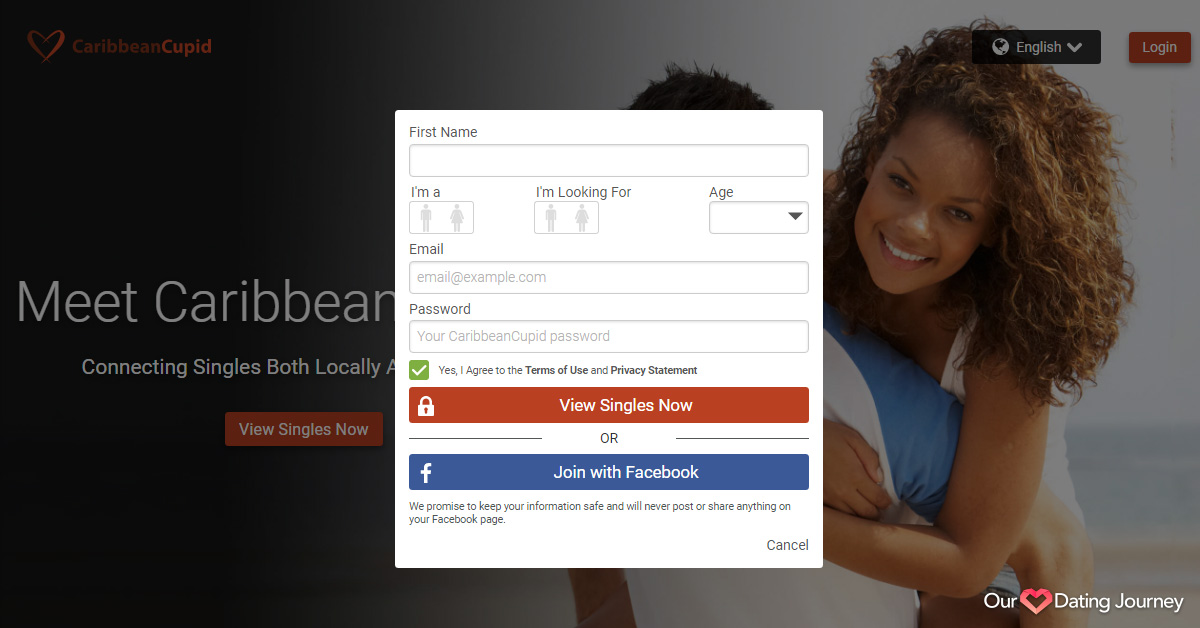 It only takes about a minute to register. Once you are registered, you can start working on your profile, adding photos, and exploring the different features. If you started with a free membership, you can easily upgrade to a paid one if this is what you prefer.
After you register, you have a choice of whether you want to go through the verification process. This only requires a national ID or a passport.
When you sign up for this website, you have two options. You can either input an email address or use your Facebook account for this purpose.
Features
What Are the Site Features?
There are some features on this dating website that increase how you engage on this website. Most of these features are only usable if you have a paid membership on this website.
Contacting Other Members and Searching
No matter your level of membership, you can search profiles. However, if you have a paid membership, there are advanced search features that you can take advantage of. These will narrow down your results even further to those that you are likely to be the most compatible with.
With a paid membership, you can send messages to people and respond to those that you receive. A paid membership also gives you a favorite list so that you can remember the users that you enjoy interacting with.
Profiles
The profiles on this site have plenty of detail, giving you the information that you need when deciding if a member is someone you might want to talk to. You will create your profile after you register. However, it is possible to make changes to it at any time.
All membership levels can look at the pictures that someone puts on their profile. Only first names are shown to help protect the security of the users on this website.
Blocking Members
This dating site emphasizes the safety of its members. You can easily report those who are causing issues with your experience on the website. There is also a block list. If you are communicating with someone that you no longer want to associate with, you can add them to your block list with a quick click.
Once a member is put onto your block list, they cannot message you again. The blocklist stops them from any further communication with you.
Account Verification
Being able to prove that you are a real person on CaribbeanCupid can increase your chances of finding a meaningful relationship with someone on this website. To help with this, this site allows you to verify your account.
The process is simple and only requires minimal documentation. Once you go through the verification process, you will get a mark on your profile. Then, when other members look at your profile, they will know that you went through this process and that they can trust that you are a real person.
Use Of Cupid Tags
Being able to find members with who you have things in common is imperative to find a partner on this website. While working on this CaribbeanCupid review, I learned about CupidTags.
These tags are essentially keywords that you create that describe you. For example, if you love sports, you can put "sports" as a tag. If you tend to be adventurous, you can put this as one of your tags.
When members are searching for possible compatible matches on this site, these tags will work to help match people. For example, if someone is searching for someone who loves to travel if you have "travel" listed as one of your tags, your profile comes up in the search results.
The App
The CaribbeanCupid app is available for those who have an Android device. It has the same functionality that you get when you access the website from your computer. This app is not available on iOS devices.
You can use it to keep up your communication when you are away from your computer. Enjoy access to all of the website's features so that you do not have to avoid using certain features when you access the site via the app.
Customer Service
How Good Is the Support?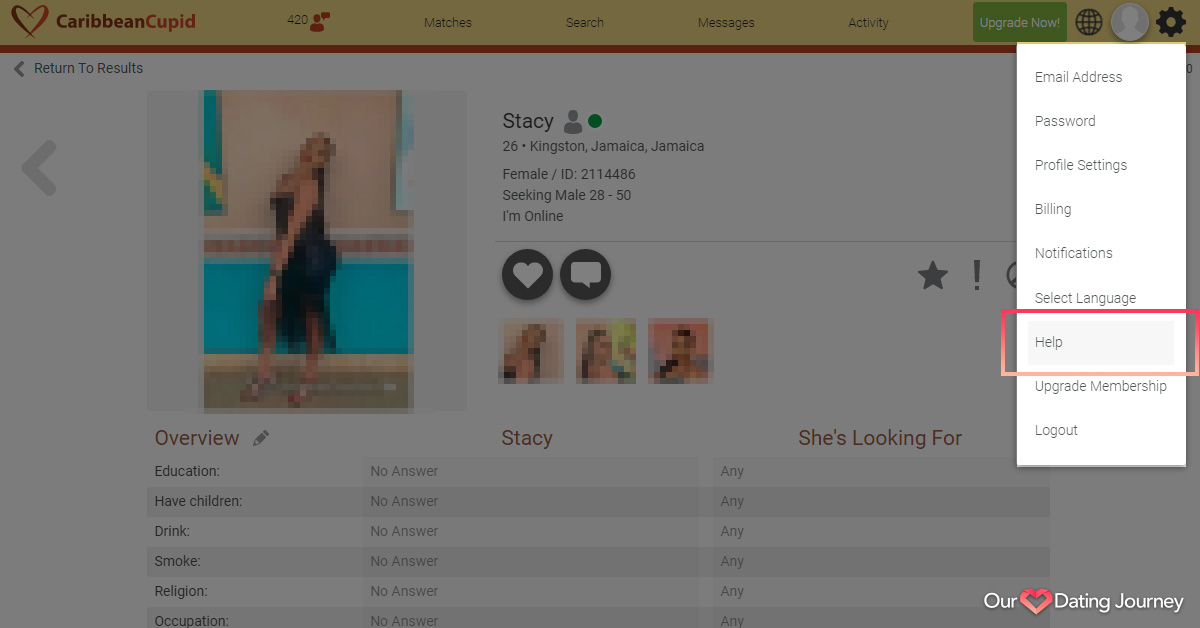 If you have concerns or questions, the site gives you multiple options regarding how you can contact them. No matter which option you choose, they strive to respond as quickly as possible so that you are not waiting to have any issues resolved.
The company lets you send them mail via the post office if this is the preferred option. However, it can take at least a few weeks before you get a response, depending on where you are located. This company is in Australia, so if you are in another country, keep in mind that a response may take longer.
On the contact, the page is their postal address. You can use this for things like sending in documents if they ask you to send things to verify who you are or your payment method.
To send in documents to the company, you might also consider using their fax number. This number is based in Australia, so if you are in a different country, you may need to pay for long-distance services when you send your fax.
The company offers you the chance to talk to them on the phone. All of the representatives are based in Queensland, Australia, so you have to go by this time zone when you are calling. They take calls Monday through Friday, giving you multiple days to get in touch with them.
When you call, they will ask you to verify that you are calling about the website. You are also asked to give them whatever email address you used when you registered with the website.
The customer service representatives are friendly and willing to answer all of your questions thoroughly. They are well-informed and can help you with any element of the website.
On the website, there is a help section. Here you can find a lot of information that people commonly seek regarding this site for quick answers.
Cost of CaribbeanCupid
What Are the Membership Options?
When you use the website for free, there are some features that you have access to. You can start using the website as a free member so that you can get an idea about what it has to offer. The following are available when you have a free membership:
Upload photos to your profile
Show interest to the users that you want to communicate with further
Create your profile so that other members can learn more about you
Report users and block those that you do not want to interact with
Take advantage of the basic matching features on CaribbeanCupid
If you want to do more, you have to upgrade to a paid membership. In addition to the features that free members can use, you can also do the following with a paid membership:
Send messages to any member you want to get to know
Take advantage of the incognito mode
Highlight your profile so that it is more visible in search results
Comment on the pictures that people post
Never get distracted by advertisements
Use the exclusive search features that make it easier to narrow down your results
There are two types of memberships that you can choose from. Both of these have three payment options.
Gold Membership
For 12 months, the cost is $8.33 per month with a one time payment of $99.98
For 3 months, the cost is $16.66 per month with a one payment of $49.99
For monthly, the cost is $25.98
Platinum Membership
For 12 months, the cost is $10.00 per month with a one time payment of $119.98
For 3 months, the cost is $20.00 per month with a one payment of $59.99
For monthly, the cost is $30.98
At the time of this review, all of this cost information was accurate, but it may change at any time. If you plan to cancel your membership, you must do this before the expiration date of your current plan. Should you not cancel your paid membership in time, it will renew automatically and you will be charged the payment plan price that you chose.
Pros and Cons
How Does This Dating Site Do?
This site has various pros and cons that you can explore to see if it is ideal for you. Knowing what these are can help you to make the best decision regarding if this is the best dating website for you.
Positive
Tons of members with various backgrounds
Equal male-to-female ratio
Easy to use and navigate
Quick loading website
Negatives
Not many active members
Support takes awhile to respond
Review Conclusion
Is CaribbeanCupid Worth Your Time?
CaribbeanCupid is a place to find a variety of partnerships, from friendships to long-term romantic relationships. With its variety of features and communication options, you can quickly start finding new matches and starting a conversation with them.
This online dating site makes it easy to get started with website. In under a minute, you can get registered and start exploring. If you want to get more out of your experience, you have the option to unlock more advanced features by signing up for a paid membership.
This site is on my top 14 list of best Latin dating websites. It is one of the best choices you can make if you're looking to date and match with a Latin man or woman.
---

CaribbeanCupid Review January 2022 (Don't Join Until You Read The Facts)