Matching System

Searching

Ease of Use

Popularity

Profile Quality

Customer Service

Cost
Comments Rating
( reviews)
Overview
What Is BrazilCupid?
BrazilCupid is an online dating site for Brazilians and those interested in dating them to come together. There are different membership options so that you can choose which one works best for you. With a lot of diversity among members, you can easily meet a variety of people you may have some compatibility with. (Read the guide to Latino dating)
The narrow scope of this website makes it easier to use for people who want to focus on meeting Brazilian people. However, since this dating site does not limit who signs up, you have a lot of options regarding the types of people you can meet on the site.
Popularity
There are approximately 1 million members registered on BrazilCupid. They come from all over the world, but the majority are from Brazil, Turkey, France, the US, and the UK. Most people who sign up on this dating site are looking for a long-term relationship.
The numbers of men and women on this website are nearly equal in their distribution. On this site, about 48 percent of the members are women and men make up the other 52 percent of registered users. Due to this distribution, it is easy for both women and men to find viable matches to communicate with.
BrazilCupid says that about 54,000 of its members are regularly active. Every day, approximately 500 people log in to the website. While this site is smaller than other dating sites, it caters to a niche and has a lot of members from Brazil. This ensures that you can meet a variety of people from that cultural background that you might match with.
First Impressions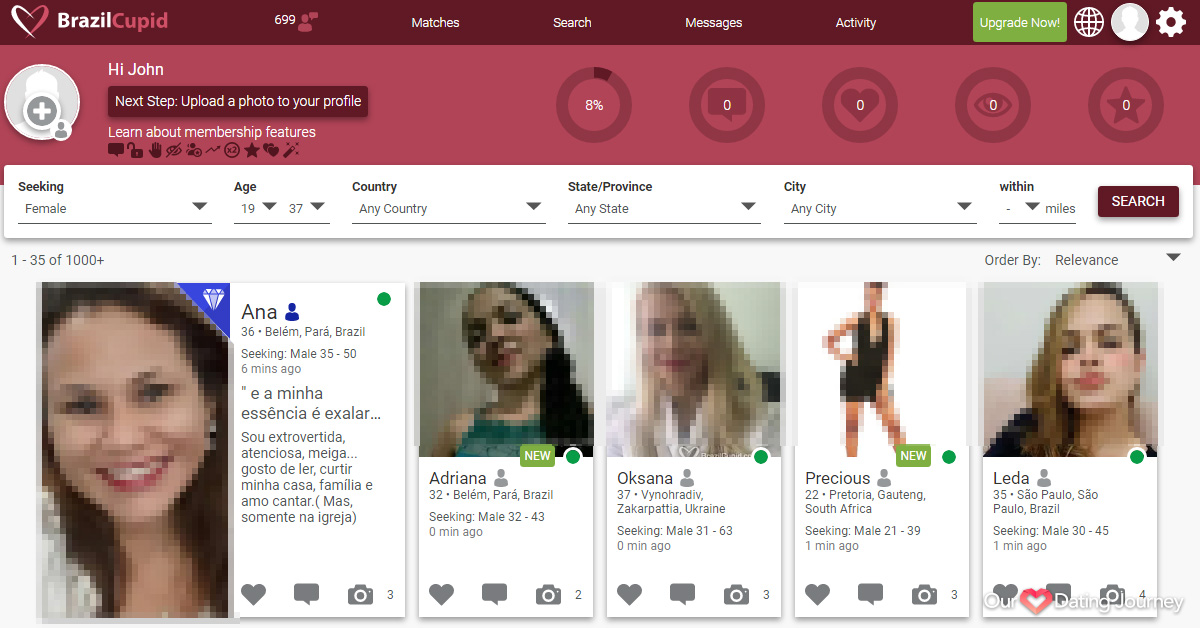 This dating site offers different memberships so that you can choose the one that best meets your feature and payment plan needs. While this site has fewer members than other dating sites, it has a narrow niche, so if you are wanting to meet Brazilian people, it makes it far easier to find someone who interests you.
One thing I noticed while writing this BrazilCupid review is that security is very tight. They are good about removing fake profiles and blocking members who are violating the rules. This ensures that you are communicating with people who have good intentions.
The features on this site make it easy to communicate and find people who are interesting to you. Most of the features are for paid members, but since this site makes it easy to upgrade, you can start using these features fast and easily.
This site has been around since 2004, so it has been around long enough to develop a good reputation within this dating niche. You can sign up quickly so that you can start browsing the site and what it has to offer. Overall, it has a good design and plenty of diverse members, allowing you to find people to communicate with no matter your preferences.
Design and Functionality
This website keeps it simple regarding its layout. It is easy to find the different sections so that you can quickly locate exactly what you are looking for. They tend to keep it up well so that you do not run into a variety of glitches or other issues when you are using the site.
Registration
How's The Sign-up Process?
You can complete the initial registration process within 60 seconds. During our initial sign-up, it only took us about 20 seconds which is quicker than most other dating sites. The site only allows some very basic information to complete this part of the process. When you are registering, you can do so using your current Facebook account or by inputting your email address.
When you register with this website, you can do it via the mobile app or on a computer. It tends to be easier to do on a computer since you can see the full site. Once you sign up, you can choose to keep using the free account or they make it easy to upgrade to a paid membership.
Features
Does the Site Have Good Features?
This dating site has some additional features that you can take advantage of. Most of these are only available when you have a paid membership on this website.
Searching and Communication
This dating site has a good search feature that allows you to narrow down the results that are returned to you so that the results you get are most likely to be compatible. The website's tags are an important element of this feature, so be mindful when you are creating these.
When you are ready to start talking to someone, you have some options. The first way is to send someone a message to introduce yourself. Only paid members can talk to all site members. If you only have a free membership, you can only communicate with those who have a paid plan.
There is also an instant messenger that you can use. If you prefer live communication with the site's members, this is a good option for you.
Block List
If you meet someone on this dating website that makes you uncomfortable, it is easy to stop all communication with them. When you put them on your block list, they are no longer able to talk to you on this website. This is one of the ways that this site helps to keep its members secure. You can also choose to report people to this website via email if they are particularly bothersome.
Instant Messenger
Talking to people via message can help you to get to know each other. However, if you are especially compatible with someone, you might want to talk to them in real-time. You can do this when you are using the instant messenger feature.
These are text-based messages. However, you can also use the webcam on your computer during an instant messenger session if the two of you always want to see each other as you communicate.
Profiles
This website has a variety of profile options to ensure that you're talking to someone real. If you choose to get verified, you will get a checkmark that shows on your profile so that other users will know that you went through the process.
You can upload a variety of pictures for other members to see. When you upload photos, the website will review them to ensure that they meet all of the photo standards.
The profiles allow you to input a lot of information so that other users can get to know you. It can be changed later on so that you can update it as necessary. You can also translate the website's profiles to ensure they are in the language that you are most comfortable with.
Account Verification
This website gives you the option of verifying your account so that other users will know that you are a real person. If you are looking for a long-term relationship, verifying your account can make you more trustworthy to other members.
Cupid Tags
This dating site offers multiple ways to match up with people to determine which users you are the most compatible with. When someone is searching for people with who they have things in common, Cupid Tag plays a role in who shows up in the search results.
With this feature, you will create some keywords about who you are. If another member starts searching using the tags that you have used, your profile will turn up in their search results.
Customer Service
How Good Is the Support?
This dating site has a help section that makes it easy to get answers to many common questions about this website. If you cannot get what you need from this part of the website, you have other options to get information from the site's customer service representatives.
The simplest way to contact the company is to call them via the telephone. The contact us page has several phone numbers for different countries. When you call them, you must choose the phone number associated with the country that you reside in.
After a customer care associate answers the phone, they will ask you to verify that you are calling about them. They will also ask you to verify your email address so that they can identify your account.
When you call the company, make sure that you are calling during business hours according to the time in Queensland, Australia since this is where they are located. You can call them Monday through Friday to get help with your concerns and questions.
The customer support agents for the companyare knowledgeable about the website and its features. This allows them to provide prompt and thorough answers to your questions. They are also friendly, making it pleasant to get help with your concerns.
If the company asks you to send them something, such as a verification document, you can do so via postal mail. Their mailing address is in Queensland, Australia and it is easy to find on the contact us page on their website. You may need to wait a few weeks if you need them to respond to you via postal mail.
The company also has a fax number that you can use to send them things. This number is also in Australia. When you send them a fax, it may take them a few days to process what you send and submit a response.
Cost of BrazilCupid
What Are the Membership Options?
BrazilCupid lets you use some of the website features for free. This allows you to evaluate the website before you choose to commit to paying for a membership. As a free member, you can do the following:
Send interest to people you want to communicate further with
Talk to users who have a paid membership
Use the basic matching features on the website
If you choose to get a paid membership, you get access to a lot of additional features. No matter the level of paid membership you choose, you can access the following features:
Use the BrazilCupid instant messenger to live chat with other members
You will not have to see advertisements
Compared to other members, your profile will rank higher
Use VIP profile highlighting
Take advantage of the site's advanced matching algorithms
You are able to talk to all members
Receive and send messages
Browse other BrazilCupid profiles anonymously
Hide your profile
Get twice the profile space
Use the exclusive search features
Translate messages so that you can easily read them
The website offers platinum and a gold membership. Each of these memberships have three different payment plans that you can use.
Gold Membership
For 12 months, the cost is $10.00 per month with a one time payment of $119.98
For 3 months, the cost is $20.00 per month with a one payment of $59.99
For monthly, the cost is $29.98
Platinum Membership
For 12 months, the cost is $10.00 per month with a one time payment of $119.98
For 3 months, the cost is $20.00 per month with a one payment of $59.99
For monthly, the cost is $29.98
You will need to cancel your membership manually if you do not want to keep using the webiste since all memberships renew automatically. You can do this via the website or by contacting customer service.
You can use different payment methods on the website, including PayPal, credit and debit cards, Paysafe cards, and a bank transfer. This makes it easy to pay for your membership using the method that is most convenient for you.
At the time I wrote this BrazilCupid review, all of this payment information was accurate. The payment plans may change to the costs and membership options in the future.
Pros and Cons
How Does This Dating Site Do?
If you are on the fence regarding joining the website, looking at some pros and cons can help you to make the final decision. These essentially sum up what you can expect from this website.
Positive
More than 50,000 BrazilCupid members are active regularly
Easy to use and navigate
Quick sign-up
Tons of search filters
Negatives
Can't message for free
Support takes awhile to respond
Review Conclusion
Is BrazilCupid Worth Your Time?
BrazilCupid is focused on helping you to meet people of Brazilian descent. It offers profiles with a lot of information so that you can get to know people before you initiate a conversation. This allows you to save time so that you are only talking to those with who you might have some things in common with. There are several communication features too so that you can initiate contact and carry out conversations in the way that you most prefer.
Sign-up is quick and easy to do. Once you register, you can immediately start browsing the website to learn more about the features and the other elements. This allows you to quickly decide if it is the best site for you.
Due to the ease of use of this online dating site, you can get around and find people with who you are compatible quickly. There are different search criteria that you can use to simplify the process regarding finding new people who have some things in common with you.
BrazilCupid is on my list for top Latin dating sites so I highly recommend it.
---


BrazilCupid Review June 2023 (Can You Find Your Brazilian Match On This Site?)