Matching System

Searching

Ease of Use

Popularity

Profile Quality

Customer Service

Cost
Comments Rating
( reviews)
Overview
What Is BlackPeopleMeet?
When creating this BlackPeopleMeet review, we looked at the details to determine the quality of the website to see if this is a friendly and usable website. This examination is comprehensive and will provide all of the information that you need to help you determine if this dating site is for you. Once you finish the review, you will be able to ascertain whether it is the ideal site to meet your next love interest.
BlackPeopleMeet is an online dating site focused on helping African Americans to find relationships. While the majority of the members are African American, people of all races and ethnicities can join and interact. It is a relatively popular niche black dating site with a diverse pool of members, making it easy to meet a variety of people.
Popularity
BlackPeopleMeet caters to African Americans. However, they do not limit the race or ethnicity of their members. The majority of the members are in the United States.
Every week, about 30,000 people are active on the website. Overall, the US has 900,000 members at the time I wrote this BlackPeopleMeet review. In the US each month, there are approximately 4.3 million visits to the website. While not all of these people will sign up or be active, the fact that the site gets regular traffic ensures that there are constantly new people signing up.
This website has more men than women, though it is relatively even. About 55 percent of the members are men and approximately 45 percent are women. This combination of genders makes it easy to find a match no matter if you are seeking a man or a woman.
For biracial and African American singles in the United States, this is the largest dating website with the most members. While most are from the US, some members are in Canada. The website is only available in English. If you wish to use it in another language, you will have to employ translation software.
The members are diverse and looking for a wide variety of relationships. This website does not limit who can join regarding their relationship goals and their sexuality. However, it is frowned upon for married people to sign up looking to find people to date. You will find the single, widowed, and divorced relationship statuses.
These stats are accurate at the time I created this BlackPeopleMeet review.
First Impressions
BlackPeopleMeet provides you with several ways to interact with other members and use the website. It is very welcoming of people from all backgrounds and lifestyles.
Since you can look at your activity history, you can easily remember where you left off the last time you visited the website. Profile pages are comprehensive and offer a variety of information that makes it easy to determine if you have things in common with people.
As a free member, you can explore the site, but you cannot interact too much. There are subscription options that allow you full access to the website.
Design and Functionality
We took the time to explore the design and functionality of the website to see what it has to offer. Due to the numerous features available, it can take a few days to learn where everything is. However, once you get used to the layout, you will have no problem navigating.
Signing Up
The first step is to get signed up on the website. You will need to input some personal information to get started, such as your birthday, password, zip code, and the username that you want to go by on the website.
Overall, it takes about three minutes to complete the initial signup process. Once you finish the general information, you are taken to a screen that has a text box that asks for your biography. You get 1,250 characters for this section, so keep it simple and to the point.
The website allows for up to 30 pictures. You can choose to sync to your Facebook page and pull pictures from there, or you can upload them directly.
Meeting People
Every day you will get 11 matches that you can explore to see if you have any chemistry with them. You can also choose to search the website and look for more people. There are ways to narrow down the search so that the results that you get are more in line with what you are looking for.
If you have a paid membership, you can send messages to the people that interest you. You can also use the flirt and chat features to communicate with other people on the website.
There is a game on the site that helps to introduce you to new potential matches. Referred to as I'm Interested, use this game to see pictures of people who might be a match with you. Just swipe right or left to tell the game whether you are interested or not.
Another game is called Who Do You Like? Here you are presented with photos of two members. You get to choose between the two of them regarding who interests you the most. If neither of them interests you, there is an option to skip them both.
There are several ways to search for people you may have some chemistry with. Some of the most popular search credentials include:
Age
Height
Religion
Zipcode
Ethnicity
Zodiac sign
You can use multiple search criteria at once to further narrow down your results. The website does not limit how many searches you can perform.
Profiles
The profiles on this dating site make it easy to get to know who someone is before you initiate contact. No matter your level of membership, you can look at all of the pictures a member has uploaded. If you think there is a fake profile on the website, you can report it and they are pretty good about removing fake profiles.
Once you fill out your profile, you have a chance to make edits down the road. This allows you to add more information as you adapt so that the people you are matched with are as good a match as possible.
While filling out all of the fields on your profile is not mandatory, the website recommends that you complete them all. It makes it easier to send you qualified matches when your profile has as many details as possible.
Features
What Kind of Site Features Does It Have?
There are several features on this website that allow you to initiate communication and maximize your exposure and activity. Because of this, you do not have to work too hard to communicate with people who share your interests.
Virtual Gifts
When you are communicating with someone, if you are particularly interested, you can let them know by sending a virtual gift. There are numerous choices and you buy them using the tokens that are available on the website. You will need to buy a token package to be able to use this feature.
ConnectMe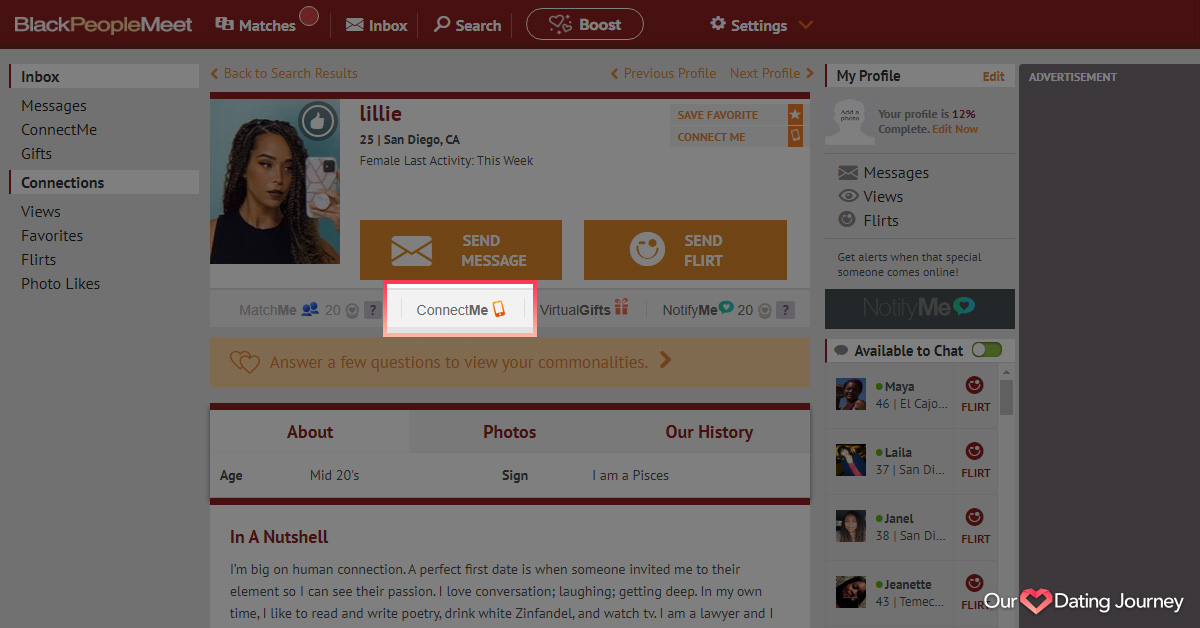 After you spend some time chatting via text, if there is a spark between you and another member, you might want to talk to them on the phone. However, it is common to want to keep your phone number private. With this feature, you can talk on the phone without either of you revealing what your phone number is.
ProfilePro
The profiles on this website are detailed, so there is a lot of information that you have to fill out. For many, this can be an intimidating task. This feature puts your profile in the hands of professional writers who can ensure that all of the pertinent details are listed in an engaging and fun way.
PromoteMe
Due to the large member base, it can be hard to get your profile at the top of the search results. With this feature, it will be highlighted.
Customer Service
How Dependable Is the Support?
When you need some help, the website recommends that you first take a look at the frequently asked questions. They say that most of the problems that people run into can be solved by using this section of the website. You can click on the category that best fits your concern to narrow down the answers that you get.
When you are on the FAQ page, you can search to quickly find the questions that you are looking for. They also have a list of the questions that people ask the most right on the FAQ page. All you have to do is click to get your answer, but if it does not fully answer your questions, there are other ways to seek assistance.
You can click on "Contact Us" at the bottom of the FAQ page. Here you will be directed to a form that allows you to submit a question. It does not say how long the website takes to respond to inquiries.
The website does not list a phone number or the business hours in which calls are answered. It seems that they prefer people to simply message them their questions and concerns via the Contact Us form.
Cost of BlackPeopleMeet
What Are the Membership Options?
BlackPeopleMeet has free and paid membership options.
With a free membership, you can do the following:
Create a profile
Flirt with your matches
Register your account
Search for potential matches
With a paid membership, you can do everything you can with a free account plus use the following features:
Receive and send messages from other people with a paid membership
Use MatchMe
Use ConnectMe
See who has flirted with you and favorited you
Use PromoteMe
Use ProfilePro
The following are the premium membership plans that are available:
For 6 months, the cost is $2.99 per month with a one time payment of $71.70
For 3 months, the cost is $3.25 per month with a one payment of $38.97
For monthly, the cost is $4.94
Boost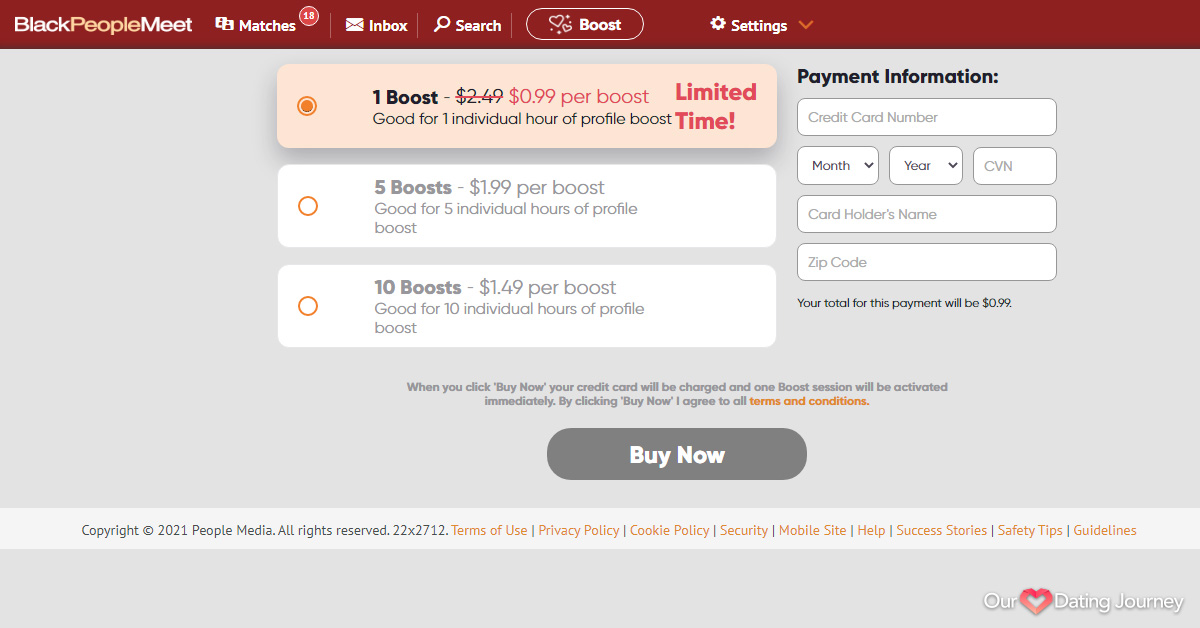 Boost is a feature where you can "Boost" your profile to get more visibility and eyes to your profile.
1 Boost is for $0.99
5 Boosts is for $1.99 per boost
10 Boosts is for $1.49 per boost
These prices are accurate as of the time I wrote this BlackPeopleMeet review. They may change in the future.
Pros and Cons
Exploring the Advantages Versus the Disadvantages
While researching for this BlackPeopleMeet review, I kept a running list of the pros and cons associated with this website. This provides you a quick rundown of what you can expect from this website.
Positive
Lots of active members
Easy to use and navigate site
A lot of search filters
Lots of interactive features to connect with members
Negatives
It can take a little time to learn how to use all of the features
Matchmaking features are okay
Review Conclusion
Is BlackPeopleMeet Worth Your Time?
One thing I noticed is that the website is rich in features that are straightforward to use. This not only makes it easier to connect with people, but it also makes this website more fun to use.
Since BlackPeopleMeet is open to people of all races, you can connect with a diverse range of people on the website. This can help to make it easier to meet someone with who you have some chemistry.
This website is established since it started in 2002. The primary purpose of the platform is to meet people you want to have a relationship with. However, it also promotes things like friendship and casual flirting, allowing you to determine the type of relationship you are seeking.
With millions of members and a nearly even split between women and men, there are plenty of people available with who you will share at least some interests. Since it is easy to browse and communicate with other members, you can quickly start finding people.
---

BlackPeopleMeet Review March 2023 (Best Site To Meet Black Singles?)