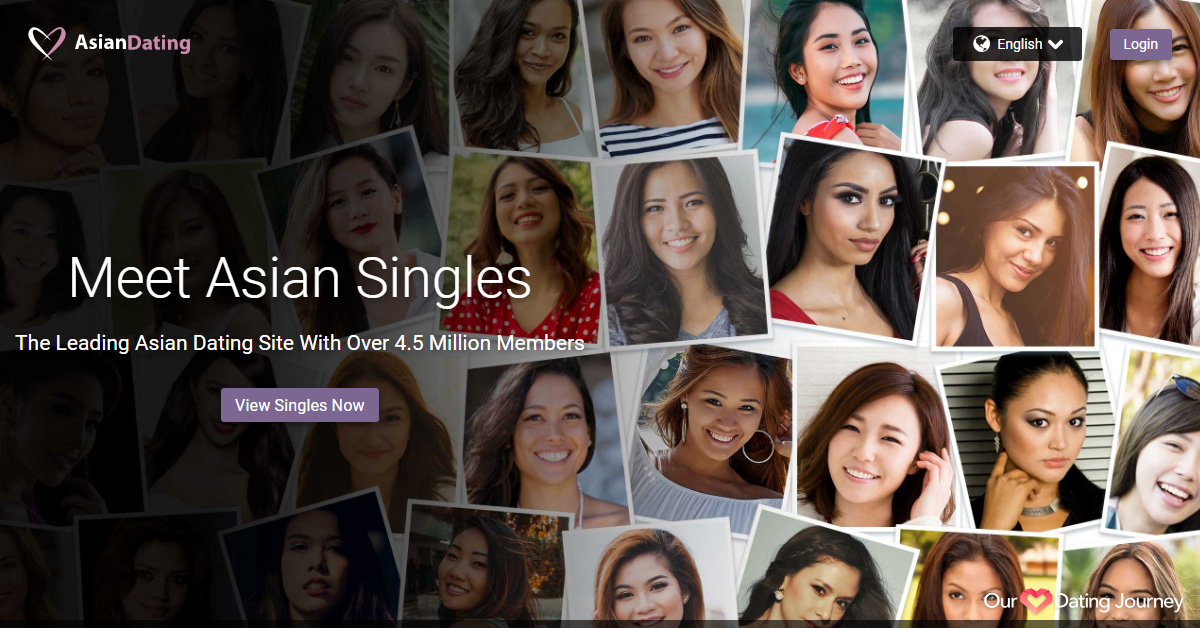 Can You Find Your Perfect Asian Match On Asiandating.com?
Matching System

Searching

Ease of Use

Popularity

Profile Quality

Customer Service

Cost
Comments Rating
( reviews)
As I share this Asiandating.com review, please remember that I have a lot of experience dating an Asian woman. We highly recommend you read our Asian Dating Guide.
In fact, I met my soulmate, who is herself an Asian from the Philippines (a Filipina), by using eharmony.com. (You can read my eharmony review here)
Through this experience, I understand so much about what it takes to find your perfect Asian match.
I met my wife through online dating, but I traveled to her country and stayed there for a whole year. This allowed me to have an even better understanding of how to date an Asian woman and how to deal with cultural differences.
If you're someone from the US or another country looking to date an Asian man or woman, be sure to read my guide to long-distance dating.
Now let's move on to the Asiandating.com review.
Overview
What is AsianDating.com?
If you're looking to find an Asian match, this online dating site may be for you.
Asiandating.com started in the year 2000, and since that time, it has grown to over 2.5 million members.
This Asian dating site is part of the Cupid Media network, which runs several successful dating sites.
What Kind Of Members Make Up AsianDating.com?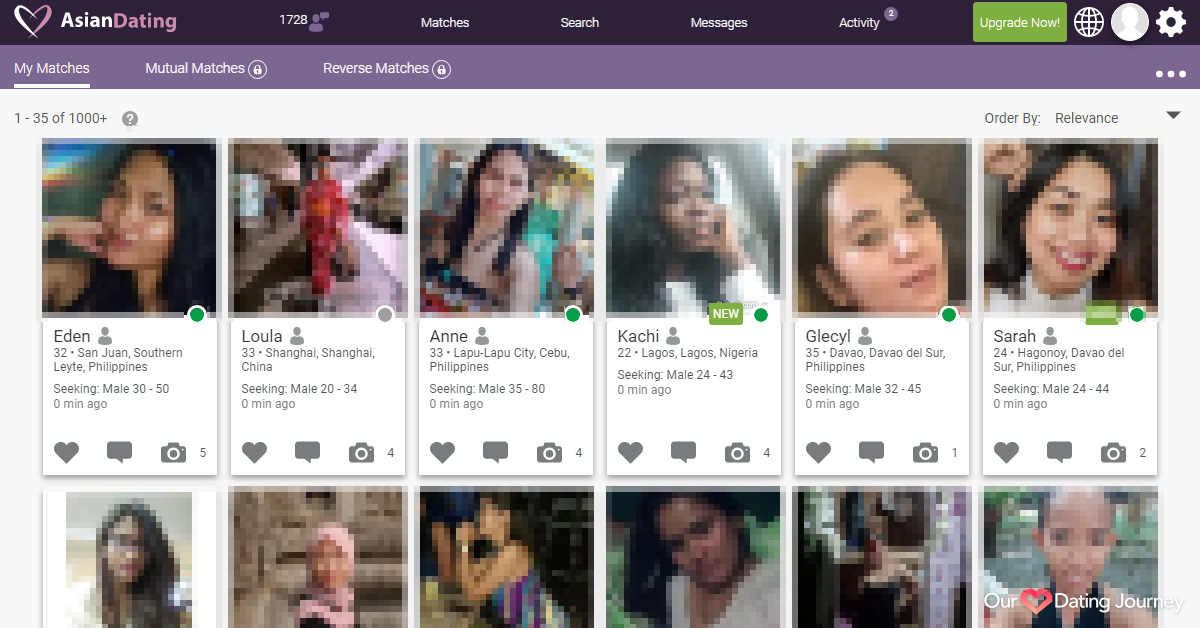 The site comprises singles from the USA, Philippines, China, Thailand, Japan, Vietnam, Europe, and many more Asian countries.
The primary focus of this dating site is to help people find singles from many different Asian countries.
Registration
How's the Sign-up Process?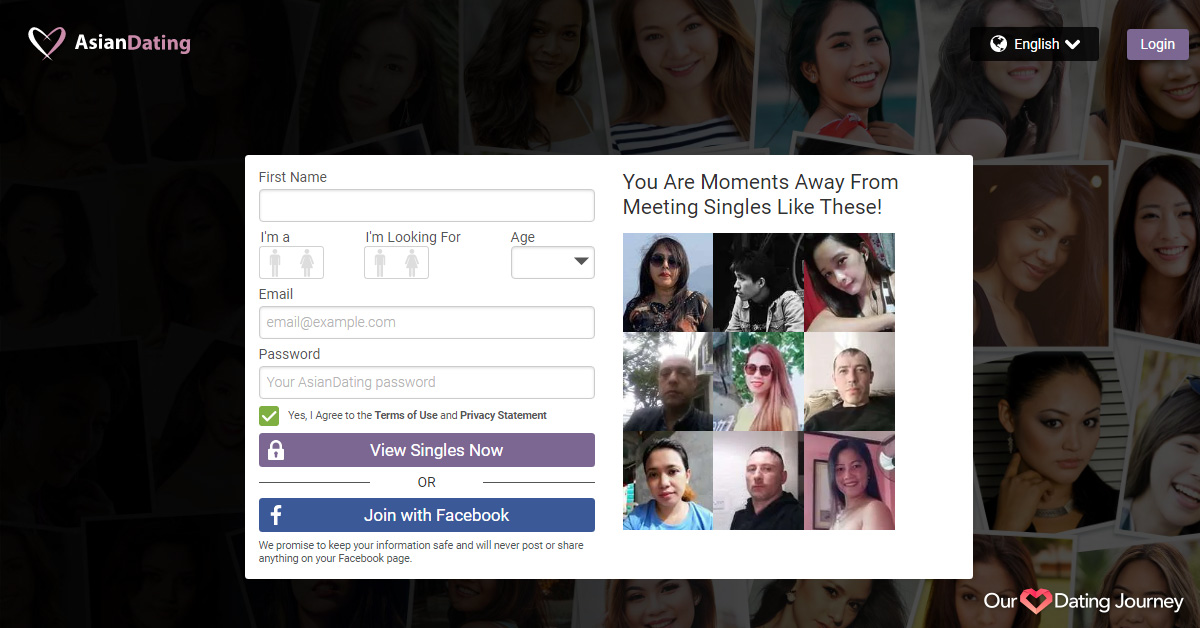 Signing up for this dating site is easy and may take less than a minute to sign up! Enter your name, choose your sex, age, and enter an email address and password. That's it. In our sign-up, it took only 30 seconds to register.
Profile Setup
Creating Your Perfect Profile
Once in the edit profile section, you should see a set of eight tabs. Click each of those tabs and complete each area.
Adding Photos
After a quick sign-up, completing your profile, on the other hand, will take some time. But it's nice to get started on this dating site quickly, and the process is painless.
Once you complete the sign-up, you will be asked to upload a photo.
Be sure to upload photos that show how you look right now. Do not use photos that show you many years ago. This isn't very ethical.
Here are some dos and don'ts of taking photos:
Do:
Upload photos that show how you look currently
Use photos that are taken professionally
Upload photos that show your face and make sure that you're smiling
Use photos that
Don't:
Upload photos that are many years old
Overly provocative use photos
Upload photos that show nudity
Take selfies
Profile
Under the profile tab, you can add important information that other singles can see and help you get better matches. Be sure to complete each of the profile areas as shown below:
Basics
Appearance
Lifestyle
Cultural Values
In Your Own Words
Match
The next tab is the Match tab. Here you can specify all of the criteria that your perfect match should have.
If you want good matches, take the time to check off each of the sections with your most important criteria.
Hobbies & Interests
Another feature that allows you to get better matches is the hobbies and interest tab. Under this tab, you can make choices to the questions asked.
Doing this will help you connect with other singles with similar interests. This is another layer of their matching system, and taking the time to complete it is crucial.
Personality
Under the personality tab, you will find seven questions to help you share more of who you are. These are questions in which you will have to write an answer and are NOT multiple choice.
You mustn't skip over this section. Yes, it will take some time to answer each question, but do it if you want to find your perfect match.
CupidTags
Adding CupidTags is an important way for other users to find you when they search. Start typing in the "Add A Cupid Tag" area, and descriptive words will pop up to help you choose the correct CupidTags.
Again, don't skip this section. CupidTags are another layer of the Asiandating.com matching system. If you don't do it, you're not taking full advantage of their system.
Verify Profile
Verifying your profile is crucial. This is one-way the dating site adds a safety measure to their site. It allows other members to know they can put more trust into what they're seeing. You'll need three of the following:
Passport
Driver's License
National ID Card
To verify your profile and get the "Verified Badge," you will need to upload a piece of identification.
It's also important that you only connect with members who have verified their profiles. This could be a problem on this site, though, as it seems most members do not have verified profiles.
IMBRA (International Marriage Broker Regulation Act)
In the last section of the profile area is the IMBRA tab. You will need to complete this form. It asks questions about criminal history and marital status. This is an important safety feature added to protect members, so take the time to complete the information.
Searching Matches
Make Connections Worldwide
Matches
Once you upload your photos, you can view your first matches.
These matches may not be very accurate until you complete your entire profile.
That's when you should click the "Improve Matches" link. This takes you to where you can begin to edit your profile.
Be sure to complete each area of the profile section to get matches that are best for you.
Search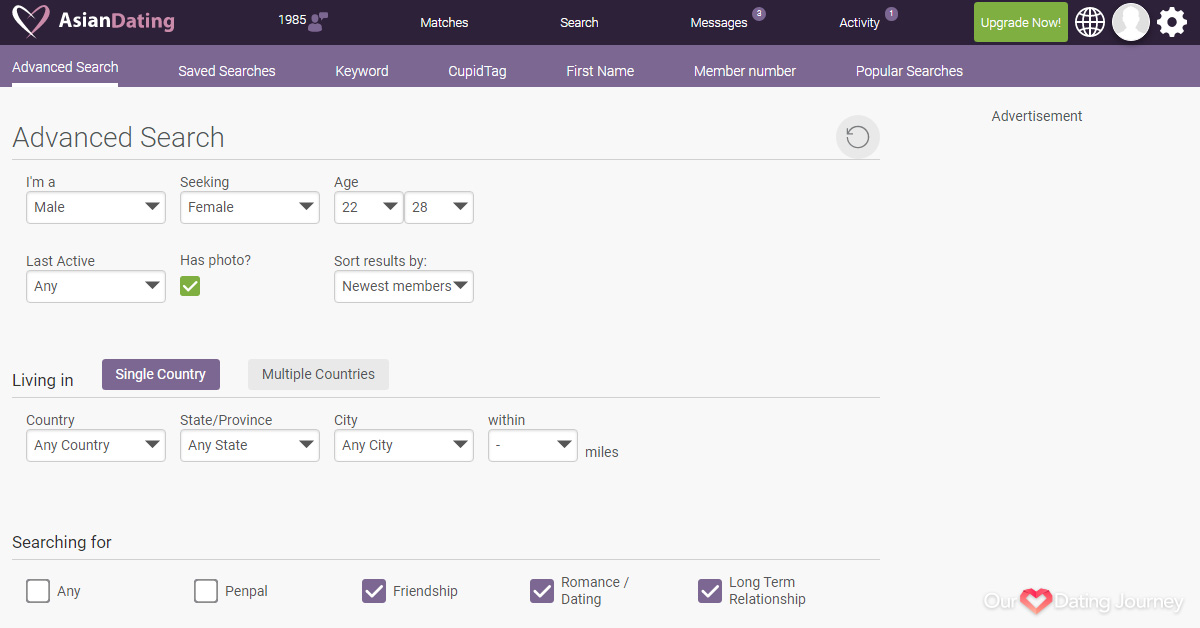 While writing this Asiandating.com review, I really took the time to use the site's search function.
The Asiandating.com search is one of their better features. It allows you a lot of flexibility, and you can search with a wide range of criteria.
You can do an advanced search, save searches, keyword searches, search by CupidTag, name search, member number, and even see popular searches.
The Asiandating.com search is one of the best I have seen on dating sites.
Browse Feature
This dating website does not have a browse feature per se.
However, when you search, you can browse other singles who come up in your search.
You can also browse members who come up in your matches.
There is just no browsing feature.
Communication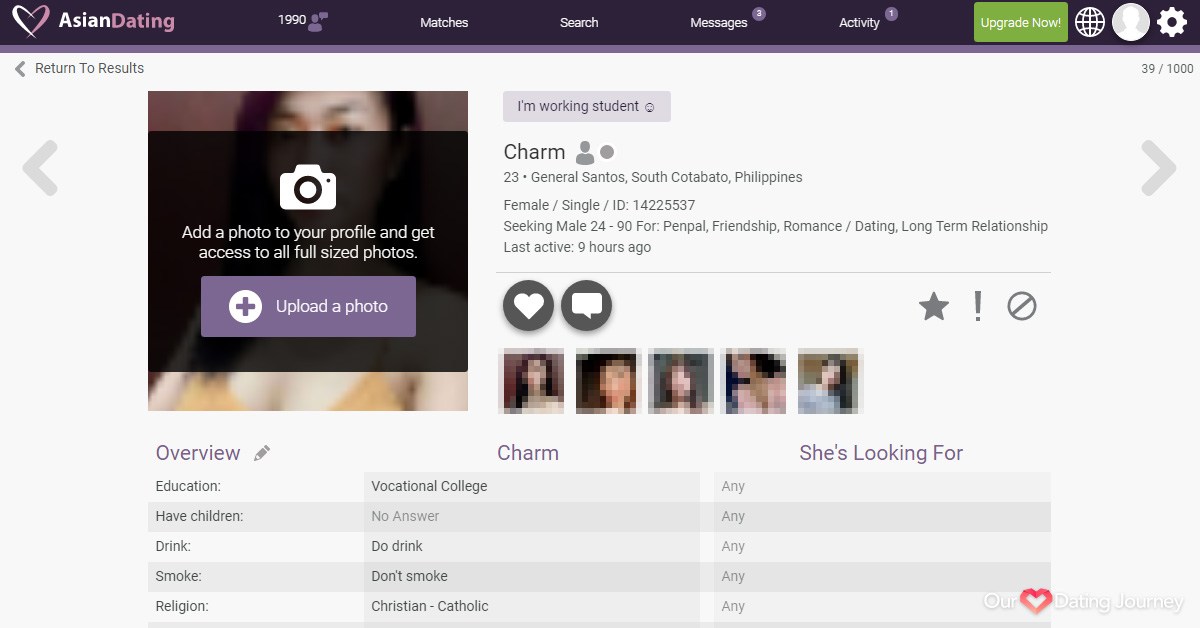 Of course, communicating with other singles is very important on any dating site. Asiandating.com does give you the ability to communicate with and message other members.
However, even though you can send messages and receive messages, you can only view the actual message if you're a paid member.
If you're not a paid member and just using the free membership, you will notice that you have received a message and can see who sent it. The message, though, will be blurred until you upgrade.
Cost of AsianDating
What's The Pricing of its Memberships?
As with most dating sites, to really benefit and access all of the features to make the site useful, you will need to upgrade to a paid membership.
Free memberships on most dating sites give limited usage and access to features. The same is true of Asiandating.com.
Free Membership
With the free membership, you can set up your profile, search, and even see matches. You can also favorite other members, send interest, and communicate with paying members. However, that's about all you can do because as a free member, you cannot actually see the messages sent to you because the message will be blurred.
Gold Membership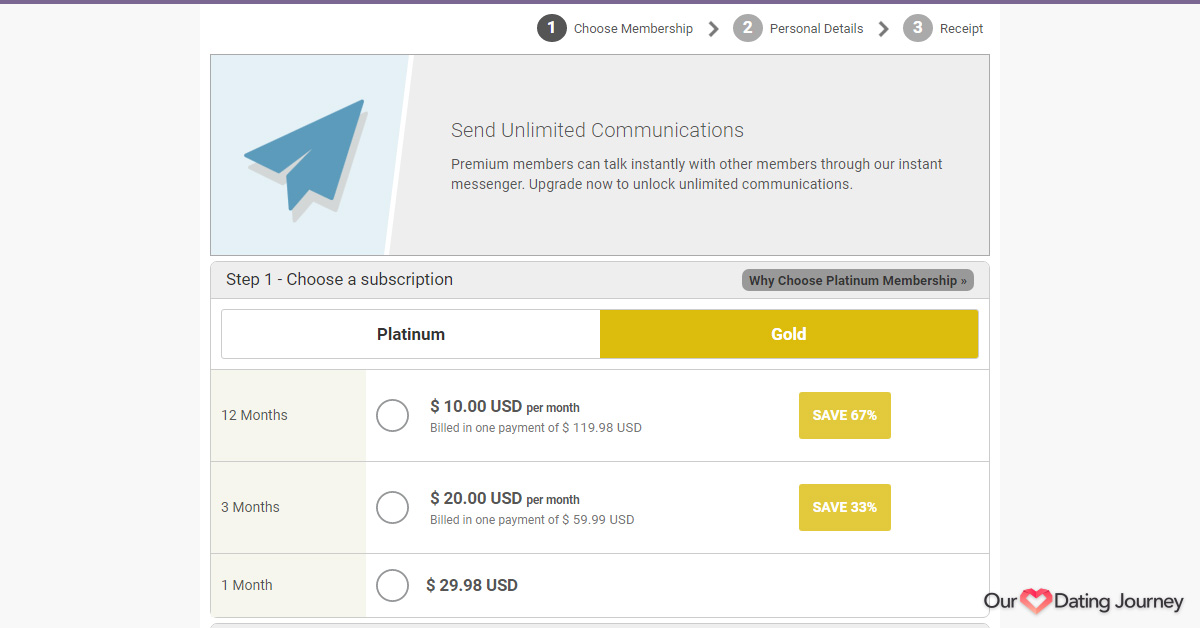 If you're going to truly get the most out of your membership, you will need to upgrade to one of the paid options.
The first is the Gold membership. With this option, you can do everything a free member can do but you will be able to communicate with all members, get ads removed, use the live chat and messenger, send and receive messages, and even hide your profile.
For 12 months, the cost is $10.00 USD per month with a one time payment of $119.98 USD.
For 3 months, the cost is $20.00 USD per month with a one payment of $ 59.99 USD
For monthly, the cost is $29.98 USD
Platinum Membership
The second membership option is the Platinum membership. With this option, you can do everything a free member and Gold member can do plus you will be able to rank above other members, highlight your profile, get double profile space, better search features, advanced matching, plus the ability to translate messages.
For 12 months, the cost is $12.50 USD per month at a one payment of $149.99 USD
For 3 months, the cost is $23.33 USD per month at a one payment of $69.98 USD
For monthly, the cost is $34.99 USD
Security & Safety
Is Asiandating.com Safe To Use?
Safety in online dating is essential. The website uses the most modern methods of keeping its members safe.
They use SSL (secure socket layer) to ensure that all information you place on their site is secure and encrypted from others seeing it.
In terms of dating safety, they provide the profile verification badge where they verify members' identities. To keep safe, you should only communicate with members who have verified their identity. If you choose to only communicate with members who have verified profiles, this will lessen your ability to find matches as it seems that most members have not verified their profiles.
I'm not sure why most singles on Asiandating.com do not verify their profile as it is easy to do and free.
The website also requests users to complete the IMBRA part of their profile.
Each of these things definitely helps promote safety on the site.
Even though this site provides these safety features, you should always understand and take proper precautions when using any dating site.
Pros and Cons
What are the Advantages vs Disadvantages?
Positive
Great search feature
Many singles to choose from
Good matching system
Great for those looking for Asian matches
Lower cost than other dating sites
Negatives
Far fewer members than larger dating sites
Must pay to read messages
Review Conclusion
What's Our Verdict?
After writing and doing research for this Asiandating.com review, I can truly say that this a great dating site if you're looking to start a relationship with an Asian single.
They have a great-searching function, and matches seem to be good.
However, just like any other dating site, you will need to upgrade to a paid option to connect with other users truly. This should not be an issue if you're looking to meet the perfect match for you. The cost is well worth finding love!
Even though I love this site, I still believe that you can find even better Asian matches using eHarmony.
Although eHarmony is not specifically an Asian dating site, there are so many Asian singles on the site that you should be able to find exactly who you're looking for.
I prefer eHarmony simply because their matching system is second to none, and of course, it's where I met my Asian wife!
That being said, I still think this site is incredible and is well worth the cost to join.
---