Matching System

Searching

Ease of Use

Popularity

Profile Quality

Customer Service

Cost
Meet people from Ukraine and other countries in Eastern Europe on Ukraine Date. While this dating site is small and focuses on a tight niche, the members are relatively active, making it easy to find people to communicate with. There are several methods of communication that you can use to get to know other members.
Ukraine Date provides you with matches but also lets you use a variety of filters to see out additional people with who you might have a lot in common with. This allows you to expand on viable matches to increase your chances of meeting your soulmate.
---
The First Impression Of Ukraine Date
While working on this Ukraine Date review, I noticed that the members are pretty evenly divided between the Ukraine and other countries throughout the world. This makes it possible to meet people from any part of the world.
There are many more men than there are women. However, since the women appear to be active, you can talk to them easily. In most cases, they respond quickly when you send them a message. Most of the people on this site appear to want a long-term relationship, so if your goal is to look for a marriage partner, this site is a good choice.
This site offers a variety of communication features that you can use to get to know other members on this dating site. You can use the one that you prefer, or use several, depending on what makes it easier to share and receive information.
On this dating site, safety is a big priority. They take multiple steps to make sure that fake profiles are removed quickly. This site also provides different features that you can use to avoid any members who are bothering you. With all of the ways that Ukraine Date provides to be safe, you can have an enjoyable experience.
---
Ukraine Date Design and Functionality
This site provides you with a basic website that is easy to learn. All of the features are clearly spelled out so that you can find the exact one that you are looking for. On this site, you will find a clean layout that was designed to be easy to navigate.
The color scheme is easy on the eyes, allowing you to view the website for hours without any discomfort. You can view it without advertisements so that it is even simpler if you have a paid subscription to Ukraine Date.
Signing Up
When you sign up, you can use your email address. You will also add a little more information, including your age and first name. The signup form also has to input a password and choose your gender and the gender of the people you want to meet.
Overall, it only takes about 30 seconds to sign up with Ukraine Date. Once you're registered, you immediately get access to the main page on the site. This allows you to start looking at matches and communicating with people. You also can choose to upgrade to a paid membership.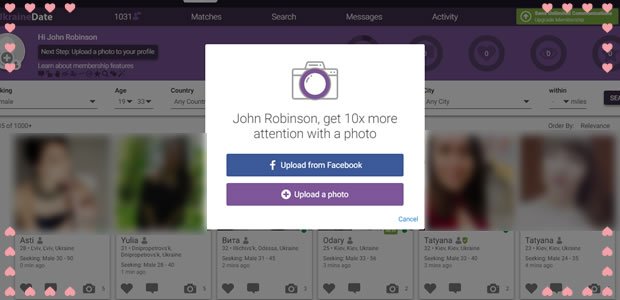 If you want to make it even easier to become a member of this site, you can use your current Facebook profile to register on the website. When you choose this option, you can import information from your Facebook page so that there is less information to input yourself.
Another benefit to signing up using your Facebook profile is that you can add the pictures from your Facebook to your Ukraine Date profile. This allows you to save more time when you go to work on filling out the other elements of your profile on this website.
Communicating with and Searching for Members
This site gives you many ways to talk to other members on this site. Members of all levels are able to send interest to let other users know that they want to communicate with them further. This is as simple as clicking a button on the site.
When you are ready to have a more thorough conversation with someone, you can opt to talk to them via messages. If you want to be able to send the first message to someone you are interested in, you need to be a paid member. However, all members are able to respond to messages that they receive.
Another way to communicate is by using the site's instant messenger. Paid Ukraine Date members can use this feature. It allows you to talk to someone in real-time to provide a more intimate communication experience.
Searching for other members is very easy. Just set your filters and it will produce results that are in line with the type of person you are looking for. You get access to more filters when you have a paid membership on this site.
You can also use cupid tags on Ukraine Date to find other compatible members. Just look at people who share the tags that you are interested in using this feature.
User Profiles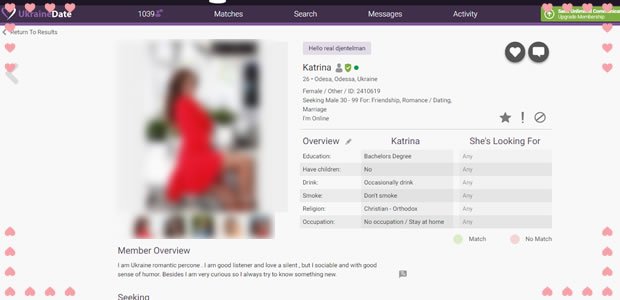 When someone on Ukraine Date fills out all of the profile sections, you can learn a lot about them. This site offers a wealth of sections so that you can really get to know a person based on their profile. This ensures that you can make good decisions regarding who you are compatible with.
No matter your membership level, you are able to look at the profiles of other Ukraine Date members. You also have the ability to check out their pictures. This can help you to determine if there are people on the website that you want to meet before committing to a paid membership.
There is an option to verify your profile so that people will know you are authentic. However, Ukraine Date does not require that members go through this process, so it is up to you if you want to do it.
Ukraine Date recommends that all people fill out every section on their profile. They also suggest that you add at least three photos. You can make changes to both of these should anything about your change in the future, so it is very flexible the information that you share with other members.
---
Overview Of Ukraine Date Features
This dating site is rich with different features that you can use to get to know other members on this site. Some features are only available if you decide to get a paid membership. Think about the features that will enhance your experience and this will help you to choose between a paid and free membership.
Stand Out in the Search Results
If you are a paid Ukraine Date member, there are two ways you can stand out above free members in the results. The first is that you will automatically have a higher ranking when you choose to get a paid membership.
When people start searching, any member who has a paid subscription is going to be above those with a free membership. This helps paid members get more out of the site.
The second option on Ukraine Cupid is called VIP profile highlighting. This is an elective feature that you can use if you have a platinum membership. When you use this feature, your profile will be more obvious in the search results so that people are more likely to notice it.
Ukraine Cupid App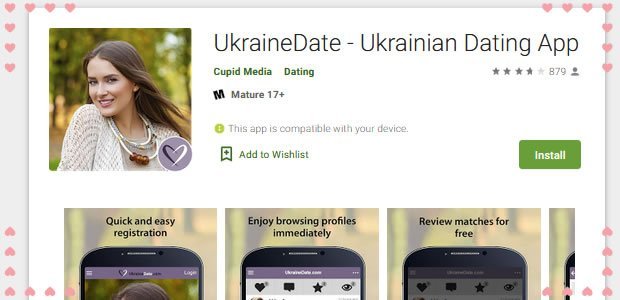 You can use an app to connect to the Ukraine Date website. This is available for Android mobile device. This gives you more flexibility regarding how you access this dating site.
The app is a bit outdated, but it is simple. You will not need a lot of time to learn how to use the Ukraine Date app. This app lets you access everything that you can on the desktop site. It is also possible to sign up via the app if you do not have a desktop computer.
Translation Capabilities
Ukraine Date is available in multiple countries. Because of this, there will be times when someone you are interested in speaks a language that is different than yours. If you have a premium membership, you have an opportunity to translate the messages that you receive so that you can communicate with other members who speak a different language.
It is also possible to translate the profiles of other members. This allows you to better evaluate different Ukraine Date members to find those with who you are compatible despite having different languages.
More Filters
If you choose to get a paid membership to Ukraine Date, you can use more filters when you are wanting to find other users to talk to. This allows you to make your search results more precise so that you can save time while you are finding new people to talk to. However, if you have a free membership, there are still some basic filters that are available to you.
More Profile Space
You get more profile space when you are a paid Ukraine Date member. This gives you a chance to better describe yourself to other users. It also lets you better describe the type of mate that you are looking for.
---
The Popularity Of Ukraine Date
Ukraine Date has about 80,000 members which approximately 15,000 from the US. Other countries that have a large member base on this site include Ukraine, Germany, Turkey, and France. Overall, about 12,000 people visit the site on a monthly basis, most of which are from one of these countries.
On this site, about 85 percent of the members are male and about 15 percent of them are female. This gives women the advantage when it comes to meeting multiple compatible people on this site.
The most popular age demographic on this site is people ages 25 to 44. In most cases, the members on this site are wanting to find a long-term relationship.
---
Safety and Security
Ukraine Date puts a lot of focus on the safety and security of the users on this website. They provide you with an option to report any profile that you find problematic. If a profile looks fake or if someone is bothering you, you can report the profile to have it removed from the site.
If you want to stop communicating with someone but they keep sending you messages, you can opt to block them. As soon as you use this feature, they can no longer contact you. This feature is available to all members on this website no matter your level of membership.
---
Customer Service
Ukraine Date provides you with a help section on the website that is easy to use. Check out the questions in this area to get the information that you need to use the website more effectively.
If you need help beyond what the help section offers, you can click on the tab that allows you to send a message to Ukraine Date. This provides you with a simple form where you add a few bits of basic information and then ask the questions that you have. Responses may take at least two days.
There is a phone number for the Ukraine date that you can all. The customer service agents are knowledgeable so that you can get the best answers to the questions that you have. In most cases, you do not have to wait on hold long to get a hold of someone.
---
Ukraine Date Pricing
If you maintain a free membership, you can send interest to members on the site. You also have a chance to respond to any messages from paid members and you can use the basic matching abilities on the site.
To do more on Ukraine Date, you will need to get a paid membership. The features that you will get access to include:
Browse profiles anonymously
Use the instant messenger
Message translation
Communicate with all users
Hide your profile
Exclusive search features
Better search ranking
Advanced matching algorithms
Double the profile space
The Gold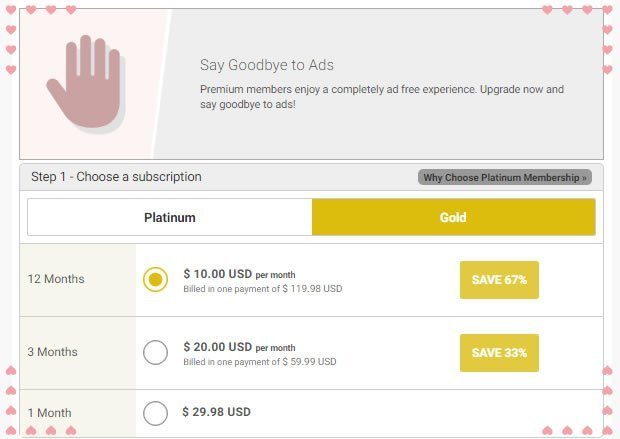 The first type of paid Ukraine Date membership is a gold membership. There are three payment options that are available:
Get 12 months of access to the site for $119.98. This costs you $10.00 a month.
Get three months of access to the site for $59.99. This costs you $20.00 a month.
Get one month of access to the site for $29.98.
The Platinum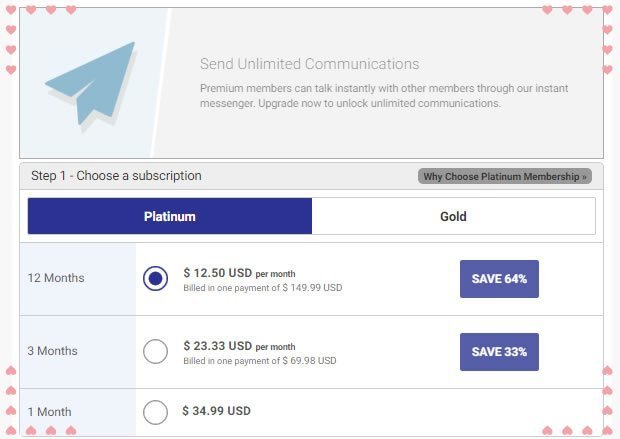 The platinum membership is another paid subscription on Ukraine Date. There are three payment options that are available:
Get 12 months of access to the site for $149.99. This costs you $12.50 a month.
Get three months of access to the site for $69.98. This costs you $23.33 a month.
Get one month of access to the site for $34.99.
When I put this Ukraine Date review together, these prices were accurate, but the site may make changes to them at any point in the future.
If you want to end your subscription, you will need to do this manually. This is because all subscriptions automatically renew.
---
Site Pros And Cons
Pros
You can block members
The app is free to download
There is an instant messenger
Backed by Cupid Media
Cons
There are fewer than 100,000 members on this site
App not available for IOS
---
Ukraine Date Review Conclusion
Ukraine Date is one of the niche dating websites that makes it easy to meet people from Eastern Europe. Several countries throughout the world are represented on this site.
It has a wealth of features that allow you to do a lot to vet members and communicate with those who interest you. This makes it easier to find members who you have things in common with.
---
---