Matching System

Searching

Ease of Use

Popularity

Profile Quality

Customer Service

Cost
Comments Rating
( reviews)
Overview
What is Military Cupid?
Whether you are in the military or just like military men and women, Military Cupid is a niche online dating site with the primary focus of bringing single military members to connect with other singles online.
This dating site has a strong user base, so it is relatively easy to find someone that you find interesting. There are different membership options to choose from and a variety of features, allowing you to engage with the site and its various members in multiple ways.
Popularity
Throughout the world, this dating site has over 600,000 members. Most of them are located in the US, as about 450,000 members are from this country. Despite most people on Military Cupid being in the US, you will find that the member pool is very diverse.
Women dominate this website, some of which are civilians, and some are in the military themselves. About 70 percent of the members are women, while the other 30 percent are men. Most of the men on this site are in the military, or they are veterans.
The site says that over 600 people head to the site daily. The most popular age demographic is 25 to 45. Most of the people on this site are here to look for a long-term relationship. However, you can find some people seeking something more casual.
First Impressions
This dating site has many members, and the users on this site tend to be relatively active. Because of this, when you reach out to members on the site, there is a good chance that you will get a reply. This ensures that you can interact with a lot of people easily.
The profiles on this site are extensive, letting you get a lot of information about a person before choosing to contact them. This helps to ensure that the two of you have at least a few things in common before you start to engage on this site.
While you cannot send messages as a free member, but you can respond. All members with a paid subscription can send messages to any person on the website. You can send interest no matter your level of membership.
You will get some matches on the dating site. If you want to expand upon the people you can meet, you can opt to perform a search. All members can do searches. However, if you choose a subscription, you have access to a variety of filters. This makes it easier to find even more people you are compatible with.
Design and Functionality
While I was researching this Military Cupid review, one of the first things I noticed was the layout. The site keeps it simple so that you can easily find your way around. The color scheme and design are aesthetically pleasing, making it easy to look at for long periods of time.
You can quickly locate all of the buttons and links to the features on this website. This ensures that you can find what you are looking for within minutes. Overall, you can learn the site within about an hour.
Registration
How Easy Is the Sign-up Process?
Signing Up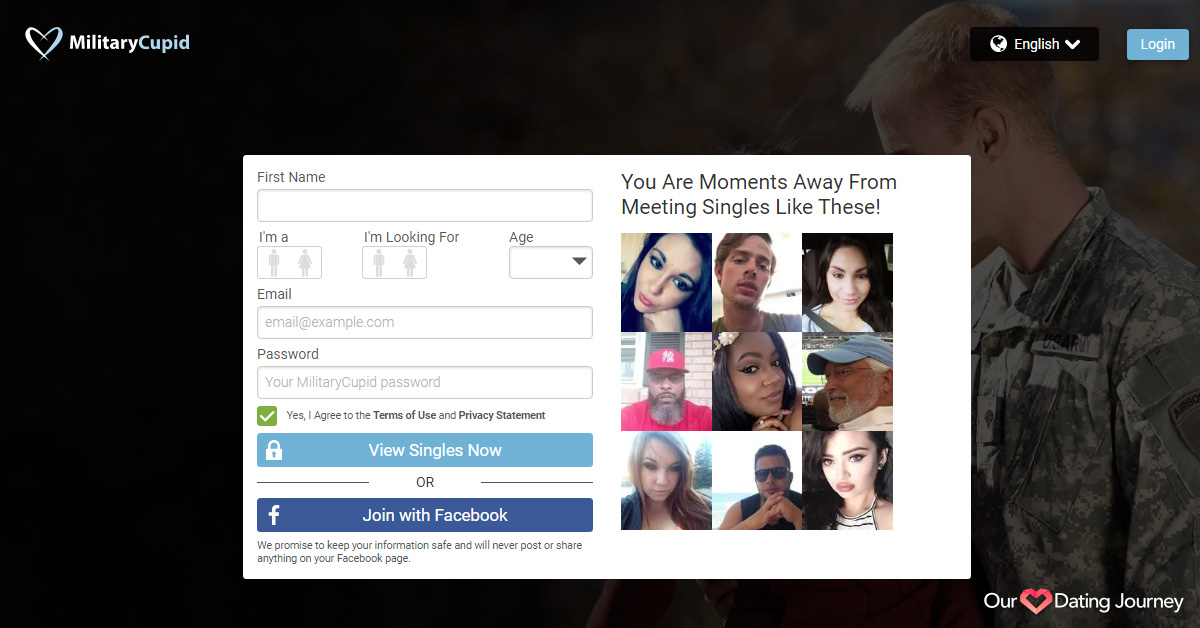 You can easily sign up for the website in under a minute. You only need to input a little basic information to gain full access to the website. If you want to make the signup process even easier, Military Cupid lets you use your Facebook account.
If you take the Facebook route, the information on your profile moves over so that there is less information that you have to put in yourself. It will even take your profile photo and make it your main picture on this website to save you time finding and uploading a photo.
Messaging
Searching for other compatible members on this website is very easy. All members can perform a search, so this is a feature that even free members can you. When you have a subscription, you get access to a lot more filters.
The search pages on this website are well-organized to easily see the people you might be a good match for. From here, you can easily click on profiles and start exploring what the members have to say about themselves.
You can also send interest to other members. This is a service that everyone can use, so you do not need to have a paid membership to take advantage of it. Using this feature essentially tells another member that you want to talk to them further, but it prevents you from having to type out a message until you know that they are interested in you too.
Once you are ready to start talking to other members, you have several options. The simplest way after sending interest is to message other users. If you have a paid subscription, you can send a message to any member on the site. Should you only have a free membership, you can respond to all messages, but you cannot send them until a paid member sends you one.
This dating site has a favorite list that you can use. This is a way to organize the members that you find the most interesting essentially. After you search, you can mark someone as your favorite and then go back later to send them a message. All membership levels can put other users on their favorite list, so even if you have a free membership, you can use this feature.
Profiles
Military Cupid makes it easy to get to know other members because the profiles have many details. You can look at the different tabs and sections to learn more about them to determine if they are someone that you might want to talk to further.
All Military Cupid members can create a profile on this site. You can also check out the full profiles of other members. This site also allows you to look at the pictures of members when you only have a free membership.
Once you complete your profile on Military Cupid, you have complete freedom to make changes to it in the future. The same is true for the photos that you put on the website. Because of this, you can be confident that you are always providing the latest photos and information to increase your chances of meeting someone.
On your Military Cupid profile, you can describe almost all aspects of your life and who you are, such as your appearance, values, and the interests and hobbies that you have. There is also space to talk about the type of person that you are hoping to connect with.
The App
Military Cupid also has an app that you can download on your mobile devices as long as they operate on the Android platform. You find this app in the Google Play store. If you have any other type of mobile device, the app is not available.
The overall functionality of the app is almost like it is on the Military Cupid website. This makes it easy to use both of them at the same time. It is user-friendly and will not take a lot of time to learn how to use it.
The Military Cupid app does not cost anything to download. On this app, the only associated costs are regarding your subscription fees if you have a subscription.
There are different features on this website that help you to get more out of the site. Learning more about some of the popular features can help you to decide better if Military Cupid is a good site for you to meet a new person.
Cupid Tags
There are several ways to meet new people on Military Cupid, and these tags are one of the options. You can choose up to five of these when you complete this section on your profile. Make sure that they relate to you so that when people search tags, your profile ends up in their search results on Military Cupid when they search one that relates to you.
Chat Live
Most Military Cupid members start communicating by sending messages to each other. However, if you want to talk to each other faster, there is a live chat that you can take advantage of. This feature is easy to use, and the setup is like an instant messenger.
When you use live chat, you get a chance to get to know someone from the website in real-time. There will be no delays in your conversation.
Photo Comments
If you want to let someone know that you like one of their photos on Military Cupid, you have the option to leave a comment on their pictures. This is an easy way to start a conversation with other members.
This feature is available to all of the site's members, including those who only have a free account.
Customer Service
How's the Support?
Military Cupid makes it very easy to get help when you need it. The easiest way to get fast answers is to give customer service a call. They are there to provide help Monday through Friday.
When you call them, you have to ensure that you are using the right phone number. It should be the one that is listed on their contact us page for your country. Make sure to think about the time in Queensland, Australia, when you do call.
There is a contact form that you can use to get some help too. Just fill out a little information and send it over. You will get an email back from them to assist.
If you do the verification process for your profile, you can send in the document via fax to make it faster. They also list a mailing address if you prefer this option.
Safety & Security
What Kind of Protection Is Offered?
Block or Report Users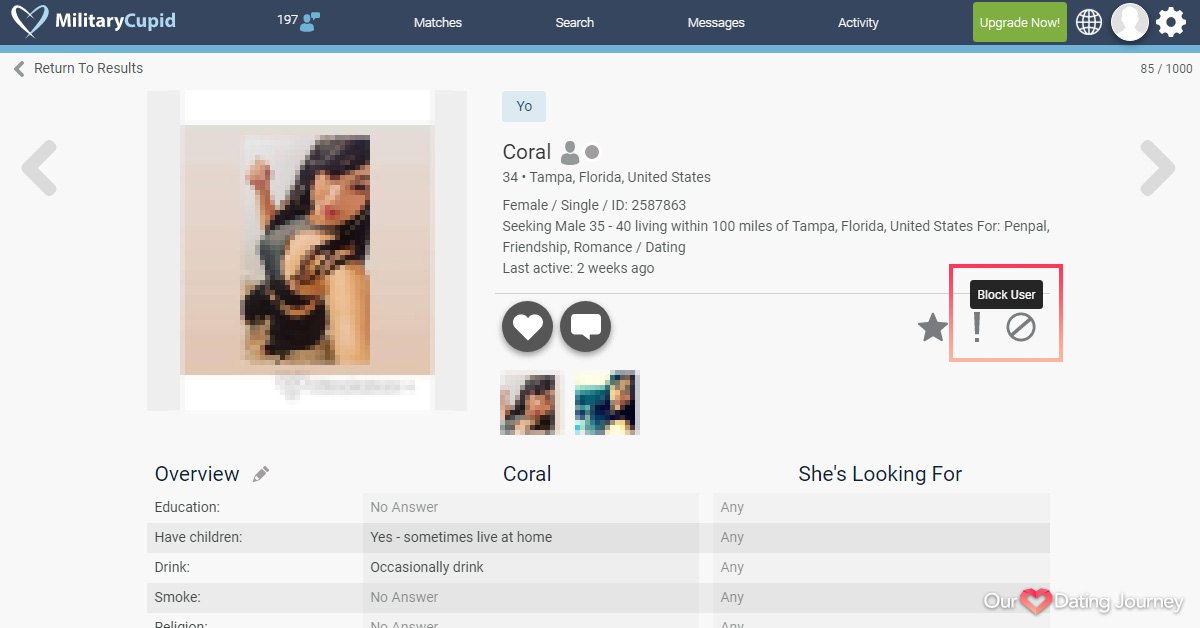 Military Cupid ensures that the members on the site are as safe as possible. If there is a user that you no longer wish to interact with, you have the option to block them so that no further communication can take place between the two of you.
If someone is violating the site's guidelines or harassing you, you can report abuse. The site will immediately check out what is happening and ban the member if they are violating any rule or guideline on the website.
Profile Verification
Another option is to verify your profile. When you do this, you are showing people that you are a real person. This creates a sense of security for the people who are interested in you.
Cost of Military Cupid
What Are the Membership Levels?
Option 1: Free
As a free member, you are able to explore the site to see what it has to offer. You have access to the following:
Respond to messages
Use the favorite's list
Send interest
Complete your profile
Add photos
Search members
As a paid member on this site, you can do things like send messages and engage in live chat. You also have access to profile highlighting, no advertisements, advanced search filters, and a better matching algorithm.
Option 2: Gold Members
The gold membership is a paid subscription option. It offers the following options:
For 12 months, the cost is $10.00 per month with a one time payment of $119.98
For 3 months, the cost is $20.00 per month with a one payment of $59.99
For monthly, the cost is $29.98
For a week, the cost is $14.99
Option 3: Platinum Members
The platinum membership is a paid subscription option. It offers the following options:
For 12 months, the cost is $12.50 per month with a one time payment of $149.99
For 3 months, the cost is $23.33 per month with a one payment of $69.98
For monthly, the cost is $34.99
For a week, the cost is $17.48
All of the pricing information was accurate when I wrote this review but could change in the future.
Pros and Cons
For or Against?
Here is the list of the most important benefits and disadvantages of using Military Cupid. This is taking into consideration each of the seven most vital features.
Positive
Lots of active members
Easy to use and navigate the site
Tons of filters for searching
Lots of communication features
Detailed profiles
Negatives
Only Android users can use the app
Support is slow to hear back from
Review Conclusion
Is Military Cupid Worth Your Time?
This is an ideal website if you are on active duty or you want to date someone who is on active duty. There are a lot of members, so it is easy to find a variety of people who you find interesting. The members on this site also tend to be fairly active, so you should not have to wait long to get a response when you send interest or messages to other members.
With all of the features on this site, you can find multiple ways to find matches and communicate with other members. Use the different search filters to find compatible matches. Once you do locate someone, send them a message, engage in a live chat or even leave a comment on their photos.
---

Military Cupid Review January 2023 (Best Way To Find Military Men And Women?)