Matching System

Searching

Ease of Use

Popularity

Profile Quality

Customer Service

Cost
Comments Rating
( reviews)
Overview
What Is MarriageMindedPeopleMeet?
While writing this MarriageMindedPeopleMeet review, I noticed that the profiles are rather interactive and there are several ways to find people with who you want to communicate. Because of this, it is a dating website worth exploring if long-term relationships are what you are seeking.
MarriageMindedPeopleMeet is an online dating site that focuses on men and women who are seeking long-term relationships that eventually lead to marriage. This website is not as big as others, but the member pool is diverse. Because of this, you can meet people with varying interests and relationship preferences.
Popularity
This online dating site has about 27,000 members throughout the world at the time I wrote this MarriageMindedPeopleMeet review. In the United States, there are approximately 15,000 members. Every week, the website says that about 10,000 members are active. While working on this MarriageMindedPeopleMeet review, I noticed that while the member pool is not especially large, a lot of people seem to check in at least once a week.
This website has more women than men. It breaks down to about 60 percent women and 40 percent men. Because of this breakdown, men have a bit of an advantage since there are more women on the website to choose from. The women also tend to be more active on this dating site.
The biggest age demographic on this website is people ages 35 to 44. However, 25 to 34 and 45 to 54 also have strong member pools.
Most of the members on this website are not looking for casual relationships, so if this is your goal, this website is not the best choice. The majority of members state that they are trying to find people who could be potential marriage partners.
First Impressions
When I was working on this MarriageMindedPeopleMeet review, my first impression is that the website is relatively simple, and this is a good thing. It will not take you long to find the site's features and learn how to use them. Because of this, you can start working on communicating with other members right away.
The people on this website are all there to seek a long-term relationship. Because of this focus, you can automatically weed out people who only want casual hookups, making it easier to find someone who shares your goals and values.
Design and Functionality
This website is relatively simple when it comes to its functionality and design. Because of this, you can quickly learn how to navigate it so that you can get the most out of all of the features.
Registration
How's The Sign-up Process?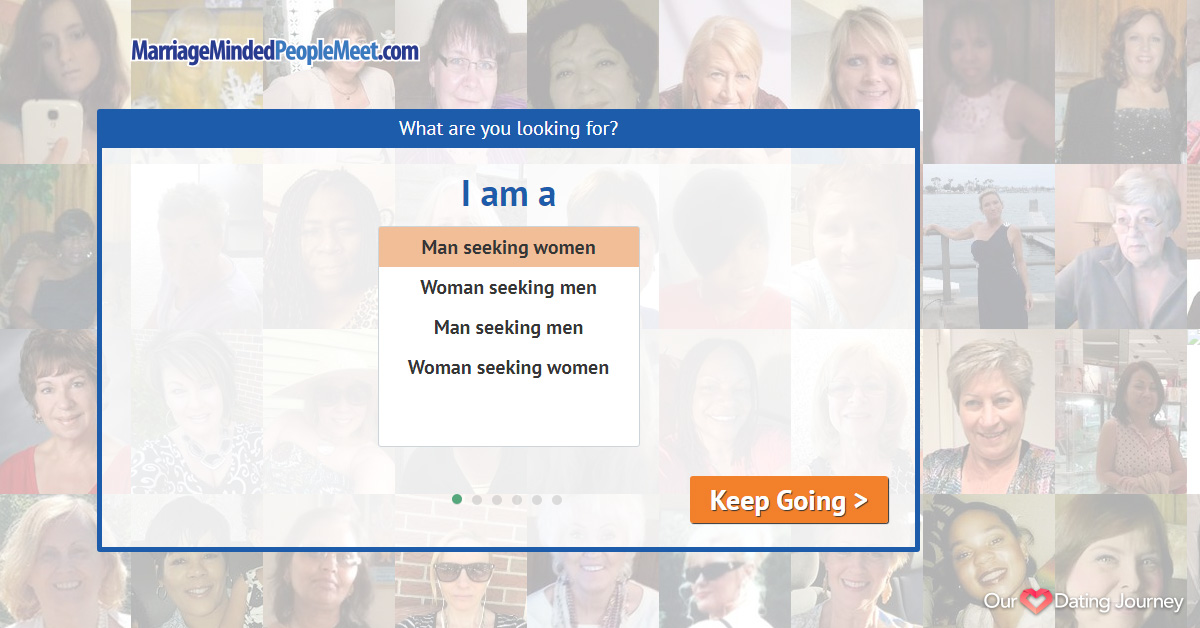 The first step is signing up and creating your account. Initially, you need to complete the registration process which only takes about two minutes to complete. As you go through the registration process, you are provided with clear instructions so that it is easy to get through all of the needed steps.
Once you finish this part, you should take the personality test. By completing this, you are increasing the quality of the matches that you receive each day. This part does not take too long, so you can tackle it fast so that it is done.
Lastly, you get a chance to write an introduction. This is where you will talk about who you are so that other members can determine if you have things in common. You can also use this section to talk about the type of mate that you are looking for.
Later in the process, you are given a chance to write two more essays. Here you can go more in-depth describing your ideal marriage partner and who you are.
Finding and Talking to Members
Every day, you will get five matches sent to you by the website. The matches that you receive are based on the information in your profile and the questions that you provide when you take the personality test.
If you want to find more people, you can use the search feature. There are options to narrow down the search to get results that are in line with the type of people you want to meet.
Once you find people you are interested in, you can message them or engage in a live chat. This website also has a chatroom if you want to have a conversation with several people.
Profile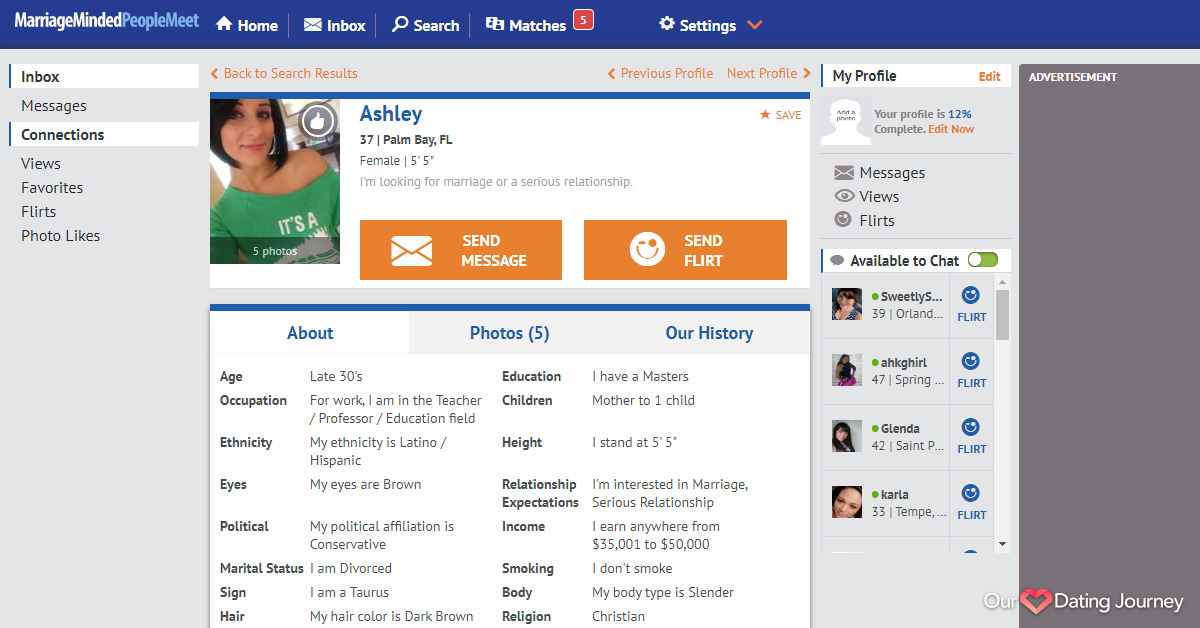 The profiles on this website are comprehensive and have areas where you can go into great detail. It is important to fill it out completely to attract people you share an interest with.
You can add several photos that all members can view, including those with a free membership. Take advantage of the "History" section on your profile to remind yourself about the people you have interacted with on the website.
Features
What Kind of Site Features Does It Have?
This website gives you some features that you can use to make using the website more fun. When you utilize these features, you have a better chance at connecting with someone who you have some chemistry with.
Flirts
If you find someone interesting, you can send them a flirt to initiate communication. This only requires the click of a button, making it a quick and simple feature to use. Should they like what they see on your profile, they can choose to contact you to talk more.
The website provides a list of the people who sent you a flirt. Just go to the "Flirts" section to see which members are listed.
Faves
When you are communicating with people on the website, you will likely find some people that you really enjoy engaging with. You can use this feature to keep track of these people so that they are easy to find again in the future.
Other members can also put you on their Faves' list. When you have a premium membership, you can check out who has added you to their list. This is another way to get an idea of which members you might want to start talking to.
My Yes Votes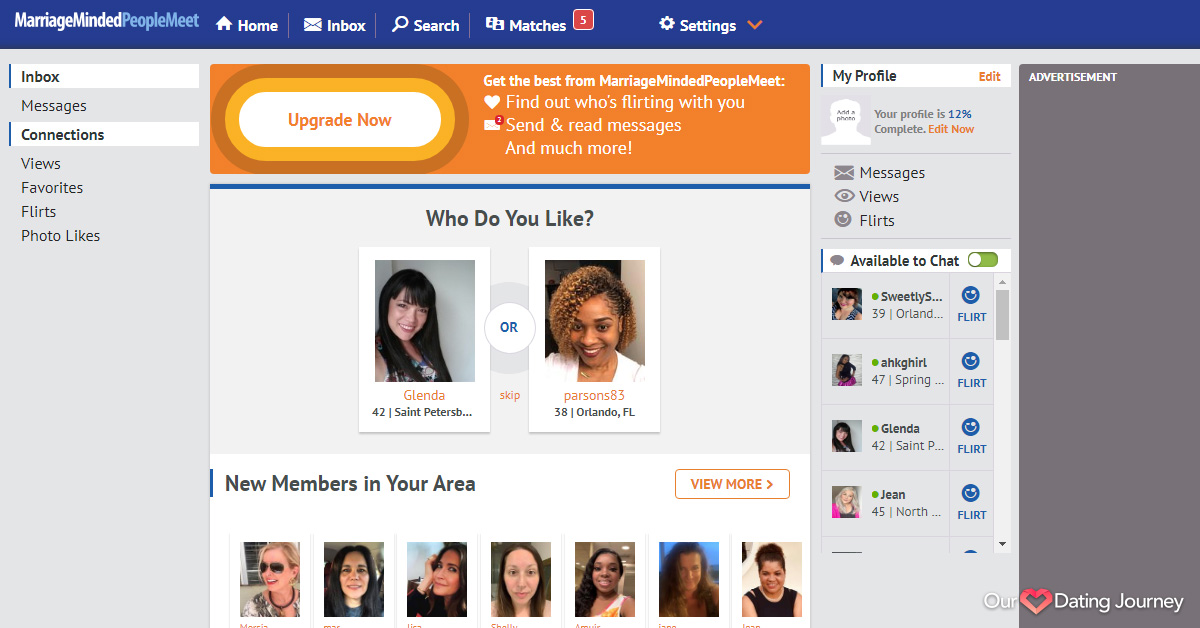 This website has a game called "Who Do You Like." You can play this game to find more people on the website that are not matched with you or coming up in searches when you perform them. When you use this feature, you can also see profiles of people who said "yes" to you.
This is a fun way of increasing the number of members you are interacting with. There is no limit regarding how often you can play this game, giving you something different when you do not want to keep searching the site for singles.
Customer Service
How Dependable Is the Support?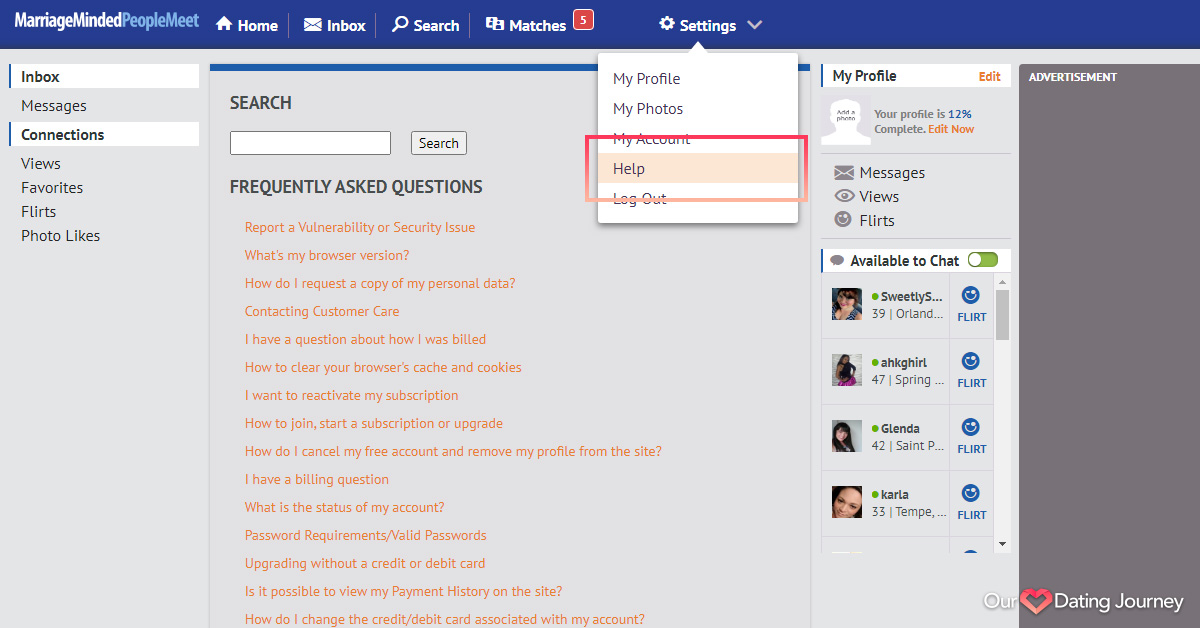 When you need help on MarriageMindedPeopleMeet, it is suggested that you start with their frequently asked questions page. They provide a list of questions that people often run into when they are using this website. The answers provide all of the pertinent details so that once you finish reading them, you likely will not need more help.
There is an option to search using keywords to find the question that you are looking for. You can also scroll down to the list of categories on this page. Here you can choose the category that best matches your needs to find all of the related questions.
If the FAQ section does not provide the answers that you are looking for, you can choose to go to the Contact Us form. You can find this form on the FAQ page at the bottom.
All you have to do is fill out the category, your email address, and ask your question. When you are typing out your question, make sure to keep it precise since you only get 3,500 characters.
The website does not list a phone number to contact a real person. They also do not have a live chat feature like some other dating sites do for customer service inquiries.
Cost of MarriageMindedPeopleMeet
What Are the Membership Options?
You can choose to get a paid subscription, or you can check out the website using a free account. If you opt for a free account, what you can do on the website will be limited.
The following features are available to free account members:
You can like the photos that other members post
Check out member profiles to see if anyone interests you
Send flirts to other members to let them know that you are interested
Explore the photo albums that members upload onto the website
Get your account created and your profile filled out
When you choose to get a paid membership, you are able to do everything that you can with a free account. However, you also get access to additional features that make interacting and meeting new people much easier and engaging.
These paid features include:
When you get messages, you are able to read them and then send a reply
If other members like you, you can see who they are so that you can decide if you want to communicate with them
If members have flirted with you, you can see who they are
If members are online, you are able to chat with them
The following are the three membership options that you can choose from:
For 6 months, the cost is $6.49 per month with a one time payment of $38.94
For 3 months, the cost is $8.99 per month with a one payment of $26.97
For monthly, the cost is $16.99
At the time of updating this review, all of these prices are accurate. However, they may change in the future. The website might also opt to offer discounts from time to time.
You will need to physically cancel your subscription if you choose to no longer be a member of the website. The website's default setting is to automatically renew your subscription on the day that it expires. Check out the settings in your account area to take care of this. The FAQ section also provides some details on how to cancel your membership.
When you are ready to get a membership, you will need to use a credit or debit card. They do not offer any other options to make your payment.
Pros and Cons
Exploring the Advantages Versus the Disadvantages
Before signing up with MarriageMindedPeopleMeet, learning about the website's pros and cons can help you to decide if it is a good dating site for you. These break down some of the common things that people either loved or were not crazy about.
Positive
Free to sign up and try
Easy to navigate and use
Low pricing compared to other sites
Interactive website with nice features
Negatives
Must be a paid member to communicate with others
No mobile app
Review Conclusion
Is MarriageMindedPeopleMeet Worth Your Time?
MarriageMindedPeopleMeet is an ideal website if you are looking for a life partner. While this is not the largest website, the member pool is diverse, and the majority of the members are considered to be active. Because of this, when you initiate communication with someone, there is a strong chance that you will get a response if they are interested.
One of the things that really stood out when I wrote this MarriageMindedPeopleMeet review is that the profiles are detailed and interactive. There are several features that allow you to get to know the members that interest you so that you can best gauge who you want to talk with.
Most of the members are in the United States. However, there are people all over the world registered on the website. This makes it possible to expand your horizons so that you are not limiting where you might find your soulmate.
Overall, you can sign up quickly and you do have a few options regarding the type of membership that you choose. This allows you to be flexible when it comes to meeting new people.
---


MarriageMindedPeopleMeet Review January 2022 (Is This Site Good To Find Your Long-Term Marriage Partner?)