Matching System

Searching

Ease of Use

Popularity

Profile Quality

Customer Service

Cost
Comments Rating
( reviews)
Overview
What is LoveAndSeek?
LoveAndSeek is a dating site focused on Christian singles and Christian dating. Most of the members are in the US. Many of the members are active, so when you want to communicate with people, it is relatively easy to do. However, if you wish to communicate with members, you will need to get a premium membership.
This free online dating site started in the early 2000s. It is an established dating website where most of the members find a meaningful, long-term relationship. The majority of the members are of the Christian faith, so it is easy to find someone who shares your beliefs.
How Popular Is LoveAndSeek?
This site has members in North America, but 95 percent of them are located in the US. Approximately 500,000 users on this website are located in the US.
The members tend to be fairly active and logging in daily. About 14,000 people log in to this site daily. Because of this, it is relatively easy to find people to communicate with. On this site, the most popular age range for members is 25 to 44.
Most of its members want to engage in a long-term relationship on this site. Since the members are about 50 percent women and 50 percent men, both genders have an equal chance of meeting people who might be compatible.
First Impressions
Why The Experience Matters
LoveAndSeek is an active website with a nearly equal male-to-female ratio. With this kind of balance, making a connection is more manageable, and you can meet someone, no matter which gender you are looking for. Most people on this site are relatively active, allowing you to know those who interest you quickly.
On this dating website, you can check out people's profiles to get many facts about them. Once you are done looking at a member profile, it will be easier to determine which people have many things in common with you. Ultimately, this will save you a lot of time when it comes to deciding who you want to contact on this dating site.
You do not have to verify your email when you register on the website. Overall, you can expect to spend about five minutes to get set up and registered on this site. During this time, you are doing things like inputting your necessary information and getting your profile started.
To finish signing up for the site, you will add a profile photo. However, you can choose to delay this and then just put a picture up later.
Is The Design and Functionality Of LoveAndSeek Good?
This online dating site provides an interactive platform to get to know other members on the site. It has a relatively straightforward layout that you can navigate fast. This ensures that you can access all of the features you like whenever you want to get to them.
Registration
How's The Sign Up Process?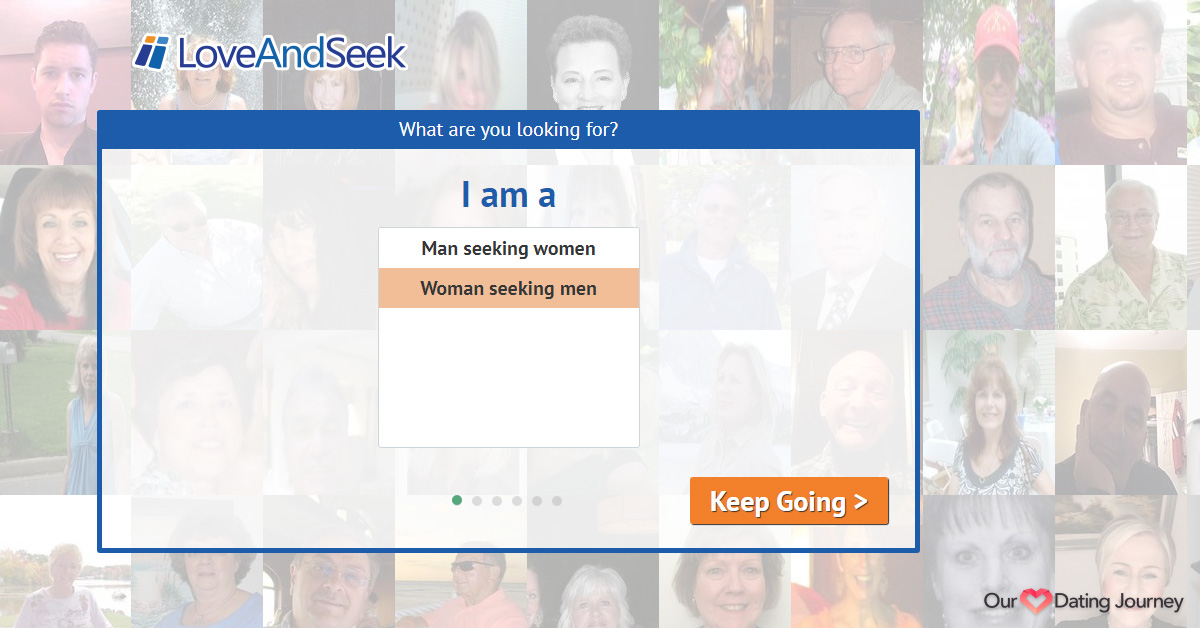 You can sign up on this site is under two minutes. You do not even need to verify the email address that you use. Once you are signed up, you can follow the popups to get your profile set up and ready for other people to view it on the site.
You will choose between Canada and the US when you sign up. Once you complete all of the popups, you can choose to add a picture on this site. I noticed while writing this LoveAndSeek review that you could skip some of the sections, such as the About Me. This makes it faster and easier to sign up on the website.
When you are finished with the process, you can go back and back changes to some of the sections. This makes it easier to ensure that your profile is always updated.
To make it easier to find pictures for your profile, you can use the ones you have on your Facebook profile. While you are not obligated to add an image to your profile, it is highly recommended. This is because other users cannot view your profile until you have a picture and additional information on certain parts of your profile.
Communication and Search Functions
When you log in to the website, you can immediately see some members' profiles with who you might be compatible. This view gives you a starting point regarding the people you might want to talk to on this website.
But, upon doing a quick and general search of members, not a lot comes up. Only 18 member profiles show up for the San Diego zip code 92101, and that's concerning. There should be way more than 18 people in a big city like San Diego.
There is also an option to search for people to find even more members with whom you might be able to develop a connection. If you want to have a little fun looking for more members to talk to, you can use the Who Do You Like feature. This allows you to compare members to get a better feel for a member on this site.
You will need a premium membership if you want to have meaningful conversations with the members on this website. Once you have a paid subscription, you can start responding to and sending messages to people. It is also possible to use the instant messenger feature if you wish to talk live to people.
When there are times where you want to talk to someone, but you do not know what to say, you can favorite them and then go back and communicate with them later. You can also opt to send them a flirt to show interest in them.
Member Profiles
On the member's profiles, you can learn about people as long as they fill out their profile sections. Since empty profiles are not visible, you can get some basic facts about people when you look at their profiles.
Free and paid members can look at member pictures and profiles. It is easy to see what someone looks like since you can add up to 30 images to your profile on this website. Just be sure that the photos are clear and that only you are present in them to ensure that people can genuinely see what you look like.
On member profiles, you will find three tabs where you can get more information about them. These sections include photos, the about section, and our history section. You can see the type of interaction you had with this specific user on this website in our history section.
Toward the end of people's profiles, there is a paragraph that they can fill out. This allows you to add information that is not present in the other sections on member profiles. Here you can further discuss the type of person that you are looking for.
Features
Can LoveAndSeek Features Stand Out?
This dating site has a variety of features that you can use as a member of this website. Using these lets you enhance what you can do when you are using the site.
LoveAndSeek App
You can use the same features on the app that you use on the website. Compared to the site, the app does not seem to get a lot of activity. Because of this, more people appear to use the desktop platform when they visit this site.
The design of the LoveAndSeek app is simple, making navigation very easy. You can quickly locate the functions and do things like make changes to your profile via the app platform. To access the app, you log in using the same credentials to access the desktop site.
Dating Advice
One nice feature of this site is that it can help you communicate with other members and explore possible relationships. There is a section that offers dating advice. Use this to guide you in your search for a soulmate.
Instant Matching
This LoveAndSeek feature lets you tell people that you are interested in them. When you use this function, it informs the other user that you are interested. There is a button that you click on to use this feature.
You can use this as a way to increase how many people you can meet via LoveAndSeek. If you want to communicate with someone further but do not know what to say to them, this feature is a way to get their attention.
Favorite's List
It is essential to keep track of the members that you are interested in. This list is an easy way to accomplish this. Just click a button to add someone to your favorite list.
Who Do You Like?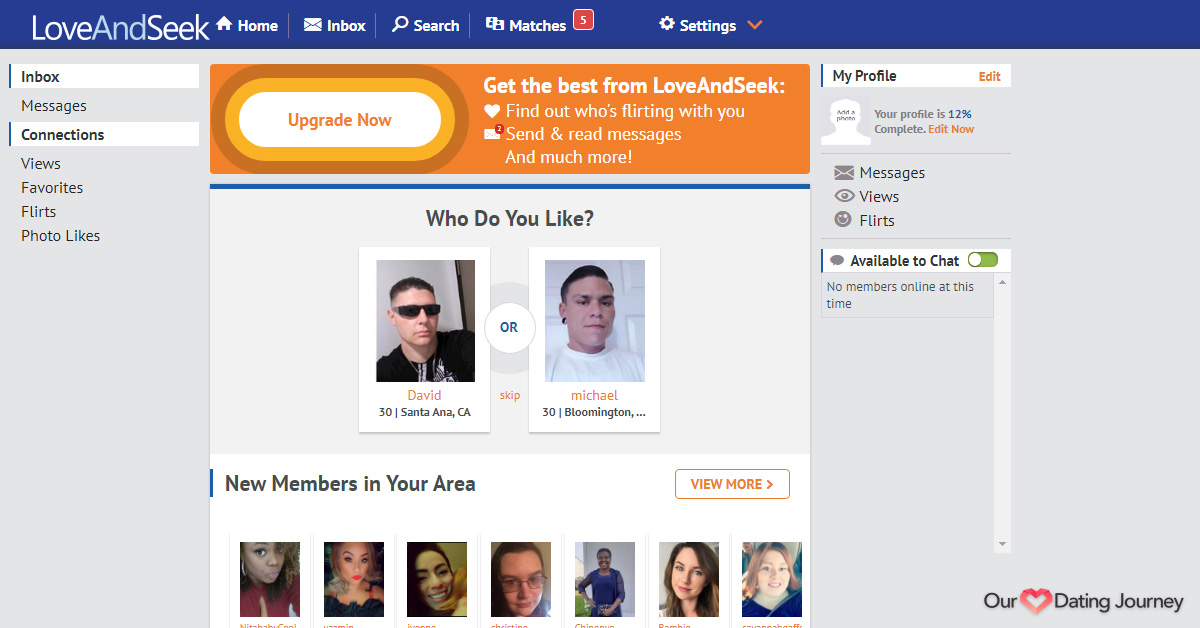 This LoveAndSeek feature lets you essentially pick between two members, depending on the one that interests you the most. You are presented with profile photos, and you choose the one that you like the most. Here you can start finding new members to talk to.
Profile Highlighting
LoveAndSeek has over 500,000 users, so if you want to talk to as many people as possible, you want to ensure that you stand out in the search results. This feature makes this possible because your profile will be more visible when it shows up in someone's search results.
Safety and Security
How Do They Protect Members?
LoveAndSeek lets you know which members are looking at your profile so that you can track the members who are possibly interested in you on this site. They also do what they can to protect your privacy because your personal information is not visible on the site. Because of this, you can remain relatively anonymous when you are using the website.
Also, you will need to create a username to go by using different website features. Creating a username prevents people from knowing your real name unless you decide to make it known. You also have a chance to contact the site about any users to who you are suspicious.
Customer Service
How Good Is the Help?
LoveAndSeek has a comprehensive help section that you can use to learn more about the site and get answers to your questions. The most popular questions are on the front page of this section. If you have other questions, you can check out the FAQ categories. The FAQ will provide you with additional questions to help you get answers.
On the LoveAndSeek FAQ page is a contact us button. You can use this to access a form that allows you to talk to someone on the site directly. It is a simple form that you can fill out within a couple of minutes. On average, you can expect a response within a few days.
Cost of LoveAndSeek
Is It Worth It?
This site allows you to register on the site at no cost. Because of this, it is easy to see if this site is going to work for your dating goals before you decide to upgrade your membership. As a free LoveAndSeek member, you can do the following:
Register your account
Use the favorite's list
Send flirts to other members
Use the search filters to find new members to talk to
If you decide to upgrade to a paid membership, there are more things that you can do as a member of this site. The following are premium features:
Reply to and read any messages that other members send to you
Know if any users flirt with you
Use the instant chat feature
Highlight your profile for better visibility in the search results
If someone adds you to their favorite's list, you will know about it
Get full access to the mobile website
You have three options on LoveAndSeek regarding the subscription plan that you choose. These include:
Six months of membership will be a one-time fee of $53.94. This is $8.99 a month.
Three months of membership will be a one-time fee of $36.97. This is $12.32 a month.
You can also pay every month. The cost of a monthly membership is $19.99 a month.
When I worked on this LoveAndSeek review, this cost information was accurate. However, the site might decide to make changes to its premium membership costs and features in the future.
When you start your premium subscription, there is a fee of $3.99. Once you have a LoveAndSeek subscription, you will need to cancel it manually, or else it will renew automatically.
Pros and Cons
Does the Bad Outweight the Good?
Positive
The website's design is similar to Facebook
It is possible to record a video introduction
Easy to search and filter
Easy to navigate and use the site
Negatives
Very low member appearing on site, even in big cities
You cannot send messages unless you pay for a subscription
Review Conclusion
What's Our Verdict?
LoveAndSeek offers you various ways to connect and communicate with fellow Christian singles but lacks the amounts of members to make it challenging to find someone you like. Our verdict is to try the site but be wary because there aren't many members even when you're in a big city. So perhaps joining another Christian dating site is worth your time.
Joining a Christian dating site makes it easier to stick to people who share your faith so that there is a higher likelihood of you both having similar values. This online dating site is ideal if you want things to be simple, and it's free to try. While there are various features, the navigation is easy, so you can quickly get around the site with minimal effort. There are many ways to communicate and perform searches, allowing you to find a lot of people to talk to.
---


LoveAndSeek Review February 2023 (Is This Good For Finding Christian Singles?)