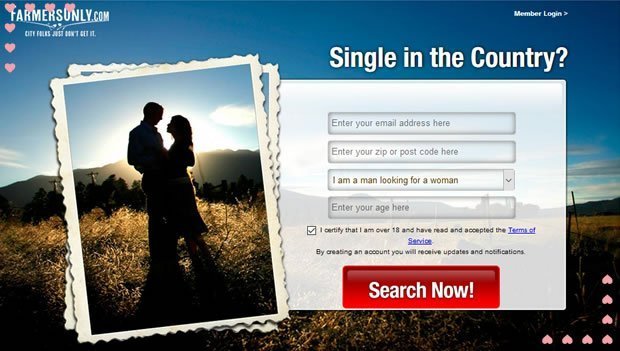 This Farmers Only review will help you to make a decision as to whether this dating website actually works and if it can be trusted.
Farmers Only is a dating website for those who want to meet other people in rural areas. The majority of members come from country areas, but there are city dwellers who want to connect with people in rural cities.
The matching algorithm is simple, allowing for a more diverse pool of members so that you can expand the people you meet on the website. You can also search for members.
As I wrote this Farmers Only review, I learned that the website makes it easy to find people and communicate. They also help to ensure that the members are authentic.
---
First Impression Of Farmers Only
Farmers Only has been around since 2005, so it has had time to adapt to virtual dating and allow for a large pool of members. This helps to ensure that you can find a wide array of people on the website, making it easier to find at least a few people who you have some chemistry with.
Most members are from the United States. With the efficient search feature, you can easily narrow members down to the exact locations that you are looking for. This search also ensures that you find people who share your interests.
When I began this Farmers Only review, my first impression of the website is that it has not been updated in a while. It is not as flashy and modern as other dating websites. However, it is easy to navigate so that you can easily take advantage of the features.
---
Design and Functionality
While the Farmers Only website is outdated, it is rather easy to navigate. You can find the different features and website areas with ease. Overall, within a few minutes you will have a solid grasp on how to use the website.
Signing Up
When you sign up on the website, you only need to input your email, gender preference, zip code and your age. The website will automatically generate a password and a username for you. There is an option to change these once you are a member of the website. Just keep in mind that when you are ready for a new username, you only get to change it one time, so choose wisely. Your password can be changed as often as you want.
You can sync your account with your Facebook. This allows you to pull photos from Facebook so that it is easier to add a variety of pictures of yourself.
Your Profile
One thing that sets this website apart from other dating sites is that paid members can submit unlimited photos. You will not have to go through the trouble of deleting and adding new ones as time passes. Just add new photos as you have them.
Your profile has all of the information that people need to determine if you are someone that they may have chemistry with. It has all of the basics, as well as plenty of information for you to describe yourself and the type of person you want to communicate with.
You can hide your profile. This allows you to essentially get away for a day and keep your profile out of the search results. However, if you want it to be hidden for more than a day, you will need to hide it again since the websites makes it available again when you login.
Making Contact and Communication
If you have a free account, you are not able to communicate freely with other people on the website. However, with a premium account, you have the ability to communicate with any other paid member. You can choose to contact free members, but they are unable to respond unless you opt into a Gold Status membership.
With Gold Status, you can also highlight your messages so that once they are delivered to a member's inbox, they stand out. This could get you more responses on the website.
There is not a comprehensive matching algorithm. The easiest way to meet new people on the site is to do a search and contact those who you find interesting.
---
Features
This dating site has a variety of features, many of which are not common on other dating websites. Because of this, you have a unique experience with you use this site to meet new people.
FarmPhone
Once you message someone for a while, you may want to start texting them using your cell phone. However, keeping your number private helps to guarantee your safety. With this feature, you can text each other without having to share your phone number. Just like with messages, you can block someone if you start to get uncomfortable with their communication. This is only available to premium members.
Discover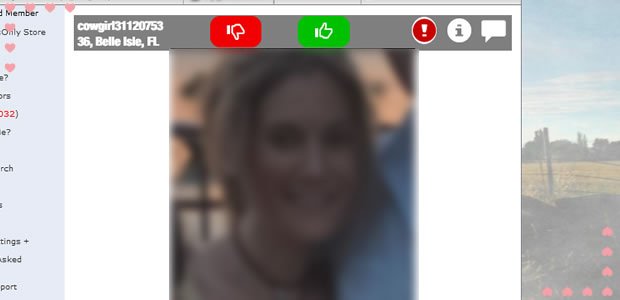 This feature is similar to the Hot or Not virtual game that was popular in the early 2000s. When you use it, the website shows you pictures of people with no other information. If you like them, hit the thumbs up. You will click the thumbs down if you are not interested. The people you are shown are within your target age range and active on the website. Using this feature can increase how many people you meet on this website.
FarmersOnly Store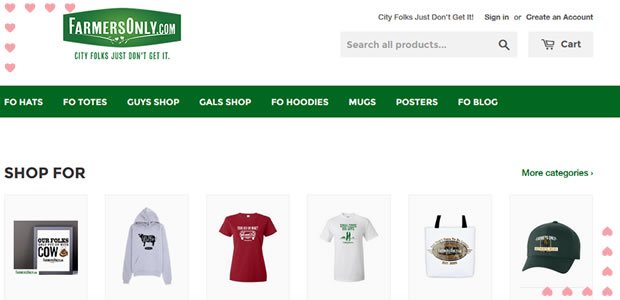 If you enjoy the experience of this website and want some apparel and other items with fun sayings and logos, this could be an interesting feature. The items all have sayings that someone who grew up in the country will appreciate, such as "no truck, no luck." There are varying price points and nothing in the store is free.
Flirts
While this feature is not unique to this website, it lets you quickly let other members know that you are interested in them. You can use this feature no matter what level of membership you have, including a free membership. Once you find a profile that interests you, just click on the flirt and the website will send it for you automatically.
---
Popularity
Farmers Only says that it has approximately five million members. About 90 percent of these members are reported to be in the United States. While they focus on the US market, they say that about 10 percent of their members reside in Canada.
Every month, about 43,000 people visit the website.
The majority of the members fit into the following demographics:
About 60 percent of the members are women
They have a high school education
Most members are Caucasian
The most common age range is 18 to 34
$30,000 to $60,000 is the most commonly chosen annual household income
Most of the members say that they are farmers or live in a rural area. However, the website does not restrict people from urban and suburban areas from joining the website.
According to the membership statistics, it has been growing steadily since 2013, with new members signing up every day.
At the time I wrote this Farmers Only review, this website says that it's responsible for at least two marriages every week in the US. This means that at least two couples who get married each week met on Farmers Only.
---
Customer Service
As I worked on this Farmers Only review, I took a hard look at their customer service and support. The first element of their customer service features is a comprehensive FAQ section. Here you can find answers to an array of questions you might have. It covers everything from accessing your account to learning how to upload the right photos.
In this section, you can use CTRL plus F at the same time on your keyboard to search for specific keywords related to the questions that you have about Farmers Only. This makes it easier to narrow down answers to your questions so that you are not spending a lot of time reading through the questions.
You can choose to call them during their established business hours. Overall, you can get in contact with a real person relatively quickly. In my experience, the hold times are no more than a few minutes. The people you speak with are professional and eager to help to answer all of your questions thoroughly.
There is also a contact form that you can fill out if you do not want to talk to someone on the phone. This page says that you will get a response as soon as possible. It does not offer a more precise timeline.
You can fill out the form quickly. In addition to listing your questions, you only need to leave your name, email and username. The form also asks that you specify the type of question you are asking.
---
Cost Of Farmers Only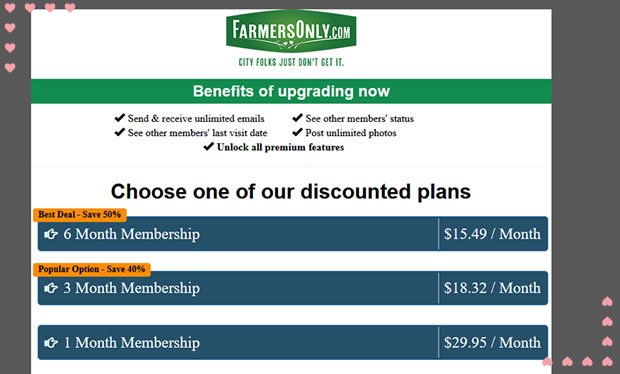 If you want to simply get a look at the website, you can sign up for a free account.
With a free account, you can do the following:
Look at and browse profiles
Send flirts to members
Create your profile
Look at photos from other members
If you choose a paid subscription, you get all of the free Farmers Only website features, as well as several others, including:
Receive and send messages (this is unlimited)
You can see the members who sent you flirts
The website allows for unlimited pictures
Use a mobile device to reply to and read your messages
You can see when other members visited the website
There is an option to block members who you are not comfortable with
The site allows you to pay in four ways:
PayPal
Mobile phone
Credit card
Check
At the time I created this Farmers Only review, the following were the subscription costs. They may change at any time.
You can choose to only use a texting service to access the features of this website. This is $4.95 a month.
Gold Status is another membership option. You pay monthly at $9.99 a month. With this membership, the messages you send to free members can be read by them and they can reply.
The website also offers a Premium membership. There are three payment options:
One month is $29.95.
Three months is $18.32 a month (you make a one-time payment of $54.95).
Six months is $15.49 a month (you make a one-time payment of $92.95)
The website is set up to renew your subscription automatically on the day that it expires. If you do not want to participate in automatic renewal, you will have to check your account settings and turn this feature off.
---
Site Pros And Cons
While writing this Farmers Only review, I identified various pros and cons to consider. You can use this information when working to determine if this is an ideal website to join to find love.
Pros
They offer a service to text message other members securely
The registration process is very easy
Steps are taken to ensure that members are authentic
Cons
This website does not have a formal matching algorithm
To communicate via email, both people have to have a paid membership
---
Farmers Only Review Conclusion
After completing this Farmers Only review, I learned that while the website is outdated regarding its design, it is relatively user-friendly. Once you register and get to the main page, you can easily see the features so that you can participate on the website.
With millions of members, it is not difficult to find people to talk to. The primary focus of this website is dating, but you can also use it for casual relationships or to find new friends.
To find matches, the easiest way is to search the members on the website. You can narrow down your searches well, helping you to get search results that you are likely to have things in common with.
Most members on Farmers Only are people with an experience in country or rural living. However, the member pool is diverse, so you will also find people who are interested in dating country folks.
In addition to the expected dating website features, you can also check out the blog, get recipes and read success stories from people who met on the website. These features tie everything together and ensure that the website is also informative.
---
---