Matching System

Searching

Ease of Use

Popularity

Profile Quality

Customer Service

Cost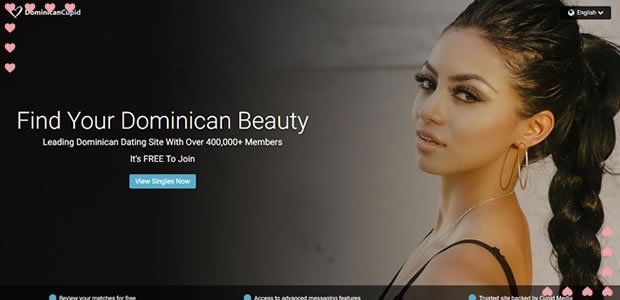 Dominican culture is strong and diverse. If you are Dominican or you are from another background but want to date Dominican people, DominicanCupid is a dating site that makes this easy. It is focused on finding Dominican people so that you can meet someone who has the personality and culture that you are looking for. (To learn more about dating a Latino read the guide here)
Exploring DominicanCupid lets you see what this website has to offer. From here, you can make an informed choice about whether DominicanCupid is the best website to aid you in meeting your match.
---
First Impression Of DominicanCupid
DominicanCupid has a clean layout. You can learn how to navigate it pretty quickly. Choose to view the site in either Spanish or English, depending on which language you prefer.
This is a good website to meet friends and to seek out potential romantic partners. Due to the design of the site, you have opportunities to really get to know other members to determine if they are a good match.
With its diverse member base, this is a site that everyone can join. There are different membership plans, allowing you to choose the one that meets your needs.
---
Design and Functionality Of DominicanCupid
DominicanCupid is easy to use. The layout is relatively simple, making it easy to learn how to access and use all of the features. Everything is clearly labeled so that you do not have to take a lot of time moving around to get to the right section on the website.
Signing Up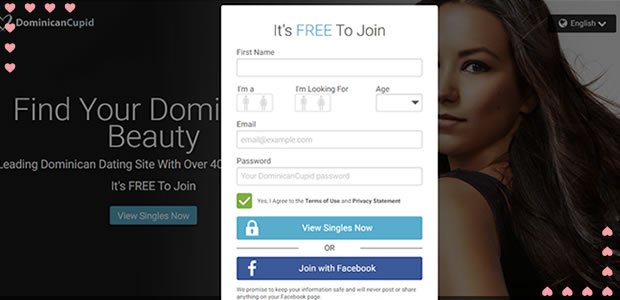 You can complete the initial signup process on the site in under three minutes. It only asks for your basic information, including your gender, the gender you are searching for, your first name and to create a password. This website also allows you to use your Facebook to sign up.
You do not need to verify your email address or upload a photo right away. DominicanCupid gives you time to explore the website before you need to commit to filling out your entire profile. This allows you to determine if this is a good website for you before you decide to take advantage of all of the features.
Should you choose to stay and upgrade your account, you can do this within minutes. You can also fill out your profile and add photos of yourself at your own pace.
Communication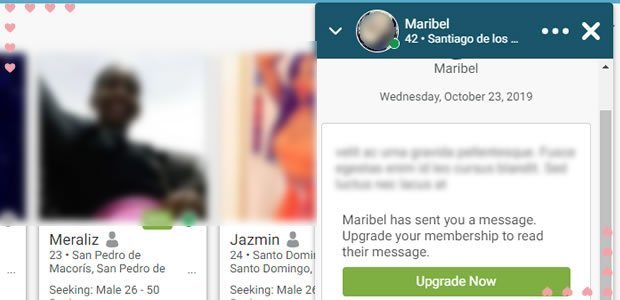 DominicanCupid lets you communicate with other members in several ways. Only one member needs a paid membership to communicate with each other. With a paid membership, you can send messages to any person on the site.
Other communication features for paid members on DominicanCupid include:
Using your favorite's list to keep track of the members you enjoy talking to
Going to the chatroom to communicate with several members at once
Utilizing the advanced search features to make it easier to connect with people you have things in common with
You can also send hearts to other members. This DominicanCupid communication feature is available to all members, including paid members.
Profiles
DominicanCupid profiles are simple but they offer plenty of information to help you to get to know other members. As a free member, you can set up a basic profile and look at the profiles of other members. Free members can add up to five pictures to their profile.
The website offers a verification process. Once you complete this process, you get a badge on your profile. This will tell other DominicanCupid members that you are a real person. It is easy to do this process. You will contact the support team and send them a picture of your state ID or driver's license. Make sure that it is clear and easy to read.
On DominicanCupid, the profiles are relatively detailed for paid members. With a paid membership, you will have a symbol on your profile that tells other people that you are a paid member.
Once you create your profile, you can make changes to it at a later time. This makes it easy to make changes to your photos and profile information as your life changes. Because of this, your profile will always accurately reflect who you are and what you are looking for.
---
DominicanCupid Features
This online dating website offers a variety of features that you can take advantage of. To access all of the features on this website, you will need to have one of the paid memberships.
Safety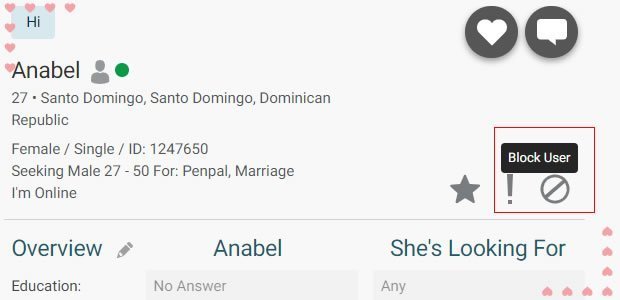 This website has different safety features that help to maintain your security when you are using the site. If you are communicating with someone who is making you uncomfortable, you can use the Block User feature. Find this feature on the website's sidebar. It is a simple feature to use, allowing you to block people within seconds.
You also have the option to Report Abuse. This is located on the same sidebar as the blocking feature. If someone is harassing you or engaging in similar abusive behavior, you can use this feature.
When you report abuse, there are people that look at the report personally. This helps to ensure that it is taken seriously. It is known that this website takes abuse very seriously. When someone is engaging in this type of behavior, they do not hesitate to ban them from the website.
When you are a paid member, you can also browse profiles anonymously. This helps to further the security of the website because people will not know that you looked at their profile unless you choose to initiate communication.
The App
There is an app associated with this website. It is not as extensive as user-friendly as the website. However, it does have all of the features. This allows you to keep up with your communications with other members when you are not able to get to a computer.
Video Greetings
If text chatting gets too tedious, you can opt to use video for chatting and sending greetings to other members. This gives you more communication opportunities so that you can keep things interesting.
Built-In Translator
If you only speak English or Spanish, you can easily communicate with other members who speak the opposite language. This website will take care of the translation for you. The translation is relatively accurate, ensuring that you are accurately communicating with those who you are interested in.
CupidTags
This feature is another way that the website provides matchmaking. You can choose some keywords that reflect who you are. The website then uses these tags to match you up with other members who have similar interests. With this feature, it is easier to match with people with who you have something in common with.
---
Popularity Of DominicanCupid
Throughout the world, there are about 400,000 members on DominicanCupid at the time of this writing. Approximately 136,000 of these members are located in the US. The majority of the other members are from the Philippines and Germany. Each day, about 1,100 people log in to this dating website.
The DominicanCupid member base is about 60 percent men and 40 percent women. Most of the female members have Latin roots, including those of Dominican backgrounds. On DominicanCupid, Caucasians make up most of the male population.
When it comes to the female members, most are ages 25 to 36. The men on the website are mostly in the 35 to 49 age group.
On DominicanCupid, most of the women have a free membership. Men are more likely to get a gold or platinum membership to allow members to communicate with one another.
This website allows you to seek out a variety of relationship types. However, on DominicanCupid, it seems that most members are looking for a romantic partnership. Because of this, it is an ideal site for those who are looking for a long-term relationship. There are opportunities for those looking for friends though if this is the type of relationship that you prefer.
---
Customer Service
DominicanCupid offers some options regarding how you can contact them. They offer a postal address for their office in Australia. If you prefer to send inquiries via postal mail, this is the option you can use.
This website also has phone numbers that you can call, depending on the country that you are calling from. There are specific phone numbers for UK, US, Australian, and Canadian website users. If you reside in another country besides these, there is another phone number that you can call.
All of the phone numbers are according to Queensland, Australia time. On the Contact Us page on the DominicanCupid website, they display the time in Queensland, making it easy to know if you are calling them during their business hours.
When you call, you will need to tell them that you are inquiring about something on DominicanCupid. You will also be asked to supply the email address that you used when you signed up for the website.
DominicanCupid also offers a fax number that you can use to contact them. This is an Australian number. Because of this, there might be some fees involved if your phone service does not have free long distance.
This DominicanCupid customer service is relatively responsive. When you call during business hours, they answer within 30 minutes, but usually faster than this. Due to the knowledge of the staff, it does not take long to get your questions answered.
The customer service agents at DominicanCupidare friendly and easy to talk to. If they do not know the answer right away, they take the time to ensure that they find the answers to your questions. You can send them regular mail, but since it needs to go to Australia, if you are in another country, it could take a few weeks to get a response.
---
DominicanCupid Cost
Free Membership
DominicanCupid offers a very basic standard account for free. The DominicanCupid free account includes access to the following:
Basic matching
Communicate with other members who have a paid membership (two free members are unable to communicate with each other)
Send interest
Gold Membership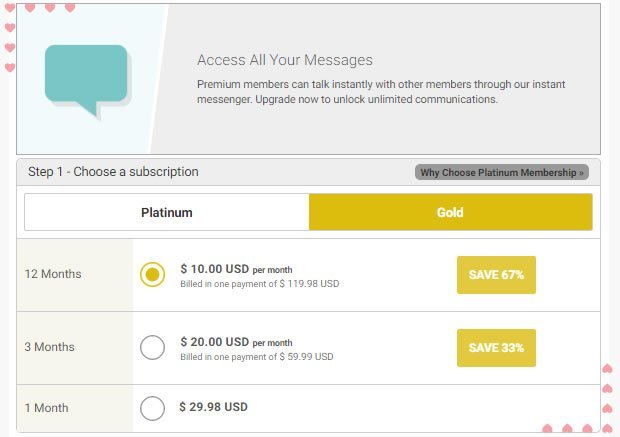 The next level is the gold membership. If you choose the DominicanCupid gold membership, the following payment options are available:
A 12-month membership is $10.00 per month. You will pay for all 12 months upfront for a total cost of $119.98
A six-month membership is $20.00 per month. You will pay for all six months upfront for a total cost of $59.99
A one-month membership is $29.98 a month. You will pay for each month individually
With a DominicanCupid gold membership, you have access to the following features:
Basic matching
Communicate with all other members (this includes free and paid members)
Use instant messenger for live chatting
There are no advertisements on the website
Send interest
Send and receive messages
Browse other members anonymously
Hide your profile
Platinum Membership
On DominicanCupid, platinum is the highest level of membership. If you choose the DominicanCupid platinum membership, the following payment options are available:
A 12-month membership is $12.50 per month. You will pay for all 12 months upfront for a total cost of $149.99
A six-month membership is $23.33 per month. You will pay for all six months upfront for a total cost of $69.98
A one-month membership is $34.99 a month. You will pay for each month individually
With a DominicanCupid platinum membership, you have access to all of the features that come with a gold membership. You also get additional features, including:
You rank above other members on the site
VIP profile highlighting
Access to advanced matching algorithms
There is twice the profile space
Exclusive search features
The website will translate messages into your chosen language
DominicanCupid makes it easy to pay for membership. They offer the following payment options:
Credit cards
Paysafe card
Skrill
PayPal
Bank transfer
If you opt for a DominicanCupid paid membership, it will renew automatically. However, you can choose to stop the auto renewal process to prevent this from happening if you prefer to renew your membership manually.
These DominicanCupid costs are accurate as of the time I wrote this DominicanCupid review. However, they are subject to change at any time.
---
Site Pros And Cons
While evaluating DominicanCupid, it is important to understand the pros and cons of the site. These provide some quick information about what you can expect when you are a member. They essentially sum up the different things that the site has to offer.
Pros
There are several easy matchmaking features
The system is bilingual, allowing you to use the language that you are the most comfortable with
This dating site has a lot of active members
Its privacy system is superior
Cons
Males outnumber females significantly
This website offers limited social activities
---
DominicanCupid Review Conclusion
While I compiled this DominicanCupid review, I noticed that it had a wealth of features that are easy to use. This makes it possible to really get to know the website. It has been around since 2006, making it established so that you can be confident that everything works as intended.
If you are ready to find someone that you have a real connection, DominicanCupid can aid with this. You can also use this website for things like meeting new people from the Dominican culture so that you can learn more about it and diversify your friend group.
Overall, this is one of the best dating websites to find Dominican singles. If you use the site correctly, you may find your perfect Dominican match!
---
---