Matching System

Searching

Ease of Use

Popularity

Profile Quality

Customer Service

Cost
Comments Rating
( reviews)
3/21/2021 Update
Our newest update of this review covers reviewing all features, updating information, updating images, and adjusting content.
Overview
What Is ColombianCupid ?
ColombianCupid is an online dating website for people who want to meet those of Colombian culture. However, it does not limit members to only people who are from Colombia. This allows you to meet a variety of people with who you might have a connection. (Read the guide to Latin dating to help you navigate the world of dating people from the Latin culture)
Learning more about this dating site will let you decide if this is the right website for your romantic goals. Since the website has nice features and a layout that is easy to work with, it will not take long to determine if this is a site that you want to be a part of.
Popularity Of ColombianCupid
ColombianCupid has around 1 million people registered on the website at the time of this writing. Every day, this site reports that there are 4,425 unique visitors. These statistics show that there are plenty of people to meet and that many of the members are active.
Approximately 33,000 members are in the US. The majority of members are from this country, but the following countries also have a lot of registered users:
Colombia
Chile
Germany
Turkey
Women have a great advantage on this website since they are the minority. They account for 13 percent of the members. Most of the women appear to be Latina, but there are women from other cultural and ethnic backgrounds.
Men make up 87 percent of this website. While they significantly outnumber women, this does not mean that it will be hard to meet someone. Most men seem happy with the level of interaction that they get on this dating website. The majority of the men appear to be Caucasian, but there are many other ethnic groups that make up the website's male population.
The majority of people on ColombianCupid seem to be seeking long-term relationships that might lead to marriage. However, the website does provide a lot of flexibility regarding the types of relationships that you can look for. For example, you can use this site to look for a pen pal or new friends.
First Impressions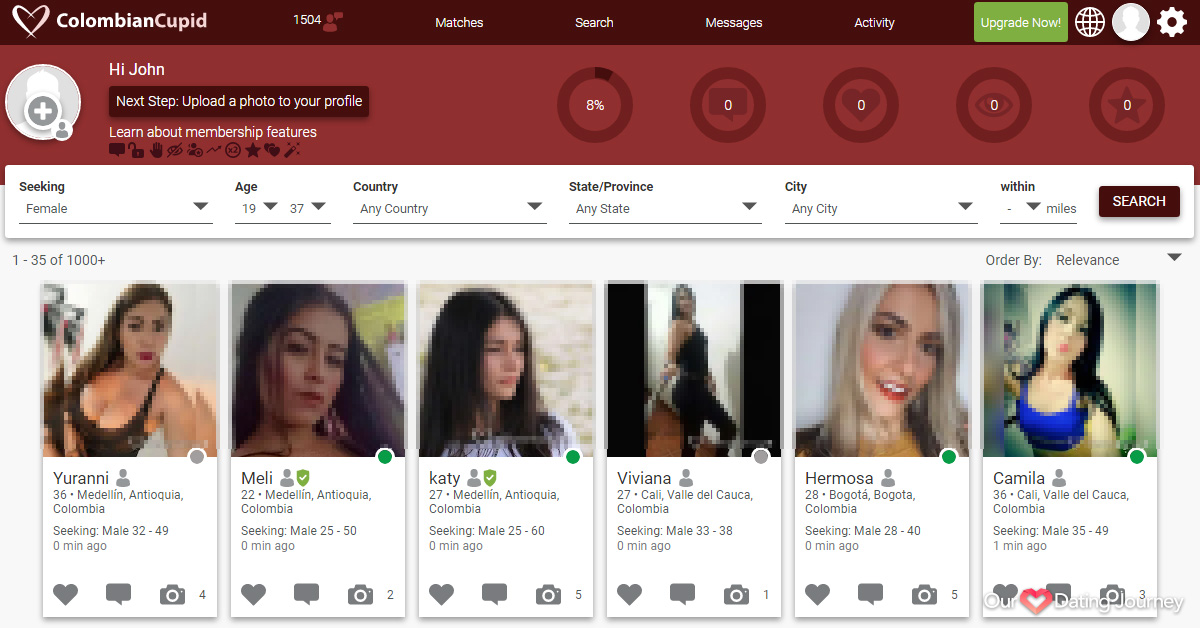 This dating site has several communication features that make it easy to get to know the other members on the website. Since only one of you needs a paid membership, this lets you mix and mingle with more people.
There is no language barrier since the website can translate its content into both Spanish and English. This helps to ensure that all members can communicate effectively.
The focus of this website is on people with a Colombian background. However, since they do not limit members to only people who are Colombian, you are exposed to a diverse pool of members. This helps to ensure that you have the greatest chance of meeting someone special.
Overall, this website is easy to use and navigate. Signing up only takes a less than a minute and completing your profile may take up to 10 minutes or more, you can learn how to use all of the features. You can start meeting new people immediately too.
Design and Functionality
The website makes it easy to get started. Its design is simple so that you will not have to spend weeks trying to find all of the different elements and features. Overall, it has a sleek design and an easy layout that all people can use.
Registration
How's The Sign-up Process?
Getting Started
The first step to using this dating site is to sign up for the website. You can tackle the process in under a minute.
You have the choice to fill out a few basic pieces of information or use your Facebook to get started. The basic information includes your age, gender, first name, password, email and the gender of the people you are wanting to meet.
The website does not require that you add a picture right away. However, since it can take up to 48 hours to get your picture approved, it is recommended that you get your first photo uploaded as soon as you sign up.
Communication and Matching
You can use matching or a free search to find people with who you might be compatible. If you choose to search, you can check some basic criteria to narrow down your results. Those with a paid membership can use more advanced searching options to increase their chances of meeting someone special.
ColombianCupid has an instant messenger and a chatroom that make it easy to communicate with other members in real-time. Overall, many members are pretty active, allowing you to get responses relatively fast from the people who interest you.
When you are looking for people, you can view the photos on their profile with paid and free memberships. However, if you want actually to talk to someone, either you or they need to have a paid membership.
Profiles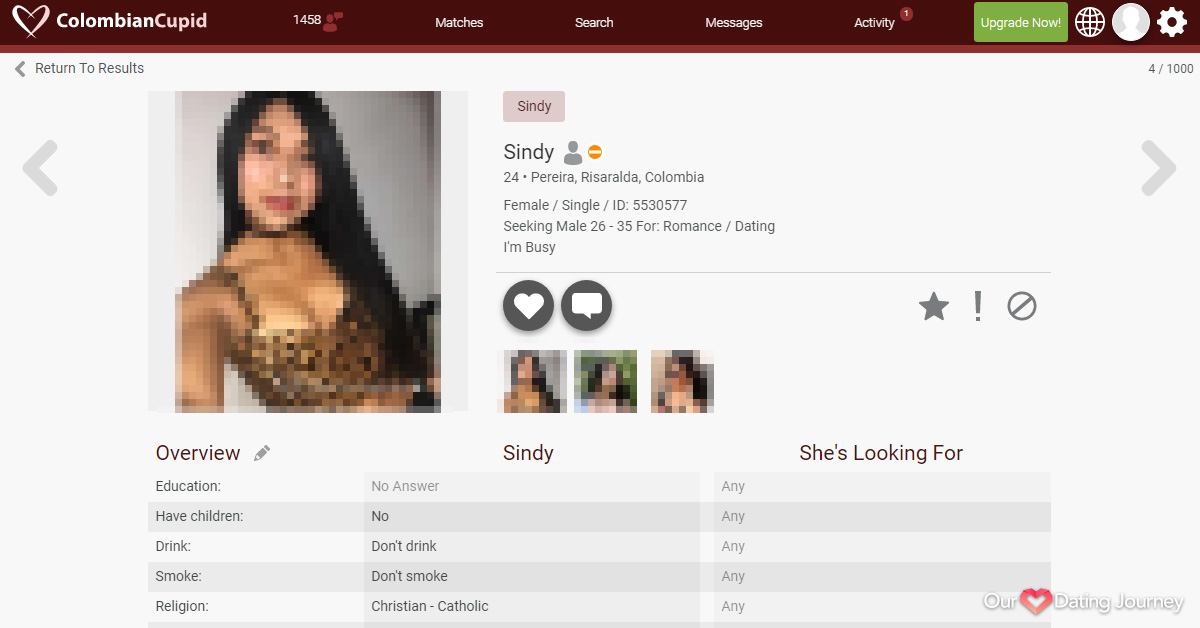 The profiles on ColombianCupid are quite detailed. You can input a lot of information about your ideal mate and who you are. This helps to simplify things so that you can find people who truly interest you.
While it can take time to finish your profile, you will get better matches with the more details that you input, so it is recommended that you finish it completely. As your life changes, you can alter your profile at any time.
If another member looks at or favorites your profile, this website will let you know. There are notifications that are sent out. This is another way to start meeting members with who you have things in common.
Features
What Kinds of Features Does the Site Have?
This dating site has no shortage of features that allow for easy communication and use of website. Most of the features are only available to paid members, so keeping this in mind is important. However, most of these can be used by free members if they are interacting with a paid member when it comes to communication features.
Cupid Introductions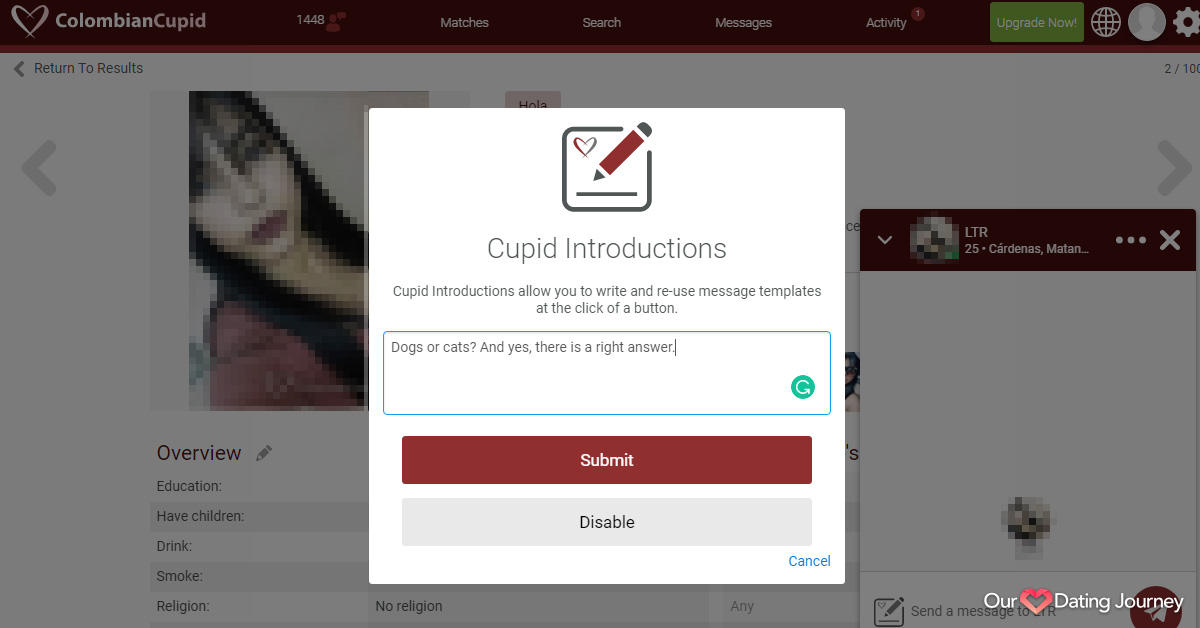 This feature is a message you can save and keep to send for later. Think of these like icebreakers you can send over and over. This feature will save you time from retyping it again, and not many online dating websites have this, so it's great on our book.
Block Users
This site takes privacy and security very seriously. If you are interacting with someone and it goes sour, it only takes a block to put them on your block list. Once someone is on this list, they can no longer reach out to you, eliminating any possible interaction in the future.
You can find this feature on the search bar located on the side of the webpage. It is clearly visible so that you do not have to spend time looking for it.
CupidTags
This feature gives you another way to meet people with who you have some compatibility. When you are working on your ColombianCupid profile, you will choose some keywords that describe you. Consider things like your hobbies and personality traits.
The website then takes these tags and matches them with other similar tags. For example, if two people put "hiking" as their tags, they can be matched up since they have this in common. Also, when people are using tags to search, if they search for any of your tags, your profile will pop up in the search.
Account Verification
While the site does not require verification, it is an option. When you use this feature, it shows people that you are an authentic person. It is easy to go through the verification process because you just send them your identification. Once the process is complete, you get a mark on your profile so that other members will know that you are a verified profile.
Instant Messenger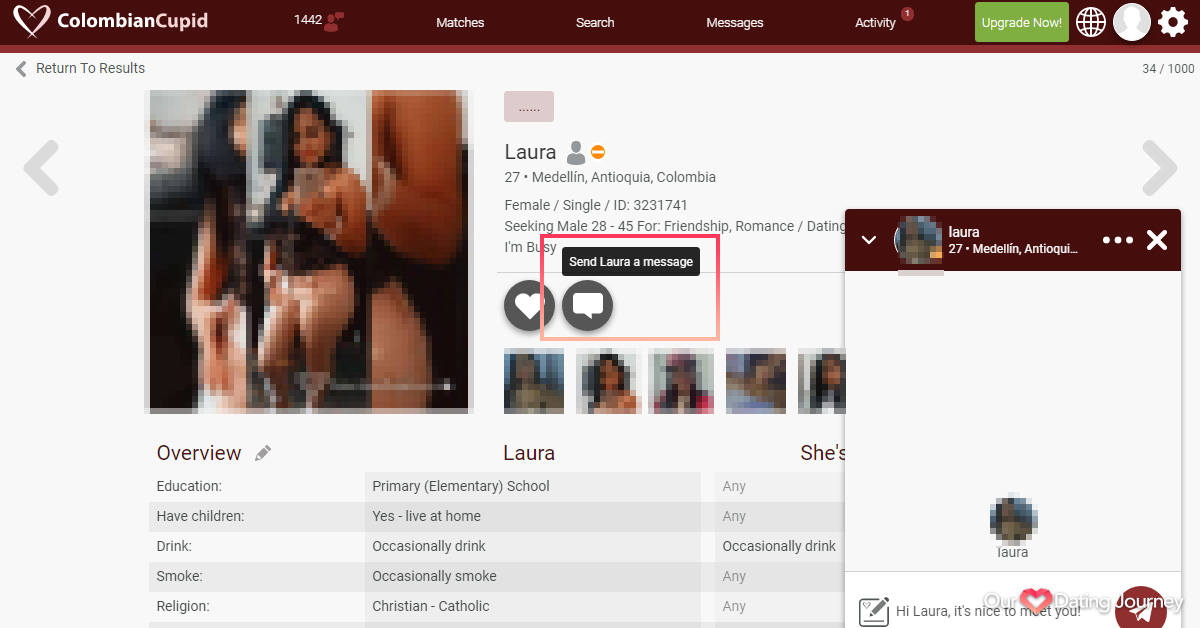 The instant messenger feature gives you a few ways to communicate with other members. If you have a paid membership, you can use this feature to talk to all members, including those who have a free account.
With this feature, you can opt to chat via text or video. This makes it easy to use a live communication style that you are comfortable with.
Customer Service
How Reliable Is the Support?
While ColombianCupid is a smaller website, they have solid customer service. One option is to use traditional postal mail to send them a letter to address your concerns or questions. The mailing address for ColombianCupid is clearly listed in the Contact Us section on their website.
The easiest way to contact the company is via phone. You will choose the phone number that corresponds with your country. This company is based in Australia, so you will need to keep time differences in mind when you are trying to get a hold of them on the phone. The phone contact information is below:
Calls are answered Monday through Friday, between 9:00 a.m. and 4:00 p.m. Queensland, Australia time.
Current time in Queensland, Australia 11:13 AM Monday, March 22, 2021
Australia: (07) 3063 4019
United Kingdom: 0808 164 8301
United States / Canada: 1-844-387-8034
International: +61 7 3063 4019
This company goes by Queensland, Australia time. You can also see what time it is in this area of the world on the Contact Us page. They also clearly list their hours of operation so that you know when it is a good time to call. Ideally, the earlier you call, the faster you can connect with a customer service representative.
The representatives will need to know the email address that you are using on the website and that you are calling about the dating site. From here, they can address your questions and concerns without issue.
If you need to send documents, such as for the verification process, the website has a fax number that you can use. Make sure to check with your phone company before you use this. It is possible that long-distance rates may apply since the phone number for the fax is an Australian one.
When you call to talk to support representatives, they answer the phone quickly. Because of this, you will not have to wait for hours to get into contact with someone. In most cases, you can talk to someone almost right away when you call them.
Overall, the support representatives are responsive and professional. They take the time to answer your questions thoroughly so that you get a full resolution to any situation that you need to contact them about. If the representative is unable to provide you with answers, they will take the steps needed to help you, such as transferring you to a supervisor if necessary.
Cost of ColombianCupid
What Are the Membership Options?
Free Account
This site has a free account option with some basic features. The free account lets you use the following features:
Basic matching
You can communicate with members who have a paid membership
Send interest
Gold Membership
The next level is the gold membership. If you choose the gold membership, the following payment plans are available:
For 12 months, the cost is $10.67 per month with a one time payment of $127.98
For 3 months, the cost is $21.33 per month with a one payment of $63.99
For monthly, the cost is $31.98
With a gold membership, you can take advantage of the following:
Basic matching
Communicate with both paid and free members
Live chat with other members via instant messaging
The website will not have any advertisements
Send interest
Send and receive messages
Anonymously browse other members
Hide your profile
Platinum Membership
If you opt for the platinum membership, the following payment plans are available:
For 12 months, the cost is $12.50 per month with a one time payment of $149.99
For 3 months, the cost is $24.66 per month with a one payment of $73.98
For monthly, the cost is $36.99
All of the gold membership features are included with the platinum membership plan. In addition, you can also use the following features:
You rank above other members
VIP profile highlighting
You can use the advanced matching algorithms
There is double the profile space
Exclusive search features
The translate feature lets you read profiles in English or Spanish
On the dating site, you can choose from several payment methods for your membership fees. This website has the following payment options:
Credit cards
Paysafe card
Skrill
PayPal
Bank transfer
Your paid membership automatically renews if you do not cancel it manually. If you go into your account, you can take the necessary steps to stop the automatic payments.
As of the time I compiled this review, these costs were accurate. The website may choose to change the costs of the membership plans at any time.
Pros and Cons
Exploring the Good and Bad
ColombianCupid has a lot to offer. While it is a smaller online dating website, the features and ease of use make it a desirable choice. Exploring the pros and cons will make it easier to determine if this website is a good choice to help you to meet people.
Positive
Easy to use and navigate through the site
Tons of search filters
Lots of active members daily
Unique site features
Quick and easy sign-up
Negatives
Has ads that asks about upgrading
Support takes awhile to respond
Review Conclusion
Is ColombianCupid Worth Your Time?
ColombianCupid is an easy website with plenty of opportunities to interact with other members. While I worked on this ColombianCupid review, I learned that while its focus is on connecting Colombian people, the members are diverse, giving you a chance to meet people from all walks of life.
You can use this dating site for several relationship types, but the primary focus is on long-term romantic relationships. With quality profiles and various communication features, it does not take long to meet someone with who you are compatible.
Overall, this is a great dating site and can help you to find your Colombian match.
---

ColombianCupid Review September 2021 (Can You Meet Your Colombian Match?)