Matching System

Searching

Ease of Use

Popularity

Profile Quality

Customer Service

Cost
Comments Rating
( reviews)
Overview
What's BBWCupid?
BBWCupid is an online dating site specifically made for finding and connecting with big beautiful woman (BBW). This increases your chances of meeting someone special on the website. Since the profiles are very detailed, it is easy to see if other members on the website have things in common with you. One thing that stood out when I was writing this BBWCupid review was the matching system. When someone clicks on your profile, they can see if it meets their matching criteria. This can save you a lot of time because you will know right away if a person is compatible with you.
Popularity
This dating site has approximately 100,000 members, most of which are located in the US. The website says that about half of their members are active weekly. This helps to ensure that when you find people who you are interested in that they are likely to respond to you.
BBWCupid is composed of about 35 percent men and 65 percent women. Most of the women on this website are big beautiful women looking to meet men. The men on this website range from lean to big handsome men searching for a BBW.
This online dating site is a place to look for friends, casual dating, and potential partners for marriage. The men on this website are typically in the middle-aged demographic and seeking women either in their peer group or ones that are younger than them. Women on this site mostly range from ages 25 to 34.
Compared to the male members, females are usually more active. While this website provides ample opportunities for both men and women to meet people, men have the advantage since there are more women on the site and the women tend to be more active.
Their population has a smaller member base but it is a relatively active site. With a lot of details on user-profiles and good search features, it is easy to find people who you want to talk to. This website has different matching features that allow you to easily determine which members you have some things in common with.
First Impressions
Straightforward To Use
The site's growth continues to get new members daily. This increases your chances of meeting someone special on the website. Since the profiles are very detailed, it is easy to see if other members on the website have things in common with you. One thing that stood out when I was writing this BBWCupid review was the matching system. When someone clicks on your profile, they can see if it meets their matching criteria. This can save you a lot of time because you will know right away if a person is compatible with you.
Design and Functionality
The site is easy to use because it has a clean design and simple navigation menu. They put the features front and center, allowing you to quickly find what you are looking for. Everything is well-organized and you can quickly do things like respond to your messages and perform a search for other members.
Registration
How Easy Is It to Sign Up?
Registeration only took us about 20 seconds or less and it's one of the fastest sign-ups we've experience so far. They ask for some basic information, so the process is not intrusive and is simple. All you need to sign up is:
Your basic information (name, gender, and age)
An email account
Your created password
After you register, the setup will immediately ask for your photos and this is where you'll start editing your profile information. You'll get a nice welcome email to make you feel a part of the community and this is a nice human touch from the organization.
Profile Editing & Match Criterias
Where The Fun Begins
Hooray! You've finished signing up with an account and this is where the fun starts. You'll start adding your information to your profile and you can start making matches quickly. There are seven tabs or sections where you can start making changes. Those are Photos, Profile, Match, Interest, Personality, CupidTags, and Verify Profile.
This process can be easy and fast to thorough. Which way you want to go is up to you but completing your profile enhances your overall experience on the website. Because of this, it is important that you fully complete all of the sections honestly so that you receive the most accurate matches.
Photos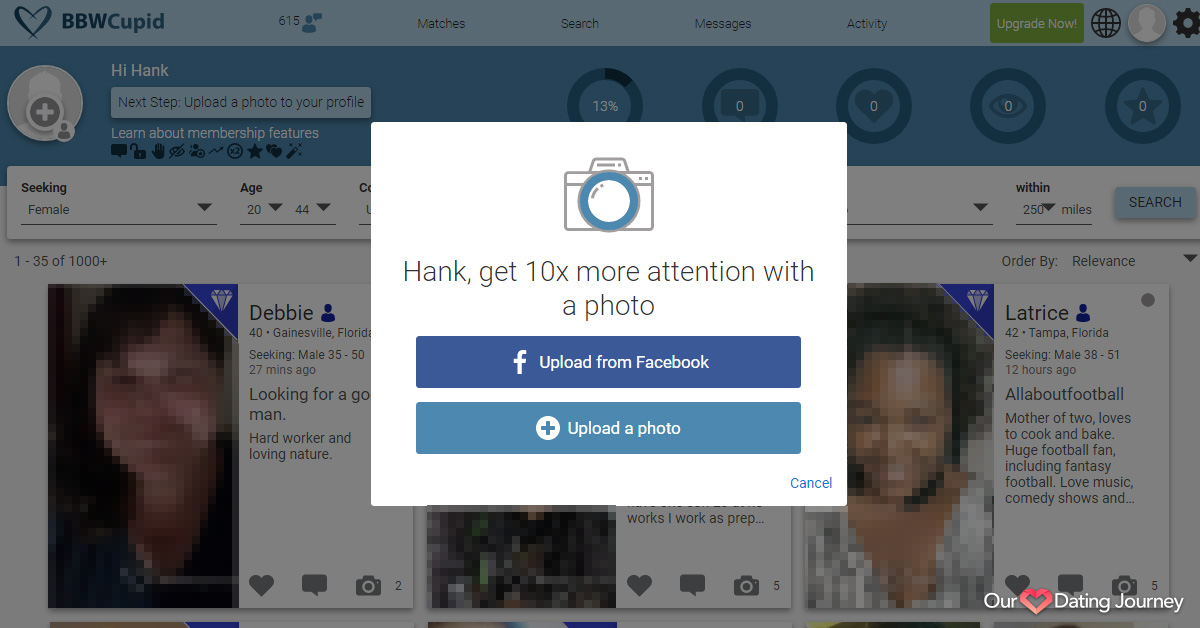 Add images to your profile popup window After you first sign up, the website will immediately ask you to add in some photos. This helps to let other members see who you are and verify who you are.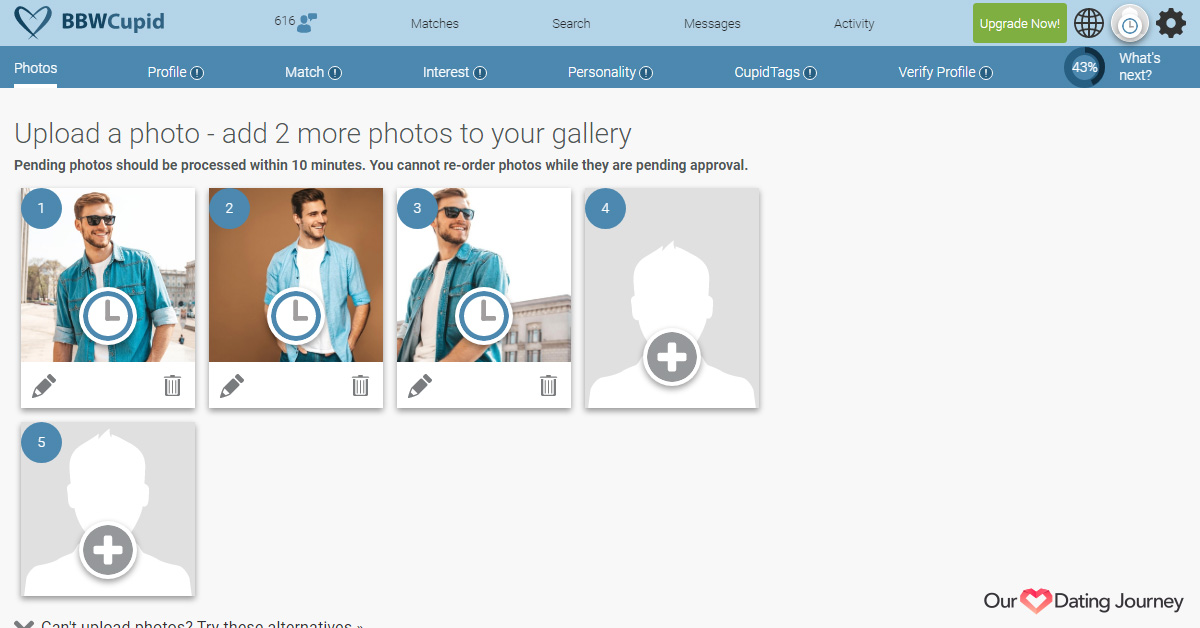 You can add up to five images so make sure your photos look good! You're only allowed five photos so include only the best ones that will make you stand out and shine. As you go throughout the process, you can upload some photos of yourself. BBWCupid will verify all pictures so that you can be sure that they are appropriate before they go live on profiles. It may take a couple of days to get the photos verified.
Profile
Here is where you'll edit your basic information such as name, birthday, location, appearance, lifestyle, if you have children, pets, employment, annual income, what you're looking for, and much more.
Match
This is where you'll put in your match criteria. What you're looking for as far as appearance, lifestyle, background, and values.
Interests
What are your interests and hobbies? This will let others know what you're into.
Personality
At this tab or section, the website presents you with the following questions to add to your profile. These questions are optional to answer but if you decide to answer them, it will increase your chances of making a better connection. The answers to these questions will help express yourself and let other members get a better understanding of who you are. The questions are below:
What is your favorite movie?
What is your favorite book?
What sort of food do you like?
What sort of music do you like?
What are your hobbies and interests?
How would you describe your dress sense and physical appearance?
How would you describe your sense of humor?
How would you describe your personality?
Where have you traveled or would like to travel to?
How adaptive are you to having a partner from a different culture to
your own?
How would you spend a perfect romantic weekend?
What sort of person would be your perfect match?
We highly recommend filling out any information on your profile to increase your chances and your profile visibility. Also, these personality questions will help the site to match you with members with whom you have a lot in common. The personality questions are fun and help you to tell the website who you are.
CupidTags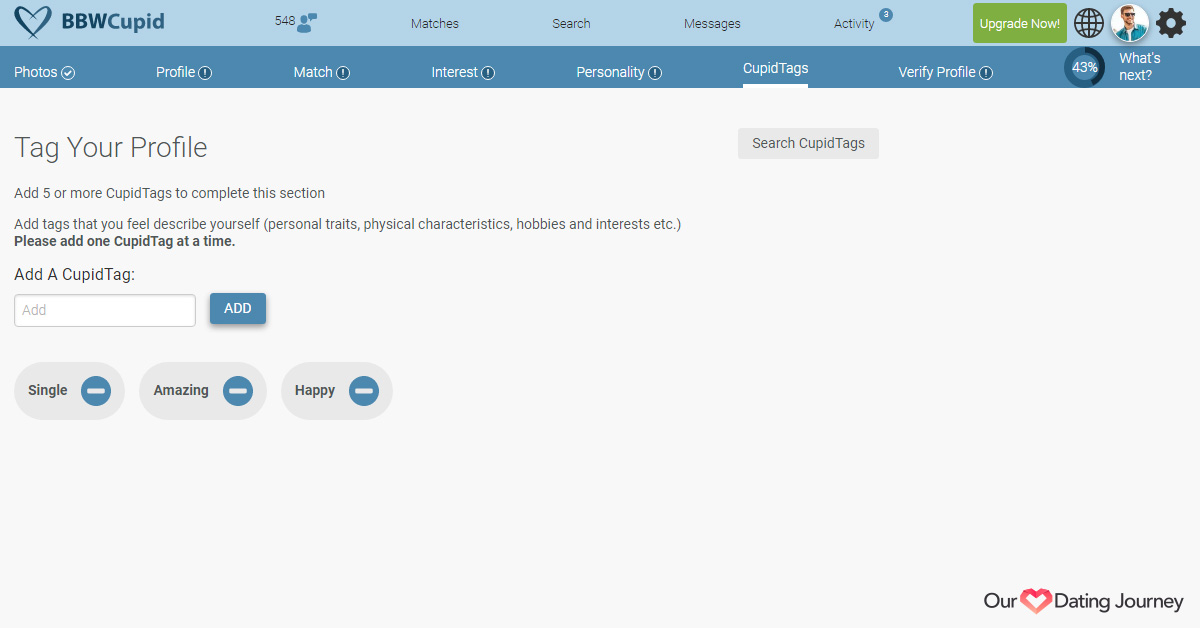 CupidTags are pretty much hashtags and where it will let others know what type of person you are, how you're feeling, what you're into, etc. Members can search CupidTags to find similar interests about one another. You're allowed up to five tags. If you don't know what to pick, you can search CupidTags to see which ones are popular or which ones that fit you. The bigger a tag is, the more used and popular it is used by everyone else.
Verify Profile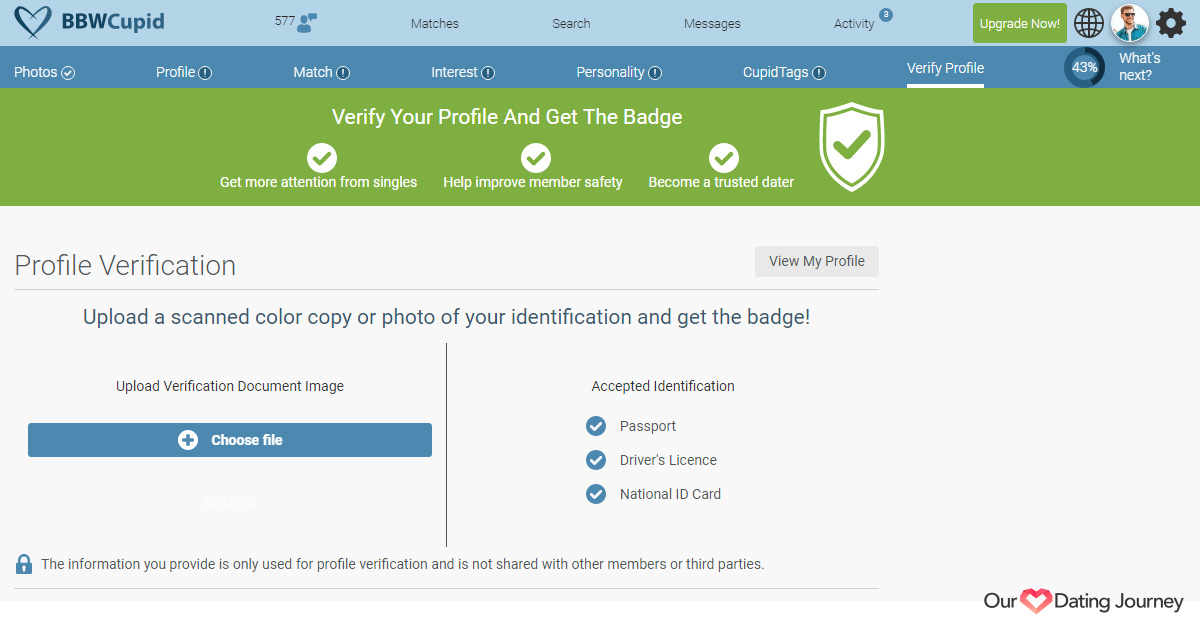 An important section for those looking to meet and connect with verified people.
Profiles & Searching
How Good Is The Search?
Communication and Searching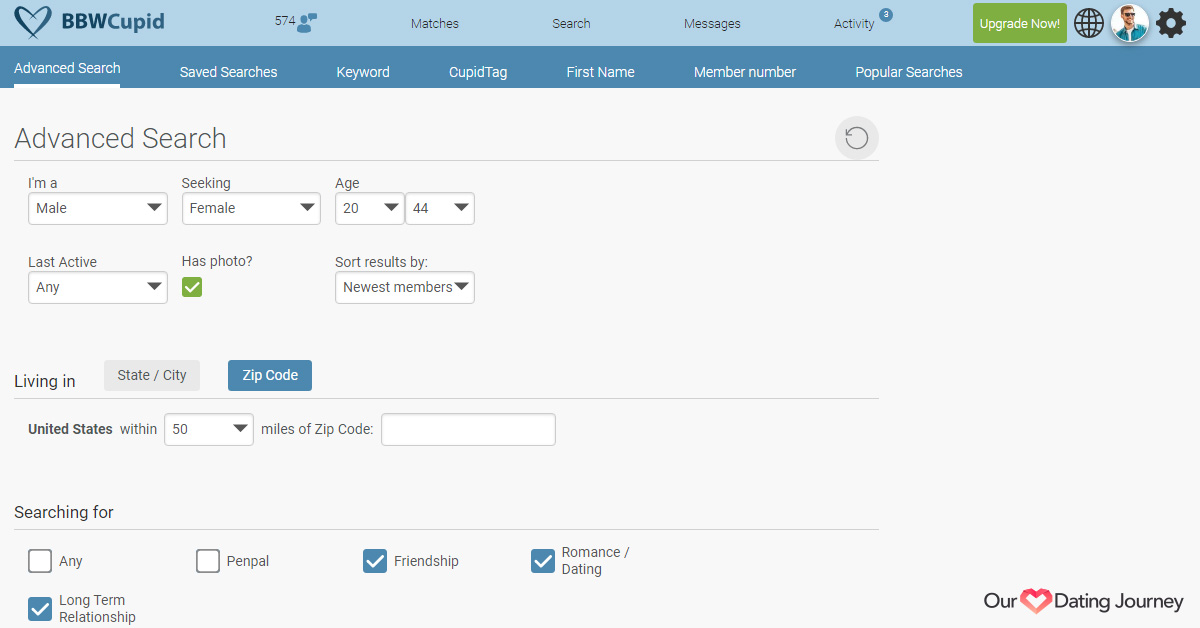 Searching on this dating site is fast and easy. As you are browsing profiles, you can see who is online at that moment. This can make it easier to start a conversation with people right away.
The search tool is free, and it lets you narrow down what you are looking for in your matches. You also get matches from this website so that you can quickly learn about the people with whom you are compatible. Once you find people who interest you, use the messaging system or instant messenger to make contact with them.
If you want to talk to multiple members casually, you can choose to use the chat room feature on the site. When you initiate a conversation with another member they are notified. You can also choose to send interest to people to see if they are interested in you before you take the time to send communication.
Profiles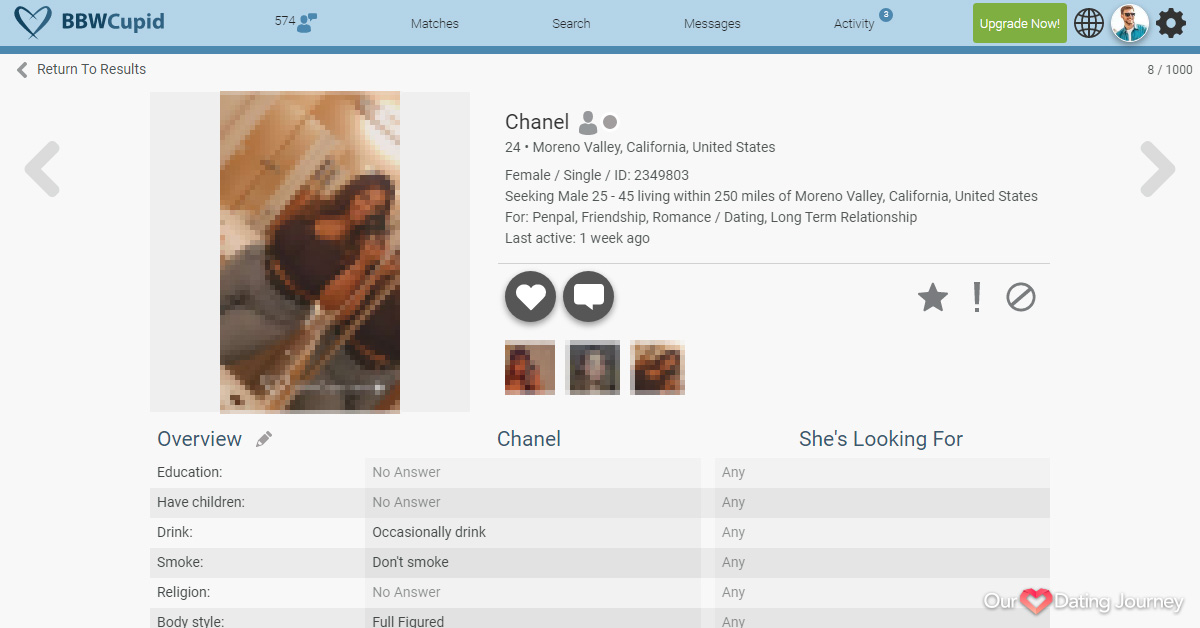 As you can see, the profile details have a lot of information and you can get a glance the member's traits. Once you read a person's profile, it is easy to determine if the two of you have things that you can talk about. You will learn about things like what they desire in a partner to their cultural values.
Compatibility is listed on the profile summary, so it is front and center. At any time, you can choose to make changes to the information in your profile. You can also opt to add more pictures and create a profile album at any time. Just remember that pictures will take a little time to be verified.
Features
Essential Tools For Matchmaking
This dating site has some features that increase the functionality of the website and give you some more options for engaging with other users. Due to this, you can communicate better and meet more people.
Message Translation
One unique feature of BBWCupid is that you can use the website in a variety of languages. When you receive messages from other members, you have a chance to translate them into your language so that it is easier to communicate with people from all over the world. This is a feature that only paid members can use. There are several languages available, making it easy to read what other members send to you.
Increased Profile Space
When you are a paid member, you get more profile space. Use this to better display who you are and what you are looking for. With this feature, it is easier to attract people with whom you have some things in common.
VIP Profile Highlighting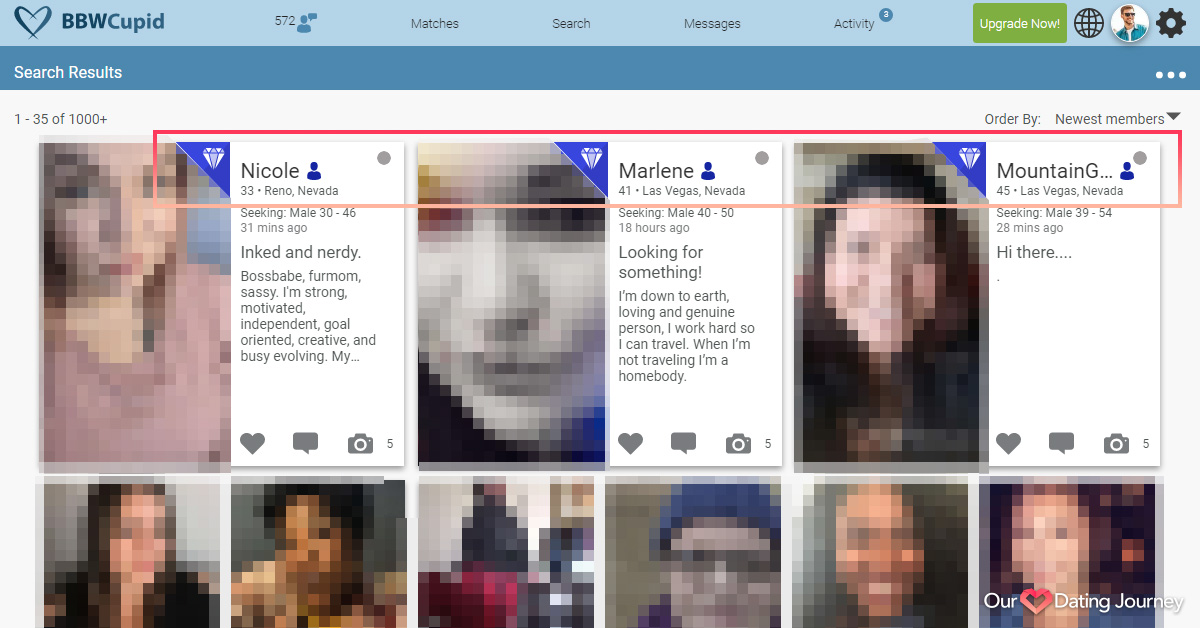 Stand out with an upgraded membership where your profile will stand out from the rest with profile highlights. Another feature you get when you are a paid member on BBWCupid is that your profile gets highlighted. This ensures that you stand out on member lists so that it is easier for people to find your profile so that they can determine if you are compatible.
I Match Their Criteria
When you look at other member profiles, this feature will let you know if their profile information matches your criteria. Due to this, it is fast and easy to narrow down people with whom you might be a good match. When you look at their profile, you will see that there is a red mark or a green mark. The green means that they meet your criteria and the red means that they do not. You can use this to save you some time when you are looking for additional matches on the website.
Customer Service
How Good Is Their Support?
BBWCupid offers a help section on their website that you can use to learn more about the features and other site elements. For example, if you have questions about membership and paying for it, there are several resources in the help section that answers the most common questions regarding this topic.
If you need to send documents to, you have two options. The first is sending a fax to their fax number. This is an Australian number, so there is the potential for long-distance charges. However, you tend to get a response faster than if you opt to use postal mail. The postal mailing address is also in Australia. It may be a few weeks before you get a response using this method, especially if you are sending things from a different country.
They list their mailing address in the contact us section, so it is easy to find. It is fastest to call the customer service phone number. You must ensure that you are calling the number that is associated with the country that you are in. For example, there are different numbers for members from the US and Australia.
When you call customer service, you will be asked to verify which website you are calling about and your email. Make sure that you provide the email that you used when you started your account on this website. The customer service representatives are located in Australia. This means that all of the open hours are in Queensland, Australia time. They assist via phone Monday through Friday. It is best to call earlier in the day when this is possible. For the most part, calls are answered quickly so that you do not spend a lot of time waiting to get answers to your questions.
Cost of BBWCupid
Is It Worth The Price Tag?
BBWCupid lets you use several features when you have a free membership. Because of this, you can get a good look at this dating site to determine if it is one that you want to spend some time on. The following are features that people with free membership can use:
You can link profiles
It is possible to see which members are interested in you
The website will provide you with matches
If you are interested in a premium member, you can send them a message
Lets you see who is interested in you
You can search for members
It is possible to look at the profiles of other members
If you want to use the more advanced features on this dating site and communicate more freely, you will need to get a paid membership. When you opt for a paid membership, you have access to the following extra features:
You can communicate via message with all members, including those with a free membership
The website provides VIP profile highlighting
It is possible to use instant messenger to communicate with members
Paid members can take advantage of message language translation
Platinum Membership
There is a gold and a premium membership. Both of these offer three different payment options, depending on your preferences. With Platinum membership, the following payment options are available:
If you choose to pay 12 months in advance, the monthly cost is $10.00. This is a total of $119.95.
If you choose to pay six months in advance, the monthly cost is $20.00. This is a total of $59.99.
If you want to pay monthly, it will cost $29.98.
Gold Membership
With a Gold membership, the following payment options are available:
If you choose to pay 12 months in advance, the monthly cost is $8.33. This is a total of $99.98.
If you choose to pay six months in advance, the monthly cost is $16.66. This is a total of $49.99.
If you want to pay monthly, it is $24.98.
If you do not want your membership to review itself automatically, you have to cancel it before the renewal date. They offer detailed information in the help section on the website about how to do this. All of the membership prices were accurate at the time I completed this review. However, this dating site may make changes to its membership plans and prices in the future.
Pros and Cons
For or Against?
Positive
Easy to navigate
Wealth of member profile details
Automatically know if the member meets your criteria
Many different ways to communicate
Block members who make you feel uncomfortable
Negatives
Has a smaller member base compared to other BBW sites
Its blog has not received an update in a long time
Review Conclusion
Is BBWCupid Worth My Time?
Short answer: yes!
BBWCupid offers extensive profiles so that you can get the facts about someone before you commit to messaging them. The extensive profiles save time because it lets you know if there is a potential for romantic chemistry before investing time in communication.
The dating site is always up and reliable for use, with active members logging in online daily. This site is easy to navigate, allowing you to find your favorite features quickly. This site is on my top 12 list for best BBW dating sites. So it's one of the best sites for BBW dating on the web!
---

BBWCupid Review April 2023 (Dating Focused On Plus-Sized Singles)