Matching System

Searching

Ease of Use

Popularity

Profile Quality

Customer Service

Cost
---
Overview
Our AgeMatch Review
AgeMatch is a niche online dating site that focuses on people who want to engage in gap dating. You can choose to interact with the community as a whole or with individual members, depending on your preferences. Due to these abilities, it is easy to find various members to connect with, and to see if you have chemistry with them.
This online dating site has nearly one million members, and most live in the US. The demographic on this site is mostly younger women and older men coming together. However, it is also possible for younger men to find and communicate with older women.
If you're looking to make a connection with a younger or older person, then this is site may just be for you.
First Impressions
While I was writing this AgeMatch review, I noticed that the genders are relatively equal. Having a balanced ratio of male-to-female members spreads out the number of profiles you can find online. This balance can make it easy for anyone to find someone with who they want to interact.
There is also a reliable age distribution on this site so that you can find people who meet your age preferences.
The profiles on this dating site provide plenty of space to explain who you are and what you are looking for. Due to this, you can evaluate other members quickly when they fill out all of their profile information. The detailed profiles make it possible to see who you want to talk to further.
You can search for members who have things in common with you. You can use different filters and search criteria to make it easier to get search results that pertain to what you are looking for in a potential partner.
While this is a relatively basic site, there are plenty of ways to interact with others. Overall, you can locate the various functions with ease to quickly take care of any action that you want to perform on the site. To expand what you can do, you can choose to get a paid subscription.
This site is simple in terms of its functionality and design. Everything that you need to use on the website is upfront and easy to locate. It will never take you more than a minute to find the features that you are looking for.
Registration
How Fast Is Sign Up?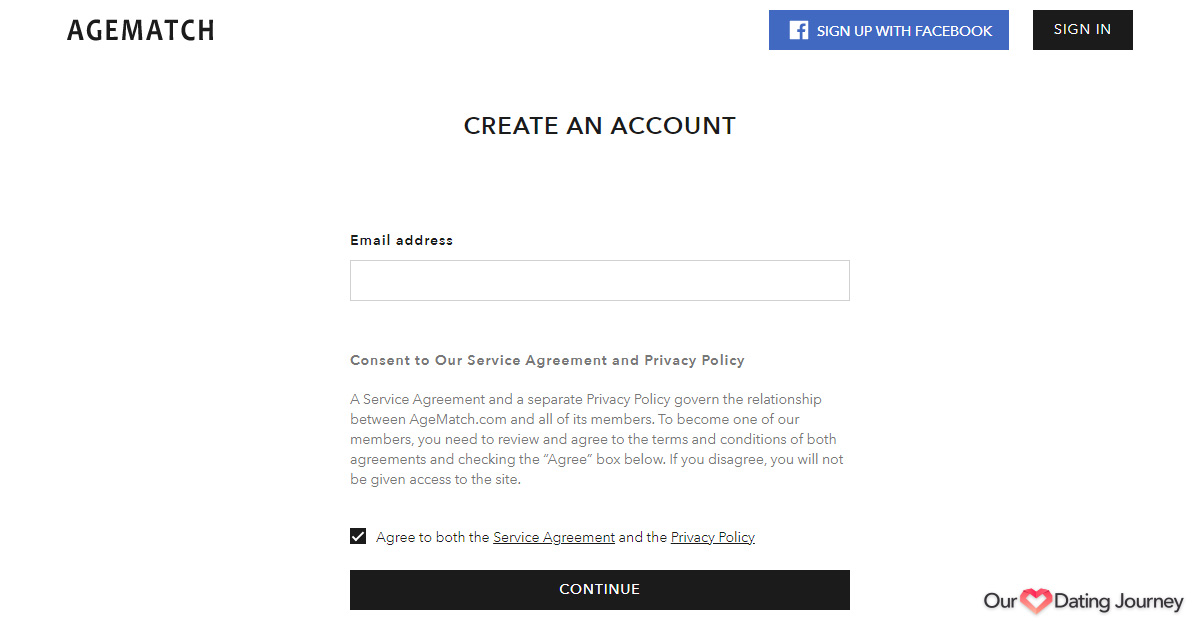 You can expect to spend up to two minutes or less getting signed up to get into the website. In our initial sign-up, we created our account in under 30 seconds. That's fast and we like fast.
Most dating websites these days can have a lengthy registration process with several questions and requirements to get started but not for AgeMatch. You can sign-up in record time and finish what you need to add later. Neat.
There are two options to complete this process. One is using your current Facebook account, and the second is inputting your email address. If you opt to use an email address, make sure that you have access to the account because you will need to verify it before continuing the registration process. You will also need to verify your phone number, which is excellent as this adds a level of security.
To create an account, visit this link to register and start matching.
Photo Verified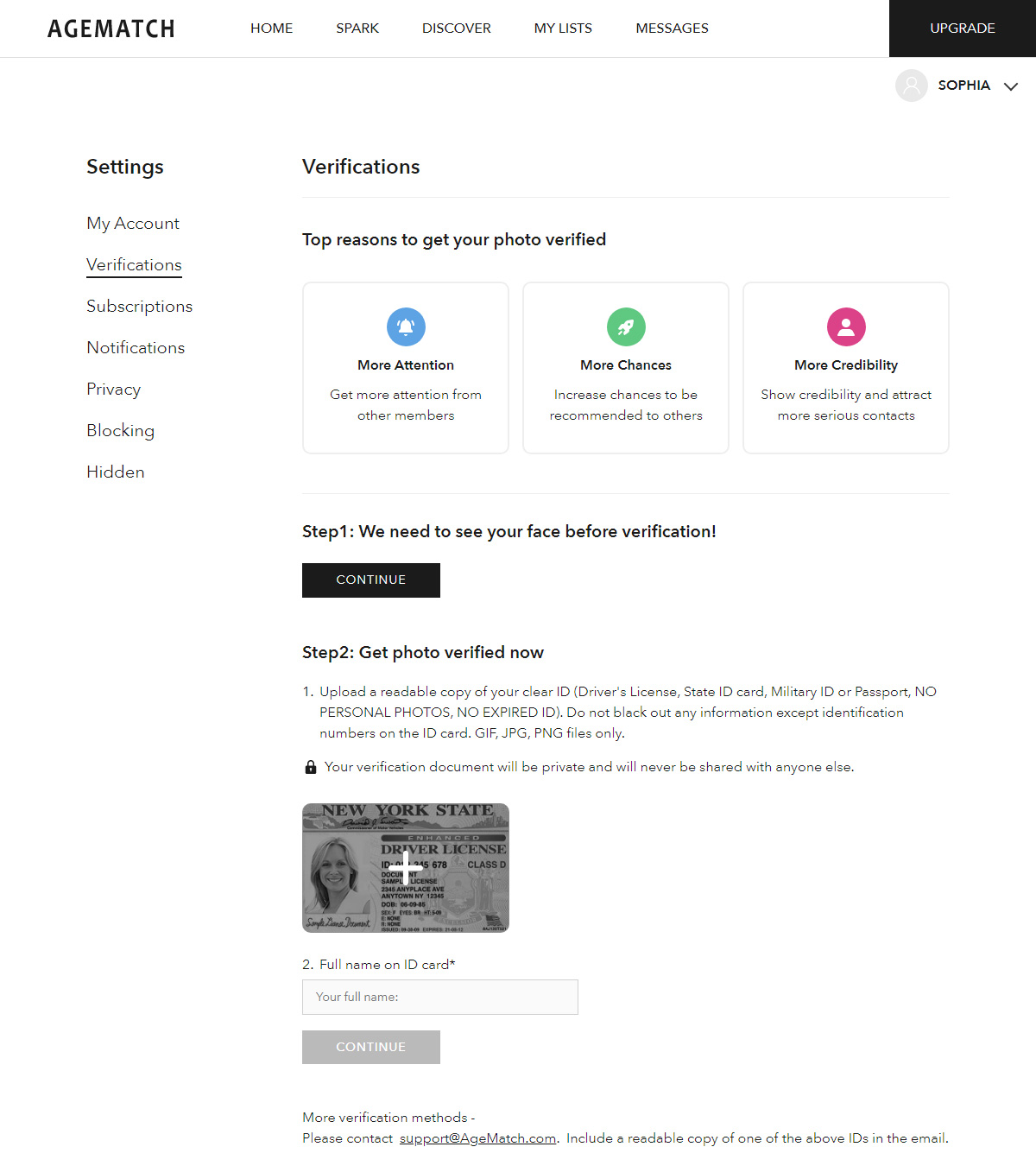 As you get to the end of the signing-up process, the site wants you to upload a picture of yourself. It must meet all of the site's guidelines. Your photo should be clear and free from nudity or anything that can be deemed offensive.
It's recommended to upload and verify your profile so other members can trust that you're authentic. Getting verified also means that online members can trust you and open up to you more.
Safety
AgeMatch wants to make sure that all of the members on this site are comfortable and safe. You can let them know if any profile is making you uncomfortable. They will review the interaction and take the steps needed to remove any members violating the site's rules.
When you use an email to sign up, you will need to verify it before using the website. Getting verified helps to weed out fake profiles. You will at least know that people used a verified email or a Facebook account to start their membership. Plus, users also need to verify their phone numbers, which helps keep fake profiles off the site.
Profiles & Match Making
Where The Fun Begins
Comprehensive Profiles
Member profiles provide different sections and types of information, making them comprehensive. Most people add a lot of detail to their profiles, making them a good source for deciding other members.
When accounts are deemed suspicious, AgeMatch is good about removing them. This system helps ensure that you are most likely talking to real people when communicating on this site.
You can look at people's profiles no matter your membership level. It is also possible to fill out your profile no matter your membership type. If things change in your life at any time, you can make edits to your profile to ensure that it is always up to date.
Searching and Communication
When doing a search, you can search for the following options:
men, women, or couples,
age range,
if they have a photo or not,
and location
No matter your membership level, you can create a list of favorites. These lists make it easy to locate the members that you want to communicate with further. You can also send winks to other members to initiate communication for free.
Interact with the AgeMatch community as a whole or send a message. If you want to message other members, you will need to have a premium membership on this site. However, with a free membership, you can respond to messages that premium members send to you.
Features
Can AgeMatch stand out from the rest?
This site has some unique features and functions that you can use to make using this site more enjoyable. It is essential to know these because it will make it easier to determine if this is the best age gap dating site for you.
Spark
Spark is a feature where you can match with other members hitting the "Like". If they like you too, then it's a match, and you'll be able to connect with them.
On the other hand, if you hit "Pass," you won't match with them at a later point.
This is a nice feature, and it's kind of like a game. It's a good way to pass the time and go through several profiles to see if there are any that pique your interests.
AgeMatch App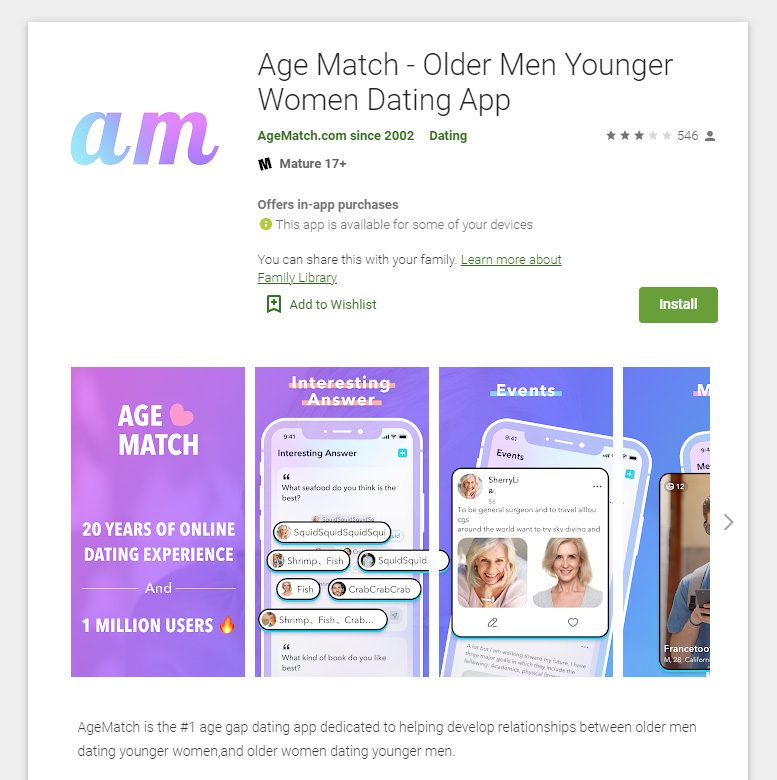 If you want to use AgeMatch on the go, the app is a good option for you. Compared to the desktop version of this website, the interface is very similar. The app allows you to quickly locate all of your favorite functions from the desktop website.
In the respective app stores, the app is free to download. It is not an overly large file, letting you download and starting using it relatively fast.
Every feature that you use on the website is also on the app. This includes all of the paid features that you use if you have a subscription to AgeMatch. The features fit nicely on a smaller mobile screen so that nothing looks like it is crunched together.
If you have an account on AgeMatch, log in to the app to start using it. You can also choose to create your account using a mobile device.
To download the app, visit the AgeMatch website, and scroll to the bottom where you'll see icon links to download from the Apple or Andriod store. From there, you'll be able to download the latest app version and install it directly to your phone.
Blog
If you want to learn more about AgeMatch or engage in gap dating, you can check out the site's blog. There are different informational articles. You can also write on the blog to share your opinions and thoughts regarding this type of dating.
The blogs on this website are interactive. If you read a post and have something to say about it, there are communication features that you can use. You can also opt to contact the author if you want to talk more privately.
Reverse Matches
Reverse Matches are a feature that is relatively unique on dating websites. When you use this AgeMatch feature, you can get matches based on your profile information. For example, if you and someone else on the site write similar things on your profiles, this feature will make you both a match.
This AgeMatch search option gives you a chance to start meeting people who have things in common. You can check out their profile and see where the two of you are similar. Then, use these similarities as a way to break the ice for a conversation with each other.
Send Winks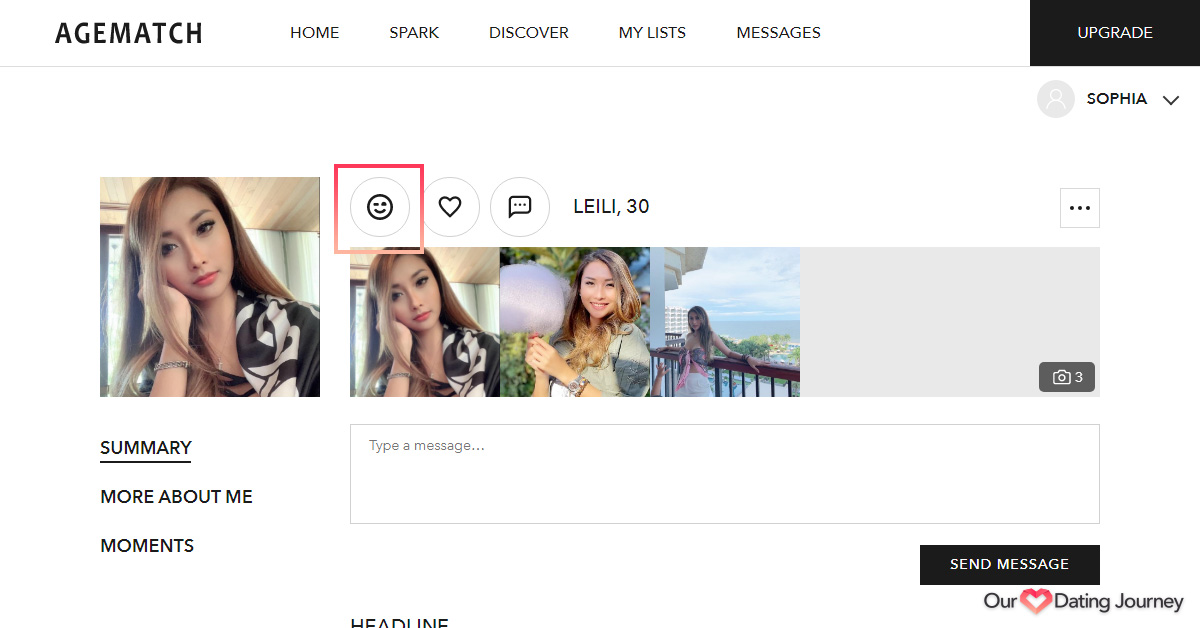 If you want to communicate with someone on the website but do not know what to say to them, you can send them a wink. These virtual winks tell the member that you are interested and that you want to communicate further. Then, they can decide to contact you and send the first message to make communication easier. So, virtual wink on ahead!
Hide From Search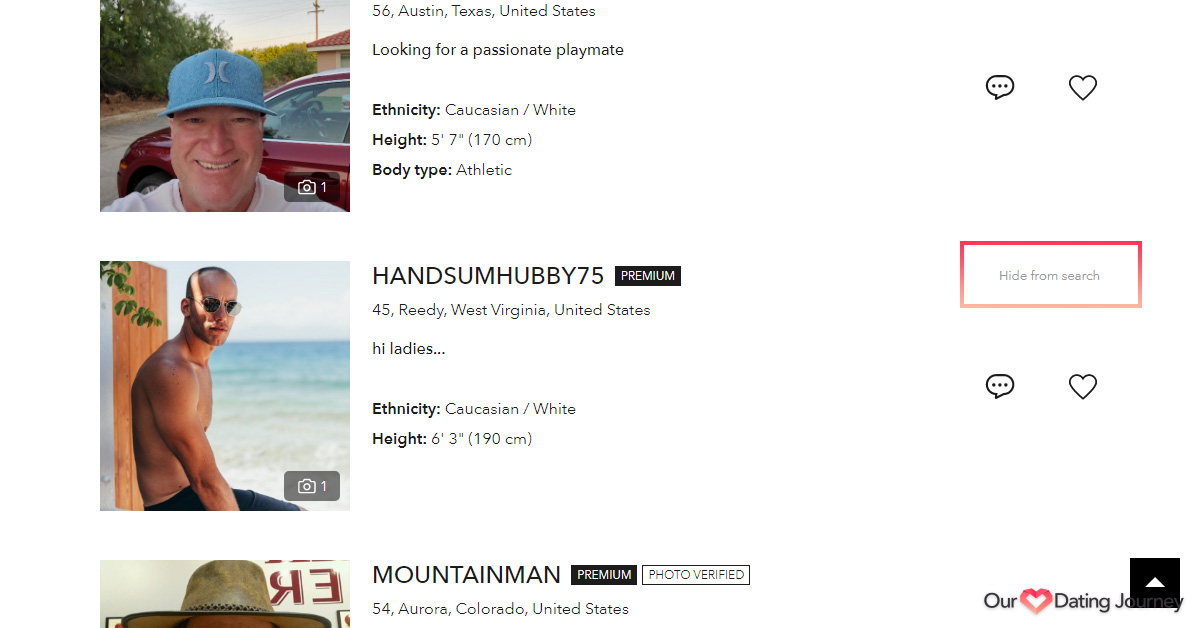 It's worth mentioning a "Hide from search" premium member feature that pops up as an option when scrolling member's profiles. Just place the mouse cursor over the member profile, and it will appear on the right-hand side.
Once the link is clicked or tapped on, that member will not show up in your search results anymore! This premium feature is excellent because it helps save you time from scrolling past members you've already viewed.
First Date Ideas
When you are ready to meet a member in person, this feature can help you decide what you want to do. Since first dates can bring a lot of pressure, this area of the website can alleviate it. This is an excellent dating site feature that not a lot of other sites provide.
Forum
AgeMatch has a forum where you can talk to a lot of members at the same time. Use this to get to know people in an environment with less pressure than the more intimate ways of communication, such as sending messages to each other.
Popularity
Does It Have a Lot of Members?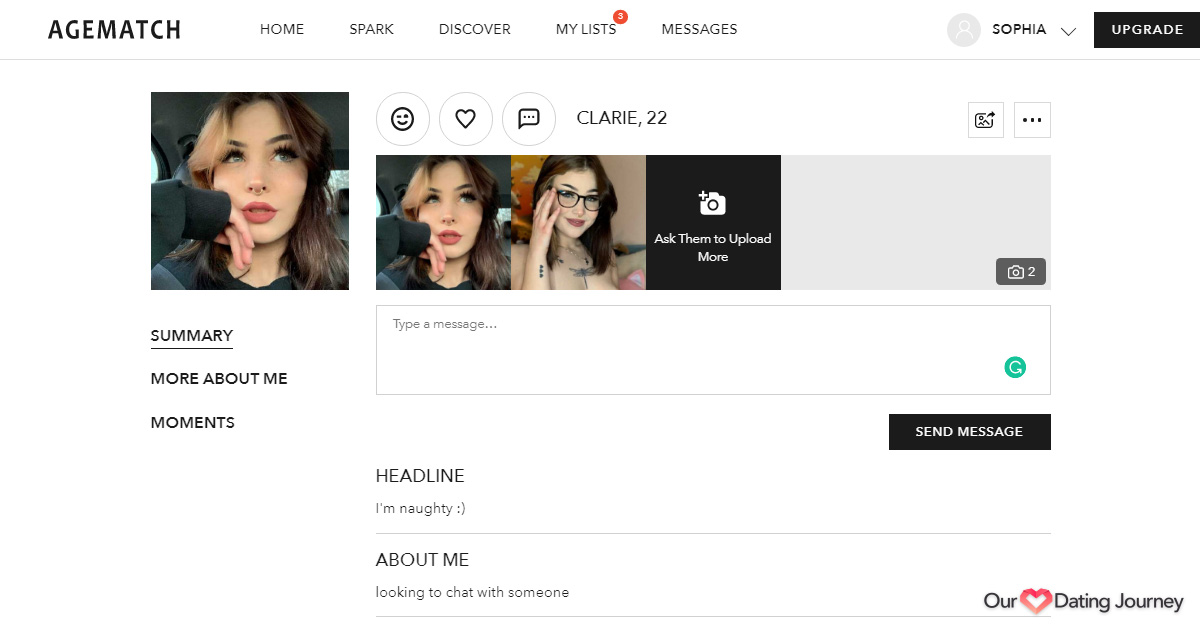 AgeMatch has over one million members registered on the site. The majority of the people are from the US. Approximately 800,000 members live in the US, and the member growth keeps climbing daily.
Most of the people on this site are seeking long-term, serious relationships. However, if you are looking for something more casual, you can state this on your profile. Both men and women can use this site to look for an age gap dating experience.
About 60 percent of the members are men, and approximately 40 percent of the members are women. Most of the men on this website are ages 35 to older than age 55. The majority of the female members are aged 18 to 34. Thus, it is easier for younger women and older men to meet each other on this site.
Customer Service
How Good Is The Help?
AgeMatch has an extensive help section where it is easy to learn more about the site and its features. You can find help to many common concerns in this section on the site. Just look for the areas where your answer is likely to locate the information you need quickly.
After you log in, it is easier to find the help information that you need. Once you exhaust the website's help section, if you still have questions or concerns, there are other ways to get a hold of the site to get answers.
You can send feedback while on the website. Contacting the support online allows you to contact someone from the customer care team to get some help. You need to choose the issue that you need help with and click on that link. From here, there is a form that you will fill out.
Email Them
You can send them an email with several options:
Send Us Feedback
Submit a Suggestion
Success Story
Premium Membership / Billing / Claim Issue
Dating Advice & Safety Tips
Getting 1 month bonus premium membership
Call Them
There is also a phone number that you can find on the contact form. The number is below:
Contact AgeMatch Support: 1-416-628-1072
Most dating websites will not choose to display their phone numbers, but this dating website is supportive to their members. Calling them is the right choice if you need to get help quickly. They tend to answer fast, and the people you talk to are very eager to help solve any issues you have.
Send Mail
If you want to send the organization for any reason, AgeMatch's contact information is below:
SuccessfulMatch / AgeMatch.com
10 – 8707 Dufferin St, Suite 160
Vaughan, Ontario L4J 0A6
Canada
Cost of AgeMatch
Is It Worth It?
This dating site provides a wealth of features that you can use to have a free membership on the website. These AgeMatch functions include:
Create blog posts
Join and interact in the forums
Send winks to other members
Access the first date ideas that members post
Add private and public pictures
Common on photos, blogs, and profiles
Like posts and photos
Look at the profiles of other members
Reply to chats and messages
Add other members to your favorite's list
Use basic search features
View the latest activities
Answer questions that are put onto the forums
Use the Let's Meet feature
If you want to use more features on this website, you can upgrade to a premium membership. The premium features include:
Initiate messages and chats
See the responsiveness of other members
Use advanced search features
Know who liked your profile
Add notes on profiles
Highlight your profile
Get priority customer care
Respond to first date ideas
Check online lists
Know who looked at and favorited your profile
Hide people from your search results
Browse anonymously
Use the reverse matches feature
Paid Subscription Options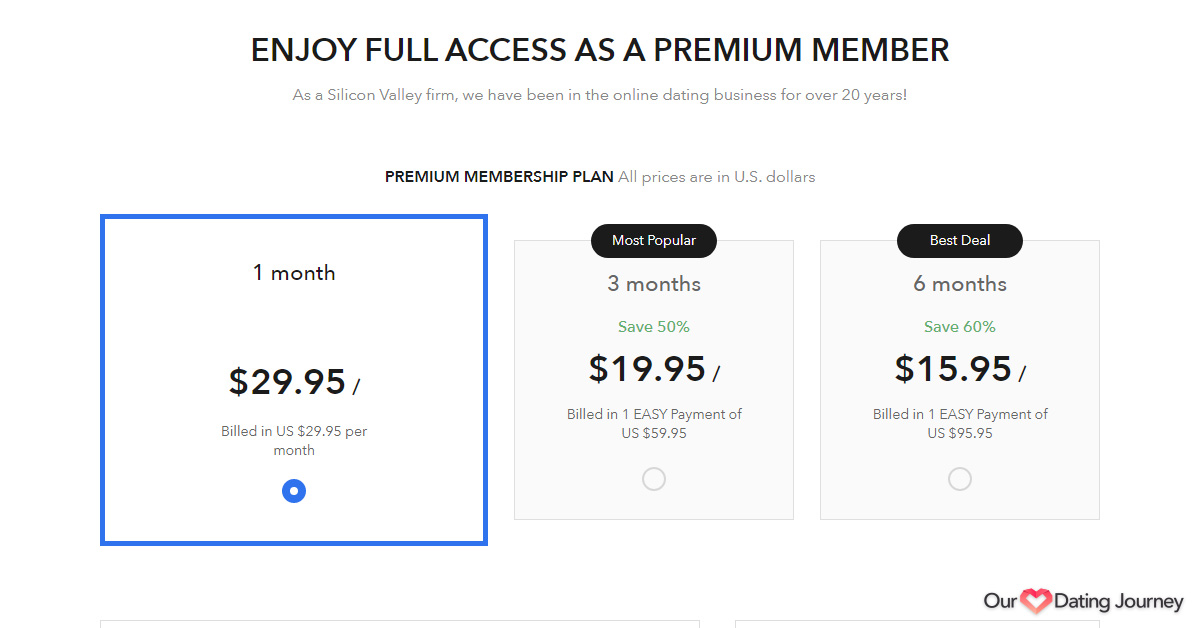 You have three options when it comes to premium subscription options. These include:
Sign up for one month for $29.95
Sign up for three months at a time for $19.95 a month. You will make a one-time payment of $59.95 (Saves 50%)
Sign up for six months at a time for $15.95 a month. You will make a one-time payment of $95.95 (Saves 60%)
Testimonials
Success Stories From Members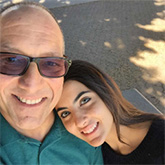 "Beautiful young lady had just joined and I had noticed her eyes jump off the page in my news feed. I reached out to her and we spent the next to days practically joined at the hip, feeling this intense connection really fast. We have so much in common and I can see myself falling hard for her!"
---
"702jvv messaged me a few times over the course of about 2 months. I was reluctant to reply to his emails because I wasn't sure we would have much in common. He had just moved to Denver and I lived in Las Vegas with a full schedule and little time to spare for a long distance relationship.

After browsing through my emails one day I decided to reply to one of his more recent emails and he responded back and we shortly exchanged phone numbers. Replying to his email is one of the best things I have ever done. We ended up meeting in Vegas when he came home from a work trip in Denver and we fell in love after what seemed like almost immediately after meeting.

Now, I cannot see my life without him. He is so supportive of me and everything I do and I love him for everything he is and everything he does. He is the most loving and caring man I have ever had the pleasure of meeting and I am so lucky to call him mine. If it were not for this website, I would have never met him and probably never had the opportunity to meet someone his age that reciprocated the age gap desire. 702jvv and I are in a committed relationship and look forward to a good life together!"
Pros and Cons
The Good Outweigh The Bad
Positive
Free members have access to a lot of features
A lot of active members
This site has over one million members
Tons of search filters
Unique features
Negatives
Needs extra communication features like video chat
Site design could be improved
Review Conclusion
Is Age Match Worth A Shot?
Yes! It's easy to register quickly, straightforward to use, and you can start browsing tons of profiles within minutes. AgeMatch has been around since 2001, so it has an established reputation in the online dating industry. Since its beginnings, it has been a place where people from different age demographics can come together to meet and communicate.
Throughout the world, there are more than a million members on this dating site. Due to the size of the member pool, there will always be someone that you can talk to and get to know better. Most people are in the US, but the site does not restrict where they are from when they sign up.
Whether you are a man or a woman, you can find people in different age demographics to talk to online. Men slightly outnumber women on this site, but there are still many women for men to interact with, whether they are looking for a younger or an older member.
---


AgeMatch Review February 2023 (Good Or Bad Site For Age Gap Dating?)